Gun News from the firearm, tactical, outdoor, training, and hunting world. But mostly firearms!
The industry is gearing up for SHOT Show 2020, and so are we! We've been updating our SHOT Show 2020: Bigger Than Ever (New Guns and Gear) article each week as we learn about the new releases that will debut next month. Keep an eye on it to stay up to date on all the cool new guns we can't wait to see.
How big is SHOT Show 2020 going to be?
This year is the 42nd instance of the annual convention, which began in St. Louis, MO. in 1979, and the 10th year it'll have been held in Las Vegas. The NSSF is estimating it'll host 2,400 exhibitors and approximately 60,000 attendees from all across the industry and many countries. Current estimates project it to be at nearly one million square feet of show space, with nearly 3,000 exhibitors, by its 43rd birthday.
Seriously, go look at all the cool SHOT Show 2020 guns. Try not to drool, but if you do we won't tell.
---
Friday, December 27, 2019
Welcome back to GunMag Gun News 5×5 Friday.
This week, thanks to Thompson Auto-Ordnance, we get to take a little stroll down memory lane. Since we are getting ready to embark upon whatever adventures are in store for us in the 2020s, it is fitting that we take a look back at the roaring 1920s with Thompson Auto-Ordnance's new commemorative Bootlegger series. But they didn't stop at the twenties. They also announced a series to commemorate the 75th anniversary of the Battle of Iwo Jima. While writing this piece, I took a little time to revisit some of the histories that are artfully represented in the two commemorative series.
Other manufacturers made Gun News this week, too. Retay Arms announced their new 20-gauge shotgun this week. They plan to debut the new models at SHOT Show 2020 next week, so be sure to check it out. Strike Industries has a new product that'll make Glock owners in California happy. Also, Franklin Armory sent out a press release this week in response to the recent ATF open letter about managing the regulations for the Reformation®.
Enjoy these last few days of 2019, and Happy New Year to all of our readers!
⊕Thompson Auto-Ordnance
Bootlegger Series
Gun News. A century ago, America was stepping into the wild decade that has since been dubbed "the roaring twenties." It was the era of jazz bands and flappers, women's rights and prohibition. From those years through the depression, and on into WWII the Thompson submachine gun made its stamp on the American memory. Favored by notorious criminals including George "Machine Gun" Kelly, Al Capone, and Public Enemy No.1, John Dillinger, the Thompson image remains an iconic part of Americana.
But the Thompson was way more than just a gangster gun. According to Auto-Ordnance, "Although the proportion of Thompson submachine guns misused by Prohibition-era gangsters and Depression-era bandits was minuscule compared to the thousands used by American soldiers and lawmen, it is their lurid employment by hoodlums that is perhaps best remembered." The Thompson saw military service for over three decades until it was retired in 1971.
Even though the Thompson submachine gun has been retired from military service for nearly fifty years, it is still held in high regard. History buffs will be interested to learn that this past week, Auto-Ordnance released this new commemorative series.
From Thompson Auto-Ordnance:
The Thompson is often called the "gun that made the 20's roar", but it was not the only reason for that saying. In fast cars with loads of moonshine, 1920's bootleggers roared down country roads, evading the law and delivering white lightning to speakeasies. Lawmen raced after the motor bandits, wielding Tommy Guns and 1911s. It was not long before Hollywood depicted these duels on the big screen. The Roaring 20's blazed a trail into American pop culture and history.
Auto-Ordnance's latest custom guns commemorate the era with the "Bootlegger" Thompson and 1911. Each gun is artfully engraved with depictions of 1920s autos, newspaper print, wanted posters, and historical images from the time. The Thompson barrel is marked "Speakeasy". The 1911 slide and Thompson receiver are engraved "Bootlegger Prohibition Edition", and "Proof Tennessee Moonshine". Beautiful scrollwork covers the American Walnut wood furniture, and sections of the steel. The finish is distressed Midnight Blue Cerakote with a clear coating overlayed. The wood furniture is also distressed and then stained. The Thompson features a 16.5" barrel, 20 round stick, and 50 round drum magazines. The 1911 features a 5" barrel and one seven round magazine. Both guns are chambered in .45 ACP. The Thompson Bootlegger Series is now shipping and is an exclusive product offered through Big Rock Sports.
MSRP for the Bootlegger Thompson is $2,309 and for the Bootlegger 1911 is $1,215.
Commemorative Iwo Jima Series
Gun News. In their second announcement in the past week, Thompson Auto-Ordnance introduced the 75th Anniversary Commemorative Iwo Jima Series.
These firearms depict the 1945 battle that is immortalized in the iconic flag-raising photograph in Mount Suribachi.
From Thompson Auto-Ordnance:
The Iwo Jima 1911 is custom engraved by Outlaw Ordnance on the left side with battle scenes, and the official name for the action: "Operation Detachment". The grips feature Admiral Chester Nimitz's famous quote, "Among the men who fought on Iwo Jima, uncommon valor was a common virtue"; along with a depiction of the famous flag raising on Mount Suribachi. The right side also features a battle scene, the dates of the operation, "Iwo Jima", and an advancing American flag. The grip depicts an eagle and anchor. The finish is a Cerakote OD Green with distressed Copper color. Each Iwo Jima 1911 starts as an all steel, Auto-Ordnance GI model 1911, made entirely in the United States. The caliber is .45ACP, with a 5" barrel, and one seven round magazine. The Iwo Jima 1911 (SKU: 1911BKOWC6) has an MSRP of $1247.
The Iwo Jima M1 Carbine is engraved with battle scenes on the forearm, along with an island map. At the middle, the left stock displays the dates of the battle, and "Operation Detachment". Engraved on the opposite side are the words "Iwo Jima" surrounding an advancing American flag. The right buttstock depicts the raising of the flag on Mount Suribachi, and features Admiral Nimitz's quote, "Among the men who fought on Iwo Jima, uncommon valor was a common virtue". The right side has battle scenes in front of the text "WWII". Each Iwo Jima M1 Carbine is made entirely in the United States. It is chambered in .30 Carbine, has an 18" barrel, and OD Green with distressed Copper Cerakote finish. One 15 round magazine is included. The Iwo Jima M1 Carbine (SKU: AOM130C3) has an MSRP of $1391.
The Iwo Jima Thompson is engraved with "World War II" on both sides of the forearm. The receiver is engraved with "Operation Detachment" on the left, and "Iwo Jima" along with the dates of the battle on the right. Both sides of the wood grip are marked "US". The buttstock has battle scenes on each side, with "WWII" on the right, and the flag raising on Mount Suribachi on the left. Admiral Nimitz's famous quote "Among the men who fought on Iwo Jima, uncommon valor was a common virtue" is engraved on the right buttstock. Each Iwo Jima Thompson is made entirely in the United States. It is chambered in .45ACP, has a 16.5" barrel, wood furniture, and is finished in OD Green and distressed Copper Cerakote. One 30 and one 20 round magazine are included. The Iwo Jima Thompson (SKU: TM1C3) has an MSRP of $1886.
⊕Retay Arms
Masai Mara 20ga Shotgun
Gun News. This week Retay Arms announced a new scaled-down version of its 12ga Masai Mara. It won't be available until January after its debut at the SHOT Show 2020. It will be available in walnut and synthetic models, including SP waterfowl configurations. Initially, the 20ga will be available with 26″ or 28″ barrels, but special editions including a 20ga version of the "Turkey XT" configuration and a youth configuration will be released in the future. Retay is currently accepting pre-orders from dealers, is planning to begin shipping in mid-February.
From Retay:
The Retay "Inertia Plus System™" effectively eliminates misfires that have plagued inertia shotguns until now. The system uses an ingenious active torsion mechanism inside the bolt carrier body to apply added rotational force to the bolt head.
The system essentially forces the bolt head to rotate into lock up with the breach, even when conditions are less than ideal. At the same time, the "Inertia Plus System™" prevents unintended disengagement of the bolt head from the breach. If disengagement is caused by sudden jarring of the firearm or accidentally snagging the bolt on a branch while in the field, the "Inertia Plus System™" corrects itself, automatically returning the bolt to full lock up with the battery. The firearm remains ready for action and ready to fire without any intervention on the part of the operator.
⊕Strike Industries
EMP G9&40 (+0)
Gun News. Strike Industries just introduced another California compliant solution with the EMP-G9/40+0 magazine extension. The optional steel weight provides for quicker mag drops and overall grip comfort. It can also be used with Strike's AR tungsten weights.
From Strike Industries:
Created from high impact resistant polymer, the EMPG9/40+0 was designed to provide smoother magazine reloading through a low drag / no snag design while maintaining zero additional magazine capacity with any OEM GLOCK magazine for G17(9MM) & G22(40CAL). A good solution to California 10 round regulation.
Product Features:
– Plus zero
– Optional weight included
– Can take advantage of the quick and easy gripping design of the G17 EMP as a +0
– Provides overall grip comfort.
Package Includes
1 x Plus Zero EMP
1 x Optional steel weight
1 x Rubber Spacer
Dimensions:
35.14mm L x 29.25 mm W x 35.14mm H
⊕Franklin Armory
Response to ATF Open Letter Regarding the Reformation Firearm
Gun News. On December 23, Franklin Armory published a press release in response to the ATF's December 19, 2018, open letter about the Franklin Armory Reformation®. According to Franklin Armory, the ATF assured that consumers and licenses are not in jeopardy for the transfers and activities related to 18 U.S.C. 922(a)(4) and (b)(4) that occurred prior to the publication of the open letter. The letter cautions:
Still, the December open letter communicates the ATS's intention to proceed with temporary restrictions against the sale of complete FA Reformation® branded products, pending new regulation and form development and implementation. In the meantime, Franklin Armory plans to offer continued support to distributors, dealers, and customers with the following services (in their words):
Any dealers or distributors with Reformation® firearms are welcome to return them for a refund or credit. Please call our customer service line for an RMA.
Any dealers that purchased their Reformation® firearm from a distributor may send the firearm back to us but we will need to credit the distributor and the distributor will then credit the dealer. Please call our customer service for an RMA.
Consumers that possess our firearm are legally allowed to retain them. Neither of the sections referenced in the open letter today prevent ownership of a Reformation® firearm.
While we are waiting for the ATF to develop the new forms and promulgate new regulations, we will continue to sell our Reformation® barreled upper receivers. Consumers are still allowed to use our upper receivers to build out their own Reformation® firearms since doing so does not constitute a dealer to consumer transfer.
Friday, December 20, 2019
Welcome back to GunMag Gun News 5×5 Friday.
Here we are at the end of another week, with the holidays upon us. Hopefully, you're ready for the season. And hopefully, you can find some time to get to the range for some holiday plinking!
We've got several sweet new guns to look at this week. FN added a compact version to their 509 series, so be sure to check it out. Henry just announced a new .410 with a 16″ barrel that classifies as a non-NFA firearm that has my interest piqued.
Sig Sauer made three announcements this week. You'll want to check out the exclusive, limited offering of Military Surplus M17s. I included Sig's video so be sure to watch. They also announced a bolt-action hunting rifle that combines the features of a hunting rifle with the accuracy of a precision rifle, as well as a new airsoft rifle that is a battery-powered, automatic electric gun (AEG) that runs on a rechargeable battery.
Shooters who train with .22's or who participate in .22 competitions will be interested to know that Bergera just released a new .22 LR Rifle.
You can scroll down to read about the newest firearms in the industry this week. But before that, take some time to enjoy some firearm holiday music by Black Rifle Coffee Company. This video is from 2017, but it's still pretty great!
⊕FN America
FN 509 COMPACT MRD
Gun News. Yesterday, FN announced the release of its smallest optics-ready pistol to the FN 509 family of pistols. The FN 509 Compact MRD is a striker-fired 9mm that features the patented FN Low-Profile Optics-Mounting System. This system allows for a low-profile, direct mount through a carefully developed plate system. It positions the optic so that the focal point allows for a low-profile mount and co-witness with the sights. The iron sights are all-black in order to minimize interference with the optic.
From FN:
The frame, reduced in overall size for concealability, features a MIL-STD 1913 Picatinny rail that accepts most compact pistol lights, improved controls to aid in manipulation, improved texturing on the two included backstraps for better recoil management, and a new flatter faced trigger allowing for more controllable trigger press and cleaner break.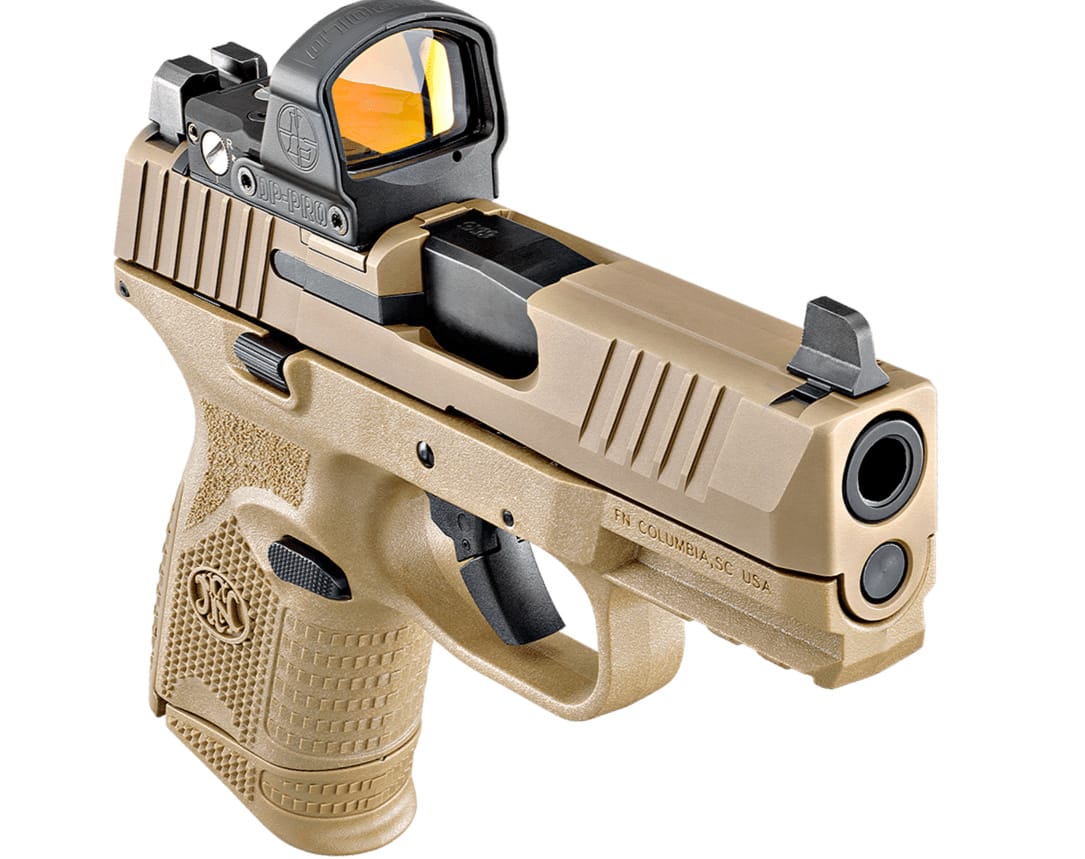 Each pistol ships in a branded soft-sided, zippered case with FN Low-Profile Optics-Mounting System™ plate kit, one 12-round magazine with pinky extender and one 15-round magazine with grip sleeve or in an all 10-round magazine configuration for states with magazine capacity restrictions. The FN 509 Compact MRD also has the capability to accept all higher capacity FN 509 magazines with use of a sleeve. Manufacturer's suggested retail price of the FN 509 Compact MRD pistol is $799.00 and is available to purchase through authorized retailers.
⊕Henry
NON-NFA Lever Action Axe .410
Gun News. Here is Henry's latest release. With a barrel length of just under 16-inches and an overall length of just over 26-inches this new firearm is not regulated under the Bureau of Alcohol, Tobacco, Firearms and Explosives' National Firearms Act and will not require a tax stamp to purchase.
From Henry:
The Lever Action Axe .410 stresses the importance of a unique firearm that's fun to use in a recreational setting, but it's feature set also lends it utility. With a barrel length of just under 16-inches and an overall length of just over 26-inches the Axe can be stored in far more places than an average long gun. This compact stature opens the possibilities of where the Axe can be stored and used. The magazine, which holds 5 rounds of 2 ½" .410 shells can be continuously topped off through the side loading gate without needing to remove a tube magazine until the firearm needs to be unloaded. The round blued steel barrel is topped with a polished brass bead front sight and threaded for invector style chokes. A removable full choke is included out of the box. The bottom of the genuine American walnut "axe handle" grip is engraved on the bottom with Henry Repeating Arms' cowboy logo.
⊕Sig Sauer
CROSS Precision Bolt-Action Hunting Rifle
Gun News. This new bolt-action hunting rifle from Sig Sauer is designed to combine the features of a hunting rifle with the accuracy of a precision rifle. It is lightweight with a push-button, foldable SIG precision stock. The one-piece aluminum receiver eliminates the need for bedding the action.
Features include:
Stainless-steel rifled barrel.
Free-float M-LOK handguard.
AI magazines.
A 2-stage match-grade trigger that is externally adjustable from 2.5-4 lbs.
Ambidextrous safety.
3-lug bolt design with a 60° throw
Interchangeable bolt handle.
Spring-loaded precision stock
Loaded for one-handed operation.
Field adjustable for length of pull and comb height (no tools).
Full-length Picatinny rail for direct optics mounts, 20 MOA and 0 MOA.
The CROSS is available in 6.5 Creedmoor, 308 WIN, and the soon-to-be-released 277 SIG Fury Hybrid Ammunition with a black anodized or First Lite camo finish.
From Sig Sauer:
"When our product management team and engineers researched developing a bolt-action rifle, they looked at what was missing from the market, and what new innovation SIG could bring to hunters and precision shooters," began Tom Taylor, Chief Marketing Officer and Executive Vice President, Commercial Sales. "Hunting rifles are typically focused on less weight, and accuracy is secondary. Precision rifles are designed for extreme accuracy, with no weight limitations. What was missing from the market was a true crossover. Our product management team and engineers took the best of both worlds and developed the CROSS featuring the characteristics of a hunting rifle, with the accuracy of a precision rifle."
The CROSS is completely manufactured and machined at the SIG SAUER facilities in New Hampshire. Tested by premier competitive shooters, long-range shooters, and a team of professional hunters that the CROSS is built for.
"Right out of the box the CROSS comes loaded with new innovation and features that hunters and precision shooters will appreciate at a very affordable $1,779.00 MSRP price point," continued Taylor. "The CROSS delivers on all fronts, and we are especially proud that everything about the CROSS from concept to completion is 100% SIG SAUER and comes directly from our U.S. operations here in New Hampshire."
CROSS Bolt-Action Rifle Specs (6.5 Creedmoor):
Overall Length: 35.5"
Folded Length: 27.0"
Barrel Length: 18"
Barrel Twist: 1:8
Weight (w/o magazine): 6.4 lbs.
CROSS Bolt-Action Rifle Specs (308 WIN / 277 FURY):
Overall Length: 36.5""
Folded Length: 25.0"
Barrel Length: 16"
Barrel Twist: 1:10 / 1:8.5
Weight (w/o magazine): 6.2 lbs.
SIG AIR ProForce MCX Virtus Airsoft Rifle
The MCX is the latest addition to the SIG AIR division. It's adjustable "hop-up" adds spin to the BBs in flight, for additional stabilization that results in increased distance and accuracy. It has three fire-control modes: safe, semi-automatic, and automatic. The magazine (included) holds 120 rounds of 6 mm polymer or biodegradable BBs. The MCX is equipped with interchangeable springs for velocity enhancement, with BB velocity up to 370 fps and muzzle energy of 1 joule when using a .20-gram polymer BB.
From Sig Sauer:
"The SIG AIR ProForce MCX Virtus is a very effective, safe training tool for professionals and avid target shooters that replicates the look and feel of its firearm counterpart, making it an ideal option for training in a myriad of environments where live fire is not possible," said Matt Handy, Director, SIG AIR. "This is an exciting product for SIG AIR because, like the MCX, it's completely modular and can be easily configured for multiple variations or loadouts based on purpose."
ProForce MCX Virtus Airsoft Rifle:
Total Length: 30"
Barrel Length: 11.5"
Weight: 6.5 lbs
Finish: Black
Muzzle Velocity: up to 370 fps
Muzzle Energy: 1 joule
Caliber: 6mm BB
Magazine Capacity: 120 rounds
Power Source: Automatic Electric (Battery)
M17 Surplus
Here's an intriguing slice of gun news. This week, Sig Sauer announced an exclusive, limited availability offering of M17 Military Surplus handguns to the commercial market. These firearms were manufactured under contract with the U.S. Army under the original Modular Handgun System (MHS) specifications. The M17 Surplus in a 9mm, striker-fired P329-based handgun platform.
Features:
Coyote-Tan PVD coated stainless steel slide.
Coyote-Tan controls.
Coyote-Tan medium carry grip module with U.S. Government slide markings and serial numbers.
SIGLITE sights (orange rear / green front).
Removable night sight rear plates.
MHS contract specified optic cut, ready to fit Sig Sauer Electro-Optics ROMEO1Pro Optic.
Ambidextrous manual safety.
Ships with one 17-round and two 21-round magazines.
Official Sig Sauer M17 Certificate of Authenticity included.
From Sig Sauer:
"The M17 Military Surplus handguns are a very special release from SIG SAUER, that gives consumers the opportunity to own a piece of history, and includes a certificate of authenticity," said Tom Taylor, Chief Marketing Officer and Executive Vice President, Commercial Sales. "These handguns were originally issued by the U.S. Army and fielded during the initial domestic and in-theater deployment of the Modular Handgun System. The unique, one-of-a-kind, features of the M17 Surplus handguns include coyote controls, the original government-issue markings and serial numbers, and orange rear and green front SIGLITE Night Sights, which will make them coveted by both military and firearms collectors alike."
M17 Surplus Handgun Specs:
Overall Length: 8.0"
Overall Height: 5.5"
Overall Width: 1.6"
Barrel Length: 4.7"
Sight Radium: 6.6"
Weight (incl. magazine): 29.6 oz.
⊕Bergara
B14 .22 LR Rifle
Gun News. As .22 competitions grow in popularity, shooters may be interested in this new rifle from Bergara. The B14 became available through retailers across the country this week.
From Bergara:
This new rifle is built on a full-scale REM700 footprint, including a 90 lift and longer bolt throw. These features allow shooters to have the same size and feel to their centerfire rifle and accommodates the use of other REM700 compatible stocks, bases, and triggers.
Because the B-14R is based on a full-size receiver design, it also provides a perfect platform to allow any shooter the ability to customize their rifle with all kinds of compatible accessories already in the market. The B-14R features a 10-round magazine modified single stack .22LR design that is built to similar dimensions as a standard short action AICS mag.
Friday, December 13, 2019
Welcome to this week's GunMag Gun News 5X5 Friday.
This week in Gun News, we have a couple of new pistols to look at from Glock and Smith & Wesson. Desantis didn't waste any time alerting the industry that they have seven holsters that'll fit the new Smith & Wesson.
Military, Law Enforcement Officers, and First responders will be interested to know that Honor Defense is offering a special holiday discount for custom designed pistols. There are four firearms to choose from on the website, each with accessory and color/coating options.
Also, since 2016, Apex has been raising money for the survivors who are faced with rebuilding their lives after losing a loved one who died in the line of duty. They've been donating a chunk of the proceeds from each sale in their Thin Blue Line trigger kits to the cause, and this week they announced that this program has raised over $200,000 for the cause. Frankly, that's awesome. But they've taken it beyond that by adding four new trigger kits to the product line. Be sure to scroll down and read about it.
⊕Glock
44 chambered in .22LR
Gun News. This week, Glock caused a stir in the industry when it debuted its first-ever .22 LR caliber pistol at a live product launch. Basically, as Paul Carlson says, "If you think about a Glock 19 chambered in .22 lr with a polymer slide and a 10 round magazine, you pretty much nailed what the Glock 44 is."
The G44 features many of the latest enhancements seen in the 5th Generation of Glock pistols such as:
ambidextrous slide stop lever and reversible magazine catch
Glock Marksman Barrel (GMB)
Adjustable back straps
Adjustable rear sights.
Ghost hole loaded chamber indicator
Comes with two 10-round load-assist magazines
From Glock:
Glock has taken everything that is fun and functional about a .22 LR caliber pistol and enhanced it to improve your experience with optimal performance. "While many .22 LR firearms exhibit tendencies to function differently with particular ammunition types, the G44 pistol functioned to near perfection," said Bryan Peterson, Manager of Product Concept Development at Federal Ammunition.
⊕Smith & Wesson
M&P9 Shield EZ
Smith & Wesson says that they received a lot of positive feedback when they released the M&P380 Shield EZ last year, so they decided to expand the pistol platform by making this one chambered for 9mm caliber. They say the EZ pistol platform is easy-to-rack, easy-to-load, and easy-to-clean.
M&P9 Shield EZ pistol features include:
Easy-to-Use Design
Easy-to-rack slide for trouble-free manipulation
Tapered rear slide serrations, providing an easy-to-grasp surface
Easy-to-load magazine design with load assist tab for quick, easy loading
Superior Performance
Low bore axis for ultimate recoil control
Chambered in popular 9mm caliber
One-piece, single-action trigger for crisp trigger pull with tactile and audible trigger reset
Windage- adjustable, white dot rear sight
Superior Controls
Tactile loaded chamber indicator to both see and feel if a round is in the chamber
Reversible magazine release that's easily adjusted for left or right-hand operation
Available with ambidextrous manual thumb safety
Available with factory-installed Crimson Trace Red Laserguard
Watch this video from S&W.
⊕DeSantis
Holsters for S&W M&P9 Shield EZ
So, if you're going to get one of the new M&P Shield EZ, you're going to need a holster, right? DeSantis didn't waste any time on that, as they've got seven options to choose from.
Mini Scabbard features pin-point molding and a customizable tension device. It accommodates belts up to 1 1/2″ wide. MSRP is $63.99.
The Thumb Break Scabbard has a unique tension device that keeps the gun secure and allows for "next level" concealability. Special customizations, such as suede lining and/or basket weave finish, are also available. Belt slots are 1 3/4″. MSRP is $78.99.
The Speed Scabbard is designed to meet the needs of plainclothes professionals who prefer a holster without a thumb break while still providing firearm retention. This is accomplished with precise molding and tension screw device on most models. Belt slots are 1 3/4″ wide. MSRP is $78.99.
Inside Heat is a barebones minimum IWB holster built from black saddle leather. It is only available in black saddle leather in both right and left-hand models. MSRP price is $41.99.
Pro Stealth comes with a 1 3/4″ sturdy, powder-coated black spring clip to keep it securely anchored to your belt. The clip may be removed and inserted on the opposite side for left-hand carry. A spare magazine pouch is standard for autoloader models. MSRP price is $38.99. An optional thumb break is available separately.
Tuck-This II has a tuckable 3600TM clip can swing from cross draw to FBI-strong side carry, and even the small of the back. The tab allows the shirt to be tucked down in between the gun and trousers, affording nearly total concealment. Autoloader versions of this holster will have a magazine pouch built into the front holster spine. MSRP price is $49.99.
Inner Peace 2.0 is a padded ballistic nylon IWB holster designed for appendix carry. The Tuckable 360® C-Clip allows adjustment for both height and cant. The Integrated magazine carrier is positioned for quick reloads. MSRP is $39.99
⊕Honor Defense
"Hero Holiday" for LE, Military, and First Responders
Gun News. This week, Honor Defense announced their new"Hero Holiday" program, which offers a 15% discount for Active-duty Military, Retired Military, Veterans, Law Enforcement & First Responders. Participants can design their own custom single-stack 9mm pistol. Every model is 100% USA, assembled by veterans with a stainless-steel modular chassis, is ambidextrous, +P rated, +P proofed, and comes with a Lifetime Warranty.
From Honor Defense:
"Hero Holiday is another way we support American Veterans, Active-duty Military, Law Enforcement, and First Responders. We are humbled by their service and appreciate their commitment to our nation and communities. When professionals want accuracy, comfort, USA quality and more features for CCW, they select Honor Defense." quoted Gary Ramey – President of Honor Defense.
Simply go to https://honordefense.com/product/custom-pistol to design your pistol and use coupon code: HeroHoliday.
Once completed, email or fax your information (example – DD214 or ID card) to Honor Defense. The custom firearm will be built and shipped to your local FFL.
⊕Apex Tactical Specialties
Thin Blue Line Triggers—Freedom Edition
Gun News. This week, Apex announced that they have reached a charitable milestone. So far, they've raised over $200,000 for Concerns of Police Survivors (C.O.P.S.), which is a not-for-profit organization dedicated to helping survivors rebuild their lives after losing a loved one in the line of duty. Coinciding with this milestone, Apex announced the new Freedom Edition of their Thin Blue Line Triggers. Apex originally launched the triggers series in October of 2016. The company donates 25% of each Thin Blue Line trigger kit that is sold to fund the programs administered by C.O.P.S.
The Freedom Edition triggers feature a blue center-mounted pivoting safety. The safety is housed in a Black Type III Hardcoat Anodized trigger body that is laser engraved with a U.S. flag motif.
From Apex:
Available kits are for the following models:
– Gen 3/4 Glock Pistols
– Gen 5 Glock Pistols
– Slim Frame Glock Pistols
– M&P M2.0 Pistols
Shortly, Apex will be adding kits for the FN 509, FNS-Compact, FNS, M&P Shield, M&P Shield 45, the original M&P and Walther PPQ pistols.
That's all for this week's GunMag Gun News 5×5 Friday. Be sure to head over to the Ammunition Depot to check out the new goods from Starline Brass, Sig Sauer, and Berger.
Friday, December 6, 2019
Welcome back to this week's GunMag Gun News 5X5 Friday.
This week the National Shooting Sports Foundation released its 2017 Firearms Production Report to members. Here's the rundown:
Total number of firearms in civilian possession from 1986-2018 (estimate): 422.9 million.
Modern Sporting Rifles in private ownership today: 17,740,000.
Percentage of all rifles produced in 2017 that were modern sporting rifles: 54%.
Firearms produced and imported in 2017: 7,901,218.

Pistols and revolvers: 4,411,923.
Rifles: 2,821,945.
Shotguns: 667,350.

Interim 2018 estimates of firearms produced and imported: 7,660,772.

Pistols and revolvers: 4,277,971.
Rifles: 2,846,757.
Shotguns: 535,994.

Ammunition of all calibers and gauges produced in 2018: 8.1 billion rounds.
Firearms and ammunition manufacturing employees: nearly 12,000.
Firearms-ammunition goods shipped in 2017: $4.1 billion.
The violent crime rate from 1993–2017 decreased by 48.6%.
The unintentional firearm-related fatalities from 199302017 declined by 68%.
According to NSSF President Joe Bartozzi, "These figures show the industry that America has a strong desire to continue to purchase firearms for lawful purposes. The Modern Sporting Rifle continues to be the most popular centerfire rifle sold in America today and is clearly a commonly-owned firearm with more than 17 million in legal private ownership today. The continued popularity of handguns demonstrates a strong interest by Americans to protect themselves and their homes, and to participate in the recreational shooting sports."
Also in this week's Gun News, Heckler & Kock just release a Sporting version of the widely popular MP5 submachine gun. Be sure to check that one out! Sig Sauer is in Gun News again this week. Civilians who have been itching to get their hands on the Sig Sauer M17 and M18 now have a chance. Seeing that there was a high demand for it, Sig Sauer released a smaller civilian version of their handgun chosen by the U.S. Military. They also got an award for diversity in manufacturing – well, duh.
Hellcat fans – be sure to look at the intriguing new holster from Tulster. And if you want to see the latest tech from XTECH Tactical, check out their newly released Smart Laser.
⊕Heckler & Kock
SP5
Gun News. This week Heckler & Kock announced that their new sporting version of the MP5 is now available in the U.S.
Manufactured at the HK factory in southwest Germany by the same folks who have been making MP5's for years, the SP5 retains many critical elements of the MP5, like precision-machined components and attention to detail. Since this PCC platform is widely popular, users will have a wide variety of accessories to choose from to increase functionality.
From Hk:
"Our whole team is very proud and very excited to finally bring the SP5 to the US," HK-USA COO/CSO Mike Holley said. "The MP5 isn't just a customer favorite, it's an HK employee favorite too. So, we are just thrilled to roll out the most authentic semiautomatic-only version of it we've seen in the US."
Designed and manufactured to meet the definition of a civilian pistol, the SP5 is loaded with authentic features, like a Navy barrel with threaded tri-lug adaptor, paddle magazine release, fluted chamber, and chrome-lined bore.
The backbone of the SP5 is the roller-delayed blowback operating system, which is legendary for its accuracy, reliability, and smooth shooting dynamic. Originally perfected on the Heckler & Koch G3 rifle, it has been used on several other HK firearms still serving today around the world.
A wide variety of accessories can be added to increase its functionality. As the world's most popular pistol-caliber carbine platform, the MP5 and SP5 are supported by an aftermarket loaded with lots of great accessories.
The SP5 is shipping now. MSRP is $2,799.
⊕Sig Sauer
Commercial Variant of the Military M18
Gun News. This week, Sig Sauer introduced a commercial variant of the U.S. Military Modular Handgun System (MHS) M18, for the civilian market. It's a smaller version of the M17 with a 3.9″ barrel, compact slide, and carry-length grip module. The U.S. Marine Corps recently chose the M18 as its official sidearm, and as a result of the MHS contract, the full-size M18 was recently issued with the full-size M17 to all branches of the U.S. Military. According to Sig Sauer, the P320-M18 handgun is currently shipping and now available in retail stores.
From Sig Sauer:
"Since the official selection of the M17 and M18 by the U.S. Army for the Modular Handgun System (MHS), we've seen significant civilian interest to own both variants of the handguns. The P320-based M17 and M18 are among the most tested handguns in history and the pair has been proven to be unmatched in both accuracy and reliability," said Tom Taylor. Chief Marketing Officer, and Executive Vice President, Commercial Sales. "We are very proud that with the P320-M18, civilians can now own the same innovation and versatility that has made either the M17 and M18 the handgun of choice for all branches of the U.S. Military."
The P320-M18 is a 9mm striker-fired pistol with an exclusive "M18-XXXXXX" serial number that comes with one 17-round magazine and two 21-round magazines. The pistol features a SIGLITE front night sight and a removable night sight rear plate as specified by the MHS contract. The slide is optic ready and with the rear sight assembly removed, the SIG SAUER Electro-Optics ROMEO1Pro Optic mounts directly to the slide. The P320-M18 is configured nearly identically to the U.S. Military's models and features black controls, a carry-length coyote-tan grip module, coyote PVD finished slide, and an ambidextrous manual safety. The P320-M18 is also available in a state compliant version and is currently listed on the Massachusetts handgun roster.
P320-M18 Handgun Specs:
Overall Length: 7.2"
Overall Width: 1.6"
Weight (incl. magazine): 28.1 oz
Overall Height: 5.5"
Barrel Length: 3.9"
Sight Radius: 5.8"
Sig Sauer Receives 2019 Ballistic Best Editors' Select Award for "Most Diverse Manufacturer"
Gun News. By receiving this award, Sig Sauer has been recognized by Athlon Outdoors for superiority in class, quality, and innovation simultaneously in multiple niches. The list includes pistols, rifles, optics, ammunition, suppressors, and airguns.
From Sig Sauer:
"SIG is the only manufacturer in the industry that you can go to for everything you need to shoot, and we are honored to be recognized for all of our product categories by the Editors at Athlon Outdoors with this Ballistic Best Award for Most Diverse Manufacturer," said Tom Taylor, Chief Marketing Officer, and Executive Vice President, Commercial Sales. "We manufacture all of our products, across every product line, with the superior quality and innovation that we are known for, and that consumers have come to expect from SIG."
The SIG SAUER Ballistic Best Editor's Select Award for "Most Diverse Manufacturer" is featured in the Dec/Jan 2020 Issue of Ballistic Best published by Athlon.
⊕Tulster
IWB Profile Holster: Springfield Armory Hellcat
Gun News. Tulster just announced these new Inside the Waist Band holsters for the Springfield Armory Hellcat.
From Tulster:
From the ground up, the profile Holster was designed to be an ultra-concealable, minimalistic, appendix carry holster without the drawbacks. Distinct features such as the matte-edge finish and minimal material used facilitate in a comfortable fit providing maximum concealment for concealed carry.
Removal of extra material between the muzzle and retention screw adds to a layer of comfort without digging into the body or thigh. The trigger guard is intentionally undercut to promote a higher grip on the Springfield and allow for a magazine release while the firearm is fully holstered.
From the injection molded belt clip to the soft loop option, the cant settings are easily adjustable from 0-15 degrees to allow for a perfect grip on the hellcat.
Features:
Undercut trigger guard
Works with Quick Clip or Softloop Kit
Adjustable retention
Adjust cant from 0-15 degrees
Full sweat shield
Rounded and matte edges
Minimal material
⊕XTECH Tactical
Smart Laser
Gun News.
⊕USCCA
"Why I Carry" YouTube Series
As the subjects of firearm safety and personal protection rise in the national consciousness, more people are adapting to the EDC lifestyle by carrying a personal firearm so they can protect themselves and loved ones, should the need arise. This week, the United States Concealed Carry Association launched a new 10-part series called "Why I Carry." The videos are 4-7 minutes long, with different people explaining why they carry, and which firearm they have chosen for their personal defense firearm. They also speak about and demonstrate the accessories that they prefer.
The firearms discussed in the series include:
Glock 19
Glock 17
Sig P365
Sig P320
Ruger SR9C
Smith & Wesson M&P C.O.R.E. 9mm
Ruger SR40c
Glock 42
Glock 43
Ruger LC9S 9mm
Here is part 1 of the series: