SHOT Show 2020: bigger than ever (and growing)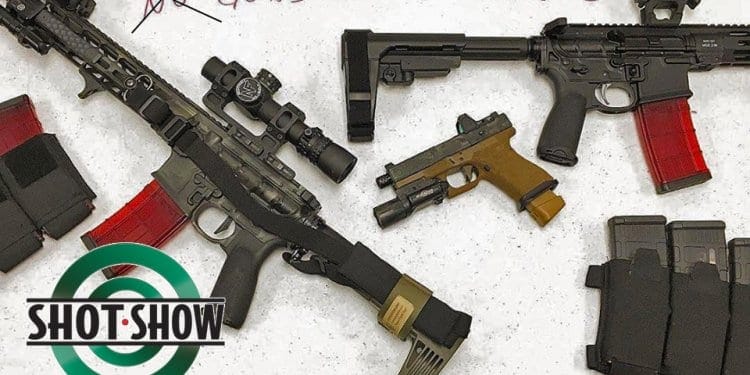 The 2020 SHOT Show: it'll be a little bigger than its predecessors and bigger yet in 2021. That's what the NSSF (National Shooting Sports Foundation) and various tourism organizations are reported. Will it continue to grow beyond 2021? It might if the planned expansion to new [Las Vegas] Strip locations continues.
SHOT Show 2020
This year is the 42nd instance of the annual convention, which began in St. Louis, MO. in 1979, and the 10th year it'll have been held in Las Vegas. The NSSF is estimating it'll host 2,400 exhibitors and approximately 60,000 attendees from all across the industry and many countries. Current estimates project it to be at nearly one million square feet of show space, with nearly 3,000 exhibitors, by its 43rd birthday.
Should be interesting to see what it's like at in 2028 at 50!
According to a report from the Las Vegas Review-Journal (and updates since then), SHOT-related business will be incorporated into the MGM Grand Conference Center in 2020; it is supposed to expand even further to the nascent Caesar's Forum in 2021. Colloquially known as "SHOT", the convention has been held at the Sands Convention Center since 2010. It is somewhere between the 6th and 8th largest annual show in Las Vegas depending upon how one measures such things. 2019's show reportedly brought over $90 million to the metro area.
The convention is currently scheduled to be held in Las Vegas until at least 2027.
New guns of 2020
SHOT Show 2020 's new guns
What will they be? We'll have to see. There have been releases all year long and there are certainly more to come. Watch this space for more when we know it.
New knives of 2020
Blades from SHOT Show 2020
It's too early for us to know about this either, but we've seen a couple things start to make an appearance on social media.
Like this folder from PMR Knives.
SHOT Show – what is it?
Pardon the presumption of familiarity early on. We'll let Vegas tourism folk explain it:
"The SHOT Show will showcase new, innovative products used for target shooting, hunting, outdoor recreation and law enforcement purposes. On display will be a wide spectrum of products, including firearms, ammunition, gun safes, locks and cases, optics, shooting range equipment, targets, training and safety equipment, hunting accessories, law enforcement equipment, hearing and eye protection, tree stands, scents and lures, cutlery, GPS systems, holsters, apparel, leather goods, game calls and decoys.
The products unveiled at the SHOT Show are usually what consumers will see on retailers' shelves during the course of the year."
It really is huge. The conference utilized 640k square feet in 2017 and 650k in 2018 with some 12.5 miles of aisles. Once the new facilities are fully incorporated the number of exhibitors is expected to increase by 25%; you can find just about anything firearms-, hunting-, ammunition-, tactical-related there somewhere if you look hard enough. The NSSF's Chris Dolnack has said (somewhat ambiguously) that the largest new categories will be "…optics, cartridge, and accessory manufacturers…"
SHOT Show 2020 dates
The 2020 SHOT Show officially runs from Tuesday, Jan. 21 through Friday, Jan. 24. Effectively, however, it will start before that, and continue for a day or two after. Media Day at the Range will be Monday, Jan. 20, and several manufacturers will hold private range events as early as Saturday the 18th. There is also a charity golf tournament on Sunday the 19th.
SHOT Show 2020 location
This 2020 convention will again be held in the Sands Expo Center and Venetian Congress Center. The additional exhibition space to be opened up in the MGM Grand Conference Center has, as of this writing, yet to be assigned. If previous years are any guide, the NSSF will soon publish an interactive online map of all exhibitors. You'll be able to find that here: https://shotshow.org/floorplan
SHOT Show 2020 tickets
The SHOT Show is not open to the public. Attendance to the show is restricted to members of the shooting, hunting, and outdoor trade industry, including buyers, sellers, manufacturers, and members of the media. Per the NSSF, "Admission at the SHOT Show is restricted to the shooting, hunting and outdoor trade and commercial buyers and sellers of military, law enforcement and tactical products and services only. Applicants who register to attend the SHOT Show are required to submit documentation to verify their trade status."
Industry Day at the Range
The NSSF describes Industry Day at the Range as the "…largest, most influential one-day event in the hunting and shooting sports—and it continues to grow. More than 1,800 media members and buyers annually gather at the Boulder Rifle and Pistol Club to test and evaluate the latest introductions from over 200 manufacturers representing every major category in the industry.
The press coverage, content created and social media reach generated immediately and throughout the year from this single pre-SHOT event make it a can't miss for all brands and products. Learn how to get involved or increase your participation below."
SHOT's "official" range day will be at the Boulder Rifle & Pistol Club; there will be other range days at other locations, however.
Learn more online with the Las Vegas How-To Guide.
SHOT Show 2021
The NSSF SHOT Show in 2021 is scheduled for Jan. 19-22, 2021
SHOT Show 2022
The NSSF SHOT Show in 2022 is scheduled for Jan. 18-21, 2022
Registration: https://registration.experientevent.com/ShowFFL201/Flow/INQ/#/registrant//Profile/