Last winter I talked about my top five favorite guns for CCW in cold weather. For some, the weather doesn't make any difference when deciding what gun to carry. They either live in a place with consistent weather, or they like to carry the same gun year-round. There is absolutely nothing wrong with that either. But my goal is to always carry a gun that is full-size or as close to it as I can get. In the winter, I tend to carry full-size guns because they are easy to conceal. Jackets and coats are so roomy, I could hide a Desert Eagle under there if I wanted to. The reason behind this is that a full-size gun is just better in a gunfight than a smaller, compact gun.
But the summer months bring hot weather with T-shirts and shorts, not jackets or coats. Warm weather makes carrying a full-size gun challenging. So that brings us to warm-weather guns. I have said many times before, I am not a fan of micro-sized guns. They are hard to control when shooting, hard to shoot fast, and they don't hold much ammo. Having said that, I do carry a micro-sized gun every now and then. Even though I am not a fan, they still serve a purpose. I don't recommend carrying a micro-sized gun all the time, but a small gun is better than no gun.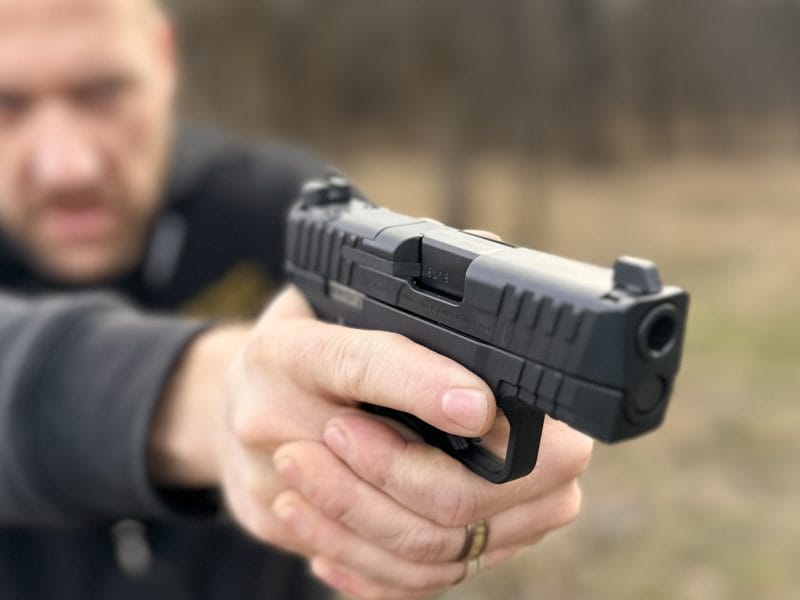 Why are larger guns better for self-defense?
Larger guns are easier for most people to shoot and stay on target. Now, don't get caliber and the size of the gun confused. I'm still talking about common self-defense rounds. If you shoot a small gun chambered in 9mm and then a full-size 9mm handgun, the larger gun is more accurate, holds more ammo, and has less recoil. But we can't carry full-sized firearms around with us all the time. So, we make some compromises to keep it concealed.
I carry the largest gun that my wardrobe will conceal. Where I live, it's not uncommon for the temperature to exceed more than 100° F during the summer months. That's just too hot to wear extra layers to cover up larger guns. Inside the Waistband holsters (IWB) are great for concealment, but they work best with medium to small guns in the summer.
This is not a perfect list because everyone has different tastes, wears different clothing, and lives in different environments. But here is my list of the top five guns I carry during the summer months.
1. Kimber Micro-9, 1911
The 9mm Kimber Micro-9 is one of my favorite compact guns. It keeps the 1911 feel even though it is shrunk down. It is on the smaller side, but I can get a good two-handed grip on it. I like 1911 pistols, so this gun feels comfortable to me. It holds 7 + 1 in the mag, which is on the lower side, but all 1911 weapons are. The Micro-9 is not a heavy gun, but the metal frame does give it a little more heft than a polymer handgun. This helps with recoil and allows the gun to be fired faster.
Because it's a 1911-style gun, the Micro-9 must be carried with the hammer back and the safety on. This makes some people uncomfortable. As you draw, the safety on the Micro-9 must be pushed down with the thumb, so it does take practice to become familiar with it. For 1911 lovers, this is a perfect compact gun for summer carry. Polymer molded holsters for IWB carry are easy to find and inexpensive.
2. Masada Slim 9
I love the Masada S9, and except for 1911 pistols, this is one of my favorite CCW guns. I consider this 9mm pistol more of a medium-sized gun and not compact. My shirt needs to be a little loose to conceal it, but the grip is on the slim side. The Israeli-made gun is reliable, easy to shoot, and a perfect cross between full-sized and compact. Ammo capacity is 13 + 1, so nearly double the Kimber's capacity. It comes optic-ready to attach a red dot and you have a good setup. I use Vortex's new Defender CCW red dot with this gun. The sights are tall enough to see through the red dot in case the optic fails.
The only complaint I have with this gun is the lack of holsters. I'm hoping the holster companies catch up someday and give us some options. For now, I use a soft IWB generic holster which does the job. The grip on the S9 is thin so this is a good option for those who don't like thick or bulky grips. This is a budget-friendly gun, but the reliability and accuracy are far beyond entry-level.
3. Glock 48
Anyone who owns a gun and most who don't are familiar with Glock. The Glock 43 and 43x are some great options for those Glock lovers. One of my favorite Glocks for CCW is the Glock 48. If you want the best of both worlds, the 48 is a combination of Glock 19 and 43x. It's thin like the 43x but has the same barrel length as the 19. It's on the long side for a CCW gun, but it's thin and works great with some wardrobes.
The magazine capacity in Glock 48 is ten rounds because Glock used a single stack mag. If you want a higher capacity, however, Shield Arms makes a metal 15-round mag that is staggered. This is a nice size weapon for holding 15 +1 rounds of 9mm. It's a Glock so you already know it will be reliable and accurate. Some 43x holsters will fit the 48, but the barrel will stick out at the end. Glock offers an MOS version if you want to mount an optic to it.
4. Springfield Hellcat
The 9mm Hellcat turned out to be a rockstar for Springfield Armory. It is a worthy contender to the Glock 43 and 43x, and other small-frame handguns. It's not as thin as some others but it holds 11 + 1 and is not much bigger than the Glock 43 which holds 6 + 1. The angle and shape of the grip make this gun surprisingly comfortable to shoot even though it's a smaller framed gun. They offer MOS versions and the sights that come standard are impressive as well.
The trigger is a little stiff after you take up the slack, but this doesn't bother me on a CCW weapon. Springfield is offering multiple versions of the Hellcat including the larger Hellcat Pro for those wanting a larger weapon. I use a polymer IWB holster and an OWB leather pancake belt holster on occasion. I have shot my Hellcat a lot and I have nothing to complain about with this one.
5. Ruger LCP Max .380
Even though I prefer not to carry a small micro-sized gun if I can help it, sometimes I don't have a choice. If I can't conceal anything larger, this is better than nothing. And I'm not knocking Ruger's LCP. This is a great gun for the size and is not bad to shoot. The Max version holds 10 + 1 which is a lot of ammo for such a small gun. Run some drills with a full-sized gun and this one though and you will see what I mean by weapon control. Shot placement will not be as good and speed will be slower.
That's why I go with the largest gun I can. But if your clothing doesn't allow you to hide anything larger, the Ruger LCP Max is a good option. Once I broke the gun in, I haven't had any feeding or cycling issues. It has a good set of sights, with post on the front and U-shape on the back. My molded inside-the-waist holster hides this thing with any t-shirt I want to wear. It's a good option to have, but I don't recommend using it as a regular CCW gun.
What's the best summertime CCW gun for you?
You may have a different list, or maybe you're looking for one gun to carry year around. If you are, find one that fits your lifestyle. You may want to go with something that's not full-sized or too small like the Masada S9 or Glock 48. If the way you dress each day doesn't leave room for concealing a gun, a compact version like the Ruger LCP Max may be your only option. Whatever choice you make, be sure to train, buy extra ammo, extra mags, and then carry it every day.