The world of the magazine fed semi-automatic shotgun has does nothing but grow in the last few years. Once upon a time, we had Saigas and some custom, expensive shotguns. These days guns like the Rock Island Armory VR60 has brought both the price of box fed semi-autos and made them much more common and ergonomics. The Rock Island Armory VR60 and I have gotten to become good friends in the last few weeks, and after a few hundred rounds down range, I'm ready to give some thoughts on the gun.
Specs
Caliber – 12 Gauge

Capacity – 5 Round box magazine

Barrel Length – 20 inches

Action – Semi-Automatic gas operated

Chokes – Full, modified, and improved cylinder.

MSRP – $499.00
Whats in the Box
You, of course, get the Rock Island Armory VR60 shotgun, two 5 round magazines a choke wrench and three chokes with a carrying case. The shotgun is packaged in a protective cardboard box and bubble wrapped to an extreme.
The Rock Island Armory VR60 looks and feels like a bulked up M16. It's a big gun with a bulky handguard and plenty of Picatinny rails. The added carry handle and front detach with ease, and there are lots and lots of room for optics of all kinds. The handguard has a full-length bottom rail, and two short side mounted rails. There is plenty of room for all sorts of accessories.
On the Range with the Rock Island Armory VR 60
I've taken the Rock Island Armory to the range a few times now and have had the pleasure of putting a variety of buckshot and birdshot downrange. The first thing I noticed was recoil. This gun recoils harder than most semi-auto shotguns. Typically the gas systems help reduce recoil, but the VR60 hits more than I expected. I'd hate to use the term over gassed though.
The reason I hate that term for this gun is the fact that it seemingly cycles everything. It runs on the light and cheap Wal Mart Federal birdshot with ease, even the light Fioochi birdshot loads I had run in this gun. I tossed in some reduced recoil buckshot, and it still ran. This ammo has refused to operate in other semi-auto shotguns. I'm honestly impressed by how reliable it was with all types of ammo.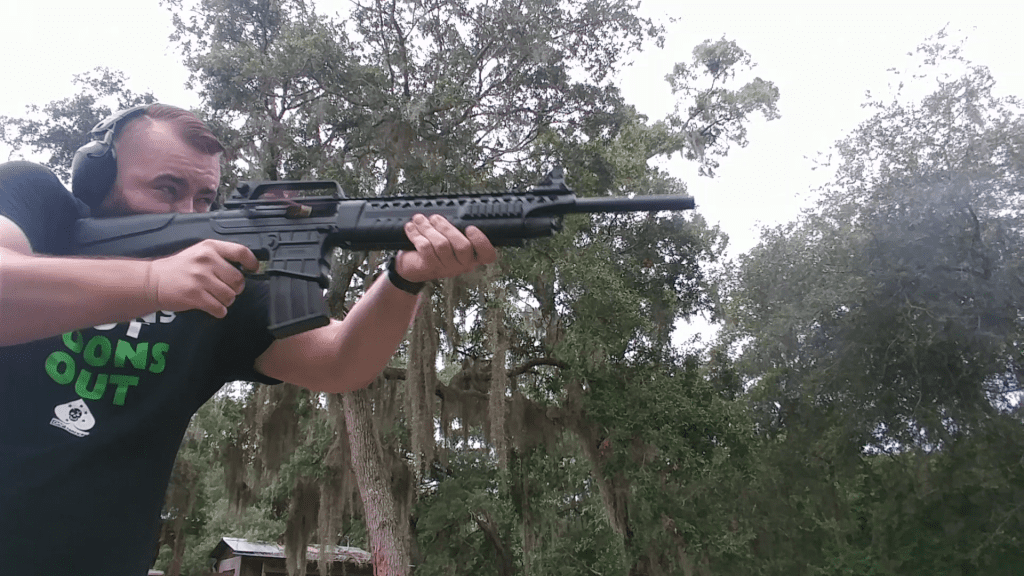 Failure wise I only ran into one failure to eject with the Fioochi light loads, and this was in the first 100 rounds of a brand new semi-auto shotgun. It's been very reliable, and I have neither applied lube or cleaned the gun since I received it.
Ergonomics
The Rock Island Armory VR60 is built as a mock-up M16 and features most of the M16/AR15 controls. This includes the safety, magazine release, and bolt release. The most significant difference is, of course, the right side charging handle.
The gun has a substantial length of pull and a comfortable stock with a raised portion that's perfect for a cheek rest. It has a sturdy recoil pad, and the gun itself weighs just a bit over 7 pounds. It's a comfortable gun when it comes to handling it. It looks bulkier and more cumbersome than it is.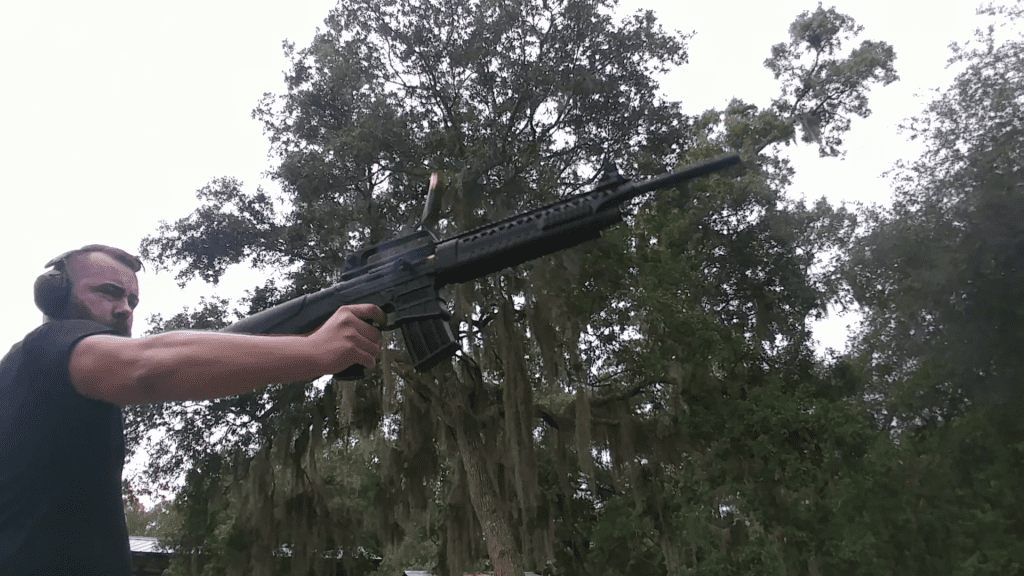 Unfortunately, you can't swap out the handguard, stock, or rails with AR 15 parts. The magazines do not drop free and have to be removed with a little force.
The safety moves smoothly and is easy to reach, but it doesn't give you that same tactile click when its moved into place.
Loading the magazine is a bit of a hassle. You have to try and avoid the rims of the shells catching each other and preventing the round from going entirely rearward. It gets old after a few magazines, and I got to the point where I was loading 4 to a magazine cause the 5 was a pain. The mags are made of metal and have functioned flawlessly when it comes to hitting the range.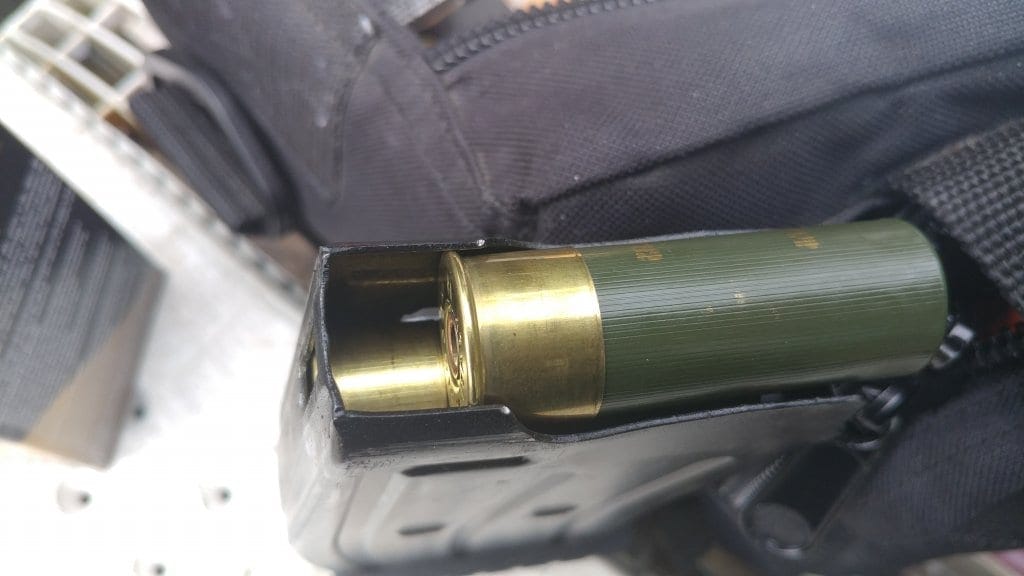 The sights feature a flip up peep sight and an open sight. I stuck to the open sight, I mean it's a shotgun, c'mon.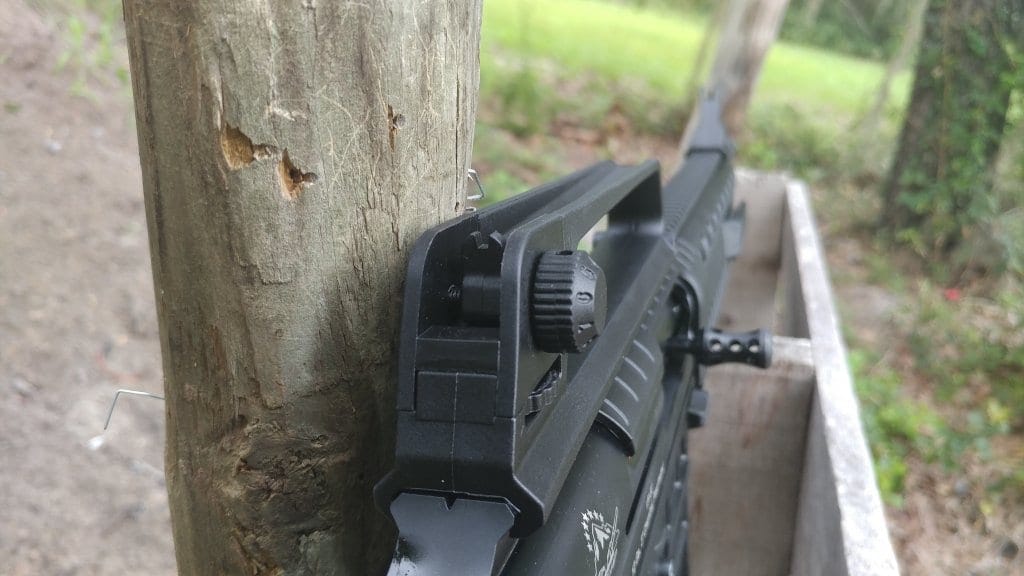 Bang Bang
The gun is a blast to shoot. It throws shells with force and goes as fast as you can pull the trigger. I love the power of a semi-auto shotgun, and it's an absolute blast to run through boxes of shells when shooting this bad boy. It runs reliably and is a real workhorse of a gun. For the price, it's a great semi-auto shotgun. They can be found for under 400 bucks, and at that price, I was taken back by this gun's reliability and ease of use. The Rock Island Armory VR60 is a great fun gun for any collection.