For a long time now the Trijicon RMR has reigned as the king of pistol mounted reflex sights. I have had an RMR 06 since the early days, however, I've resisted its adoption as a part of my everyday concealed carry handgun. The new Specialized Reflex Optic from Trijicon may very well change that. The SRO may have taken the positive attributes of the slide mounted red dot past the tipping point and land one in my holster.
Since people have been mounting dots on pistol slides for carry, I have been aware of where the trend was going to lead: Exactly the same path that red dot optics followed on carbines: from competitive use to military and LE testing and proving grounds, to near universal adoption.
Slide mounted red dot sights have faced some challenges that rifle adoption has never had to confront and that has slowed the progress of the RDS trend. One by one, those challenges have been addressed and it seems that the time of the dot has come.
I'll be taking a specific look at the SRO in a couple of future articles, but before we dive into the SRO specifically it makes sense to look at slide mounted red dots and their evolution in general. Through improvements in durability, mounting solutions and ease of use the slide mounted red dot sight is becoming more of an option for today's handgun shooters.
Red Dot Obstacles
No solution is perfect and with all the slide mounted red dot has to offer it has never been perfect. The drawbacks at times have been significant and it has taken a big push from a lot of intelligent and motivated people to help and address the barriers to adoption.
Durability of Optics

One of the biggest concerns I have had with the dot has been durability. The king, the Trijicon RMR is without question the most durable reflex sight out there. It has performed well as a pistol slide mounted optic but we would be silly if we didn't consider its durability limitations. You must remember that the RMR was designed for a completely different application, mounting atop an eight pound rifle.
The sight is STRONG. It can easily withstand the banging and clunking that comes with being attached to a rifle enduring abuse of everyday use in extreme conditions. Drop your rifle on the RMR and it is very likely that it is going to keep right on going.
Take that same sight and mount it to the reciprocating slide of a handgun and you require a completely different kind of durability. The energy of recoil from the shot, from slide acceleration and deceleration are completely different beasts and they can take their toll. As reliable as the original RMR was, there were limitations and hardcore shooters found them.
Although reliability has improved, this shouldn't be a surprise. Remember, Trijicon didn't build the RMR for pistols.
Cost and Mounting Solutions
As much as I would like to think that money isn't important, we all have a budget. Or at least we should. When it comes to solving concealed carry solutions, that budget matters. When you factor in the cost of adding a red dot sight like the RMR or SRO to your competition, duty, or concealed carry handgun a distinct cha-ching can be heard as you consider your options.
$500 for a handgun, another $500 or so for the optic, around $100 for a new set of sights, and a couple hundred for the machining to be able to mount the optic. Well over $1K just for the gear and that doesn't include instruction, ammo and training time to adapt to the dot.
Today the landscape is a bit different with major manufacturers offering factory pistols that are ready for mounting a variety of optics with the RMR footprint being a default option for most. Several manufacturers are even including an optic with the purchase of a dot mounted package. Smith & Wesson now offers a slide mounted dot on their Performance Center Shield for less than $900.
In addition to factory guns being dot ready there are a host of aftermarket companies that have custom slides at fair prices ready to put on to the top end of your pistol. A simple swap of the top end changes your gun from irons to a dot. This allows you to maintain the value of your original pistol purchase and in a matter of seconds change your setup based on your need or desire.
Plain and simple, today it is less expensive than ever to get into a slide mounted red dot.
Ease of Red Dot Use and Education
Today's mounting solutions certainly make use of the slide mounted dot easier but so do some important design considerations in the optics themselves and a proliferation of red dot educational opportunities.
Manufacturers are paying attention to their customers and how they use their gear and that has resulted in design modifications that make the gear perform more efficiently and more reliably.
Trijicon is the perfect example with the SRO. Moving the battery door from under the sight to the top makes maintenance much simpler. Increasing the window size and transitioning to a more tubular design increase use-ability and make reflex sights more attractive to the end user.
The opportunity to take courses that are specifically geared to help students increase their performance with slide mounted optics has relieved a significant obstacle for many. When you have the chance to learn from another person's journey it can significantly increase the rate of your progression along a similar path.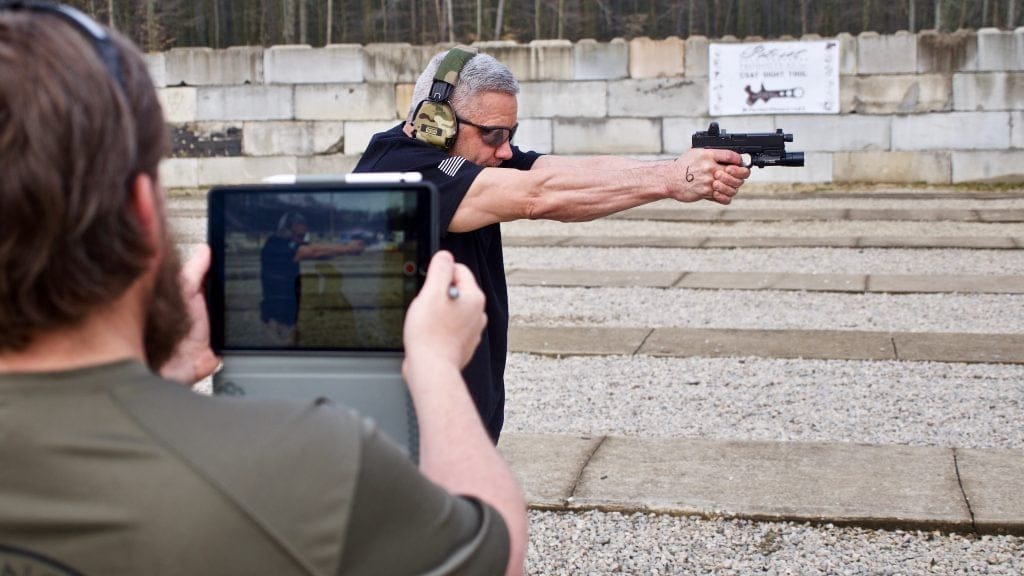 I recently observed a Handgun Diagnostics Course taught by Joe Weyer of Alliance Police training and although this course wasn't a dot specific course, the content would
To be continued…
Yesterday I swung by Black Boar Armory and Coatings to pick up my slide. It is cut for a Trijicon RMR and as a result will fit the SRO that is headed my way nicely. The fresh coat of GLOCK Gray Cerakote is going to look slick and I'm looking forward to taking the Specialized Reflex Optic for a serious spin. It won't be long before I am loading up GLOCK 17 mags and heading to the range to see for myself.
The fact is that, like it or not, red dots have probably reached the point in their evolution where they deserve serious consideration from those that are open to the benefits they can provide.
Improvements in durability, improvements in mounting solutions and their availability and the education that is now available to increase proficiency and ease use are what have caught and now held my attention on the viability of slide mounted red dots like the SRO.
What are your thoughts on pistol red dots? Are you a committed user or have you been avoiding the trend? Let me know what has pushed you in either direction.
Of course I will keep you in the loop as I explore red dots and specifically the SRO.