The use of electronic hearing protection has increased in the past decade, so much so that they are being integrated as standard PPE alongside ballistic protection. Special Operation units have been using electronic headsets underneath or attached to their helmets for many years in the Global War on Terror.
Dedicated headset-and-helmet setups are the preferred system as they are the most comfortable to have on. There is nothing wrong with having a dedicated helmet system with the headset attached, but that means you lose your hearing protection the moment you remove your helmet. That means that you need a spare headset handy when you don't want to wear your helmet. All of the current adapters for headsets require tools to install and remove, making it a pain to deal with and definitely not field serviceable by any means.
Ops-Core AMP Communication Headset
The Ops-Core AMP, which stands for Adaptive Mission Platform, is a solution to all the shortcomings in previous headset designs. It truly is not like anything before it, and that is saying a lot. I have been running electronic headsets from almost every brand that is available for the past decade and the AMPs are in a league of their own in many ways.
I checked out AMPs in person at SHOT Show 2020 and tried them on and it didn't give me enough time to truly appreciate them or the numerous features that they have in their design. I was fortunate enough to have a set sent to me from the team at Ops-Core for this report. I received the AMPs, connectorized and NFMI enabled (more on that in a bit) in Tan 499 of course.
Connectorized allows for the use of connecting with radios and comes with a boom microphone. NFMI stands for Near Field Magnetic Induction to power the optional NFMI earplugs. Yes you read that right…the AMPs with the NFMI enabled headsets have a coil inside that provides power to these earplugs wirelessly.
I bought the NFMI earplugs in order to be able to add them to this report. I was curious as to how it all goes together. As with all electronic headsets, it is always a good idea to run double layer protection and that would include the use of earplugs underneath. With any standard set of earplugs, it will be harder to hear the electronically amplified sound from the headsets.
That doesn't apply to the NFMI earplugs however, they play the role as a second layer of hearing protection and amplify the enhanced sound from the AMPs — all wirelessly. All you have to do is place them in your ear canals and push the NFMI mode button on the AMP and you're good to go. Now you can hear everything around you, all while enhancing the hearing protection levels.
AMP Noise Reduction and Sound Quality
Before I go any further, let's go over the NRR (Noise Reduction Rating) numbers because that's the rating that all hearing protection goes on. The AMPs by themselves have an NRR of 22 Decibels. Add the NFMI earplugs and the NRR goes up to 34 Decibels! That is impressive, to say the least, since the earplugs don't take away from the amplified sounds.
The sound quality is quickly apparent as soon as you turn them on. It's what you don't hear, the static or clicking that most electronic headsets have. The AMPs replicate the ambient sounds very well, so much that it sounds almost to normal as if you weren't wearing any headsets at all. They contain 3D hear-through technology that helps greatly with your situational awareness by letting you know the direction each source of noise is coming from. It also allows you to hear yourself and others during loud noises such as gunshots. This is very helpful during a range session or training course. During a firefight or emergency, also, the ability to communicate effectively can have a positive effect on a successful outcome
Design, Attachment, Versatility
The headband for the AMPs have a slim profile and the shape of the ear cups are low profile to fit underneath a helmet if that's how you want to run it. It sets itself apart from anything before it with the simple attachment design that requires no tools whatsoever. The cups have recessed tabs for the retention clips from either the headband or rail adapter kit or helmet rail mount kit. Just make sure that you have them in the correct direction with the rounded edge facing the top. At first glance, the clips that attach to the cups look flimsy but they are in fact flexible and strong.
The helmet rail mount kit has arms that are extendable with a gimble that is at the center of the clip attachment to the cups. This allows for free movement in different directions.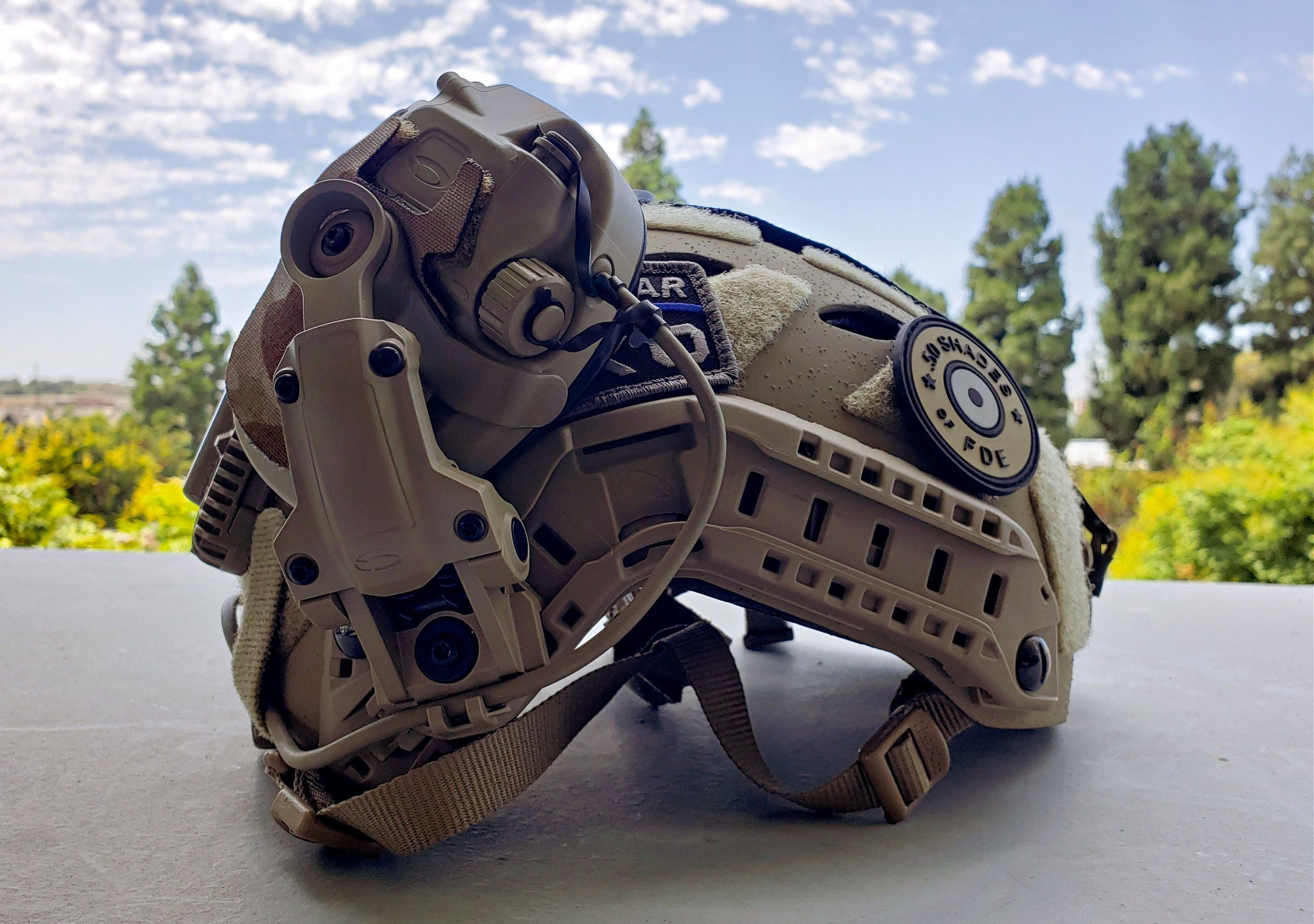 The AMPs on the helmet rail mount kit system can fit and adapt to any size and shape head that is out there. Having different sets of helmet attached electronic headsets, I know how difficult they are to install and remove; some are easier than others. The design of the AMPs and helmet rail mount kit makes it a breeze to switch back and forth. Here's a quick video I made to demonstrate how easy it is to accomplish.
Watch This
Easily Swapped
The ability to swap from headset to helmet lives up to its namesake and is easily one of my favorite features because it takes a common-sense approach to a problem that all the other headsets before it had.
Weight and Balance
The helmet rail mount kit system with the AMPs also centers your helmet and adds stability as well as places the weight of the system, approximately a little bit over a pound, towards the rear of the helmet. This should negate the necessity of using counterweights when one is using night vision devices. I did not have access to NODs during this wear period, but I would believe that the helmet rail mount kit system creates a very stable platform when attached to your helmet.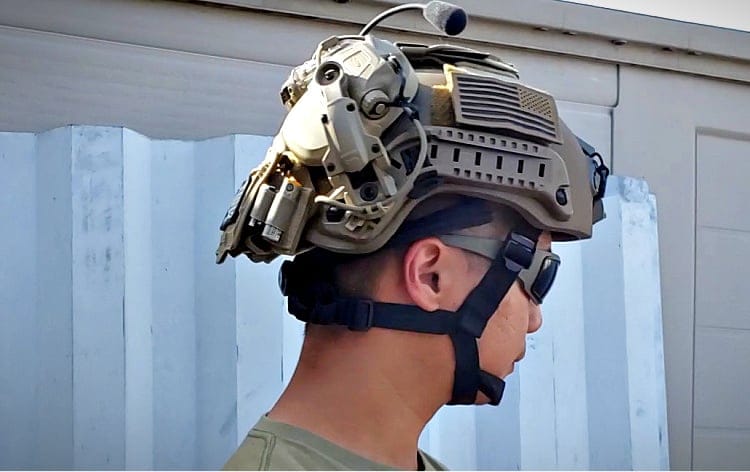 Battery and Controls
Battery life has been good so far. I have not changed them from the original set that came with them in the package. They are rated up to 120 hours with two lithium AAA batteries. The battery doors are tethered and easy to access. They also have automatic shut down in two hours just in case you forget and leave them on.
There are a total of three buttons on the AMP (two if you have the non-NFMI equipped version). Two volume control buttons are on the bottom of the left ear cup and the NFMI button is centered on the outer left side.
To turn on the AMP, hold either volume control buttons You will hear them beep three times in an ascending tone. To turn on the NFMI button if you want the feature on, there will be two beeps and immediately you'll hear the amplified sounds.
To turn off, you have to press both volume buttons simultaneously for a few seconds until you hear them power down, which is a bit difficult to do with one hand. You will hear a descending three beeps. I have to use both thumbs and grab onto the left ear cup to turn them off. Another button would be nice, but it's understandable to keep it compact with less parts to deal with.
The microphone is noise canceling and is removable simply by unplugging it from the socket in front of the ear cups. There is a cover to protect the port when not in use. The microphone can be switched to either side easily as well, as there are identical ports on each ear cup. This version of AMP also has the quick detach downlead ports. Downleads are sold separately.
I do not have a use for the microphone or the downleads as I just use them strictly for hearing protection and enhanced awareness. It is very helpful to have those options taken off and sealed up when you don't want or need them to save weight, bulk, and be snag-free. With most other communications headsets, you are stuck with the microphone and cables permanently attached that need to be managed when not in use, which takes some creativity to deal with.
Range Performance
The Ops-Core AMP is feature-rich and reads well on paper in all areas. It only gets better when you actually use them. As I have mentioned before about the sound quality, it is excellent. When I am at an indoor range, I can have a full conversation with my friends without needing them to raise their voice or me asking to repeat what they said. It was very evident to me how well the AMPs worked in a loud environment when I wore a different headset recently and had a lot of trouble hearing my friend over all the gunfire. I had to constantly ask him to say again what he just said.
More About NFMI Earplugs
With the NFMI earplugs in place, you have an enhanced NRR rating with the AMP on. If for whatever off-chance, the AMPs get bumped off, you'll still have protection from harmful sounds with the earplugs. Most earplugs that I have experience with get uncomfortable rather quickly. That isn't the case with the NFMI earplugs. They come with different sized foam adapters, I use the smallest of the bunch and they are comfortable to have in, even for an extended period of time. They do have a nylon tether that ties the two earplugs together, they are very necessary to have so you don't happen to lose them if they slip from your fingers. The tether sometimes snags on my vest during training but it was never a big issue. They also come with a small round plastic storage container to keep them clean when not in use. Since it is a small container, it is very important to pay close attention to where you place them. I have thought I lost them a few times which can get a bit stressful so I have a particular pouch they live in when not in use.
Aftermarket AMP Options
There are camouflage decals that are available through Ops-Core in Multicam and Multicam Black that will help with the anesthetics to match whichever pattern you run. I got the Dynamic Fuzz velcro cup fuzz that will give you velcro real estate on the AMPs as well as accept the covers that come in different colors and patterns. They're cut to match the surface area of the AMPs. They also add some thickness that keeps the attachment points very snug. Since Multicam Arid is my favorite pattern of them all, I have the covers in that particular pattern. They also offer some padding and protection to your AMPs.
Professional Opinion — These Take the Cake!
The Ops-Core AMP Headset and NFMI earplugs have exceeded my expectations in almost every way over the wear period. They are very convenient to handle and switching them to adapt to your current mission or usage couldn't be more simple to accomplish.
In my professional opinion, these are the best electronic headsets that I have used so far. I never like to say any product is the best in anything, but these take the cake in terms of innovation, design features, ease of use, sound quality, and durability.
As good as they are, they are definitely not for everyone. The MSRP starts at $799.95 and only goes up from there, depending on what features you want or need. It is a high-quality piece of kit made for professional end-users who need the absolute best hearing quality and protection. Currently, the AMP is under extensive use with US Special Operation units.
I would recommend them for everyone to use. However, I understand that the price point puts them out of reach for the average consumer who just needs some ear pro for the occasional range trip. The AMPs would be a bit overkill for most casual shooters and hard to justify the cost when there are other options available in reachable price ranges.
Does that mean the AMPs are overpriced? Not at all. They are comparable in price with the latest generation of high-end electronic headsets in its class. If you shoot competitively, take a lot of training courses, or call the range your home-away-from-home and you want a high-quality headset (and is within your budget), then you don't need to look any further.