If you carry a pistol for duty or as a concealed carry citizen, you have already made the decision to take on the responsibility and risk that comes with having a firearm on your person. It isn't a light decision, and it has dire consequences. However, people who choose to carry a firearm do so because they want to defend themselves and others against anyone who becomes an immediate threat.
There are no guarantees in life, and that applies to carrying a pistol. It may give you better odds, but there's no absolute guarantee that you will win or survive that incident. What it will definitely do is give you a fighting chance. I always call it a tool that you may never need, but it is the only tool that you will need in certain situations.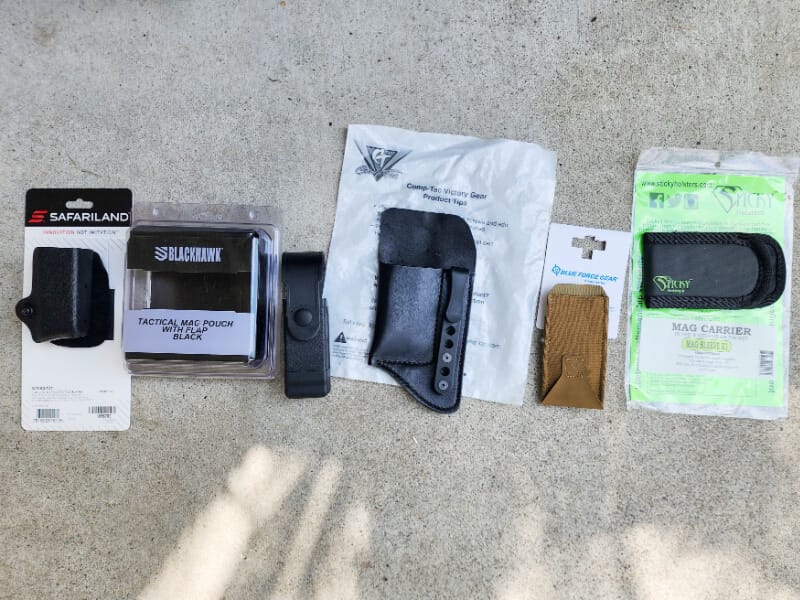 Being a Law Enforcement Officer for over 15 years, I know the difference between what equipment and tools are available to me when I am on Duty versus when I am Off-Duty. When I am Off-Duty, I am for all intents and purposes, no different from a Concealed Carry Permit holder or citizen who is able to carry concealed. I do not have the duty to act, it is entirely up to me whether I will or not. The only difference is that when I or any Off-Duty Officer decides to act and Identify to everyone that they are a Peace Officer, then police powers come on. Not before that.
There are a lot of things to consider when you are Off-Duty or a civilian concealed carrier. You will most likely be carrying a Compact, Sub-Compact, or Micro Compact Pistol because they are easier to conceal and much more comfortable than a Full-sized Pistol. Even with the increased magazine capacity of some newer pistols, I highly recommend that you carry at least one spare magazine that is quickly accessible as well.
On Duty, I have a full-sized pistol, a Gen 5 Glock 17 MOS with a 17-round magazine in the pistol, and two to three spare extended magazines with 22 rounds each using Arredondo Accessories magazine extensions. I also have other tools at my disposal, pepper spray, a baton, handcuffs, a med kit, a tourniquet, and most important of all, my radio. I may also have a partner or partners within minutes if I need them. That's a lot of resources and equipment when compared to when I'm Off-Duty, and most people who carry concealed.
I personally have my P365X, AIWB holster, one spare magazine, and one tourniquet on me at all times. I will sometimes have my mini med kit, depending on if I have enough pockets, and more spare magazines in an EDC bag that is always in the car. Having that one extra mag is not much more to carry but it will give you more rounds in case you need it. It's a small price to pay in terms of weight and comfort.
Gun Mag Warehouse is an excellent place to get your magazines as well as accessories, including magazine holders. They sent me several different types from different brands to run and test out. I will go over each and tell you what I think about them in a few criteria:
Main use/purpose/activity
Compatibility with magazines
Build quality
Ease of donning and doffing
Comfort
Concealability
In categories 3-6, I will rate them 1-5, with 5 being the best.
This comes from my own personal experiences of carrying a firearm almost every single day from the day I graduated from the Academy over 15 years ago. I will tell you what I think of each. However, these products may work differently for people who are built differently and have personal preferences. I will do my best to stay with the criteria that I have set and leave it at that. I hope that this will help you make a more informed decision and more ways to carry a spare magazine that you may not have heard of or thought of yet.
Safariland Open-Top Single Magazine Pouch for Glock 17 Pistols
Main use/purpose/activity: Plain Clothes Duty, where a full Duty Belt is not in use. Detective, or going to Court in a suit.
Compatibility with magazines: Made specifically for Glock 17/19 9mm mags. Will also fit Sig P320 9mm mags with adjustment of the tension screw.
Build quality: 5
Ease of donning and doffing: 5
Comfort: 5
Concealability: 1
This Safariland mag pouch
is well made and is an Outside the Waistband (OWB) holder. It can be an overt carrier if your assignment is a detective or going to court, for example. It supplements the standard single mag and handcuff combo that is common, and it also places the magazine at an angle to help with drawing from. I wouldn't recommend it for off-duty carry as it wasn't made for that purpose. It attaches easily to your belt and the retention is adjustable with an Allen key.
Blackhawk Tactical Magazine Pouch with Flap
Main use/purpose/activity: Duty, attaching to the Serpa holster system. Range use.
Compatibility with magazines: Glock 17 9mm Mags. Will fit Sig P320 9mm magazine, however, it will be a looser fit. The flap will retain the mag.
Build quality: 4
Ease of donning and doffing: 1
Comfort: N/A
Concealability: N/A
This mag holder from Blackhawk
is an accessory to be mounted onto holster platforms, for an overt and open carry application. It doesn't fit well into the concealment purposes. It is made well and is an option to assist in carrying a spare magazine if you are running a duty rig or as a range rig.
Comp-Tac Single Magazine Concealment Pouch (LSC – Large)
Main use/purpose/activity: EDC Concealment
Compatibility with magazines: Glock 19/17, Sig P320 and P365 9mm
Build quality: 5
Ease of donning and doffing: 4
Comfort: 3
Concealability: 4
The Comp-Tac mag holder
is the most unique looking one of the bunch. Made mostly of cowhide with an adjustable Kydex clip, it goes inside the waistband and clips onto the outside of your belt. It is compatible with all of the magazines that I have and since it is IWB, there is good retention from just the pressure from your pants and belt. This also helps with concealment. It is well made with good quality leather. It was not the most comfortable to wear all day for me. This is very subjective, I will say; probably due to my smaller frame. It may work better for others and it can also get more comfortable with time and breaking in further.
Blue Force Gear Belt Mounted 10-Speed Single Pistol Magazine Pouch
Main use/purpose/activity: Belt Mount OWB or IWB, attached to a Plate Carrier or CHest rig via Molle.
Compatibility with magazines: Glock 17/19/26, G43, Sig P320, P365
Build quality: 5
Ease of donning and doffing: 4
Comfort: 5
Concealability: 4
The Blue Force Gear Single Pistol Pouch
is the slimmest and lightest of the pack. It is a hybrid with elastic material and Ultra comp. When not in use, it is flat. It is very versatile as it can hold many other items other than a pistol magazine. It can be belt mounted, either inside the belt or OWB, and can be mounted onto a plate carrier or chest rig, or other gear via molle. Comfort and concealment vary, depending on where you place it: inside the belt or OWB. It is easy to draw your mag or other item out, (which is more important) than it is to stuff it with a mag or multitool, flashlight, etc., especially if you have it inside the belt. It is easy to attach to your belt with the velcro strap, but it isn't the quickest.
Sticky Holsters Magazine Pouch Sleeve
Main use/purpose/activity: EDC Concealment
Compatibility with magazines: Glock 17/19/26, G43, Sig P320, P365
Build quality: 5
Ease of donning and doffing: 5
Comfort: 5
Concealability: 4
This is another versatile mag pouch
. It is the most simple and easy to use of them all. Just put your magazine in and place it in your support side pocket. It is padded, making it thicker, especially with a magazine in it. The outer texture is sticky, but not in a bad way like stepping on soda in the movie theater — just the right amount for you to access and draw your mag when you need it. It fits pretty much all 9mm mags. The padding makes it comfortable to carry all day. Concealment is dependent on the type of pants you have. It may end up looking like you have a Snickers Bar in your pocket.
After using all of these mag holders over a period of time, I found them to be good at what they do and what they were designed for, allowing you to have more ammunition on your person when you will need it the most. Find the one that fits your specific needs and lifestyle. I hope this was helpful in your decision-making process.
I have a bin full of holsters for my P365 and I switch back and forth depending on my clothing choice for the day. The same can be true for magazine holders. You might get a few of these so you have the best option for the activity of the day.
The world is getting crazier so if you can carry, carry everywhere you can and make sure to carry an extra mag with you. Stay safe!