You've seen it in Resident Evil, Robocop, John Wick, and The Blacklist; you've played it in Brink, Call of Duty, Splinter Cell, Rainbow Six, and many other games: it's the Kriss Vector. In this particular case, it's the Kriss Vector SPD-SB pistol., here reviewed by Garand Thumb. Available in 9mm, .45 ACP, and 10mm, the Vector Gen II SDP-SB pistol (and it's sub-machine gun counterpart) is one of the most distinctive-looking firearms to come along since the advent of the Calico M960 and FN P90.
Here's how the video timeline breaks down:
03:18 Introducing the Kriss Vector
05:06 Recoil and recoil mechanism
06:10 original design as a subgun.
06:49 Thoughts on the Kriss as a PCC (Pistol Caliber Carbine).
10:35 Ergonomics and build "tip to butt".
13:18 Pic rail, foregrip, dangers of hitting mag release with a magazine grip vs. C clamp
16:015 Magazine change on the Vector (and ammunition management)
18:00 Magazine discussion & failure risk with extended mags
20:13 Glock magazines for use in the Kriss Vector (and vice versa)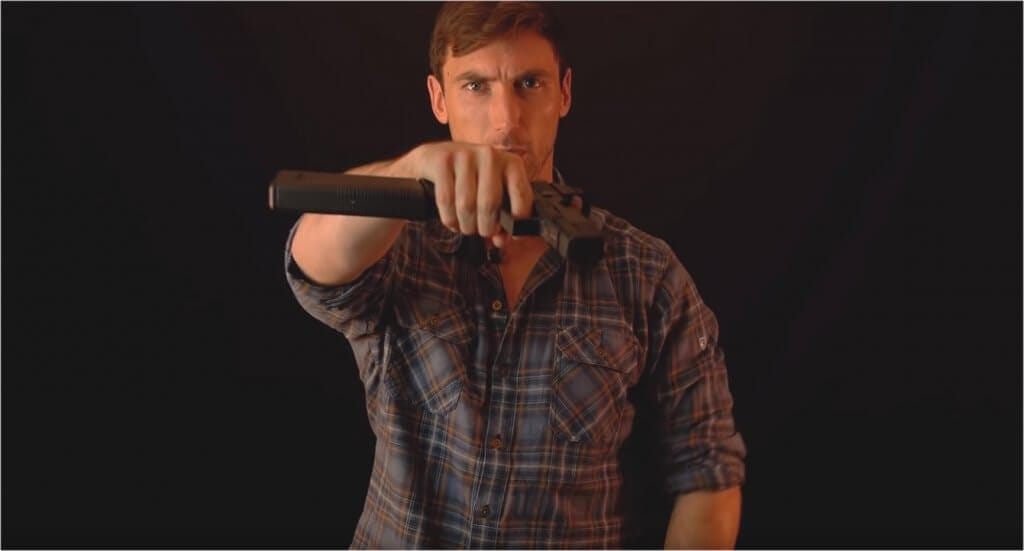 20:49 Adding a suppressor
28:07 Final thoughts
31:16 Training is what matters
IMFDB describes the Vector as a weapon that uses "…diverted recoil in the form of the "Kriss Super V" system, in which an inertia block travels downwards in a recess behind the magwell as the action cycles in an attempt to offset muzzle climb (the fact that it then has to travel back upwards means this actually just creates an odd up-down oscillating motion when firing in auto). The action was patented by French designer Renaud Kerbrat, formerly of FN Herstal, while the polymer outer housing and folding stock of the weapon were designed by MagPul."
That site continues,
"In 2015, new "Gen II" versions of the original Vector models with redesigned pistol grips and safeties and compatibility with a new 9mm lower were announced. "Enhanced" versions are also available, but these simply add accessories which can be bought separately, an AR15-style stock adaptor (provided with a Magpul UBR collapsible stock) and an angular shroud for the barrel on the CRB version. Civilian Gen II versions (with the exception the CRB Enhanced, for some reason) are also available with factory Cerakote coatings in olive drab or flat dark earth, in addition to the original flat black. "Alpine White" and "Combat Grey" were later added.
More recently KRISS has started marketing a version of the SDP called the SDP-SB ("Special Duty Pistol – Stabilizing Brace") that is factory-fitted with an SB Tactical™ arm brace, as well as Vector receiver variants for 9x21mm IMI, .357 SIG, .40 S&W and 10mm Auto."
Learn more about the KRISS Vector on IMFDB (Internet Movie Firearms Data Base): feed yours with Kriss Vector magazines and Glock 17 magazines from GunMag Warehouse.