Gun News from the firearm, tactical, outdoor, training, and hunting world. But mostly firearms!
The industry is gearing up for SHOT Show 2020, and so are we! We've been updating our SHOT Show 2020: Bigger Than Ever (New Guns and Gear) article each week as we learn about the new releases that will debut next month. Keep an eye on it to stay up to date on all the cool new guns we can't wait to see.
How big is SHOT Show 2020 going to be?
This year is the 42nd instance of the annual convention, which began in St. Louis, MO. in 1979, and the 10th year it'll have been held in Las Vegas. The NSSF is estimating it'll host 2,400 exhibitors and approximately 60,000 attendees from all across the industry and many countries. Current estimates project it to be at nearly one million square feet of show space, with nearly 3,000 exhibitors, by its 43rd birthday.
Seriously, go look at all the cool SHOT Show 2020 guns. Try not to drool, but if you do we won't tell.
Friday, October 25th, 2019
Welcome back to GunMag Gun News 5X5 Friday.
Lots of folks in the industry flocked to Florida this week to showcase their new products at the NASGW Expo. It looks like several brands unveiled their new ammunition for 2020, and you'll be interested to see which companies won awards for Best New Product.
Also this week, Franklin Armory distributed a press release announcing their lawsuit against New Jersey. Basically, authorities are questioning how to classify the new Franklin Armory Reformation®, and they've halted the sale of the firearm in the state of New Jersey. Franklin Armory says the firearm meets legal requirements and that the state is infringing on their Constitutional rights. Well, the devil's in the details and we'll have to wait and see what comes of this litigation.
Other items in this week's gun news:
Beretta unveiled their new 694 Over-and-Under Competition Shotgun and the NASGW.
Nexbelt is offering a new EDC belt.
Galco Gunleather has some new holsters that fit the Springfield Hellcat.
Federal just opened a custom ammunition shop. -yes, really.
Daniel Defense launched its new GRIP-N-RIP charging handle in AR-10 and AR-15 configurations.
TrueTimber announced its new MEK Magnet Jeep Armor Camouflage Patterns.
Read on for this week's Gun News.
⊕National Association of Sporting Goods Wholesalers Expo
Orlando, Florida – October 22-25
This week in Orlando, firearm and sporting goods manufacturers gathered for the annual NASGW Expo to showcase their new product releases. The Caliber Awards highlighted the week by recognizing the best new products in the rifle, handgun, shotgun, ammunition, optic and accessory categories. Here are this year's award winners:
Firearm Manufacturer of the Year – Ruger
Optics Manufacturer of the Year – Leupold
Ammunition Manufacturer of the Year – Hornady
Accessory Manufacturer of the Year –Magpul
Importer of the Year –CZ-USA
Innovator of the Year – SIG SAUER
Winners for the NASGW-POMA Caliber Awards are:
Best New Accessory – Mantis X10
Best New Optic – Leupold Freedom RDS
Best New Ammunition – Winchester 350 Legend
Best New Handgun – SIG SAUER P365 SAS
Best New Rifle – Ruger Precision® Rimfire
Best New Shotgun – Franklin Armory Reformation® RS7™
Best New Overall Product – CVA Paramount
⊕Franklin Armory
Lawsuit: Franklin Armory V. New Jersey
Here's some gun news that you might find interesting if you keep up with tactical shotguns or 'other firearms,' as defined by the NFA: Franklin Armory recently filed a lawsuit against the state of New Jersey, et. al. for prohibiting the lawful sale of the Franklin Armory Reformation® within the state of New Jersey.
Franklin Armory's recent press release included a link to the complaint that they filed in the U.S. District Court for the State of New Jersey. The complaint states that the BATF (Bureau of Alcohol, Tobacco, and Firearms), classified the Reformation® as a "firearm." As such, Franklin Armory states that the Reformation® "is subject to the GCA only and can be sold in the general channels of interstate commerce subject to that Act's requirements and state law."
That seems to be in question, however, after the Assistant Head for the Firearms Investigation Unit instructed Franklin Armory to refrain from selling the Reformation® in New Jersey until it was approved by the state Attorney General. He expressed concern that "law enforcement may mistake the Reformation® for an "assault weapon" or a "sawed off shotgun" under New Jersey law, which would lead to the improper prosecution of individual purchasers." Franklin Armory has now taken the matter to the courts and is demanding a jury trial to seek a declaration for the legal sale of the Reformation® in New Jersey.
According to Frankin Armory president Jay Jacobson, "fundamentally, the state of New Jersey has infringed upon our Constitutional rights. We will never stand by when an agency of any jurisdiction unlawfully restricts our rights or those of our customers."
This should be an interesting story to follow.
*Side note: the Reformation® RS7™ won the NASGW-POMA Caliber Award for Best New Shotgun at the annual NASGW convention this week in Florida.
⊕Beretta
694 Over-and-Under Competition Shotgun
This week at the 2019 NSCA National Championship in San Antonio, TX, Beretta debuted this new competition shotgun. Visitors were able to take one of the six available demo shotguns out to the practice course to try it out personally. The 694 was designed and tested specifically for clay shooting in collaboration with the Beretta Shooting Team.
From Beretta:
The ergonomics of the stock have been completely redesigned to reduce the presence of obstacles in the field of view when shouldering the gun and the need for lifting the head to better track the lower target. The 694 showcases a slightly decreased drop, improved checkering on the safety, and a wider comb for an improved face placement regardless of the shooting position.
The redesigned, self-adjustable auget button reduces movement of the forend over time and reduces the surface area that may get overheated during long days on the range.
The pistol grip has been designed with an aggressive checkering and increased surface area that guarantees the best possible grip and a better hand position. The steel top lever features a new, low profile and an anti-glare finish and has been designed to be ergonomic and easy to operate for both right and left-handed shooters.
⊕Nexbelt
Supreme Appendix Carry Belt
That company that makes "The Gun Belt with No Holes" announced the release of a new EDC belt. The Nexbelt EDC Supreme Appendix Carry belt is available in Black or Coyote and is adjustable in 1/4-inch increments. The stiff nylon strap is constructed from a high-density composite of ultra-fine polyester fibers. Nexbelt says that this belt can serve as a light-duty tactical belt as well as for EDC.
From Nexbelt:
"We designed a belt for the person who prefers to appendix carry their firearm for personal protection," said Tom Hunsucker, Co-Founder of Nexbelt. "By making the smallest buckle out there, it frees up precious space in front for you to carry your firearm and extra magazines. Its diminutive nickel buckle can be worn front center, left hip or hidden in near the curve of the back. It's still the most comfortable belt you'll ever own and with the new push-button trigger, the buckle release is quick and easy – only when you want to that is!"
Nexbelt's EDC ratchet-style gun belts feature a unique ratcheting system called Precise FitTM that allows the wearer to adjust his or her belt in ¼ inch increments instead of the normal 1-inch adjustment that a traditional belt with a pin/buckle system allows. This ability to "fine-tune" a belt in ¼ inch increments not only provides unprecedented comfort but is especially important for those practicing open or concealed carry. Having just the right amount of tension to safely secure your firearm is critical, and the ability to quickly switch from an IWB (inside the waistband) holster to an OWB (outside the waistband) holster is something that no other gun belt offers.
⊕Galco Gunleather
Hellcat Holsters
Did you already purchase a Hellcat or are you thinking of getting one? If so, you'll need a holster for it. This week Galco released four new holsters made to fit the Hellcat.
From Galco:
Ankle holsters like the innovative, open-top Ankle Guard™.
Belt holsters including the popular FLETCH™, Stinger™, and TacSlide™.
IWB designs like the best-selling KingTuk™ series, the straightforward and convenient Stow-N-Go™, and the adjustable, ambidextrous Scout 3.0™ and Tuck-N-Go™.
Versatile belt/paddle designs like the Wraith 2.0™.
Galco also offers women's holster handbags, the versatile Underwraps™ belly band, day planners and ammo carriers for the Hellcat!
⊕Federal
Custom Shop Ammunition
Shooters who are looking for hard-to-find centerfire rifle or shotshell loads now have the option to shop at Federal's new online custom shop. Once ordered, ammunition experts handload every round using hand-presses in a state-of-the-art workshop nestled in Federal's huge Minnesota production facility. Each order is packed into a deluxe box and signed by the technician before shipping.
As reported on American Hunter:
Included are hard-to-find rifle calibers being offered by Federal for the first-time, classics like .257 Wby. Mag., .257 Roberts +P and .284 Win., along with all-American favorites, like .243 Win., 6.5 mm Creedmoor, .30-'06 Sprg. and .300 Win. Mag. (to name a few). They come with the buyer's choice of leading high-performance bullets. Options vary by caliber, but may include top performers from Nosler, Speer, Barnes, Hornady, and Sierra, as well as Federal Premium proprietary heads like Trophy Bonded and Trophy Copper. In several cases, Custom Shop products fill in gaps not offered in the factory-production roster.
Daniel Defense
GRIP-N-RIP Charging Handle
This new handle features ambidextrous controls and improved gas flow. According to the company, all complete Daniel Defense modern sporting rifles will include the upgraded charging handle.
From Daniel Defense:
The Daniel Defense GRIP-N-RIP Charging Handle was designed and manufactured with features and benefits to enhance a shooter's experience and performance. Engineered for suppressed fire, the charging handle features anti-gas enhancements that redirect gas flow upward and away from the face of the operator. The GRIP-N-RIP also includes independently ambidextrous handles to accommodate left and right-handed manipulation of the latches. The handles and latches are manufactured from 6061-T6 and the main body from forged 7075-T6, which are all Type III hard coat anodized.
TrueTimber
MEK Magnet Jeep® Armor Camouflage Patterns
From TrueTimber:
MEK Magnet Armor is a high-performance, heavy-duty magnet panel engineered to provide superior side-body protection off-road or on the street. The durable magnetic kits shield the vehicle on both sides and are made from a multi-layer, cast-vinyl-wrapped 30-mil flexible magnet. MEK Magnet Jeep Armor is easy and fast to install, fade-resistant, and stays put through adverse weather, difficult trails, and even hand car washes. Jeep Armor also removes easily and won't damage paint or bodywork.
"TrueTimber is excited to work with MEK Magnet to produce a line that will benefit a lot of customers," said TrueTimber CEO Rusty Sellars. "Jeep users are known for being outdoor enthusiasts, especially those looking to buy MEK Magnet Jeep Armor. We look forward to allowing those users to benefit from that superior protection while sporting popular TrueTimber patterns."
Learn more at TrueTimber: http://truetimber.com/
⊕Ammunition Depot
Check out the new ammo from HSM Ammunition, Browning, and Starline Brass at Ammunition Depot.
Friday, October 18th, 2019
Welcome back to Gun News Friday 5X5!
Wow, we've got a full line-up of newly released firearms to show you this week from top gun manufacturers. Be sure to watch the Franklin Armory video below about their new Title 1™ firearm, it's pretty interesting!
Thyrm released a new helmet light mount this week that looks really handy. In fact, LEO and military personnel are already using the initial production units all across the globe.
Also, FAB Defense came out with a new adjustable stock for precision shooters that has a new memory technology incorporated into the design. If precision shooting is your game, be sure to check it out.
Here's the lineup for this week's gun news.
⊕Springfield Armory
SAINT Pistol
This week Springfield Armory announced the new SAINT Pistol. The pistol has upgraded features throughout, with a more affordable introductory price point at $849.
From Springfield Armory:
The SAINT Pistol features a balanced 9.6″ chrome moly vanadium barrel that maximizes ballistic performance while still offering compact dimensions. The adjustable premium Trinity Force Breach Brace provides enhanced stability and meets ATF requirements for pistol classification.
Hard-use durability and rock-solid reliability are hallmarks of the SAINT Pistol. The barrel is fully Melonite coated for both durability and corrosion resistance, and the forged 7075 T6 upper and lower receiver ensure never-fail strength for the lifetime of the gun. Additionally, its M16 bolt carrier group, machined from Carpenter 158 steel, is shot-peened and magnetic particle inspected for long-term durability.
The upper receiver has an optics-ready, flat-top design ready to receive your optic of choice. In addition, the pistol features a pinned Picatinny rail-topped steel gas block that will stand up to a lifetime of use and allows the SAINT Pistol to accept the iron sights of your choice. Springfield Armory's noteworthy Accu-Tite™ tension system ensures a tight lock-up between the upper and lower receiver.
An exclusive BCMGunfighter™ PMCR two-piece handguard with M-LOK-compatible attachment points features aluminum heat shields and a built-in handstop for comfort and safety. This pairs up with a BCMGunfighter™ Mod. 3 pistol grip for exceptional handling. The SAINT Pistol weighs in at only 5½ pounds unloaded and measures 25.75-28.25 inches long.
⊕Franklin Armory
Title 1™
Here's something that the folks in California might be interested in. It's not a pistol, it's not a rifle, it's not a shotgun, and it's not an assault weapon. It's neither "featureless" or "mag locked." Confused? Watch the video.
From Franklin Armory:
The Franklin Armory Title 1™ was created for our friends behind enemy lines where the modern sporting rifle is neutered beyond comprehension. While fixed magazine and featureless platforms will continue to have their place, Title 1™ provides a FULL FEATURE option to the consumer in restrictive jurisdictions. It has a standard magazine release, and while it ships with a 10 round magazine, civilians can use legally acquired 30 round magazines with Title 1™.
Whether for hunting, competition, or defense, Franklin Armory® is constantly working to provide new options for the American firearms enthusiast.
Since it is not a rifle, shotgun, or pistol, it can't be defined as an Assault Weapon in CA
Standard push-button magazine release
Usable with legally owned standard capacity magazines
3 points of contact including padded cheek weld
Can be used with any flash hider or compensator
100% American made
The Title 1™ will make its debut at the NASGW show on October 23rd, 2019 booth # 623 Available for order Now!
⊕ Crimson Trace Giveaway #19
The latest of the Crimson Trace 25-25-25 Giveaways has two weeks left to go.
Among the companies involved in this one (in addition to the well known-manufacturer of laser sights of course) include:
CZ-USA
Caldwell
Magpul
Alien Gear Holsters
Tipton Gun Cleaning Supplies
⊕Taurus
1911 9mm Commander 9mm Luger
This week Taurus announced that they are now shipping their newest firearm in the 1911 Commander line to authorized dealers and distributors nationwide.
From Taurus:
The Single Action Only 1911 Commander provides the familiar hammer-fired design in conjunction with a grip safety, manual safety, and firing pin block. With a barrel length of 4.2 inches, an overall length of eight inches, and an extended beavertail, the 1911 Commander 9mm Luger is both comfortable to shoot and to carry. Drift-adjustable Novak front and rear sights ensure an optimal sight picture and fine-tune zero for any shooting style.
The new 1911 Commander 9mm Luger is now shipping to authorized dealers and distributors nationwide.
Specs:
Item No.: 1-191101COM-9MM
Caliber:

9mm Luger

Capacity:

9 rounds

Finish:

matte black

Grip:

checkered black

Firing System:

hammer

Action Type:

SAO

Safety:

firing pin block, grip safety, manual safety

Sights Front:

Novak drift-adjustable

Sights Rear:

Novak drift-adjustable

Slide Material:

alloy steel

Slide Finish:

matte black

Overall Length:

8.0"

Overall Width:

1.3"

Overall Height:

5.8"

Barrel Length:

4.2"

Weight:

38.08 oz. (unloaded)

Magazines Included:

1

MSRP:

$639.45
⊕Sig Sauer
Take a look at the two new products that Sig Sauer released this week.
Ultra-Compact MPX Copperhead
The Ultra-compact MPX Copperhead comes with a full-black finish, a suppressor-ready barrel with A2 flash hider, and expanded 30-round magazine capacity. It is now available exclusively through the Bill Hicks distribution network.
From Sig Sauer:
Completely ambidextrous, the SIG MPX Copperhead is great for left- or right-handed shooters with its dual-sided selector switch, magazine release, charging handle and bolt release. The SIG MPX Copperhead operates from a fully-closed and locked rotating bolt, offering enhanced reliability and safety in use.
A short-stroke gas piston allows the SIG MPX Copperhead to run all weights and brands of 9mm ammunition with no adjustments to the gas valve.
The MPX Copperhead features a monolithic elite Series black anodized finish upper receiver, a 3.5" threaded suppressor-ready barrel with A2 flash hider, 2-position pistol contour brace with integrated brace knuckle, PDW pistol grip, a single-stage trigger, and ships with (1) 30-round polymer magazine.
Features:
Total Length: 14.5"
Barrel Length: 3.5"
Barrel Twist: 1:10
Weight: 4.5lbs.
Finish: Black Anodized
Caliber: 9mm Luger
ProForce M17 Airsoft pistol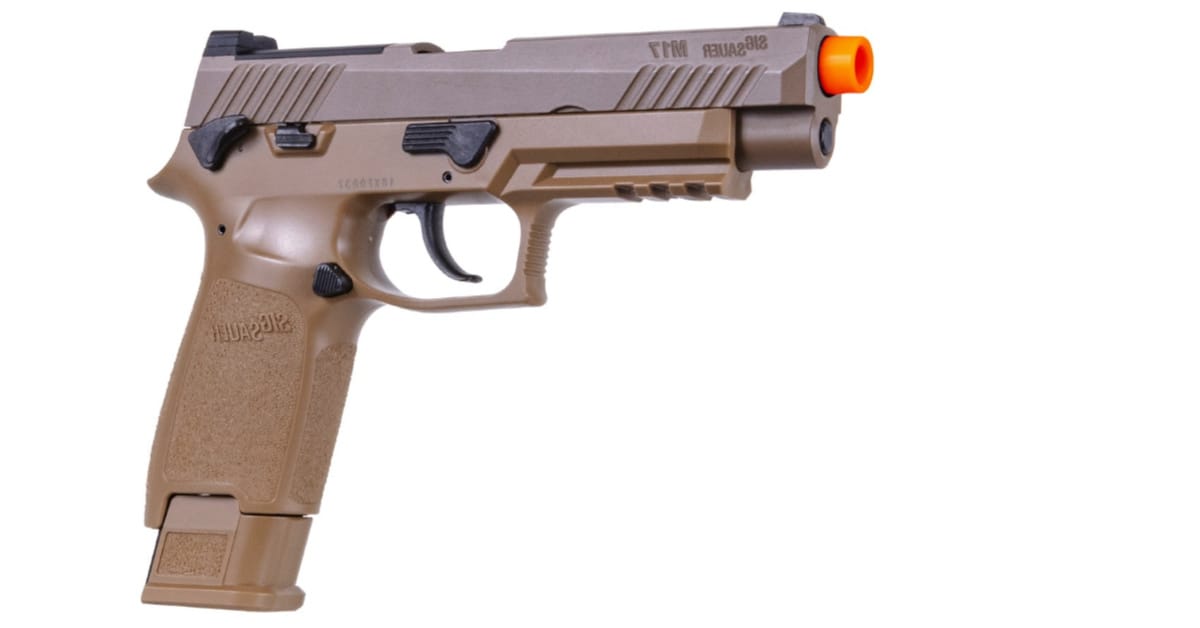 From Sig Sauer:
Designed for professional training, this high-end SIG AIR ProForce airsoft pistol is a replica of the U.S. Army issued P320-M17 9mm pistol in look, balance, and handling characteristics and engineered to SIG standards for precision, accuracy, and reliability.
The ProForce M17 features a polymer frame and metal slide with full blow-back action. The proprietary drop magazine holds 21 rounds of 6mm polymer or biodegradable BBs. An adjustable "hop-up" feature creates spin on the BBs for additional stabilization in flight, resulting in increased distance and accuracy. A picatinny accessory rail allows for quick and easy accessory mounting, comes with an optic cut for the addition of the soon-to-be-released SIG AIR Red Dot Optic, and is available in 12g CO2 cartridge or green gas power options.
ProForce M17 Airsoft Pistol:
Total length: 8.5"
Barrel length: 5.5"
Weight: 2.6 lbs.
Finish: Coyote Tan
Muzzle Velocity using .20g Polymer BBs:

CO2 – up to 410 fps

Green Gas – up to 320 fps

Muzzle Energy:

CO2 – 1.5 joules

Green Gas – 1 joule

Caliber: 6mm BB
Magazine Capacity: 21
Power Source:

CO2 or Green Gas
MSRP: $179.99
⊕Thyrm
VariArc
This week Thyrm announced the launch of their new helmet mount, the VariArc. The mount directs light where you need it with a quick twist to forward, umbrella, and admin angles. Here's what the mount looks like by itself:
And here is how it looks on a helmet:
From Thyrm:
Conceived by Josh Jackson (SWAT-LEO) at LMS Defense, with input from other SWAT-team leaders and active-duty special operations soldiers, the VariArc helmet mount features locking teeth biased to the forward position, keeping your light aligned for the most critical uses; but with a firm twist, the VariArc mount unlocks and rotates through 8 additional lower-force index points for administrative tasks and diffused lighting options. Its small footprint and low-profile keep things tidy and the 1913 Picatinny rail allows for maximum compatibility with visible and IR lights. Its reinforced polymer construction is built to remain fully functional through extreme temperatures, dirt, dust, sand, water, drops on concrete, and other rough handling.
"We wanted to develop a no compromises mounting solution that allowed our customers to mount one light and use it for all their needs" said Andrew Frazier, CEO of Thyrm, " and it's been great to see initial production units already in use with both elite law enforcement and military personnel across the globe."
Features include:
Positively locks in the forward index position
Picatinny accessory rail with 3 slots and 4 ridges
Retention holes on both ends for dummy wiring critical gear
Durable, reinforced polymer construction with steel hardware
Compatible with dovetail-style helmet rails
Available in black and flat dark earth colorways
⊕ FAB Defense
Rapid Adjustable Precision Stock (RAPS)
Announced this week, this new adjustable stock was designed with precision shooters in mind. Besides the mandatory precision stock features (integrated cheek rest and adjustable LOP), FAB says this stock is easier to manipulate and lighter weight so that any sized shooter can quickly engage their target from any position. FAB's patent-pending 1Latch™ system is the first of its kind with a memory feature, that returns the adjustable LOP to its pre-set position.
From Fab Defense:
The RAPS also features an integrated Cheek Rest with a height adjustment of up to + 42mm and a generous non-slip rubber butt-pad with 10mm of height adjustment.
Manufactured with extremely durable polymer composite, the RAPS will withstand years of hard use, under adverse conditions, from the battlefield to long-range matches, the RAPS stock will help you get the job done!
Advantages:
Integrated Cheek Rest & adjustable Length Of Pull (LOP)
Patent-pending 1Latch system locks both LOP and Cheek Rest height with one lever
1Latch system can be configured for right or left-hand shooters
New LOP memory feature, set it once and the adjustable butt-pad will spring out to the same length every time
LOP Adjustment Range: 32mm (1.26″)
Integrated Cheek Rest, adjustment range; 42mm (1.65″)
Adjustable LOP, on AR10 from 378mm to 410mm (14.8″-16.14″)
Concealed Picatinny rail at the bottom of the stock for use with a monopod
Heavy-duty, rubber butt-pad with height adjustment
The RAPS includes one pre-installed adapter for the rifle-length receiver extension tube and two additional adapters for MIL-SPEC Carbine tubes (one for M4 type receivers and one universal)
Easy installation, no gunsmith required
Friday, October 11th, 2019
This week we learned about some cool new firearms from Ruger, Taurus, MasterPiece Arms, and Winchester. Also, Brownells launched their own AR-15 handguard model with Magpul accessory mounting capabilities.
Sig Sauer and XS Sights both have news for us about optics. The Sig Sauer ROMEO1PRO is a miniature open reflex red dot sight, and the new XS Sights RAM Night Sights are 3-dot tritium, notch and post sights.
Hunters who are gearing up for the season will be interested to read about four new hunting knives from HME. Those who prefer to dress their own game will be interested in the hanging gambrel and electronic scale that just came out from Ranew's Outdoor Equipment. It looks like it would make hanging, weighing, and dressing out your venison a lot less back breaking.
Read on!
⊕Ruger
PC Carbine Chassis
This week, Ruger introduced three configurations of its new Pistol Caliber Carbine (PC Carbine) Chassis model. Also available: two 10-round state compliant models; one with an adjustable stock and threaded barrel, and the other with a fixed stock and non-threaded barrel.
From Ruger:
The new, glass-filled polymer chassis system allows for the use of standard AR pistol grips and collapsible buttstocks. The adjustable ghost ring rear sight of the original PC Carbine has been replaced with a factory-installed, barrel-mounted Picatinny rail, which allows for the forward mounting of optics. These new models utilize a CNC-machined, hard-coat anodized aluminum handguard with Magpul M-LOK® accessory attachment slots on all four sides for easy mounting of M-LOK-compatible accessories.
These models also maintain several hallmark features of the original PC Carbine, including: an easily interchangeable magazine well system that allows the rifle to accept common Ruger and newer Glock® magazines; dead blow action with a custom tungsten weight that shortens bolt travel and reduces felt recoil and muzzle rise; reversible magazine release and charging handle to accommodate right- or left-handed shooters; a simple takedown mechanism to allow for quick separation of the barrel/forend assembly from the action; durable heat-treated, chrome-moly steel bolt; cold hammer-forged chrome-moly steel barrel with ultra-precise rifling; and in some models, a ½" x 28 threaded barrel.
Features:
Glass-filled polymer chassis system.
Six-position, telescoping, Magpul MOE buttstock.
Flared magwell.
Ergonomic pistol grip with extended trigger reach.
Factory-installed, barrel-mounted Picatinny rail.
⊕Taurus
.454 Casull Raging Hunter
In 2018 the Taurus Raging Hunter earned the American Hunter Handgun of the Year Golden Bullseye Award. This week they announced that the newest member of the Raging Hunter revolver series, the .454 Casull, is shipping nationwide.
From Taurus:
The .454 Casull Raging Hunter features a spurred hammer, DA/SA action, and a five-round cylinder. It is available in two frame colors—matte black or stainless—with matte black barrels and cylinders. An integrated Picatinny rail provides easy optic mounting while shooters who prefer open sights will appreciate the fully adjustable rear sight for precision zeroing.
All barrel lengths and color combinations of the new Raging Hunter .454 Casull are available and currently shipping to dealers nationwide.
⊕MasterPiece Arms
MPA BA PMR Competition Rifle Now Available in .223 and 6.5 PRC Caliber Options
From MPA:
This rifle is designed specifically for the Production Class requirements of the Precision Rifle Series (PRS) and has been approved for use within this division. It includes many competition-related features while staying under the $2,000 price limit for this class. It is available in either a Black or Tungsten Cerakote® finish.
The MPA BA PMR Competition Rifle utilizes the MPA BA Hybrid Chassis, which is machined on MPA's CNC Horizontal Machining Centers to exacting tolerances from 6061 aluminum. The v-bedding system provides additional clearance for glass bedding action and straight section of the barrel. The chassis also includes a built-in inclinometer, thumb notch, lower mounted Picatinny Rail, 20 MOA Scope Rail, A2 Style Pistol Grip and is R.A.T. System compatible. The MPA Buttstock comes with an adjustable cheek riser and length of pull that is locked in position with a series of set screws that are embedded into the buttstock body. This is the same system MPA uses on its Standard BA Chassis but without the thumb wheels.
The MPA BA PMR Competition Rifle includes an X-Caliber hand lapped 416R Stainless Premium Barrel Blank with a polished barrel finish. The chamber is indicated within 0.0001" or less to the bore of the rifle.
⊕Winchester
XPR Hunter TrueTimber Strata
Winchester Repeating Arms added this new bolt action rifle to their XPR line.
From Winchester:
The XPR Hunter TrueTimber Strata has an eye for accuracy with the features to back it up. The adjustable M.O.A. Trigger is a three-lever design that offers zero creep, zero take-up and zero overtravel with the advantage of a crisp, light pull. The high-quality Chromoly steel barrel is button rifled and thermally stress relieved. A target-style crown protects the rifling at the muzzle. The steel action is through-hardened and includes a steel recoil lug that prevents twisting in the stock under recoil and is precision bedded to ensure the barrel is free-floating. The rigid, full-diameter bolt body is Nickel Teflon coated for smooth operation and the short, 60° bolt lift easily clears optics.
The action, barrel and bolt handle are coated with tough, corrosion-resistant Perma-Cote finish in flat dark earth color that adds concealment and complements the TrueTimber Strata camouflage finish on the stock.
Features:
M.O.A. Trigger System
Bolt unlock button
Nickel Teflon treatment on the bolt body
Detachable box magazine
Composite stock with TrueTimber® Strata™ camo finish
Perma-Cote™ flat dark earth finish on the action, barrel and bolt handle
Inflex Technology recoil pad
Steel recoil lug
The receiver is machined from solid steel bar stock
Two-position thumb safety with bolt unlock button
Button-rifled, free-floated steel barrel
Recessed target crown
⊕XS Sights
3-Dot RAM Night Sights
These new night sights are designed to overcome front dot/rear dot confusion and direct focus to the downrange threat. The wider notch helps increase visibility in changing light conditions, thereby assisting with sight alignment and accuracy. These sights are available for multiple models from Glock, Sig Sauer, Smith & Wesson, Springfield Armory, and FHN.
From XS Sights:
The RAM (radioactive material) night sights have a traditional 3-dot tritium, notch and post sight picture. The rear sight is blacked out to increase contrast against the front sight which is available in bright orange or green. The front sight features XS's proprietary Ember™ Glow Dot technology which absorbs ambient light and glows in low light. The front tritium lamp in the RAM sight charges the Ember Glow Dot, making the front sight glow brighter than the rear, keeping one's focus down range.
"Our high-performance night sights are purpose driven tools fine-tuned for Law Enforcement use," said Zack Kinsley, Marketing Manager for XS Sights. "Having our own tritium license has significantly strengthened our capabilities. We now test and use raw materials we didn't have prior access to, resulting in broader and more advanced product offerings that ensure front sight visibility at all times."
⊕Brownells
Wrenchman AR-15 Handguards
This week, Brownells launched its own series of AR-15 handguards. Their new Wrenchman handguard models feature a full-length Picatinny top rail, with M-LOK mounting slots for accessories.
From Brownells:
Installed with any commonly-available crescent wrench, Wrenchman™ Handguards include a timing tool to ensure proper alignment, a barrel nut and hardware and are available in two different models.
The standard Wrenchman™ Handguard has a two-screw locking system to securely clamp it into place. The Wrenchman Precision Handguard has a 2.5″ long barrel nut with three locking screws for maximum strength and rigidity.
"The Wrenchman Handguards were designed to be a rigid, simple to install setup at an affordable price point," said Brownells Director of Product Management Paul Levy. "The Precision model's elongated barrel nut provides an impressively rigid platform, without adding a ton of weight. "
⊕Sig Sauer
ROMEO1PRO Open Reflex Red Dot Sight
Now shipping, the Sig Sauer Electro-Optics ROMEO1PRO is available at retailers and on the Sig Sauer web store.
From Sig Sauer:
The SIG SAUER Electro-Optics ROMEO1PRO is a miniature open reflex red dot sight, available with either a 3MOA or 6MOA red dot. It comes with 12 brightness settings for a full range of lighting conditions, and the TruHold™ Lockless Zeroing System designed to endure recoil and return to zero-shot after shot. The ROMEO1PRO features a molded glass aspheric lens with high-performance coatings for superior light transmittance and zero distortion, a new upgraded point-source emitter for increased brightness in day or night conditions, MOTAC, a 20,000-hour battery life, and an IPX-7 waterproof rating. The ROMEO1PRO is housed in aircraft-grade aluminum to ensure corrosion resistance, includes a ruggedized steel protective shroud in the box for extreme durability, and is available in black or FDE.
SIG SAUER pistols with a PRO slide cut (rev2) include the P320 XFIVE Legion, P320-M17, P320 XFULL, P320 XCARRY, P320 XCOMPACT, and P320 XVTAC.
Specs:
Magnification: 1x30mm
Illumination Settings: 10 Daytime / 2 Night Vision
Window Height: .71in / 18mm
Window Width: 1.1in / 28mm
Weight: 1.0oz / 28g
Battery: CR1632
Waterproofing: IPX-7
Overall Elevation Adjustment Range: 100MOA
Overall Windage Adjustment Range: 100 MOA
MSRP: $519.99 – Black
MSRP: $549.99 – FDE
Newington, NH PD Transitions to P320
"When it comes to quality, performance, and safety the SIG SAUER P320 really delivers. Our officers appreciate the modularity and having the ability to fit the pistol to their grip," said Captain Michael Sullivan, Newington, NH Police Department. "We carry the SIG SAUER P320 with great pride because it's the premier pistol for law enforcement, and the fact that it's made right here in the community we are sworn to serve and protect makes it especially meaningful."
From Sig Sauer:
The P320 is a modular, striker-fired pistol available in full-size, carry, compact, and subcompact sizing. The serialized trigger group makes the P320 adaptable to multiple calibers, size, and grip options. The P320 is available in 9mm, .357SIG, 40S&W, and .45ACP, with a choice of contrast, or SIGLITE Night Sights. The intuitive 3-point takedown requires no trigger pull for disassembly, and safety features include a striker safety, disconnect safety, and optional manual safety.
"On behalf of everyone at SIG SAUER, I want to thank the men and women of the Newington Police Department for their service, and commitment to the safety of our community," added Tom Jankiewicz, Executive Vice President, Law Enforcement Sales, SIG SAUER, Inc. "We are honored to be the official duty firearm of the Newington Police Department, and have the opportunity to strengthen our partnership with the department as they transition to the SIG SAUER P320."
⊕Hunting Made Easy
Always Prepared Super Lite Knife Series
Here are the new additions to the series, as described by HME:
HME Replace-A-Blade – Tired of sharpening your knife? Don't want to carry a sharpening stick or stone in your pack? The HME Replace-A-Blade knife uses replaceable blades that always guarantee you have a sharp edge. Designed to field dress big game animals in the mountains or the hardwood bottoms, the Replace-A-Blade features five replaceable, surgical #60 blades for precision caping and deboning tasks. The neon green skeletonized stainless-steel handle is easy to find in low light and it comes wrapped in 3 feet of black 550 paracord for a no-slip grip in any climate. A Kydex sheath and holster clip keeps the knife secured while on the trail.
MSRP: $49.99 Model: HME-KN-SKRAB
HME Skeletonized Gut Hook Knife – The new Skeletonized stainless-steel fixed blade is a modified drop-point intended for skinning and quartering jobs. The black oxidize blade also includes a gut hook, and the bright green handle finish makes the knife easy to find in your pack or when placed on the ground. The handle is wrapped in 3 feet of black 550 paracord. A Kydex sheath and holster clip is included.
MSRP: $39.99 Model: HME-KN-SKFBGH
HME Skeletonized Fixed Blade Knife – Hunters looking for a lightweight "one-and-done" knife to cover all essential field dressing needs will find it in the HME Skeletonized Fixed-Blade Knife. This knife has a trailing point blade profiled to handle gutting, skinning, caping, and de-boning tasks with ease. The easy-to-sharpen black oxide steel blade holds its edge while the 3 feet of black 550 paracord wrapped around the handle provides optimal blade control. The Skeletonized Fixed Blade Knife comes with a Kydex sheath and holster clip.
MSRP: $39.99 Model: HME-KN-SKFB
HME Super Lite Series Knife – This ultra-lightweight 6.3-inch replaceable blade knife provides surgical precision cutting abilities in the field. The one-ounce lightweight frame is easy to pack and carry during long hunts. A durable Super Lite green handle with a metal blade mount provides increased stability, cutting control, and strength. The Super Lite Series knife includes five replacement scalpel blades, each individually packaged for safe carry, and a polypropylene sheath.
MSRP: $19.99 Model: HME-KN-PRBBM-GR
⊕Ranew's Outdoor Equipment
Hanging Gambrel and Scale
From Ranew's:
For those who process their own game, Ranew's Outdoors Hanging Judge Gambrel allows a secure way to hang, weigh, skin and quarter large game at a convenient height that won't hurt your back. Ranew's Outdoor Hanging Judge Gambrel keeps the carcass suspended off the ground to ensure the meat stays clean. That's only part of the convenience and utility of this unique device.
The heavy-duty electronic scale and gambrel combo allow the hunter to measure live weight and dressed weight and continue skinning or processing the animal without the worry of damaging the scale. This removes the hassle of raising and lowering the animal to remove the scale between steps. Definitely a time and back saver!
Even if you don't process your own deer, Ranew's Outdoors Gambrel and Scale offers an easy means for taking digitally accurate live and dressed weights. In the short term, it helps you assess the general condition of your herd. Over the long term you can better judge how habitat management programs like food plots may influence deer weights.
⊕Ammunition Depot
Check out the new ammunition from CCI at the Ammunition Depot.
Friday, October 4th, 2019
Welcome back to this week's GunMag Gun News 5×5 Friday.
This week in Gun News, we heard about a new 9mm subcompact pistol from Smith & Wesson with a 12+1 double-stack magazine capacity. Speaking of Smith & Wesson, if you have one of their revolvers, you'll be interested to read about the new sight mounting plate that Apex just released for the K, L, N and X-Frame models.
Also, Sig Sauer released an upgrade to their P365. It's been redesigned to eliminate snagging points with the Sig Anti-Snag system. Watch the video included below to see how they integrated the sights directly into the slide. Very cool!
Blaser just released two new options in their R8 line of rifles, as well as a .22 Long Rifle Conversion Kit.
Those of you who enjoy overlanding or other adventures that require roof-top storage options will want to see the new LockNLoad platform rack from Yakima. And you'll be interested to see the new MARQ Commander watch that Garmin released this week. It looks like it has some pretty awesome strategic capabilities.
Anyone who wants to wear gear that visibly supports the 2nd amendment will appreciate the new "Right to Bear Arms" Razor ear muffs from Walker's. These are only available through Walker's website, so the link is included in the description below.
One last thing, Winchester and Starline Brass each released new ammunition this week. You can find them at the Ammunition Depot, link provided at the end of this post.
⊕Smith & Wesson
M&P M2.0 Subcompact Pistol
S&W's newest member of the M2.0 family is the M&P M2.0 Subcompact pistol. They say its subcompact frame makes it ideal for concealed carry.
From Smith & Wesson:
With a 12+1 round capacity in 9mm, the M&P M2.0 Subcompact pistol series includes the full array of M&P M2.0 enhancements. Available in 9mm, 40 S&W, and 45 Auto, the M&P M2.0 Subcompact joins the existing Full Size and Compact pistol options that are available in the M2.0 line.
Jan Mladek, General Manager of Smith & Wesson and M&P brands, said, "As the M&P M2.0 pistol series has continued to expand, we have worked to introduce pistols that fit a variety of different needs: from professional use, to recreational shooting, to home defense, to concealed carry. The M&P M2.0 Subcompact is designed for everyday carry – its shorter frame makes it more concealable while still maintaining a higher double-stack magazine capacity."
The new M&P M2.0 Subcompact is available with or without an ambidextrous thumb safety, with an MSRP starting at $569.
⊕Apex Tactical Specialties
Optic Mounting Plate for Smith & Wesson Revolvers
From Apex:
The new Apex Optic Mount allows the user to securely mount the new Aimpoint Acro P-1 optic to the top strap of the revolver that comes drilled and tapped from the factory.
Available now, the new Apex Optic Mount is machined from a billet of aluminum and black hardcoat anodized for enhanced durability.
Features and Specifications:
– Designed to fit the top strap of most Smith & Wesson K, L, N and X-Frame revolvers that come drilled and tapped from the factory
– Securely mount the Aimpoint® Acro P-1 to the revolver frame
– Apex Part #: 108-019
– MSRP: $39.95
⊕Sig Sauer
P365 SAS
Sig Sauer just upgraded the P365 with an anti-snag design to allow smoother draws, faster sight acquisition, and more effective engagements at realistic distances. Here's the Sig Sauer video that explains all of the details.
From Sig Sauer:
"When it comes to innovation in firearms, SIG SAUER is the leader in the marketplace. With the introduction of the P365 we took the market by storm to quickly become the top selling concealed carry pistol. With the P365 SAS, we have remained true to our core mission of innovation by once again raising the bar, and setting the standard, for concealed carry," said Tom Taylor, Chief Marketing Officer and Executive Vice President, Commercial Sales, SIG SAUER, Inc. "Our proprietary SAS technology removes all the snag points from the pistol, by integrating the sights directly into the slide with a flush mounted FT Bullseye sight that's intuitive, and easy for the untrained eye to pick-up for fast target acquisition whenever the need arises. The P365 SAS has no sights raised above the slide, and the takedown lever and slide stop are flush fit for ultimate smoothness and no snag risk. Once you see this innovation, you simply will not look at handgun sighting systems the same."
The SIG SAUER P365 SAS is a 9mm, polymer, striker-fired pistol with a Nitron finish. The pistol features the SIG Anti-Snag technology slide treatment with a flush-mounted FT bullseye fiber-tritium night sight, flat controls, a ported slide and barrel for less muzzle flip, a high-capacity, patented modified double-stack magazine for a 10+1 full size capacity, and ships with (1) 10-round magazine, and (1) 10-round extended magazine (12-round and 15-round magazines available separately.)
P365 SAS Specs:
Total length: 5.8"
Height: 4.1"
Barrel length: 3.1"
Width: 1"
Weight (incl. magazine): 17.8 oz.
Sight Radius: n/a
⊕Blaser
R8 and .22 Long Rifle Conversion Kit
There are two options for the latest addition in the Blaser R8 line, the R8 Ultimate and R8 Ultimate Leather. Both have ergonomic synthetic thumbhole stocks for a comfortable shooting position with optimal control while firing. The new .22 Long Rifle conversion kit for the Blaser R8 includes the barrel, newly-designed magazine, and bolt head. With this kit, R8 owners can easily change larger calibers to small-bore .22 LR.
From Blaser:
Options:
Adjustable Comb: The intuitively operated, multi-level adjustable comb ensures perfect mounting.
Recoil Absorption System: The easily inserted recoil pad with a recoil absorption system makes for a pleasant shooting experience, even with larger calibers. The internal absorption elements are available in different hardnesses and can greatly reduce muzzle rise while shooting.
Adjustable Recoil Pad: The adjustable length, height, and pitch of the recoil pad allow for quick and easy adjustment for different shooters.
⊕Yakima
LockNLoad Platform Collection
From Yakima:
A series of accessories allow the user to truly maximize the rack's utility. LockNLoad accessories include perimeter rails, a light bar bracket, a high-lift jack holder, a spare tire restraint, a jerry can holder, and corner brackets for securing coolers and hard-shell containers. The platforms mount directly to Yakima SkyLine and TimberLine towers with LockNLoad SL adapters (sold separately). They also attach to any Yakima crossbars and nearly any factory or competitor crossbars with LockNLoad Crossbar Clamps (also sold separately). Integrated T-slots in every slat and the outer frame allow for the simple attachment of T-slot accessories.
LockNLoad platform racks are built to last with corrosion-resistant aluminum construction and powder coating for durability and style. LockNLoad is available in six different sizes with Yakima Off-Road ratings of 165 to 440 pounds (depending on vehicle fit and roof type). The LockNLoad collection (MSRP $729-$979) is available now at Yakima.com and associated retailers.
⊕Garmin
MARQ Commander
From Garmin:
This premium crafted tool watch features a stealth matte design with a tritone jacquard-weave strap and a purpose-built domed sapphire lens with an always-on display, optimized for night vision goggle compatibility.
MARQ Commander features a brand-new kill switch function that when activated, clears the user memory. Users can enable stealth mode, which stops storing and sharing GPS position and disables wireless connectivity and communication. It is preloaded with topographic mapping and advanced navigation features, which includes a barometric altimeter, compass and multiple Global Navigation Satellite Systems support and has dual-format GPS coordinates and a UTC bezel for unapparelled situational awareness. Other features include a unique dual-position mode, which simultaneously displays two sets of coordinate systems on a single data screen, Jumpmaster, tactical activity profiles, and waypoint projection.
Featuring an internal, rechargeable lithium battery, the MARQ Commander provides up to 12 days of battery life in smartwatch mode, up to 28 hours in GPS mode, up to 48 hours in UltraTra mode and up to 9 hours in GPS mode with music. The MARQ Commander is available now for a suggested retail price of $1,950.
⊕Walker's
"Right to Bear Arms" Razor Muff
Want to wear your support of the 2nd amendment on your next range day? Walker's just released these web-exclusive Razor Digital earmuffs with a design that loudly (and yet quietly…) supports the 2nd amendment. Protect your hearing while supporting American heritage and gun-ownership rights.
Here's what Walker's has to say about the muffs:
From Walkers:
The Right to Bear Arms Razor muff joins other special-edition muffs designed to make a statement on the range. These include Don't Tread on Me, Come and Take It, Texas flag, and American flag designs. All special-edition Razor muffs are available as web-only purchases exclusively through the Walkers website.
⊕ New Ammo
Winchester Active Duty – MHS Training Ammo
Starline Brass – 300 HAM'R
Check out the new ammo from Winchester and Starline Brass at the Ammunition Depot.