The FightLite SCR was originally produced by Ares Defense. Just this year* they created FightLite Industries, a division of Ares Defense. The Ares SCR, now called the FightLite SCR, stands for Sport Configurable Rifle. It consists of a traditional Monte Carlo stock married to an AR-15. It actually started as a project to get a Remington 870 stock fitted to an AR-15. It took four tries to get the ergonomics right. The lower functions similar to an AR-15 lower but the only real similarity is that it takes AR-15 magazines and uses an AR-15 mag release.
*This article was originally published in October of 2017.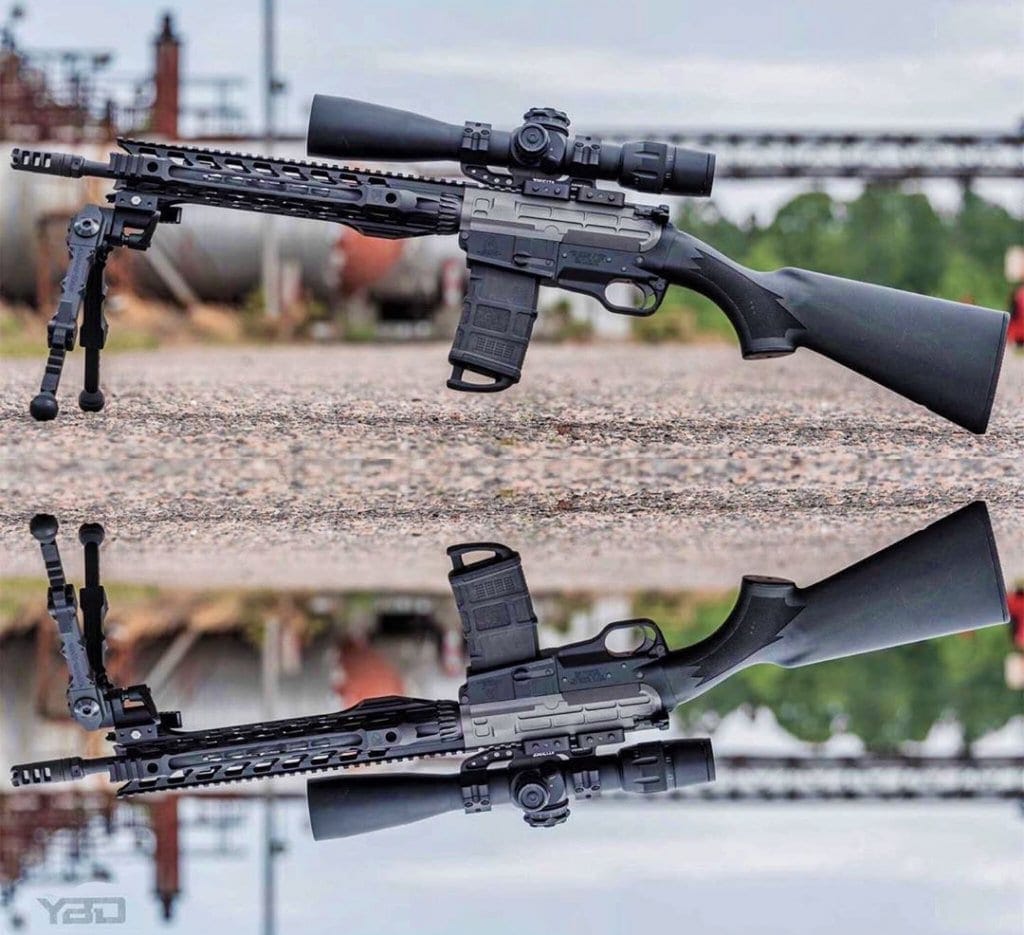 Yes, we know it's Fightlite not Flightlite, but that's what you get when you type too fast.
One of the major challenges to making this work was the bolt. It is similar to a Benelli shotgun bolt system. You can see the tang out the back of the BCG. That plunges into an angled buffer tube that is inside the stock. The stock is actually a modified Remington 870 stock.
Even though the lower receiver is proprietary, the SCR can take any AR-15 upper receiver. It will work with .300blk and if you change the bolt out for a 6.5 bolt, then you can shoot 6.5 Grendel.
Here is one of the employee's personal 300blk SCR. He is very tall and has extremely long arms.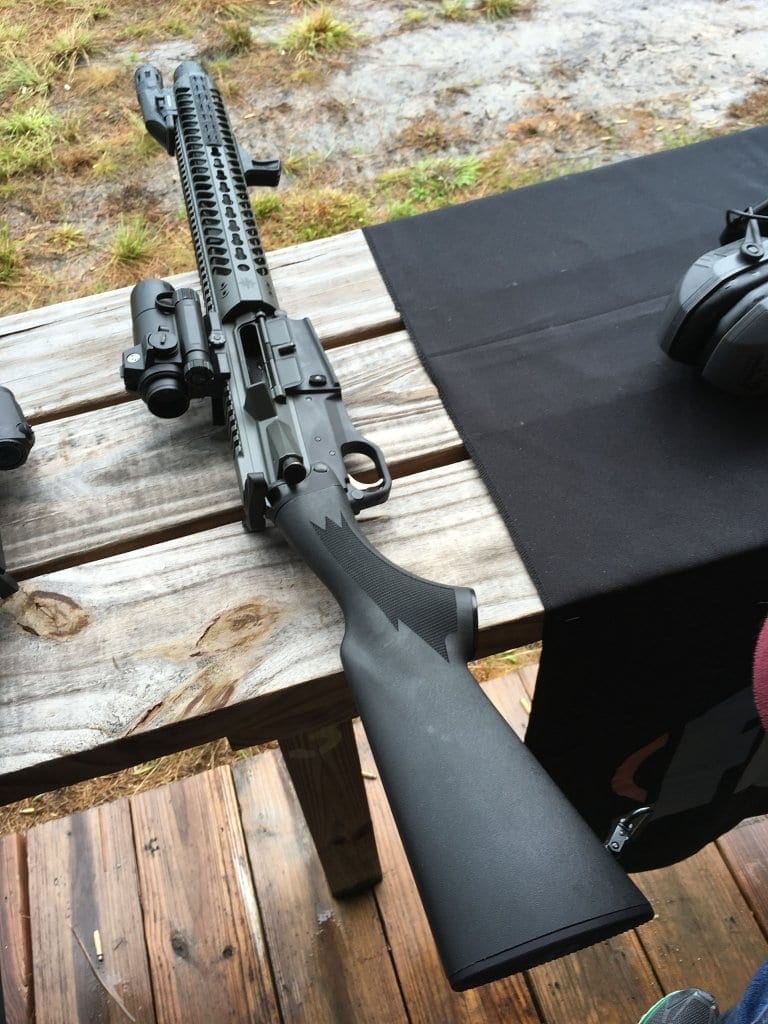 This SCR weighed under 6 lbs. The barrel has a proprietary design. The barrel is not threaded. It has a compression fitting that adds threads so you can add a muzzle device if you wanted to.
To show off the modularity possibilities of the SCR they showed off this wooden stocked and gripped SCR.
The SCR feels like a traditional rifle. When I shouldered it and fired one it felt like pulling up a shotgun to me. I don't have traditional rifles but I felt at home with the SCR. Their early production rifles had a horrible 10lbs trigger. These now have a 5-7lbs trigger. I would like a lighter trigger somewhere around 3-4 lbs.
One issue I had was magazine changes. Due to the ergonomics of the grip and trigger, I was unable to remove the magazine like I normally would on an AR. My index finger is just not long enough. However, there are aftermarket options to alleviate this problem. A left-handed mag release actually works very well. Just reach up with your left hand to grab the magazine and use your left thumb to press the magazine release.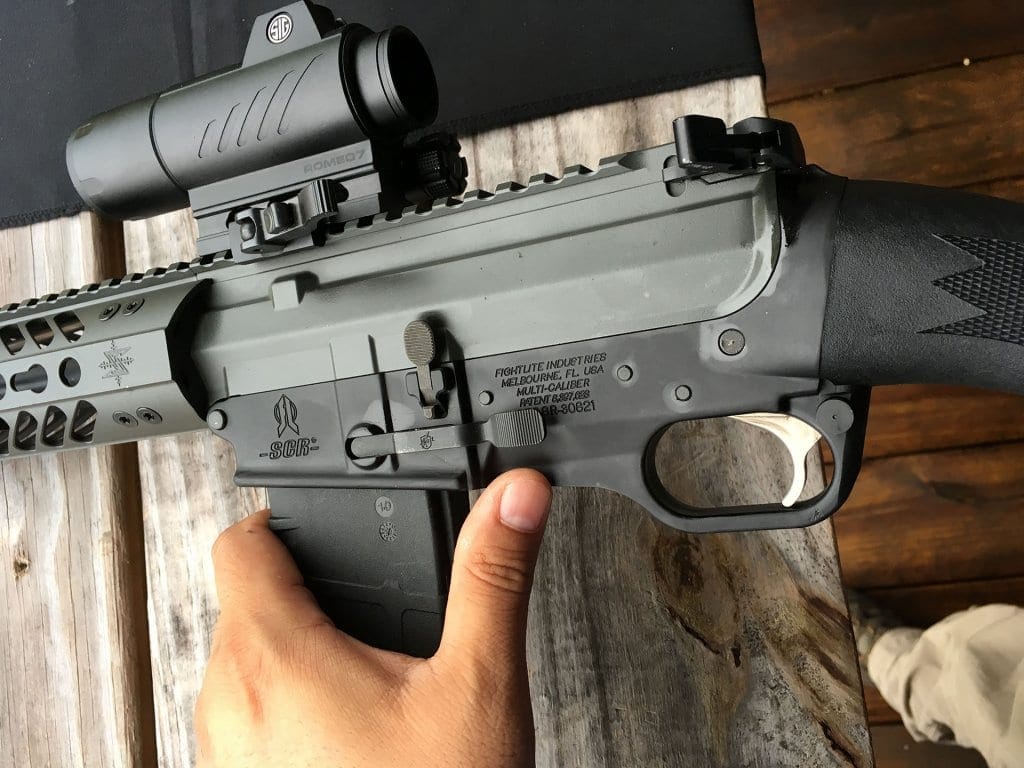 FightLite added some interesting features into their SCR. As a "just in case" scenario and planning for the future, the bolt release/catch is removable.
The Bolt catch is actually dovetailed into the lower receiver and is a self-contained unit.
This was an interesting accessory that they make. It replaces the forward assist button and replaces it with a QD sling cup. I am not sure about the use and ergonomics of placing a sling here. I suppose if you were a left-handed shooter it could work well for a single point sling, but as a right-handed shooter, this does not seem like a good place to mount your sling.
Another small issue I had was racking the charging handle while holding the SCR grip. My thumb knuckle was in the way of the charging handle and it bit me as a pulled with authority. This is simply a learning curve and something I will avoid if I get an SCR.
The SCR is 50 state legal. For Californians it is classified as a featureless rifle so you can still have a removable magazine and not need to register the gun. It blends a traditional style rifle with the modularity of an AR-15. It works great as a training rifle for those who are more familiar with a traditional bolt gun. There is less recoil and you can change calibers relatively easily. The lower and bolt retail for $599 and a complete basic rifle is around $1132.
For more information check out their website.