When someone says the words "Blackhawk" and "Holsters," I know what likely crosses your mind, the SERPA. The SERPA is surprisingly still produced and still fielded by Law Enforcement units. Heck, more than likely, the USMC is still using it with the Beretta M9. Now, the SERPA sucks, but believe it or not, Blackhawk can make a good holster. This is evidenced by the T-Series and the Omnivore. The Omnivore should suck. The Blackhawk Omnivore is a universal holster, and universal holsters as a rule kinda suck. The PHLster Floodlight might be the most well-known exception to the rule, but the Omnivore is a close second.
The Blackhawk Omnivore in Living Color
The Omnivore is a polymer universal holster that's all about the rail your gun has. It comes in two varieties, light-bearing and non-light-bearing. The non-light-bearing utilizes a small block that attaches to the rail of your weapon. This small block locks into the Omnivore's active retention system and carries your gun without issue. The light-bearing model predictably wraps around the light itself. Light bearing models are available for Streamlight TLR-1 and Surefire X300U.
The active retention device is a thumb driven design. All you have to do is press the thumb release down, and the gun is released. This device is much safer than the SERPA, and really I don't get why the SERPA hasn't been replaced entirely by a thumb driven release. Anyway, Blackhawk includes some interchangeable thumb pieces that allow you to adjust the length of the device for individual shooter's hands.
The model we are looking at today is the Blackhawk Omnivore compatible with the TLR-1 light. Universal is a bit of an exaggeration, to be honest. Near-universal is a better description. You have to have a rail for one, although the holster does work with Recover Tactical grip equipped guns. Most rail guns fit, and as someone who likes guns a little more unusual than the S&W and Glock series, the Omnivore has served me well. Blackhawk claims it holds over 150 guns and publishes a list of said guns. However, I've found it capable of fitting more than the list states.
There is also a size conundrum. This holster won't fit subcompacts, even if they have rails. It's for guns roughly Glock 19 size and up.
My History With the Blackhawk Omnivore
I've had an Omnivore since it first premiered in 2017. As a gun guy who reviews lots and lots of different handguns, it's rather handy to have a holster that fits various other firearms for reviewing purposes. It's been positioned on my go-to review battle belt that I use for both handgun and rifle reviews. I think after three years, I have a good idea of how well the Omnivore works and what it's good for.
Speaking of what it's good for, I think we can all agree this massive thing is not suited for concealed carry. This thing is massive and makes a handgun roughly the size of a MAC 10. It's much better suited for open carry, and while I don't open carry, I can see this being a great companion for a hike or for outdoor activity in general. Blackhawk doesn't list this as a duty holster, so do what you will with that information.
The Omnivore is also perfect for LARPing, and that's mostly what I use it for.
Three Years of Use
In my three years of use, I've had to have run 50 different guns through this thing. Or at least it feels like I have. If the TLR 1 fits on the gun, it's found its way into my Omnivore. In that time, there has been a lot of drawing and reholstering over and over again. Thousands of draw strokes and the retention device has never even dreamed about failing.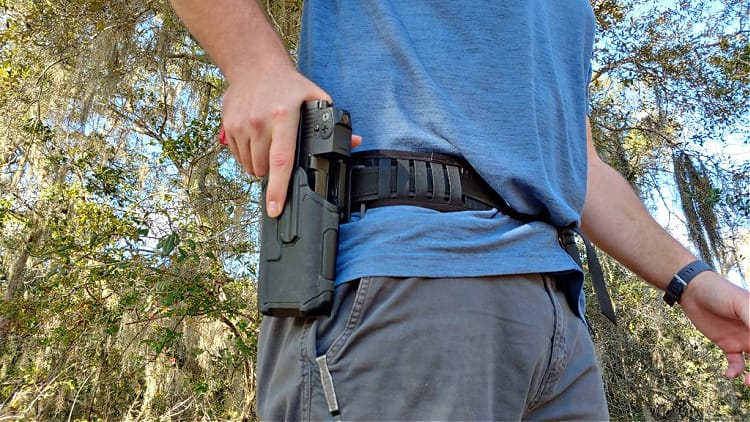 Every time I holster a gun, it locks and clicks into place without argument. Every time I press downwards on the release, the gun is easily drawn and released. Durability gets top marks, but that's not the only thing to consider with a holster. Especially with a universal holster. The ergonomics of the Omnivore are rock solid, and the button is quite large. You can easily press it and draw your gun without a second thought.
Safety
One critical component to any holster is safety, and part of safety is how well the trigger remains covered. The difference in length between guns and rail placement is what is critical here. The Blackhawk Omnivore safely fits guns as long as a standard 1911 and completely covers the trigger. The same goes for a more modern but nearly as long CZ P-09. The Omnivore even works with long slide 1911s as long as their rail is pushed rearward towards the trigger guard.
Holster Fit
Holster-to-gun fit could be an issue, but since the holster wraps around the light, there isn't a retention issue. The width between different guns in these size categories is relatively minor. Could an object get between the frame and the gun? Possibly, but it would have to be small and in a specific situation. As someone who often rests their gear on the ground when it's not needed, I've yet to find a way to jam it up. I will say Blackhawk does not advertise this as a duty holster, and this is a concern I'd have for a fighting holster.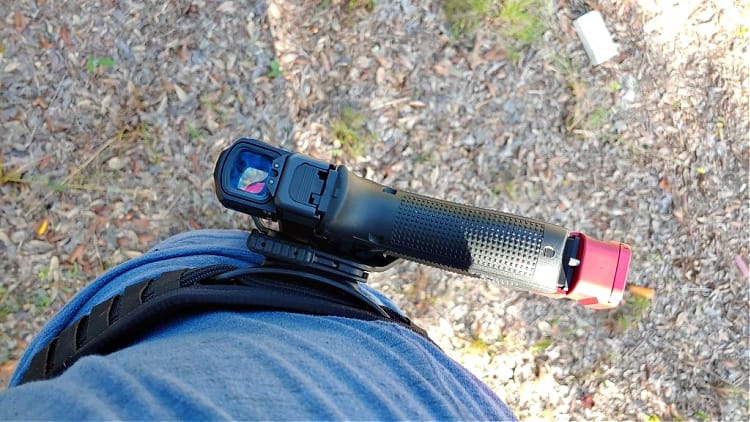 Reholstering is a very easy process due to the wide-open mouth of the hoster. You can drop the gun in without an issue, and it's completely safe. Even if you do that thing people do for Instagram where people reholster as fast as they draw to look cool, you'll still be safe.
Stability
Now, we get to stability. The Blackhawk Omnivore wisely uses the SERPA mounting platforms, which creates an instant aftermarket of parts and the ability to mount the holster in various ways. From standard belt mounts to paddles, MOLLE mounts, leg rigs, and even shoulder holsters. The Omnivore comes with a belt mount and a paddle mount, and both push the holster far enough away from the body for easy accessibility.
Comfort
Finally, we get to comfort, the least important factor in holster selection. Since the gun is pushed a good way away from the body, it never interferes with the body. There is no poking, prodding, or anything in that realm. It's completely comfortable.
The Omnivore Roars?
The Blackhawk Omnivore is an affordable option for two kinds of people: those who have weird guns they want the ability to holster, and people who want to easily carry a multitude of firearms without investing in dozens of holsters.
The Blackhawk Omnivore fulfills a niche role in the holster industry, and it's certainly not for everyone. At the price point, it's hard to hate on. It's safe, reliable, well made, and plenty comfortable. While it's not something I have a practical use of beyond hiking and range use, I've certainly squeezed my 40 dollars worth of holster out of it.