There are countless holsters on the market, most of which are designed to be worn on the belt (whether inside or outside the waistband). Of course, there are also ankle holsters, shoulder holsters, and belly bands. It's the latter of these we're considering today. Whether you're a runner, hiker, or someone simply interested in an alternative on body carry option, you have likely heard of belly bands and considered getting one. We're here to explain the ins and outs of belly band holsters and what to look for if you choose to use that type of holster.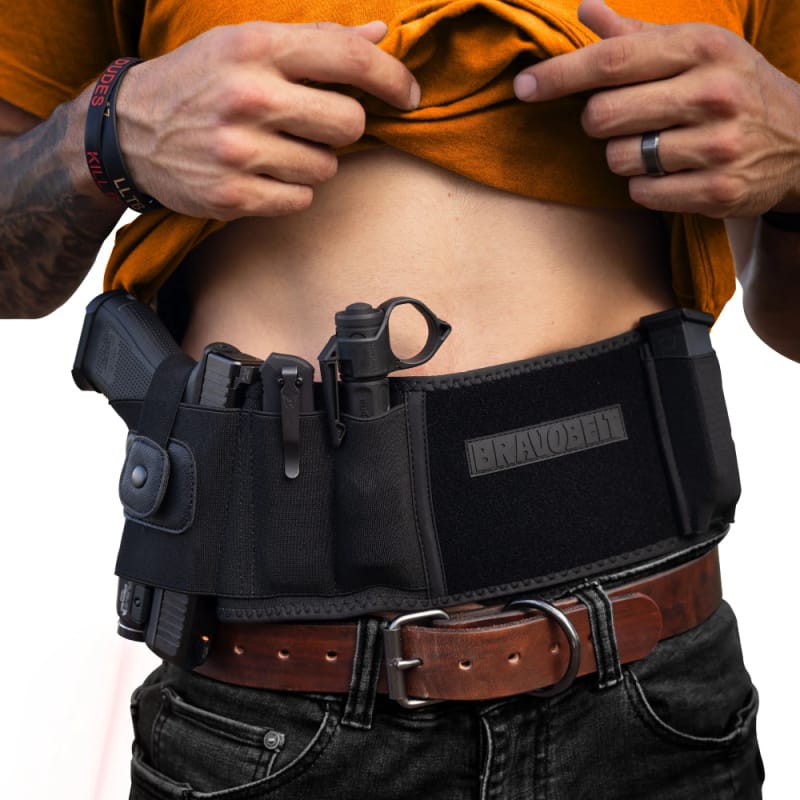 What's a belly band holster?
Generally speaking, a belly band holster is an on-body carry method that involves some sort of wide belt-like strap that fastens around the middle of your body. Placement is typically above the belly button and over the lower portion of your rib cage. These holsters might be the band alone with a sewn-in pocket or could be the band plus a holster that can be attached. Closure methods vary widely from hooks to Velcro zippers to snaps. There are even belly band style holsters made from swaths of lace you're meant to wind around your body repeatedly to secure your firearm in place. These holster designs vary from relatively safe and useful to outright dangerous, which really describes all holsters. They're not made equally or with the same attention to care, so whatever type of holster you choose, make sure the final design is of excellent quality.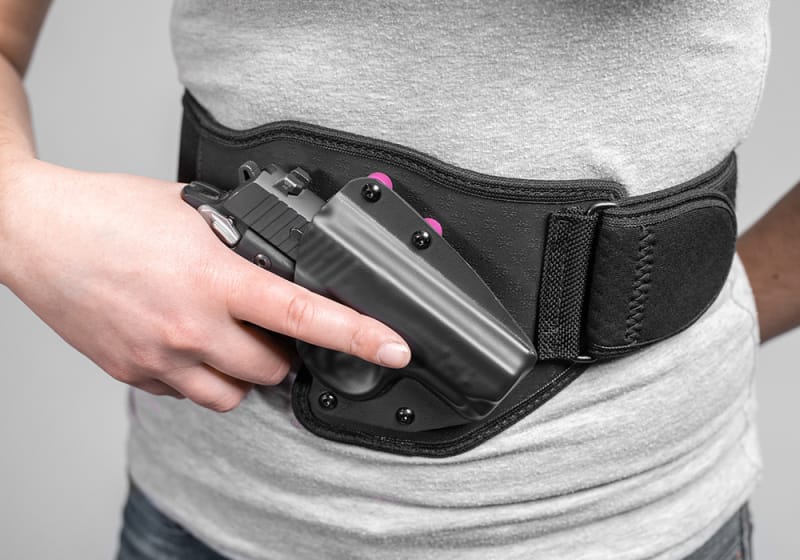 Are belly band holsters a good idea?
The answer to whether belly band holsters are a good idea is somewhat complex and involves some yes and a little no. Speaking on broad terms, it's more efficient and adheres more closely to the various safety rules to carry using an on-the-waistband holster of some kind. This includes IWB (inside the waistband), OWB (outside the waistband), and holsters like the PHLster Enigma that don't require a gun belt but are not belly band holsters.
Belly band holsters are frequently designed in unsafe, low-quality ways. That makes it a less-than-ideal choice to utilize them for carry. Problems belly band holsters can cause include:
Unprotected trigger guard.
Loose, soft material that can bunch up in the trigger guard.
A band that slips and shifts excessively.
Poor fit for the gun being carried.
Clasps that can easily break or come undone.
Holsters or pockets that can allow the firearm to fall out.
Creating a draw stroke that results in sweeping your own body or the bodies of those near you with the muzzle of the gun.
Forcing the wearer to carry the gun in a position that aims the muzzle of the gun at their own body or the bodies of those around them.
Making it hard to access the gun, especially at times when seconds matter.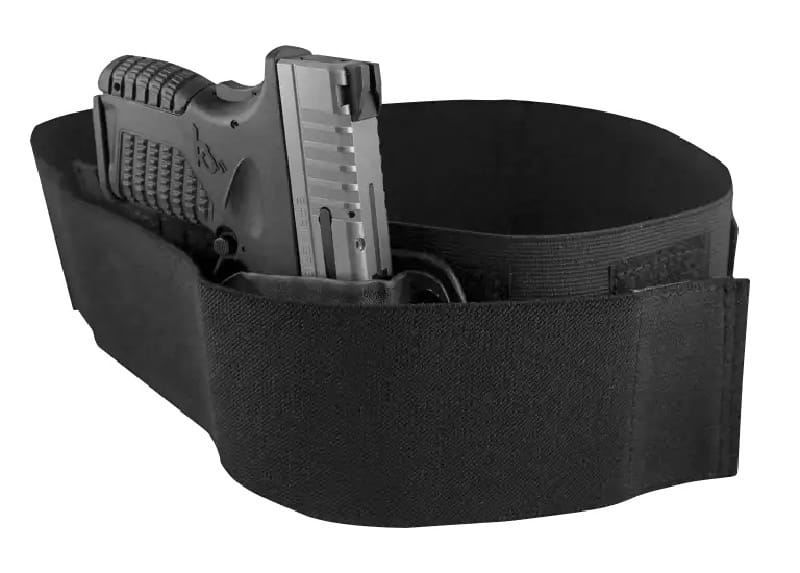 What are some pros of using a belly band holster?
Of course, there are upsides to using belly band holsters. If you're using a good quality holster, you might benefit a lot from using one. Pros of belly band holsters include:
A deep concealment method in non-permissive environments.
A gunbelt-free carry method when going for a run or hike.
Backup gun carry method for smaller pistols if you want or need a second gun on your body.
More comfortable than holsters on gun belts, for many gun owners.
Keep your handgun on your body instead of changing to an off-body method.
Tends to be more secure for runners and outdoor enthusiasts than using a fanny pack or other pouch or bag.
How do you choose a good belly band holster?
If you're going to use a belly band holster, make sure it's the best possible design for not only comfort but safety. Your belly band holster should do the following:
Include a band around your body that fits snugly and without slipping, twisting, or coming undone.
Provide a close-to-the-body fit so there's no concern of printing or of the holster itself falling.
Include a holster that's molded to the shape of the handgun being carried.
Have a holster that fully protects the trigger guard of the gun.
Not utilize a soft pocket to hold the gun.
Be wear and tear resistant.
Be snag resistant so it can't simply be ripped or torn if you somehow rub against an object with the potential to snag certain types of material.
Use a sweat-resistant material both for comfort and safety.
Position the handgun in a way that makes it as easily accessible as is realistically possible given the carry method.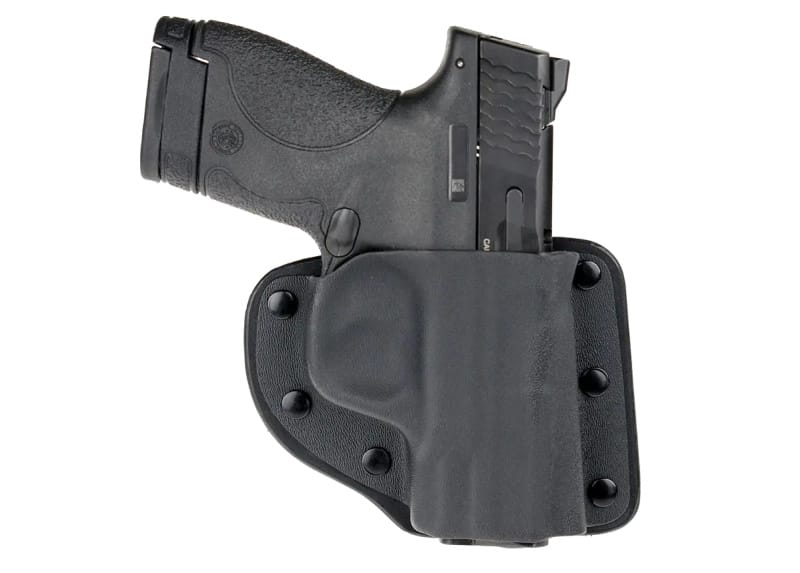 Companies like Crossbreed Holsters manufacture belly band holsters that utilize hybrid holsters for a better, more secure handgun fit. These styles allow the wearer to choose the model of their handgun so they can get the correct Kydex-faced holster to use with the belly band. That means the gun is held snugly in place, the trigger guard is protected, and there's typically enough retention for the user to be confident while carrying. These belly band holsters are a good option for gun owners interested in this form of carry.
While belly band holsters aren't ideal, they can certainly be used if you're aware of the inherent risks and drawbacks. Something else to be aware of when using a belly band holster is how much it can slow down your drawstroke. Remember, you have to unbutton, untuck, or otherwise move your clothing out of the way to reach up fairly high on your body to access your firearm. Sure, that might only cost you a matter of seconds, but those seconds might prove vital to your survival. If you're going to use a belly band holster, spend time training with it to familiarize yourself with the motions of drawing your gun and to slowly but surely speed things up. During the process, you might discover it's not the right carry method for you, or you may find out it's a great option. It's entirely dependent on the person, the gun, and the situation.
Finally, remember that the first rule of a gunfight is to have a gun. If the thing standing between you going out without your handgun and going out armed is the use — or non-use — of a belly band holster, it's probably a good idea to consider using one. It's far better to be armed and have a slower drawstroke than it is to have no firearm and no way to defend yourself against an immediate, credible threat. Belly band holsters often get a bad rap for accurate reasons, but when it comes right down to it there are going to be situations where you're not able to carry like you'd prefer. A belly band holster might be right for you. How will you know unless you try it out?