In the world of gun reviews, it's only natural to think of classifying said reviews under specific headings: AR, bolt-action, shotgun, handgun. Sometimes, however, a gun comes along that defies your desire to fit it neatly into a single category, and that is where American Tactical's Bulldog falls. The ATI Bulldog is a shotgun but also a bullpup. Interested? Read on.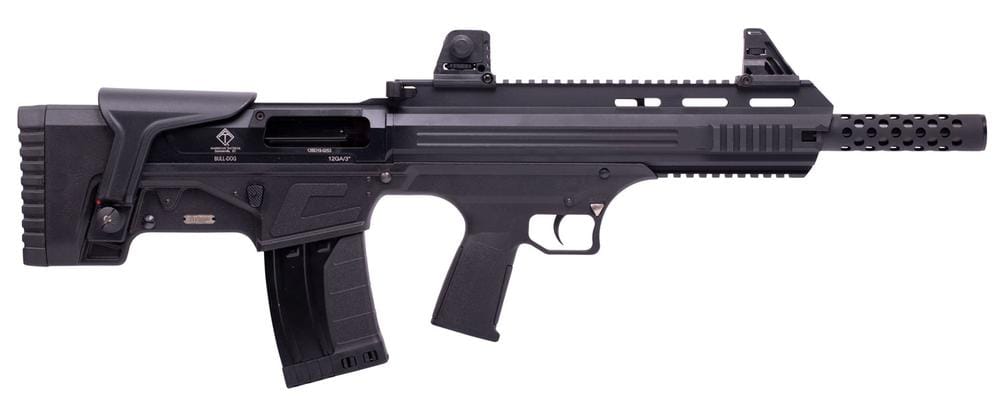 American Tactical, or ATI, has been known for years for its imports. However, for 2020 they've been working to change that to US-made guns and they're succeeding. ATI has justifiably carved out its place as a manufacturer of typically more affordably-priced firearms outperforming their price point in the gun industry. And although the Bulldog itself is not yet a made-in-America model, that does nothing to lessen its performance.
The ATI Bulldog piqued my interest from the moment I first saw it at a gun writer's event here in Texas. It was officially launched at SHOT Show 2020 – rest in peace, SHOT Show 2021 – but it wasn't until the fall of 2020 that I was able to lay hands and trigger finger on it. At first glance, your admiration for the Bulldog will depend on your overall feelings about the bullpup platform, but even if you're not an instant fan of the aesthetics it's well worth taking a closer look.
What is it?
Bullpups are most simply described as guns with the action behind the trigger. For comparison, the action in an AR-15 is found above the trigger in the lower receiver.
The idea behind this is to decrease the overall length and increase maneuverability in close quarters. It also means you get a longer barrel in a platform with a shorter overall length, meaning greater velocity without sacrificing its CQB usefulness.
The platform can be traced back to 1901 and the Thornycroft Carbine which didn't exactly excel in performance. It wasn't until decades later, following World War II, that the bullpup made a noteworthy comeback courtesy of the French.
The bullpup had a rocky start and even today doesn't have the fan base that guns like the AR-15 or Glock do, but it is edging its way into popularity inch by reduced inch.
Bulldog Specs
The ATI Bulldog was patterned after the bullpup platform to create a more tactical mag-fed shotgun. It's smaller overall than most shotguns on the market but packs a solid punch thanks to its ability to retain a longer barrel even with a shorter stock.
The Bulldog has an overall length of 26 inches and a barrel length of 18.5 inches, keeping it within non-NFA guidelines. It's chambered in 12-gauge and takes shotshells up to three inches in length.
Features include an AR-platform style charging handle, adjustable cheek riser, and rails that are both Picatinny and M-Lok. The gun ships with a trio of choke tubes, removable open iron sights, and a 5-round magazine. A 12-round magazine is available as an aftermarket purchase.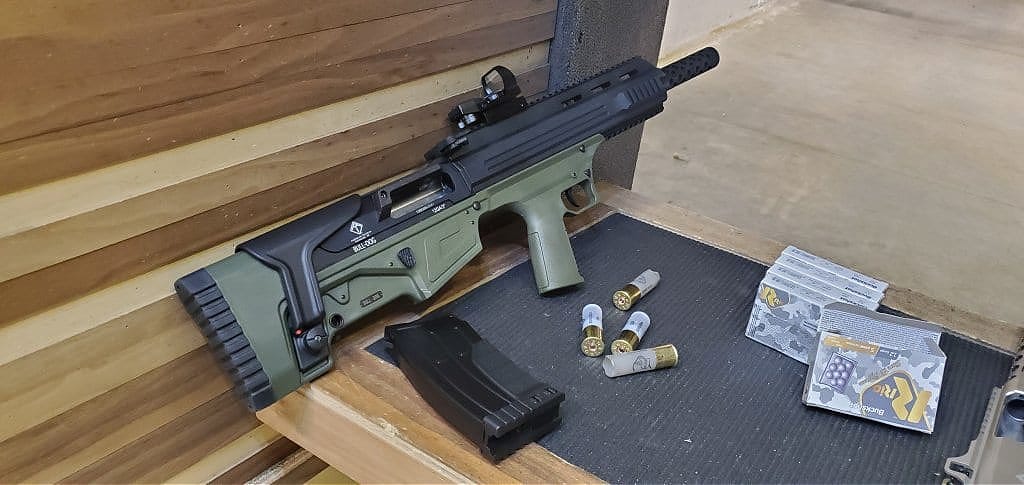 Range Time
If you're thinking the ATI Bulldog won't work for you due to its abbreviated stature, guess again.
My length of pull is long and I strongly dislike firing youth shotguns (or shotguns designed for the supposedly tinier needs of female shooters). But when it comes to the BullDog, the fit is fine. Bullpups in general are meant to be held in closer to your body. You can accomplish this by shouldering the Bulldog and holding the pistol grip, as expected.
If you'd like a bit more reach, ATI has your back. They designed the Bulldog so a spare magazine can be attached to the Picatinny rail beneath the handguard, allowing it to be used as a forward grip. Problem solved. Personally, this hasn't been necessary for me but it does add versatility to the shotgun.
At the range, the BullDog shouldered naturally and the grip was not so short as to be uncomfortable. In fact, I did not and have not had any issues with its smaller size.
Sights and Range
The factory iron sights are open and adjustable and work accurately out to approximately 50 to 75 yards depending on the target. If your goal is to hit a Frankenstein-shaped target without precision and with only rough accuracy you can certainly utilize those irons at longer distances. Open sights have the added benefit of a broader field of vision which can be quite handy in close-quarters situations. An optic can always be added to increase range but remember you're dealing in 12-gauge so your range is going to be limited regardless.
A slug's reach depends on the specific load; some slugs have a velocity and energy that drop precipitously by 75 yards while others can make an ethical kill on a hog closer to 200 yards. It all depends on the specific load, so do your homework.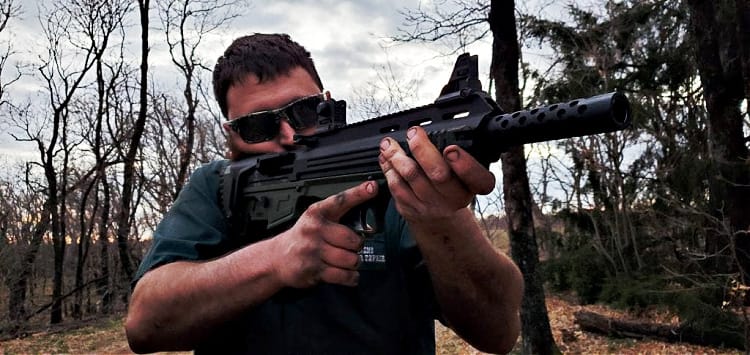 Trigger
The Bulldog's trigger is more MILSPEC-AR-like than shotgun-like. It's effective for its use and platform without grit or excessive travel. And if you, like me, are a fan of running shotguns fast—yes, you can accurately rapid-fire this gun.
I've had no trouble nailing single ragged holes out to 25 yards. The holes broaden past that distance but they're still nice groups.
With one exception – a failure to feed that was easily corrected and took place during a hunt – my Bulldog has cycled reliably through its first few hundred rounds.
Bullpup Appetite
The statement has been made that this shotgun works best with higher-velocity shotshells. This may be true but it's eaten everything it's been fed, including Remington Managed Recoil 12 gauge 2 3/4-inch Rifled Slugs.
Full disclosure: that one failure to feed was the second round from a magazine full of those managed recoil slugs, so take that for what it's worth. One time does not make a pattern but does somewhat suggest there may be some truth behind the gun's preference for higher velocity shotshells.
Recoil is worth a mention.
Typically I don't mind 12-gauge recoil and the Bulldog is no exception. 12 gauge is fantastically useful for waterfowl and deer hunting, CQB work, breaching walls, sporting clays – the list goes on.
The BullDog does have a shorter stock and as such, it doesn't have the kind of attention to a recoil pad or system you might be used to from your full-length shotguns. This means there is more felt recoil than is found in many shotguns but it is by no means a problem. It's something you're probably going to be aware of but not concerned over.
The Wrap-Up
This is a fairly well-balanced bullpup shotgun that's fun to shoot.
It performs well on the range on paper and steel but also gets the job done on whitetail deer. It might even be useful for home defense if shotguns are your thing for defending your castle. The Bulldog is certainly short enough to be maneuvered around corners more effectively than rifles.
It was originally offered in black but is now also available in FDE and OD Green. Best of all, with an MSRP of $499.95 the ATI Bulldog outperforms its price point. Online cost varies by retailer and is definitely subject to the whims of dealers during such a high national demand for firearms.
I give the Bulldog a 10/10. I think this is an enjoyable, unique gun to add to your collection.
Bulldog Specifications
Manufacturer: ATI
Model: Bulldog
Platform: Bullpup
Gauge: 12 Gauge
Barrel length: 18.5 inches
Overall length: 26 inches
Chamber: 3 inches
Color: Black, FDE, or OD Green
Features: Picatinny and M-Lok rails, adjustable cheek riser, removable and adjustable open iron sights
Ships with: 5-round magazine, 3-piece choke tube set
MSRP: $499.95