Unlike White Castle fries, 1911 magazines don't all come in the same size. Since the pistols themselves are available from full size down to ultra-compact — of course, they're going to need different sized mags. In the quest for high-quality 1911 mags, we'd like to direct your attention to these Sig Sauer magazines for full-size, compact, and ultra-compact 1911s, available at the warehouse.
Sig Sauer 1911 Magazines
Sig Sauer has built a reputation for world-class craftsmanship and reliability, proving itself over decades of service. Their 1911's combine John Browning's iconic masterpiece with Swiss craftsmanship. It's well known that military operators and law enforcement professionals often choose Sig Sauer products when lives are at stake.
In the videos below, Daniel Shaw takes a look at three Sig 1911 magazines available at GunMag Warehouse.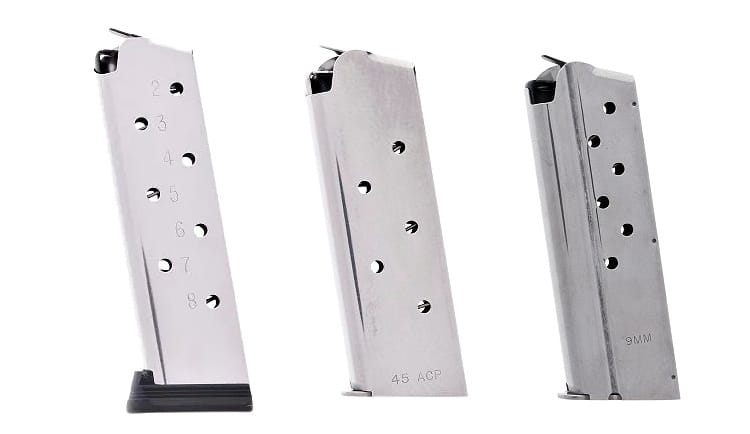 1. Sig Sauer 1911 Fullsize / Carry .45 ACP 8-Round Magazine
Made for the full-size 1911, this .45 ACP 8-round magazine has wide-cut witness holes so you can easily determine how many rounds you've got in the mag. It's constructed with surgical stainless steel and durable music wire springs and the follower presses down like butter. The removable polymer baseplate is angled and has a little bit of extra texture to make it easier when you need to rip that magazine out of the pistol for a stoppage clearance.
Take a look:
2. Sig Sauer 1911 Compact .45 ACP 7-Round Magazine
If you've got the compact version of the 1911, check out Sig's .45 ACP 7-round magazine. it's got a smooth follower and witness ports on both sides to show you how many rounds you've got left. The basepad is going to fit flush in the magazine well, which is what you want when you've got the concealed-carry version of the 1911, the officer's model, or the compact models. This magazine isn't going to fit a full-sized gun, it's for the compact, officer's model.
Check it out:
3. Sig Sauer 1911 9mm 8-Round Magazine
And finally, if you've got an ultra-compact model, you'll need the mags to fit it. Check out this 9mm 8-round magazine. Like the magazines above, it's constructed with surgical stainless steel, with a thick music wire spring and a smooth follower. The base pad will fit flush with the magwell.
1911 magazines are not like White Castle fries — they don't come in only one size.
If you're running that sig ultra-compact in 9 mm this is the one for you.
Grab a few spare magazines today, and keep your Sig 1911 feeding as reliably as possible. Don't forget to rotate your magazines regularly to lengthen their effective lifespan.