Some gun makers are simply known for excellence, and Wilson Combat is one of those. The company's Sig P320 Compact is designed and built to the company's exacting specifications and according to their adherence to high-quality standards, all to bring you a well-made, reliable carry gun. It's chambered in 9x19mm Parabellum and has a host of features added with concealed carry enthusiasts in mind.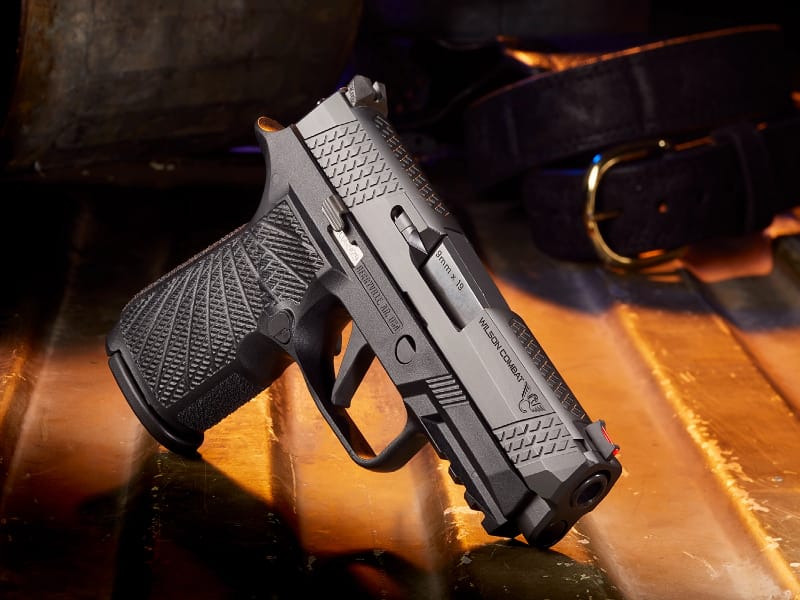 The gun maker provides details of the handgun:
Using the Wilson Combat SIG P320 X-Compact grip module, our in-house re-machined Compact slide, and Wilson Combat performance Battlesights, the Wilson Combat WCP320 Compact is our smallest 320 option for concealed carry and defensive use yet retains the legendary reliability this series is famous for.

This fast-handling and concealable pistol wears our [company] engineered polymer X-Compact grip module with 3-slot rail. This updated grip has enhanced traction, smoother reloading, improved pointablity and superb recoil control in dynamic shooting. This grip module turns an already solid platform into an ergonomic shooting machine.

The WCP320 Compact slide has been machined with the Wilson Combat X-TAC pattern for improved manipulation under stress. The front and rear cocking serrations, as well as the slide top, wear this signature Wilson Combat pattern.
The gun has a 3.9-inch barrel length and an overall length of 7.5 inches, making it concealable, but not too tiny to handle easily. X-TAC pattern serrations are located at the front and back of the slide for improved manipulation. The gun ships with the manufacturer's own Battlesight at the rear and a red fiber optic sight in the front. An accessory rail ahead of the trigger guard makes adding a light or laser easy to do. Overall, this gun is neatly made to fulfill the needs of many concealed carriers.
Features
Wilson Combat P320 Black X-Compact Module

Wilson Combat X-TAC P320 Carry Slide with Machine Bevels

Black DLC Finish on Slide and Barrel

X-TAC Pattern Front and Rear Cocking Serrations

X-TAC Pattern on Slide Top

Carry Cut

Wilson Combat Logo on Slide

Wilson Combat Battlesight with Red Fiber Optic Front Sight

SIG factory magazine Release

SIG factory Slide Stop

SIG P320 X-Full Size Steel Trigger

2 15rd X-Series Magazines

9mm caliber only

Not CA Compliant
More Details
Beveled Magazine Well

Rail for Mounting light or laser

Special Serial Number Range with WC Prefix
Specifications
Available Calibers: 9mm

Barrel Length: 3.9 inches

Overall Length: 7.5 inches

Sight Radius: 5.75 inches

Height: 5.5 inches

Width: 1.5 inches

Weight Empty: 26.4 oz

Weight Loaded: 33.1 oz

MSRP: starts at $1255.00
Considering the fantastic performance of this gun's full-sized predecessor, it stands to reason this model is also a great choice for shooters everywhere. What do you think? Tell us your experiences and opinions in the comments below.