At least half of every day is spent in darkness. It may seem like less to those of you who are traditionally diurnal. As such, you run a good 50/50 chance that an unexpected need for a rifle or shotgun could occur at night. And when it does, a solid weapon-mounted light (WML) may make all the difference.
Why a weapon mounted light?
If you're this deep into the article, I'm likely preaching to the choir. You need to be able to see and, short of a full NVG setup—lights work.
The WML as a Makeshift Aiming Device
In addition to their lighting abilities, lights also point the way. A tight beam on a light can serve as a tool to put you in the vicinity of your target. Let the light lead, and then do the fine-tuning with the sights.
The WML as a Defensive Tool
All of the lights we'll be looking at are measured in Lumens. That number simply serves as a guide as to how bright a light might be. The higher the number, the brighter the light. How bright do you really need?
There are two schools of thought here. Most of the tactical light users I know tend to want really bright lights. These blind the people unfortunate enough to be on the receiving end of the light. That can be used to your advantage, obviously.
I'm a Scoutmaster and know this pain all too well. On campouts, new Scouts tend to point their blindingly bright flashlights directly into the face of whoever they are speaking to. And they'll sit around the fire clicking them on and off until you want to break their little fingers.
But if there's someone you want to stop in their tracks, a bright light will do it. Some lights will flash, which is maddening. Even more effective are those that offer momentary-on capabilities. This will bounce a blinding flash and then leave everything dark, allowing for you to move unnoticed.
The WML as Offense
There's an outside chance, though, that the spill from the light and its sudden intensity will take a toll on the person behind the light, too. How do you prevent going blind yourself?
There are options. Wider cones of light with a lot of spill may shock your eyes less. Or simply look for a light with an adjustable brightness. Many flashlights can switch from 300 Lumens (really bright) down to about 5 Lumens (just enough light to read a watch face, or a map).
For a weapon mounted light, you may consider looking for a light based on its functions, and not simply the shock-value of its Lumen rating. I'd look for something bright enough to blind downrange, but not so bright that it also takes you out of the fight.
WML Size
This is another consideration. If your lights are huge, they may add extra weight. They may also add obstructive surfaces that get hung up on things like slings, seat belts, etc. But big often times comes with big benefits.
If you're looking for something incredibly compact, those options exist, too. You may be sacrificing battery life for ergonomics. Small lights often have small control switches, too.
WML Batteries
There's nothing as useless as a dead light. I can't begin to tell you how many times I've gone to the range with lights, only to find that my batteries are dead. Check them regularly.
CR123
These are squat jobs, more expensive than your typical AAs, but capable of putting out some kickass light. They tend to work right up until the point that they die. They're also not easy to come by. You'll pay through the nose for these at a grocery store. Buy in bulk to save.
Rechargeable
This concept is clear enough. I've got a number of Viridian lights that are rechargeable. They work great. The run-time isn't as long as some other options but plugging them in isn't difficult at all. I run them until they're empty and then recharge.
Watch Batteries
Really small lights need really small batteries. Almost all of these are for pistols, so it may not be a consideration on a long gun. They work, though. Changing them is moderately cumbersome as some of the lights need to be removed or dismantled to make the swap.
Common Options
AAs are still an option. The benefit is availability, mostly.
Colors
For an advanced course in lights, you'll need to consider the color of the light. White lights blind. These are the most common, of course. If you are looking for something to take varmint hunting or for use around people you don't want to blind, I'd look at green or red filters. Many animals won't react to green light the way they do white.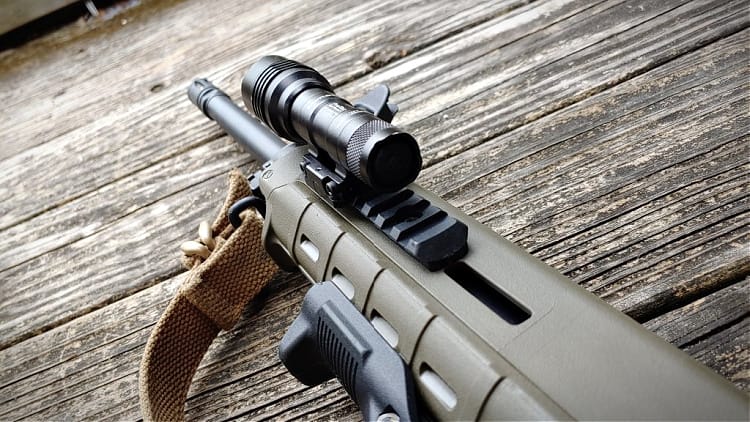 Which switch works best?
This, too, spurs debate. Many of the lights below have push-button end-cap options. Those are my favorite, as they are tactile, easy enough to find, and don't get in the way.
Many also have tails and switch pads that replace the end cap. These are super convenient for those who want to be able to cut on and off the light while maintaining a firm grip with their support hand. The downside is that the tail may be obtrusive and the switch pad itself has to be secured to the gun. This often takes up more space, requires an additional mounting device, and may involve both tape and zip-ties.
There are some options with side-mounted push-to-activate buttons or throw levers, but those are more common in pistol lights than these larger ones.
Here are 10 solid WML options
1. Streamlight ProTac Rail Mount HL-X Long Gun Light
The Streamlight ProTac Rail Mount HL-X Long Gun Light. It is impossible to underestimate the popularity of Streamlight. Their lights are never ridiculously priced and provide tremendous options for those looking for value in the traditional sense.
The ProTac Rail Mount HL-X Long Gun Light comes in a couple of varieties. In its most basic form, it kicks out 1,000 Lumens from two CR123A lithium batteries. The switch is a button on the back.
The HL-X sells for $134.99.
The ProTac Rail Mount HL-X Long Gun Light is also available with a Streamlight SL-B26 protected Li-Ion USB rechargeable battery pack.
2. Streamlight ProTac Rail Mount 2 Long Gun Light
If you want something a bit more modest and compact, the Streamlight ProTac Rail Mount 2 Long Gun Light puts out 625 Lumens from the C4 LED. This one also has the option of a pressure pad switch.
3. Streamlight ProTac Rail Mount 1 Long Gun Light
The ProTac Rail Mount 1 is even more subdued. This one puts off 350 Lumens. It runs on a traditional battery, too, or CR123As. If, like me, you own a number of guns that you need lights for, options like this are a great option. And 350 Lumens seems minuscule compared to the larger lights in this series, but it is not. That's ideal for interior spaces and sufficient for outdoor applications.
4. Cloud Defensive OWL Optimized Weapon Light
Cloud Defensive makes really nice firearms accessories. Their lights are no exception.
The Cloud Defensive OWL is designed for simplicity of installation and operation. The unit contains the tools it needs to be installed on a rail. If you appreciate the simplicity of design and streamlined aesthetics, this won't disappoint. And the OWL puts off 1,250 lumens. The price is higher–$399.99, but this is a different class of light.
5. Cloud Defensive REIN Weapon Light Standard Kit
Cloud Defensive's REIN is even brighter—1,400 Lumens. The standard package has a push-button set-up. An upgrade allows for a remote switch for the light. And the best part is that the tail cap button still works, even with the remote switch, which solves a problem that has plagued some light designs.
6. Cloud Defensive REIN Micro
The REIN Micro is slightly smaller and puts out less light. You'll have to settle for 1,300 Lumens from the Micro. But the same functionality exists.
Lights in this size range are great for those compact pistol caliber carbines.
7. SureFire Scout Light Pro Dual Fuel
SureFire continues to dominate the weapon light scene. Their lights are robust, highly functional, and easy to use. Critics point to the price. Their lights are not cheap. They're not astronomically priced, either, and those of us who trust our lives and the lives of our loved ones to them can argue that you get what you pay for.
The Scout light has been around for a long time, now. SureFire keeps making enhancements, like the Scout Light Pro Dual Fuel. It will produce 1,200 with 123A batteries or 1,500 Lumens of light with an SF18650B* rechargeable lithium-ion battery.
8. DSF-870 Shotgun Forend WeaponLight
SureFire also has dedicated options for a few shotgun brands. While all of the lights above can be used on shotguns that are set up with rails, the SureFire shotgun lights replace the factory forends. For pump-action shotguns, this puts the controls on the working surface of the slide, and they work incredibly well.
The DSF-870 is, no surprise here, built for the company formerly known as Remington's 870. It produces 600 Lumens.
9. OLight Odin
OLight's flashlights have caught on with EDC aficionados that like function and design. They have a few weapon lights now for pistols and long guns that I'm hearing more people talk about. This is the only brand in this list that I've not tried personally, though I have been carrying an OLight flashlight for a couple of months and I like what I'm seeing so far.
The Odin is another reasonably priced light. They're advertising a 2,000 Lumen beam that will run for 8 hours. Is that bombastic? I intend to find out. It may max out at 2,000, or run for 8 hours at a lower setting.
10. Inforce WML — Gen 2
Last on my list is another company that I've had a reasonable experience with—Inforce. I've run long gun lights and pistol lights from Inforce with mixed results. I'm currently having issues with an older Inforce pistol light that drains batteries. I don't hear similar complaints from others, though, so I'm including it because I've not fully ruled the company out.
The Inforce WML kicks out 400-lumens. The total run time is not stupendous, at just 1.5 hours. But the price is attractive to many.
Other options?
This primer has focused on long gun lights. The lights for pistols are far more diverse. There are a lot more variables to consider.
There are also light/laser combos. Viridian makes some really compelling combos that are ideal for long guns. The X-Series even has a light built into an HD camera. If you are wanting capture a night hunt, or see how well you're doing with training in the dark, the XTL Gen 3 w/ Tactical Light and HD Camera is a great way to do it without taking up too much space on a rail.
Wrapping up
So many handguns are built without options for adding accessories. The same is true for some rifles and shotguns. But if you have a gun meant for defense, and I'm talking about ARs, AKs, shotguns, PDWs, PCCs…, you need a light.
And if you need a light for self-defense purposes, you need a good light that you can depend on. There are way too many options available at rock-bottom prices, and some make some bold claims—but will they work when you need them to? Will they stand up to recoil? Will they work in the rain?
If a threat does arise, you want to be prepared. And you need to practice with lights, day and night. If you can shoot on your range at night, safely, do it. Practice where you live, too, with a completely safe firearm. Inform the family of what you're doing and practice clearing your house. Only with that kind of work will you really begin to appreciate the nuances between these lights.