Have you heard of Diamondback rifles before? The first time I ever saw one in a gun store, my buddy told me to stay away from them because they were cheapy. Back then quality on an AR-15 was either good or bad. After that first time, I started noticing them on shelves a little more. I was still reluctant to try one because of the constant rumors regarding quality control. The price is what always made them stand out to me.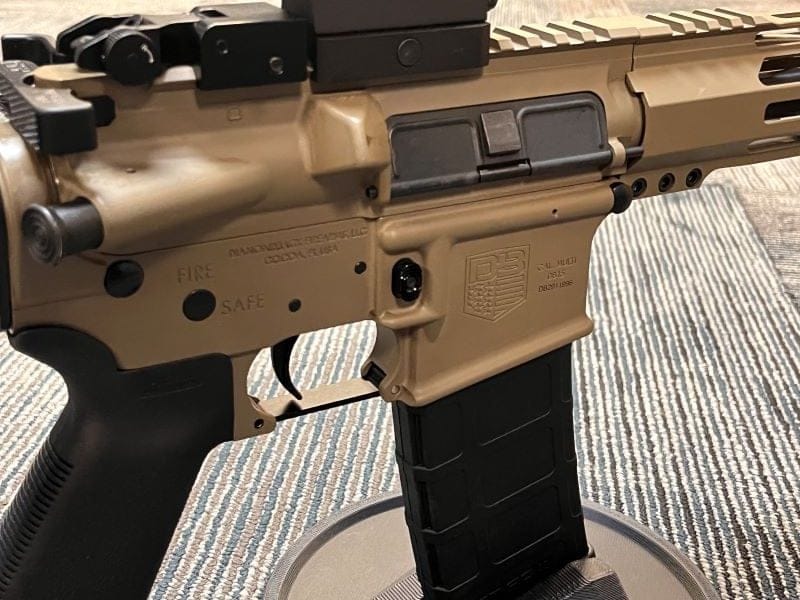 An AR-15 that didn't cost as much as a car was appealing. As time went on, other brands started to pop up that were in the same price range. The "quality" rifles also continued to go up until they reached a breaking point for me. Some of the name-brand AR-15s were three times the money as a budget gun.
Time has changed a lot of things in our country and one of them is technology. With that technology, companies producing budget-priced firearms can use the same computer-controlled machines to make mil-spec parts for guns. This caused a shake-up in the gun world and now, the line between good quality and bad is not as easy to distinguish. So where does Diamondback fall into this blurry line of quality vs budget gun? Let's dive into the company and the rifle to see what we come up with.
Who is Diamondback?
The Florida company known today for producing a budget-friendly AR-15 didn't start by making rifles. Their first firearm was a .380 pistol, but that's not how they started either. The company started back in 1989 when they were producing custom airboats in a small shop. They were successful and grew into a larger company that upgraded to CNC machines in 2009.
It was after this that the company realized they had all the equipment needed to produce firearms. They started making a compact .380 handgun (DB380) that sold for a fraction of what other handguns sold for. While they still produce handguns today, they are more well-known for their AR-15 platforms. Just like their handguns, Diamondback offers some AR-15 platforms that sell for an appealing price.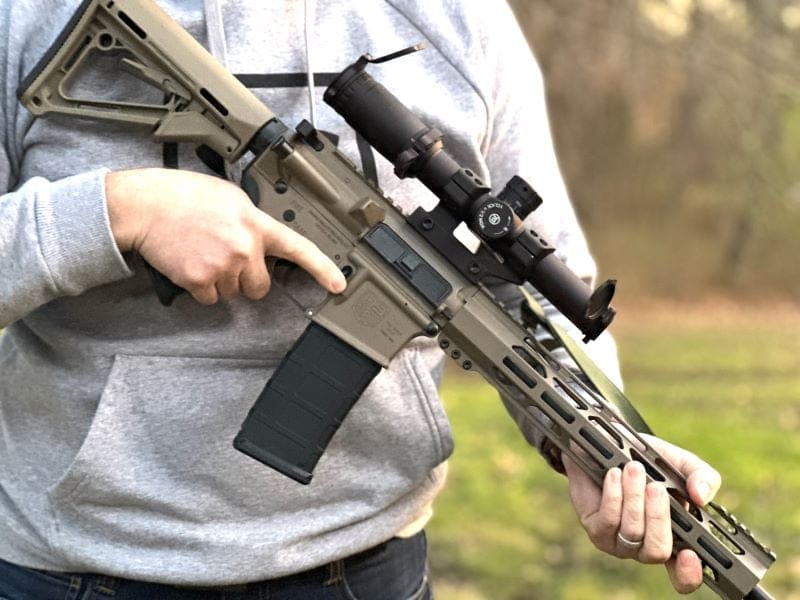 Just like their handguns, they are often the cheapest option on the shelf. You can find the DB380 for under $300 and an AR-15 for under $700. 00. That doesn't make them the cheapest guns on the market, but they are not far behind. Over the years, the Florida company has started producing a higher-end line of weapons that includes custom AR-15 builder's kits and complete guns in multiple rifle calibers.
How does the quality compare to the price?
After my buddy told me to be careful buying a Diamondback, others told me the same thing. This was of course back when they were just hitting the market. After a few years, I didn't really hear any more complaints except from those same people who referenced issues with the first product launch.
When I went diving further into the quality debate, I found something interesting. Diamondbacks guns, especially their AR-15s, were getting good reviews. You will always have haters for any product, so you must weed those out. But in general, I couldn't find a specific problem or issue that was reoccurring. That was enough for me to take it a step further and see for myself.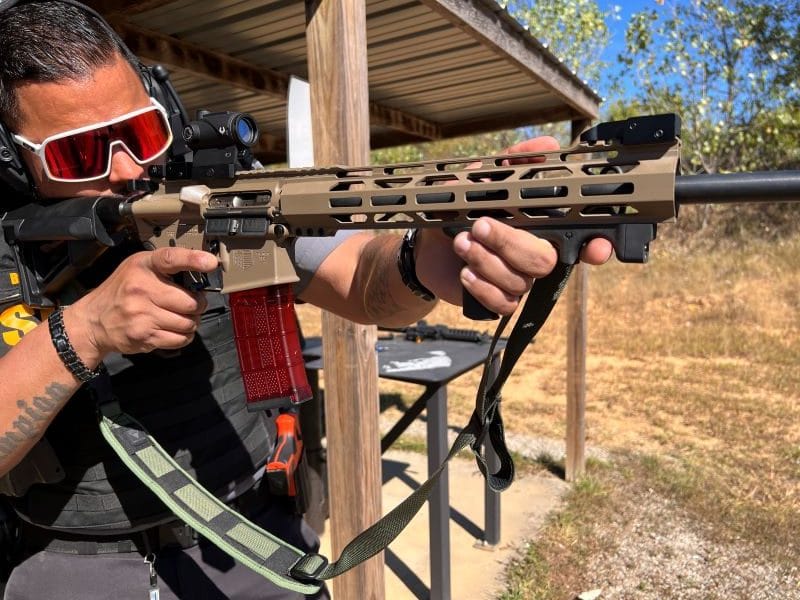 I found my Diamondback DB15 in a gun store for $650.00. There were two other brands that were cheaper than this, so it wasn't the lowest price. But it had a great look to it and the finish was better than the other two with a lower price tag. The AR-15 rifle I picked up is chambered in 5.56 NATO and has a 16" barrel. The finish is FDE with a standard Magpul grip. This is a complete mil-spec rifle so every part on it is interchangeable with other AR-15 parts. The first thing I did was take it to the range and start dumping ammo.
I shot some Winchester target ammo and a few other FMJ boxed ammo before using some Hornady and Fort Scott hunting ammunition. I shot some random bullets I found in a box that were so old I couldn't tell what brand it was anymore. I did not have a single issue with the rifle.
Where does the DB15 rifle fit in?
After shooting the Diamondback AR-15 for more than a year, I have yet to have any issues with it. At some point, I installed a compensator and replaced the mil-spec stock with an FDE Magpul stock. For a while, I've had a TruGlo LPVO on it and this thing is accurate. It shoots sub-MOA (under 1" groups at 100 yards) as long as it has good ammo.
With the cheapest target ammo, I found it opens up to about 2" which is still not bad. While I have shot a lot out of this rifle and haven't experienced any issues, I also have not tried to break it either. I haven't tried to overheat the barrel to see how it stood up or thrown it off a cliff to see if it would shoot afterward.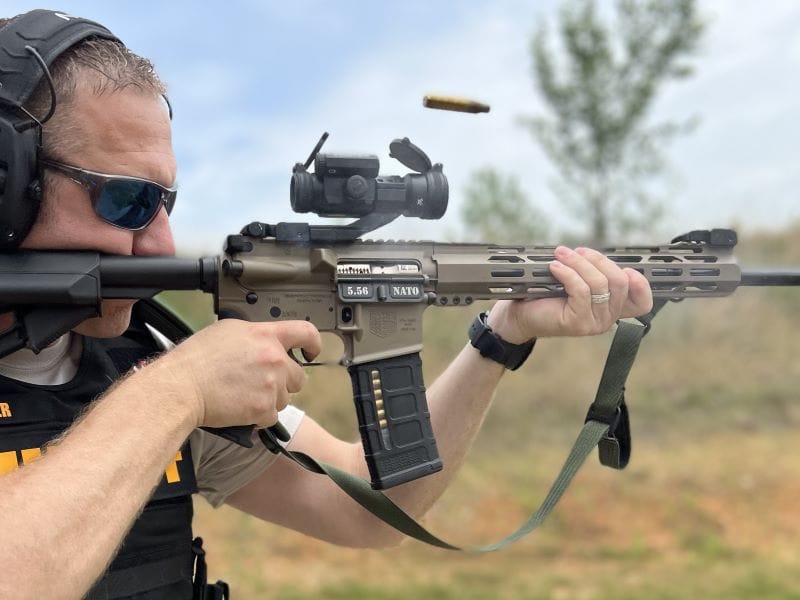 Would it hold up to the high-end big dogs like Daniel Defense, Wilson Combat, or LWRC? Maybe not. But unless you are taking it to WW3, I'm not sure it would matter. I wouldn't say this rifle would rival high-end guns, but for the price, it's hard to beat. As I said earlier, there are cheaper guns out there, but the Diamondback AR-15 is still a decent price. For quality, I would place it much higher on the scale. With those two combined, it's a good deal.
Summary
The building I work in is about 14 years old. When it was first built, people started referring to it as the "new building." Now that it is 14 years old, we have AC problems, cracks in the concrete, and a few roof leaks. It's not new anymore, but people still call it that because it was new when they first saw it. I have a feeling this is what happened when Diamondback first started producing handguns. Someone saw something they didn't like and complained about it. The next guy heard the complaint and any time the name Diamondback would come up, he remembered his first impression of them.
The reality, however, is that Diamondback is a US company that produces all its own parts, and the materials are all outsourced from within the US. It is an American gun company that makes quality guns for a good price. If you are buying your first AR-15 or looking for an additional one that doesn't cost a ton of money, the Diamondback AR-15 is a good option. They have plenty of new models, calibers, and colors to choose from and they will work when you need them to.