Tactical is a term that gets tossed around so dang much these days. In the gun world, it means it's likely black or FDE, and made from polymer and metal. When I use the term 'tactical revolver,' I mean very modern, modular revolvers that break the mold of the classic six-gun. There is no reason why a classic Model 19 wouldn't be a tactical revolver if you find yourself in a gunfight. I'm just not sure what else to call this assortment of six guns.
Heck, not all of them are six guns, for that matter. I'm defining tactical revolvers as revolvers that can easily mount optics and lights, and are compensated or ported in some way. These guns should be rapid to reload and easy to shoot. They'd be at home on the range, at competitions, and for defensive use. Tactical revolvers don't have the same gusto as modern semi-automatics, but they do have an undeniable cool factor.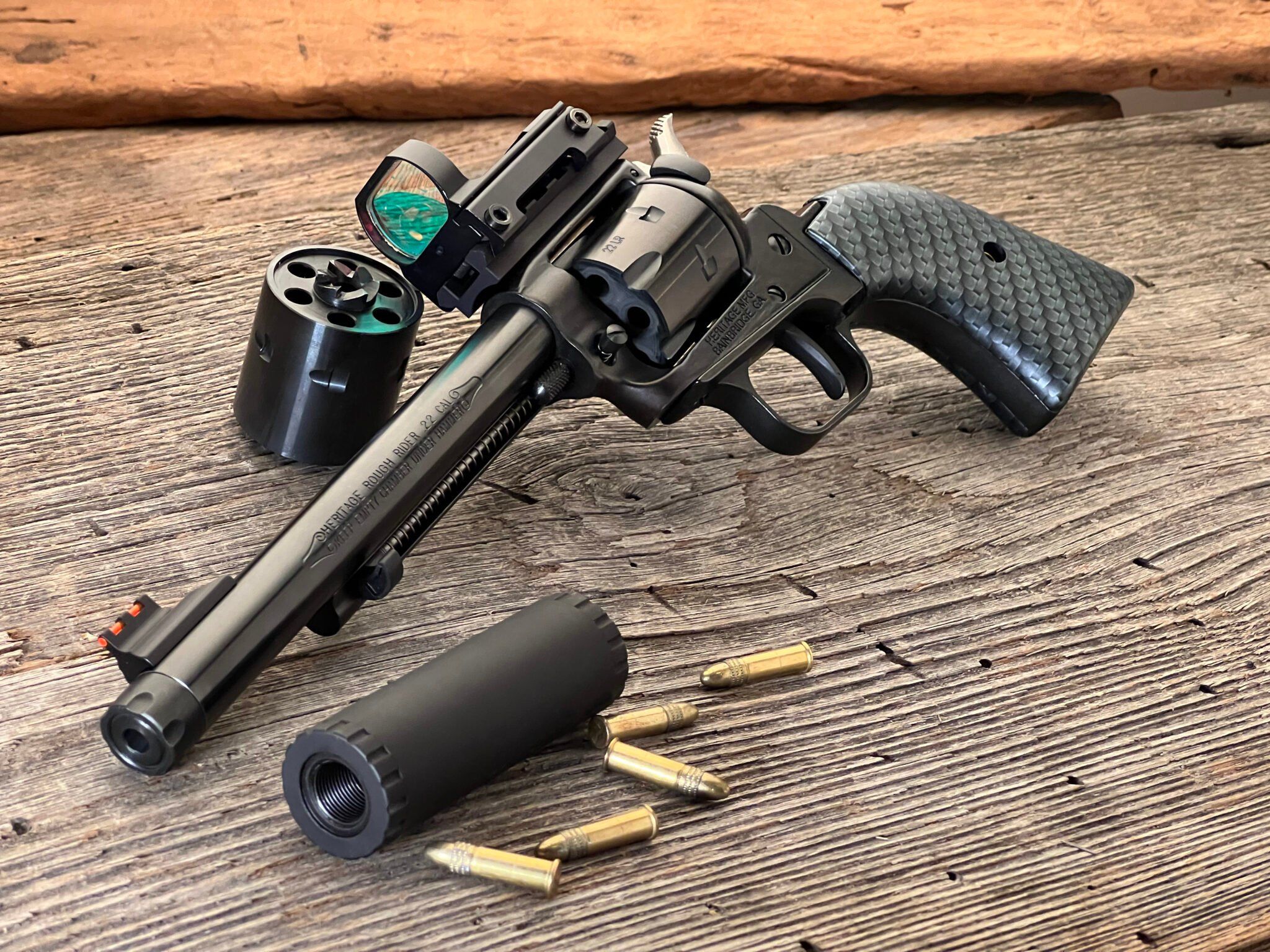 Modernizing Tactical Revolvers
The addition of modern accessories does the same thing that we see in modern automatics. Optics allow you to shoot further, fast, and with more precision. Unlike automatics, revolvers do not have slides that reciprocate, and this makes tracking your dot a bit faster and easier.
Lights allow you to establish positive identification for defensive shooting. To mount a light, a revolver admittedly has to be fairly large or creative. The original Korth Sky Marshals found a creative way to mount a rail. Again without a slide, the rail isn't isolated to mounting beneath the barrel.
Compensators and porting increase control. Why not apply them to the wheel gun? Especially combative wheelguns, which often have Magnum in the title. Also, these guns use fixed barrels and are not affected by some of the reliability issues automatics have with lightly loaded rounds.
In a lot of ways, an accessorized revolver makes as much if not more sense than an automatic. Let's dive into some badass revolvers that you might be overlooking.
S&W 327 TRR8
The undisputed king of tactical revolvers is the Model 327 TRR8. Smith and Wesson went back to the drawing board with this revolver, but it's not the only model they make that I'd call tactical. I could write an entire list with just S&W options, but the 327 TRR8 takes things to different levels.
The TRR8 model features a set of detachable rails that allow you to fit both a weapon light and an optic. Of course, if you prefer one over the other, you only have to mount one rail. These tactical revolvers are big and can fit full-sized handgun lights like the Surefire X300U. Smaller dots make more sense on handguns, but you could mount an Aimpoint Comp M4 if you so choose.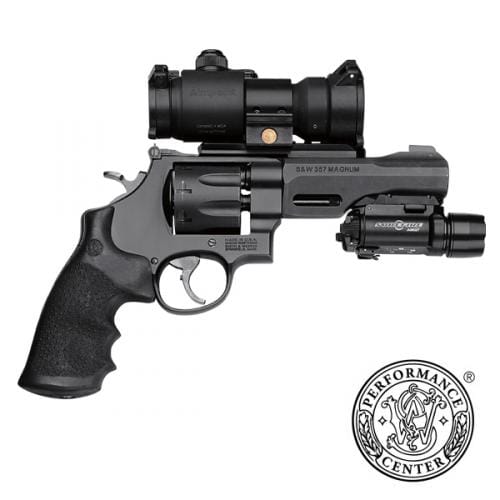 Besides the ability to stick accessories all over it, the S&W 327 TRR8 is inherently a modern fighting revolver. Our cylinder holds eight rounds of .357 Magnum and is cut from moon clips. These are faster than speed loaders and allow for very positive ejection. If eight rounds of .357 Magnum don't solve the problem, then the next eight rounds are coming quick.
Once you factor in the Performance Center tuning and high visibility iron sights, you know you have something special. The 327 TRR8 is good enough for the Punisher, so it's good enough for me.
Korth Super Sport
If you told me the Korth Supersport was a prop designed for some futuristic movie, I'd believe you. Admittedly, his massive beast of a gun is designed for competition but it still fits well in our tactical revolvers category. It's huge with a six-inch barrel but outfitted to the nines. A huge scope rail sits across the top, just begging for a red dot. The two rails on the sides are just asking for accessories, too. It's a tri-rail, and it's on a revolver.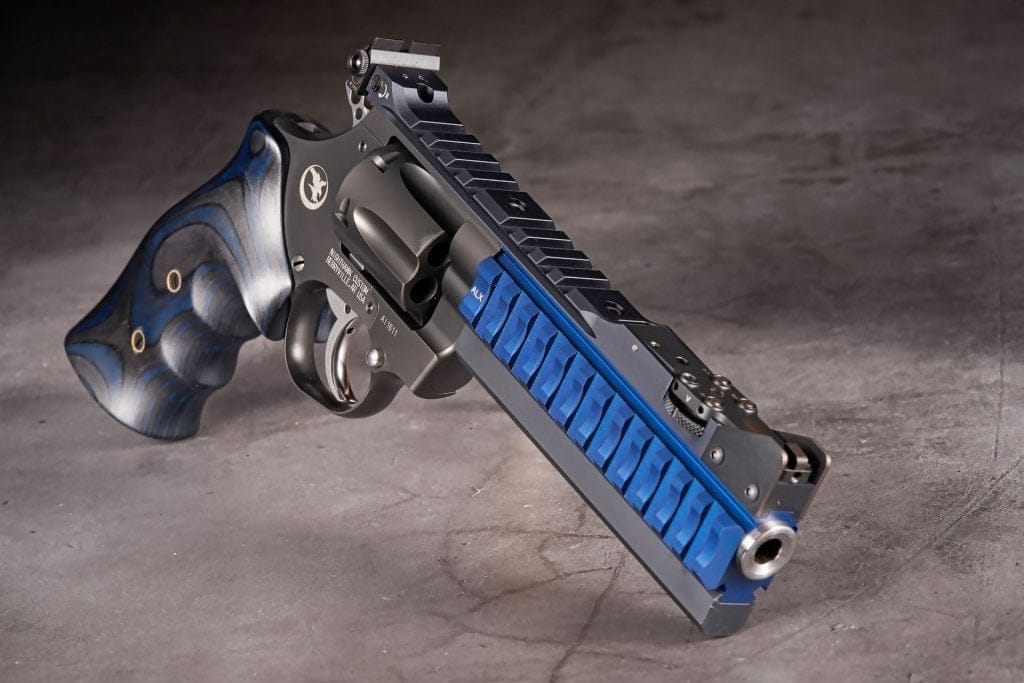 Is it odd? Yep, but it's also a Korth. These beastly guns are extremely accurate with wonderful triggers. The roller trigger system is the one to beat. It's unmatched in its smooth nature. The included sights are wonderful as well. They're highly adjustable and interchangeable. The best part about this gun is that the caliber is also interchangeable. Users can swap between 357 Magnum to 9mm by swapping the cylinder.
The Korth Super Sport would be at home winning cups and medals, in a home defense setup, or at the BBQ. At about five grand, it's not a cheap revolver, but nothing with the name Korth has ever been affordable. At the same time, if I needed a revolver that could double as a sniper rifle, it's Korth I'd turn to.
Chiappa Rhino
The Italians know how to make cool revolvers. Most of our old west replicas come from Italy. The Chiappa Rhino defies the Old West and revolvers in general with the Rhino. It is all sorts of weird, but also fairly advanced and smart in its design. Chiappa makes the Rhino in a variety of calibers, including .357 Magnum, 40 S&W, 9mm, and .44 Magnum.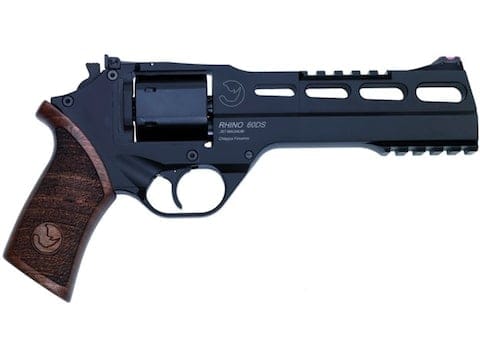 What's really different about Chiappa and the Rhino is that the barrel aligns with the bottom cylinder. This places it in line with the wrist which helps reduce muzzle rise and really directs the force more rearward than upward. Chiappa makes numerous barrel lengths, and for our tactical revolvers, we'll stick to the 4, 5, and 6-inch models.
The four and five-inch guns feature bottom accessory rails for mounting lights, lasers, and cup holders. The six-inch models implement an optic rail for mini red dots. This allows you to make your already space-age revolver a bit more modern and ready for home defense, hunting, and playing space cowboy.
Tactical Revolvers Rule
Who doesn't love a good wheel gun? I personally love a blued steel and wood gripped Model 10. That simple configuration of Model 10 armed more soldiers and police officers and put more bad guys in the ground than any of these tactical revolvers. Still, times change, and technology evolves.
I'd love to see more companies embrace the idea of tactical revolvers. There are certainly some advantages to the platform that make them natural for accessorizing and modernizing.
What do you think? Let us know below!