There was a time when swapping out your gun's sights for an aftermarket set—or simply a replacement set after an unfortunate close encounter with a tree—required professional gunsmithing. Even if it didn't technically require a gunsmith, going to one typically made life easier because a gunsmith had the right sight tool to go with the know-how.
Today there are quite a few different sight tools on the market that enable you to handle your own sight-related issues at home (please remember a Dremel is never the answer for gunsmithing). Whether you have a Glock, 1911, or long gun in need of new sights these sight tools have you covered. Read on to find out what tools we recommend for making those seemingly little changes to your gun for better visibility and improved accuracy.
This Mag Life collaboration was begun by Kat Ainsworth. Editor/contributor: David Reeder, Other contributors: Stephanie Kimmell.
1. Wheeler Armorer's Front and Rear Handgun Sight Tool
This is straight-up a fantastic sight tool. The Wheeler Armorer's Front and Rear Handgun Sight Tool is heavy-duty and built for more precise work. It's made to facilitate the installation of both front and rear sights on handgun slides; the sight prong assembly of the tool can be reversed so it works on Glock slides, too. This isn't only for 1911s.
Functions include installing, removing, and adjusting front and rear dovetail sights. The tool holds the slide snugly so you don't have to worry about it slipping or getting damaged. Face it, the last thing any of us wants are scratches and gouges due to improper tool work.
It works on any and all semi-automatic handguns. The Wheeler Armorer's Front and Rear Handgun Sight Tool has a quartet of horizontal clamps to hold the slide (each of which functions individually) and precisely-marked measurements for careful, exact sight placing and pushing. This is the perfect tool for when you need to do more than a quick swap on basic sights.
2. Real Avid 4-in-1 Glock Sight Tool
Actually, Real Avid's 4-in-1 is more than a Glock sight tool, it's a Glock multi-tool. Changing Glock front sights just might be the most common home gunsmith task there are thanks to the proliferation of Glocks and the myriad aftermarket sights available for the polymer pistols – but that's not all you can use this thing for.
The 4-in-1 Tool for Glock has everything you need to break down and Glock and fits right in your pocket. Spring-loaded tools pop out so you can punch pins, adjust your front sight, pry your slide lock and insert aftermarket rear sights
This tool is doesn't take up much space, making it easy to store in a toolbox or drawer and it'll probably last longer than you will if you don't abuse it.
Need to do more than adjust that Glock's sights? Check this out.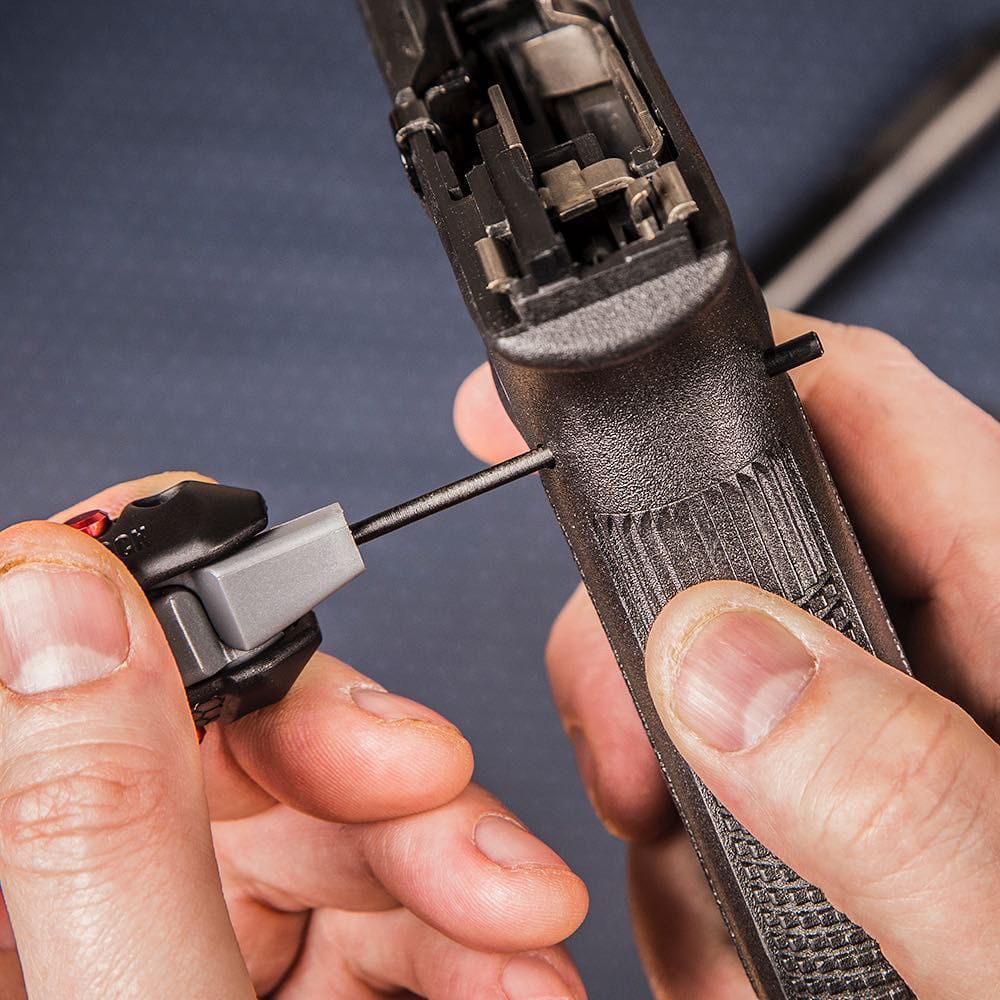 3. Fix It Sticks Glock Front Sight Bit and Pin Punch Combo Pack
Fix It Sticks seems to have tools for just about everything. Of course they have something for Glock front sights (and more). And not just Glocks, either.
The details of this particular Fix-It Sticks pack include:
3/16″ Hex Thin Wall Nut Driver
Integrated magnet holds the screw securely in place
Machined from Solid Steel Bar Stock.
Works with any standard 1/4″ bit driver
For best results, pair with our 6 in/lb torque limiter (10 in/lbs max torque)
3/32″ Metal Pin Punch
Punch is sized to ensure easy removal of all Glock Pins by hand
Machined from Solid Steel Bar Stock.
Works with any standard 1/4″ bit driver
Integrates perfectly with Fix It Sticks Replaceable Edition and T-Way Wrench for field/travel use.
You can also get the front sight bit by itself. Just be sure to get your wrench too…and remember, Fix It Sticks are by no means limited to Glocks!
4. Williams Gun Sight Front Sight Pusher
For ramped front sights you need tools made for the task and that's where the Williams Gun Sight Front Sight Pusher comes in. It's a basic, logically-designed tool created so you can install ramped front sights without damaging your long gun.
The Williams Gun Sight Front Sight Pusher is made to protect beautiful custom finishes on rifles while getting the gunsmithing job done quickly and easily. It equalizes pressure so the rifle isn't deformed or otherwise damaged and works well for both installation and adjustment. There's also the added bonus that using this sight pusher means no more snapped-off screws.
This tool has an aluminum body that's 4 and 3/8-inches long, 1-inch wide, and 1 and 3/8-inches high and sports a black anodized finish for resistance to wear and tear. The screw in the pusher is made from steel and is extended or retracted by turning the handle of the tool. This pusher is not meant for dovetail sights directly affixed into the barrel but is meant specifically for ramped front sights on rifles.
5. Real Avid Master Sight Pusher
The Real Avid Master Sight Pusher is made for all semi-automatic pistols such as 1911s and Glocks and is a professional-grade gunsmithing tool. Using this pusher with your guns makes changing sights a breeze and adjusting them far more exact than is possible when using punches or various tools that really fall under the heading of "these shall not be used on firearms."
The Master Sight Pusher is made to protect the slide of your gun and also to stop your sights from getting irreparably harmed during the installation or adjustment process. After all, it doesn't do much good to only protect the slide if you immediately annihilate the sights themselves.
Contact points are adjustable and non-marring. The handle of the Real Avid Master Sight Pusher is an ergonomically-designed Easy Torque Handle with ultra-fine drive threads for superior torque and less effort on your part during the process. If you're looking for a durable sight pusher that excels at installing and adjusting press-fit sights this is the tool to check out.
Real Avid says, "How is the weather? Too cold, too warm, too wet, too dusty? How do you think your gun feels about it? When subjected to harsh demanding conditions, your trusted companion might need some field maintenance. That's when our mission-critical solutions will come in hand and keep you up and running." They're not wrong.
6. Real Avid Punch Sets
You might be thinking a punch set is more the purview of building ARs, but let's expand on that. There's more to punches than detents, springs, and various pins. Sometimes you need to put a little more umph into a modification. This Real Avid punch set features an excellent modular hammer that allows you to choose from brass, nylon, rubber, or steel heads. That'll give you some latitude when you tackle your jobs, allowing you to make adjustments without marring a gun's finish in one place, then turn around and switch it up for more robust work on a heavy-duty frame. We have them in the warehouse.
7. Brownells Gunsmith Master Punch Set
The Brownells Gunsmith Master Punch Set is a complete set of starter punches, pin punches, center punches, brass punches, and nylon punches. It's the brass and nylon that are specific to sight work.
Brass punches are marked by size and useful for adjusting sights without marring and permanently marking up your gun. The nylon punches are soft, as expected, and great for drifting front sights without damage to the slide. There are four branch punches and three nylon punches included in this set.
A neoprene gun mat sized for handguns is also included to protect both the guns and the surface you're using as a workspace from marks and scrapes. As for the rest of the punches, there are four starter punches, four-pin punches, one prick punch, and one center punch for other gun work. A nylon bench block and dual-ended brass-and-nylon hammer are also included. All the parts come packed in a neat plastic case with movable dividers.