AR-platform and style pistols are widely used for plinking at the range but also see a lot of use for home defense and as truck guns. That's for many reasons. Their overall length is shorter, making them easier to maneuver in tight spaces, and for a lot of gun owners they are versatile and easier to handle than handguns from a defensive perspective. The Sig MCX Virtus Pistol is one example of what these guns can do. Garand Thumb reviews the pistol, covering live-fire and in-depth specifications in the video you'll find below.
Is the Sig MCX an AR?
Not exactly. Garand Thumb explains how the SIG MCX is different from an AR-15:
"The MCX is not a direct impingement system. As much as it looks like an AR-15, it is not. It is a different operating mechanism.
"So, this operates off a short-stroke, gas piston system. Now, I'm not going to get into the merits of DI versus gas piston or internal piston, or whatever…you guys want to call it nowadays other than to say that the gas piston system definitely offers some advantages over the DI system. And I think the MCX capitalizes very well on those advantages. It is a spectacularly well-balanced system.
"There is a simple gas plug up here to adjust the system from suppressed to unsuppressed, as to how much gas it lets into the system. In my use of the MCX, the suppressed setting works absolutely great, I'm not getting a whole lot of gas blowback. Now, there are, of course, adjustable gas systems in AR-15s out there, but it's not nearly as common as what you see in a piston rifle. Pistons just do a little bit better than adjustable DI [systems]."
Watch the video below to find out more about direct impingement versus gas piston and the SIG MCX Virtus Pistol itself:
Is the SIG MCX Good for Home Defense?
Whether or not a specific gun is going to be a good option for you for home defense or self-defense in general depends on your needs and skillset. That said, the Sig MCX is a good platform for use as a home defense gun, especially in its smaller 300 BLK configuration. Having a shorter overall length and being chambered in a cartridge that was specifically made for close-quarters use goes a long way to recommend it for defensive use. Garand Thumb states in this review he would not hesitate to recommend the gun to anyone and is happy with its applications.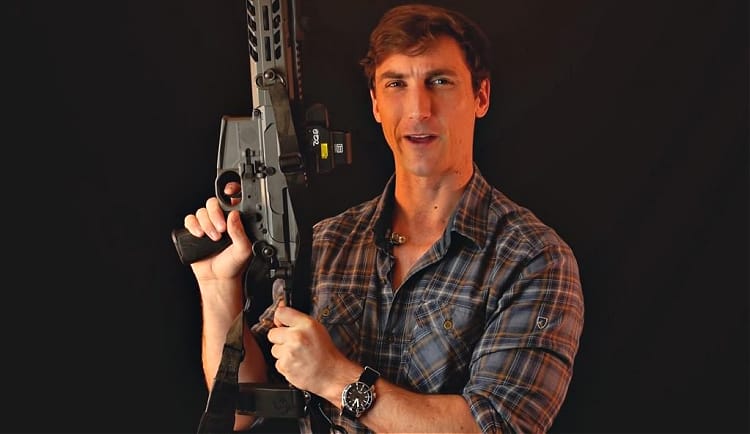 Why does the Sig MCX Virtus Pistol work well for home defense?
Ideal size for close-quarters use
The 300 BLK version is literally chambered in a cartridge meant for close quarters
Highly maneuverable
Good magazine capacity
Reliable performance
Durable
Versatile (home defense, truck gun, etc)
Allows you to keep more of your body behind cover or concealment than handguns
Rapid target acquisition
When you're choosing a gun for defensive use, take the time to do your own testing and make sure it's reliable. Best-case scenario, that means running at least 500 rounds of ammunition through it without experiencing any failures (those 500 should be a combination of target and defensive ammo). That can be tough to pull off, especially with ammo shortages, but do your best to ensure your chosen gun will work at the most important moment of your life.
How do you choose your defensive guns? What's your favorite gun for home defense?
Specifications
Manufacturer: Sig Sauer
Model: MCX Virtus Pistol
Caliber: 300BLK/5.56 NATO
Barrel length: 9.0-inches/11.5-inches
Barrel Material: Cold hammer forged carbon steel
Magazines included: (1) 30-round polymer magazine
Action type: Semi-automatic
Brace type: PCB
Trigger type: Matchlite Duo
Twist rate: 1:5/1:7
Forend Type: Alloy
Grip type: Polymer
Receiver Finish: Gray
Overall length: 28.5-inches/31.0-inches
Overall width: 2.8 inches
Height: 8.0 inches
Threads: 5/8-in 24 TPI/ 1/2-in 28 TPI
Accessory rail: M-LOK
Operating system: Gas piston
Weight: 7.0 pounds/7.4 pounds