SHOT Show 2021 was different than any SHOT we've experienced so far.
The firearms industry looked forward to it for quite some time. Floor space was nearly sold out, with more companies than ever before expected to be there. With the expansion of Caeser's Forum, it was slotted to be the biggest show ever!
But then came the long-foreseen announcement in October that the on-site show has been canceled…sigh…
All was not lost, though. Although it was disappointing that the show didn't happen in Vegas, the show was far from neutralized.
SHOT still happened — virtually!
It was different, for sure, but it was still loaded with new guns, gear, information, and personalities. Here, we taking a look at some of this years latest releases and new products we saw at SHOT Show 2021 On Demand. Hopefully we'll all be physically able to put hands on products at SHOT Show 2022.
A Virtual SHOT Show?
Yes. All the goodies of SHOT, (minus the SHOT Show Plague), from the comforts of home.
Although it was no substitute for an onsite convention, SHOW Show On Demand featured a Searchable Online Directory, New Product Gallery, the ability to schedule appointments, digital news, live coverage through Outdoor Sportsman Group, and Education/Training opportunities.
SHOT Show 2021
As the 43rd annual convention, which originally began in St. Louis, MO back in 1979, SHOT Show 2021 would have been the 11th year to be held in Las Vegas.
Prior to attending this year's convention, it was anybody's guess about what we were going to see. New AR 15 tools? New accessories for the M&P 15-22? An all-new caliber to replace the 224 Valkyrie? Some new version of a classic pistol like the PPK perhaps? Whatever we see, the record demand for guns, ammo, and accessories that we've seen in 2020 looks to continue full-steam into 2021.
Sometimes it's what we expect…sometimes it's out of left field.
New guns of 2021
SHOT Show 2021 's new guns
Below, you'll find some of the newest guns, accessories, and ammunition released in the months leading up to SHOT, as well as the ones that we discovered at the On Demand event. We expect to see many of these at the online event. For your convenience, we have added the scrolling links below (in blue) to make it easier to jump to each category. Be sure to check in often, as this is still a work in process. We're adding new releases as we hear about 'em and navigate our way through the virtual event!
Handguns
There's sure to be plenty of new and interesting handguns featured at SHOT Show 2021 On Demand! Here are a few that we're expecting to see.
⊕Arex Defense Delta Gen.2
⊕CZ P-10 S in FDE and OD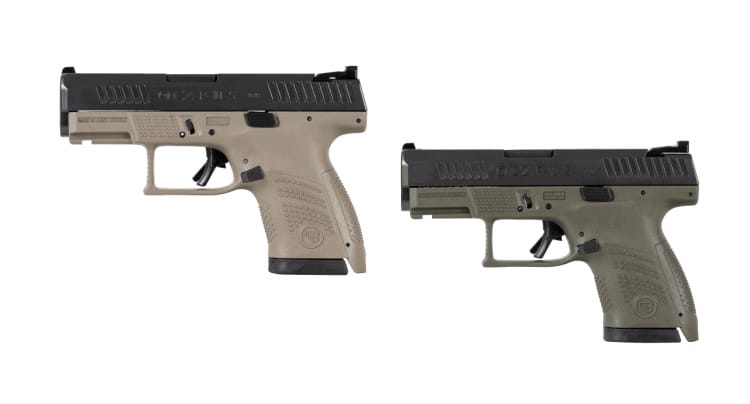 ⊕CZ TS2 for Competition Shooting
⊕Davidson's Exclusive Ruger Wrangler
⊕FN 509 LS Edge Tactical Pistol
⊕Heritage Manufacturing Barkeep Revolver
⊕KELTEC P50
⊕Magpul FDP-9 & FDC-9
Gotta love Magpul, here's another product announcement video enjoy.
⊕Masterpiece Arms 9mm DS9 Hybrid Pistol
From MPA:
All parts of the 9mm DS9 Hybrid Pistol are machined in the USA from Barstock and Billet and include no MIM, castings, or forgings. The components machined by MPA include the full-length steel light rail five-inch frame, slide, MPA 416R stainless bull barrel, stainless steel beavertail/grip safety, stainless steel ambidextrous safety, stainless steel slide stop, firing pin stop, ejector, magwell, and 7075 black anodized aluminum grip.
The DS9 Hybrid Pistol also includes a Koenig hammer, sear, and disconnect, Wolff Springs, custom machined aluminum trigger shoe, a 2 lb. trigger pull, and a true one-piece toolless guide rod. The FGW slide serrations with slide lightening cuts create less reciprocating mass. Each pistol is hand-built, including lapping the slide/frame interface, and comes in a custom MPA single pistol case with one MPA 140mm magazine.
⊕Polymer80 PFC9 & PFS9
⊕Red Arrow Weapons RAW15 300 Blackout Pistol
⊕SAR K12 Sport X
⊕SAR9 Compact
⊕SAR9 Optics Ready
⊕SAR9 Sport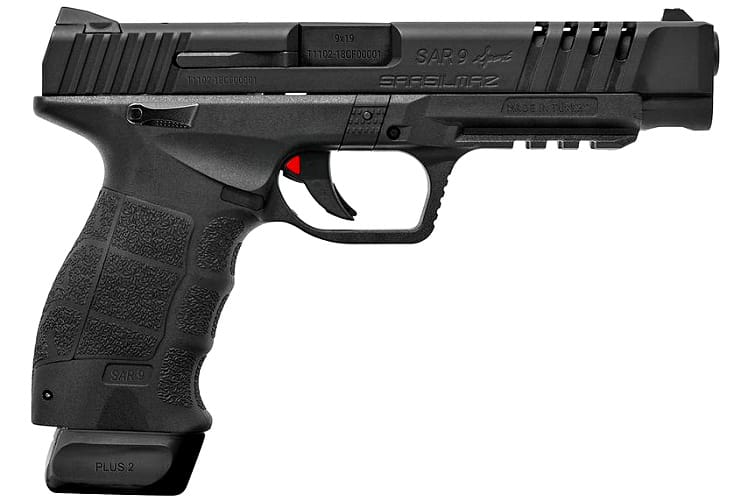 ⊕Shadow Systems DR920
⊕Sig Sauer Custom Works P320 AXG Scorpion
This is Sig's first pistol from the Custom Works group, and it's also the first P320 manufactured at Sig Sauer that has the aluminum grip module. The grip module features an improved beavertail, grip panels, and insert. With this design, the pistol can be customized to user needs and preferences.
From Sig:
The P320 AXG Scorpion combines the weight and balance of a metal-framed pistol with the performance and reliability of the P320, delivering a uniquely refined shooting experience unlike anything else.
Utilizing the new AXG (Alloy XSeries Grip) metal grip module as a foundation, the SIG Custom Works team has carefully selected a set of premium options and performance upgrades, creating a limited edition P320 that blends the style and shootability of a classic metal frame pistol with the modern features you expect from the P320. And like all Custom Works products, it's delivered in an exclusive, ultra-premium package.
⊕Sig Sauer P320MAX
⊕Sig Sauer Custom Works Equinox Series
⊕Sig Custom Works Limited Edition Nightmare Series
⊕SK Customs: "The Mana"
From SK:
SK Customs started with a full-size Colt 1911 Classic chambered in .38 Super and then added Polynesian symbols and designs to visually and physically bring Mana to life. The result is a high-quality firearm that is also a functioning work of art made up of spiritual and meaningful characters of the M?ori tribe.
The MANA features a high polished royal blued slide with Polynesian inspired motifs extensively etched in 24kt Gold and a Diamond studded front sight. Gold plated hardware including the magazine release, grip screws, barrel bushing and hammer. Pueo (Owls) are black etched on each Ivory Scrimshaw finished grips and a High-Polished Stainless-Steel national match barrel completes the package. Each gun in this numbered edition series will be sequentially numbered from 001 to 200.
⊕Springfield Armory Ronin 1911 in 10mm
This pistol has forward slide serrations, a beavertail grip safety with "memory bump" for solid engagement, a fiber optic front/tactical rack white-dot rear sight system, and an extended safety lever. A pair of Crossed Cannon premium laminate wood grips round out the Ronin, and it also has a stainless steel checkered flat mainspring housing, Springfield Armory 2nd Generation Speed Trigger, and a basepad-equipped magazine.
⊕Stoeger STR-9S Combat
⊕Taurus TX 22 Semi-Automatic Sporting Pistol
⊕Uberti USA Frank and Dalton Outlaw & Lawmen Series Revolvers
⊕Uberti USA Hardin and Teddy Outlaws and Lawmen Series Revolvers
⊕Volquartsen Mamba-X 22 LR Pistol
⊕Volquartsen Mini-Mamba 22 LR
⊕Zev Technologies Z365 Octane Gunmod
Rifles
What new rifles will we see at SHOT Show 2021? Here are a few we think might be featured.
⊕Accuracy International ATX Rifle
⊕Cadex Defence – CDX-50 Tremor 20" 50BMG
⊕Colt Canada C20 Sniper Rifle
⊕Davidson's-Wilson Combat PPE Carbine
This new carbine is outfitted with a LE Profile match grade barrel, a two-stage trigger, mid-length gas system (with a Lo-Profile gas block), and a 1/2″x28 threaded muzzle. Attached to the muzzle is a compensator—the Q-Comp muzzle device.
⊕Franchi Momentum Elite Varmint
⊕Franchi Momentum now in .350 Legend
⊕New Rifles from Henry Repeating Arms
Henry Repeating Arms is replacing all steel-framed centerfire lever-action rifles and shotguns to include a side loading gate while still retaining the removable tube magazine based on the original Henry rifle patented in 1860.
⊕Istanbul Arms Monza .308 Bolt Action Rifle
⊕J. P. Sauer & Sohn Synchro XTC Camo Green Carbon-Fiber Rifle
⊕Lyman Great Plains Signature Series by Pedersoli
⊕SAUER Ultralight S101 Highland XTC Carbon-Fiber Rifle
Read more at J.P. Sauer & Sohn: http://www.jpsauer-usa.com/
⊕Red Arrow Weapons RAW10 | AR-10 in .308 WIN
It looks like there are at least a couple of new rifles from Red Arrow Weapons this year that might be featured at SHOT Show 2021. This rifle comes has a Midnight Bronze Cerakote finish with an 18" fluted stainless barrel with a 1:10 twist rate.
More features:
2.5 lbs single-stage CMC trigger.
The 15" M-LOK RAW-Rail ties together the forged T-7075 aluminum upper and lower receivers.
Its BCG's are put through a Black Nitrite process and have a high-pressure firing pin.
⊕RAW 15 300 Blackout Rifle from Red Arrow Weapons
From Red Arrow:
The 300 AAC rifle package from Red Arrow Weapons features a free floated 16" barrel and a 15" M-Lok RAW-Rail. The Diamondback barrel features 4150 Chrome-moly construction with a black nitride coating process and operates with a 1:8 twist rate. A drop in 3.5 lbs single-stage trigger and a Mil Spec 8620 magnetic particle, nitride coated bolt carrier group are just some of the premium features of this rifle. Magpul CTR Stock and K2+ Pistol Grip complete this high-performance package.
This rifle is available in two color packages: midnight bronze and black with red accents.
⊕Savage Arms IMPULSE —Straight Pull Rifle
⊕Savage Backcountry Xtreme Series Rifles
With the official designation of the Backcountry Xtreme Series, Savage is launching two new Model 110s.
⊕Specna Arms SA-E24 EDGE Carbine Replica – Chaos Bronze
⊕Springfield Armory Model 2020 Hunting Rifles
Springfield's new line of hunting rifles features Cerakote-finished action with an integral recoil lug and is machined from pre-hardened stainless steel with EDM cut raceways to hold tight tolerances. The fluted bolt can be disassembled without tools and employs dual cocking cams and an enhanced extractor for high-pressure loads. According to the company, the result is a production rifle that delivers levels of precision usually found only on custom rifles that have been blueprinted and trued. SA reports that each Model 2020 carries a .75″ MOA accuracy guarantee.
"The Model 2020 has arrived and marks a new dawn for modern bolt-action rifles from Springfield Armory," said company CEO Dennis Reese. "It sets the standard for precision manufacturing, performance, and accuracy from a premium, American-made rifle."
These rifles come with a TriggerTech "Field" trigger, adjustable from 2.5-5 lbs. and the action is fed by AICS-pattern magazines. The Model 2020 Waypoint is available in 6mm Creedmoor, 6.5 Creedmoor, .308 Win. and 6.5 PRC.
⊕Stoeger S8000-E Tac Suppressed Air Rifle
⊕S.W.O.R.D Defense PURG-E
The folks at S.W.O.R.D. Defense addressed issues with the newly adopted M855A1 ammo, including fouling and gas blow-back, which we're told this new upper reduces. If you're in government sales, you can take part in purchasing the PURG-E, which, by the way, stands for Piston Upper Receiver Group-Enhanced.
Here are the enhanced features we're told come with the PURG-E:
A driving band ride surface and lubrication groove to minimize the flex seen with a standard ring style bolt configuration.
A newly designed, incredibly durable ultra-lightweight bolt carrier that substantially reduces unlocking and recoil impulse.
Enhanced materials used in carrier, bolt, and operating system to increase strength and reliability.
Proprietary enhanced gas piston system to allow for use of traditional rounds and M855A1
⊕Traditions Pursuit XT
⊕Uberti USA Courteney Rifle in .45-70 Government
⊕Weatherby Vanguard now in Synthetic Green with New Caliber: 6.5 PRC
Shotguns
Here are some of the new shotguns from SHOT Show 2021.
⊕Benelli Super Black Eagle 3 20 Gauge and 3-Inch 12 Gauge Shotguns
⊕Blackwater Firearms Sentry 12 Pump Action Shotgun
From Blackwater:
The Sentry 12 is designed to be an ideal shotgun for law enforcement, addressing the need for re-configurations in rapidly changing situations. Typically law enforcement maintains color coded shotguns for lethal and less than lethal rounds that represents a higher cost to the department and taxpayers. By offering a reliable magazine fed solution, law enforcement now have the option to purchase a platform that has colored coded magazines at a significant reduction in cost.
Additionally Blackwater has made the shotgun available with an 18" barrel that will be available to consumers for home defense and hunting. The lightweight AR style ergonomics provide users with an intuitive crossover from other standard rifle platforms on the market. In addition to cross platform similarities, the ability to store ammunition in familiar magazine pouches, and rapid reloads, give users the edge in high stress situations.
⊕Franchi Affinity Turkey Elite 12-Gauge and 20-Gauge Shotguns
⊕Franchi Instinct LX 28-Gauge Shotgun
⊕New Shotguns from Henry Repeating Arms
⊕Savage Arms Thumbhole 320 Shotguns
Savage added three new models to the Stevens 320 shotgun line with a Turkey gun and two defensive shotguns both available chambered in 12-gauge and 20-gauge. The company says these new thumbhole stock pump-actions provide control and versatility and offer a new option for fans of the classic Stevens design.
The 320 Security Thumbhole model combines a 18.5" barrel with a matte black forend and aggressive stock texturing. Each is available with either ghost ring sights or a traditional front bead sight. Both options are chambered in 12 gauge and 20 gauge.
⊕Stoeger Condor Synthetic Shotgun
⊕Stoeger M3500 Snow Goose Shotgun
⊕TriStar Bristol Side-by-Side Shotguns
TriStar Bristol Side by Side shotguns all share these key features:
Auto Ejectors
Brass Front Sight
Single Selective Trigger
Chrome-Lined Chamber and Barrel
Select Turkish Walnut Stock
Oil Finish
5 Beretta-style Choke Tubes (SK, IC, M, IM, F)
TriStar's 5-Year Warranty and famous customer service.
⊕Weatherby Element Semi-Auto Shotgun
Accessories
The aftermarket saw tremendous growth this year! Here are some of the accessories we hope to see at SHOT Show 2021, from holsters to optics to suppressors, and more!
⊕Aero Precision BREACH Charging Handle
⊕Anarchy Outdoors Savage Axis and 10/110 Upgrades
⊕Arbor Arms Good 'Nuff Gun Belt
⊕Beez Combat Systems SIDEWING
⊕BlackHeart Max Sling Line
BlackHeart's new Max Sling has a non-slip pad and is fully adjustable. It comes with a 12″ neoprene scope cover and plenty of room to store your rangefinder, ammo, scope cover, and other accessories in the accessory pocket.
⊕CMC Triggers KRAGOS Glock Aftermarket Slide
This new slide from CMC is named after a Greek God. Kragos (or Cragus) was a Lycian god identified with Zeus and humanized into a son of Tremiles. Mount Cragus is named after him and he was worshiped as the god of victory and strength. As CMC describes it, the aggressively sleek design and enhanced aesthetics of the KRAGOS slide improve accuracy and performance without sacrificing reliability or concealment.
⊕Fang Shooting Stabilizer
⊕Flatline Ops Tango SM Spuhr Mounted Articulating, Fine-Adjustable Level
⊕GEMTECH Integra 15-22 Suppressor
⊕ Gentry Custom Quiet Muzzle Brake
⊕High Speed Gear LE Blue Polymer TACOS
⊕Hogue Beavertail HandALL Grip Sleeves for the Springfield Armory Hellcat
⊕Langdon Tactical Technology Standalone 92 Elite LTT Red Dot Ready Slide
"We've taken our Red Dot Ready Optic Cut for the 92 slides and made it available as a complete stand-alone slide," says, Ernest Langdon, President and CEO of Langdon Tactical. "You can now upgrade almost any 92 series pistol to take a red dot." The slides are built-out with a front sight post and adapter plate already installed. Consumers will need to use their existing barrel, guide rod and recoil spring, however, Langdon added, "We would encourage customers to replace their locking block and barrel with a complete barrel assembly for proper fit with a brand new slide."
⊕LiveFire Tactical Training Type 3 Malfunction Round
⊕Nightstick Compact Tactical Weapon-Mounted Light w/Green Laser
⊕Nightstick Dedicated Long-Gun Lighting Kit
Nightstick has three models in this line of weapon lights. According to Nightstick, these new high-power long-gun lighting options represent the pinnacle of performance in close combat/defense illumination technology for rifles, carbines, and shotguns with MIL-STD-1913 (Picatinny) rails.
⊕Rare Breed FRT15 (Forced Reset Trigger)
⊕Rival Arms R-22 Billet Aluminum Rimfire Chassis
⊕R-700 Billet Aluminum Rifle Chassis
⊕Rival Arms ST-3X Precision Stock
ST-3X Features:
CNC machined from solid billet aluminum
Skeletonized lightweight body
Vertical buttpad adjustment to get a perfect fit
Simple length of pull (LOP) & cheek rest height adjustment
Integrated M-LOK bag rider or mono-pod attachment point
QD flush cup sling mount on both right and left side
⊕SIG SAUER P320 Fire Control Unit
⊕Sig Sauer Modular MOD-X9 Pistol Suppressor
This is the first release of Sig Sauer's modular line of pistol suppressors constructed of titanium baffles.
From Sig: The SIG SAUER MOD-X9 Suppressor is comprised of seven, 3D-printed titanium baffles and an encapsulator with 21-points of impact adjustment. The length is adjustable from 3.25 inches to 7.5 inches, the weight is adjustable from 5 ounces to 8 ounces, and the sound is adjustable from 127.4dB to 145.3dB. The suppressor is easily, user-configurable and comes with two pistons, disassembly tools, ½ x 28 and 13.1 pistons, and a fixed-barrel spacer and includes the most popular inch and metric position for its given caliber.
"The MOD-X9 is designed for 9mm pistols and rifles, is easily configurable allowing the user to choose the amount of baffles to optimize sound, length, and weight." -Tom Taylor of Sig Sauer.
⊕Stag Arms Cheyenne, Wyoming Receiver
⊕Streamlight—New Products for 2021
Streamlight has a reputation for unveiling a slew of new products each year at SHOT. This year is no different. Check out how Streamlight is making moves in 2021.
⊕Strike Industries—What's all this?
Surely Strike Industries will elaborate on all this at SHOT Show 2021!
⊕TacSol Magazine Release for Ruger 10/22 and TacSol X-Ring Rifles
⊕Tactical Medical Solutions RISE Splint
Visit the Tactical Medical Solutions YouTube channel to see more RISE instructional videos.
⊕Tardigrade Tactical DAGR Multi-Purpose Pouch
⊕Tasmanian Tiger TT Assault Pack 12
⊕Tasmanian Tiger TT Modular Range Bag
⊕Trijicon DI Night Sights
⊕T.REX ARMS 556 Ready Rig
⊕ Versacarry's New Line of Concealed Carry Purses
⊕Viridian E-Series Laser Sight for Taurus TX 22
Viridian says this new laser sight will offer a dynamic stand-in for those who want to train with a semiautomatic without the increasing expense of centerfire ammunition.
"With its performance trigger and exceptional ergonomics, the TX 22 offers shooters a tremendous amount of potential, and this new laser will add even more to the platform." -Viridian President and CEO Brian Hedeen.
⊕Woox Exactus Walnut Precision Shooting Stock
⊕XS Sights R3D Suppressor Height sights for Glock Pistols
⊕ Zeta6 J-PAK EDC Offset Speedstrip for 5-Shot J-Frame Revolvers
The J-Pak works with all 5-shot J-frame sized revolvers in .38 Special and .357 Magnum. It's made with flexible material and has a narrow profile for concealed carry. To carry ten rounds instead of five, just nest two J-PAKs together.
"Our goal was to design a narrow, EDC/pants-pocket speedloader that offered advantages over conventional speedstrips, and could still be carried discreetly.", says designer Michael Lyle. "The commercial success of our first offset strip, K-PAK, resulted in substantial customer feedback asking for a J-frame version. During the design process, we learned that by adding an extra sixth socket we could make the product ambidextrous. Depending on which of the two middle sockets are left empty, the user can configure J-PAK for either left- or right-hand use. And the empty middle socket creates a finger gap that can be used for added stability."
Ammunition
Ammo, like guns, has seen such a sharp rise in consumer demand that there's a shortage. It's difficult to find ammo in all the popular calibers and when it is available, there's usually a limit on how much you can buy. Alternative training ammo has subsequently seen an uptick in sales, corresponding with the increased enrollment in firearms training courses.
Here's the new ammo we expect to see covered at SHOT Show 2021.
⊕Apex Ammunition Z-28 Upland Bird TSS and Z-28 Waterfowl TSS Shotgun Ammunition
From Apex:
In response to the growing popularity of 28ga shotguns, APEX Ammunition is adding new 28ga loads to their acclaimed wingshooting ammunition lineup. Joining the popular Turkey TSS PT-28 cartridges will be new Upland Bird and Waterfowl TSS Z-28 loads. Having pioneered the commercial production of non-toxic, ultra-high-density Tungsten Super Shot (TSS), APEX brings the extremely powerful punch and more accurate patterning of TSS to a lightweight, easy-to-shoot 28ga format. APEX 28ga TSS loads have a shorter shot string, delivering most of the pellets on target within a pattern spread of approximately three feet.
⊕Browning 350 Legend FMJ and BXR Deer load
⊕Browning Ammunition Long Range Pro
⊕Browning Wicked Blend
⊕Browning X-Point Defense
⊕CCI Ammunition Maxi-Mag Clean-22 Segmented Hollow Point 22 WMR
From CCI:
The Clean-22 coating technology that made rimfire clean is now being used to extend the range and power of 22 WMR. New CCI Maxi-Mag Clean-22 Segmented Hollow Point (SHP) uses an exclusive polymer bullet coating to greatly reduce copper and lead fouling in the barrel—without leaving a residue. Shipments of this new product have begun to arrive at dealers.
The 46-grain SHP bullet splits into three equal-size pieces on impact, tripling the number of wound channels. The polymer bullet coating allows this separation at much lower velocities and longer distances than a conventional copper jacket. The bullet's overall geometry is optimized for accuracy, and dependable CCI priming and propellant provide flawless cycling through semi-automatics and all 22 WMR firearms.
⊕Federal Ammunition Fusion 10mm Auto Hunting Loads
Federal's new handgun hunting load takes advantage of the 10mm Auto cartridge. It has a 200-grain bullet with a 1200 fps muzzle velocity.
From Federal:
Fusion Handgun features the same molecularly fused bullet construction as its rifle counterparts for the toughness, accuracy and terminal performance short-barrel hunters need. The loads' bullet weights and velocities have also been optimized to be lethal on deer without punishing the shooter.
"Our Fusion 10mm Auto load delivers the toughness, accuracy, reliability and terminal performance that handgun hunters are looking for," said Federal Centerfire Handgun Product Manager Chris Laack. "Built with the same molecularly-bonded hunting bullet used in Fusion rifle ammo, it produces ideal upsets and deep penetration when striking game. We know this new load is everything any hunter could hope for in a 10mm Auto hunting cartridge."
⊕Federal Ammunition Prairie Storm 16- and 28-Gauge Upland Hunting Loads
⊕Federal Ammunition Introduces New Swift Scirocco II
Swift Scirocco II features:
Proprietary polymer tip improves ballistics and initiates low-velocity expansion
Advanced secant ogive maximizes ballistic coefficient
Tapered copper jacket bonded to lead core
High weight retention at close range
Expands reliably at low velocity for long-range terminal effect
⊕Hornady 6mm ARC 103 gr. ELD-X Precision Hunter
6mm ARC was a brand new ammunition for 2020 and now Hornady is expanding the line to include 6mm ARC 103 gr ELD-X Precision Hunter, 105 gr. BTHP BLACK, and 108 gr. ELD Match.
According to Hornady, the versatile 6mm ARC does much of what larger cartridges can and everything that smaller cartridges can't. Designed to meet the needs of the world's toughest critics, the 6mm ARC utilizes efficient, high-BC bullets to deliver unprecedented performance from the AR-15 platform. Commercial 6mm ARC offerings will feature bullets selected to deliver ideal performance for hunting, match shooting and personal protection applications.
⊕Vortex 6.5 BC
⊕Winchester 6.8 Western
⊕Winchester AA Diamond Grade Elite Trap
⊕Winchester Double X Diamond Grade
⊕Winchester USA Ready Defense
⊕Winchester Silvertip Ammunition for Personal Defense
Knives
⊕Benchmade: 14 New Knives, 2 New Tools for 2021
Check out all the new blades from Benchmade.
⊕CRKT Berserker
⊕CRKT Biwa
⊕CRKT Bona Fide
⊕Faneema Cutlery New Damascus Knives
⊕GiantMouse Knives ACE Riv
⊕Kershaw Bracket
⊕
Magpul Frame Lock – Rigger EDC
⊕Ontario Knife Company – New Blades for 2021
⊕QSP Knife — Bison
⊕QSP Knife — Legatus
⊕QSP Knife — Leopard
⊕Spyderco Para Military 2 CPM CRUWEAR Micarta
⊕Spyderco Lil' Native SLIPIT
⊕Terrain 365 DTK-AT Mini Framelock Folder
⊕UPKnives UPK-M2 Bolt-Action OTF Knife Multi-Tool
SHOT Show 2021: We didn't expect this!!
Sitting in my Vegas hotel room one morning, right in the middle of SHOT Show 2020 back in January, I scrolled through Instagram for a few minutes before venturing out to the show floor. A few videos caught my attention that morning. They were videos of panicked people wearing facemasks in China, with warnings about some new virus. It was going to be a busy day, so I didn't spend a whole lot of time reading about it, but I definitely remember that being the first time I was alerted to the new virus that would affect the globe.
Looking back at everything that's evolved since then, it's more than a little astounding to see how basically every human endeavor has been affected by Covid-19. The firearms industry, especially, has been affected with astonishing growth.
And that growth is a good thing. The industry is thriving! Even with the long-suspected announcement that SHOT Show 2021 was canceled at the Vegas location, the event hasn't been squashed. This year, the event is going to be held virtually, which, honestly, possibly allows for even greater attendance—even though it won't be in person.
Just for a little bit of perspective, here's what our Editor in Chief, David Reeder, penned at the conclusion of SHOT Show 2020, in anticipation of the next event:
SHOT Show 2020 has concluded, though we'll no doubt continue to see news, articles, and videos from the show for the next several weeks, if not months. Naturally, speculation has already begun as to what SHOT Show 2021 might bring. New weapons, ammo, and equipment? That's a given.
What about a difference in attitudes and industry-wide morale? The show seemed far more upbeat this year than the last two, at least in my observations. There was negativity to be seen, certainly, and some troubling revelations about certain industry personages. Overall, though, I sensed more cautious optimism this year than I have in quite a while. In fact, I'd take that a step further and say I encountered a much wider range of overall happier demeanors than I'd seen in a long time. Hopefully, that's just the start of a trend — although the upcoming election will no doubt have a massive effect on the 2021 show (and the entire industry).
What do we know for sure we're gonna see?
NSSF SHOT Show 2021
Growth. The show will continue to physically (and for that matter digitally) expand. We saw some of this at SHOT Show 2020, and it's not going away.
It's now been two years since NSSF Senior VP and CEO Chris Dolnack told the told the Las Vegas Review-Journal, "Not only can't we get companies off the waiting list, but we can't let other companies expand their presence." None of that has changed. If anything, there are more difficulties now than before.
The show has continued to expand up within the current confines of the venue, but that sort of growth is necessarily limited by the size of the Sands Convention Center. This is why the giant conference is set to expand to other hotels. The Caesar's Forum next year, for instance, and according to the rumor mill to other locations after that. It's been a decade since the convention moved to Sands Convention Center on a semi-permanent basis. Previously the show moved back and forth between cities; as in 2009 when it was held at the Orange County Convention Center in Orlando, FL.
The convention, which was estimated to bring at least $100 million into the Las Vegas Metro area this year, is on a Vegas-only schedule until at least 2027.
Infrastructure Expansion
The city, for its part, is growing as well. Particularly the infrastructure dedicated to supporting convention traffic. The two most obvious examples of that for SHOT-goers this year were probably the Caesars FORUM Conference Center, which is the source of the construction you may have seen east of The Linq, and the ongoing MSG Sphere project. The latter is just east of the Sands Expo and Convention Center. The Caesars FORUM, which will have over 300,000 square feet of meeting space (and apparently the two largest pillarless ballrooms in the world) is slated to host a large portion of SHOT's attendees.
The MSG Sphere will command attention whether it's part of the SHOT Show 2021 experience or not.
Those aren't the extent of current Las Vegas construction either. The city is halfway done with the 600,000 square foot wet exhibition hall of the new Las Vegas Convention Center, they're making progress on Allegiant Stadium for the Raiders, and the "Circa Resort" is underway on Fremont Street as well. Altogether there is reportedly nearly 3 million sq. ft. of conference, convention, and meeting space being built. Whether their football-related efforts will affect SHOT Show proper remains to be seen, but I really wouldn't want to try to navigate to and from SHOT if Allegiant Stadium sees any playoff games or the Superbowl!
We'll see what the next year brings, both politically and within the firearms/outdoor industry writ large!
The MSG Sphere
Its due to be the largest spherical building in the world when completed.