I have been a truck guy for a long time and with good reason. I spend a lot of time outdoors. Over the years my trucks have accompanied me hunting, fishing, camping, traveling, shooting, and of course, working. Finding the perfect truck for all of those things has been difficult though. Fast forward to now being a family of four with two pre-teen daughters, and the perfect truck has to be more than just a perfect truck for an outdoorsman. It has to be a family truck too. Jeep Gladiator? Nissan Titan? F-350? Dodge Ram 2500? Which one would best handle this variety of needs?
The search has been a frustrating one, but I finally settled on a truck and made my purchase. When I tell you what I bought I am certain to be ushered into the circle of trust with some of my readers. The rest of you will hate me for sure because I didn't choose your brand. I guess that's ok. Those that don't like my choice probably carry .45 ACP for self-defense, so the feeling is mutual. Of course, I kid. We all know that neither the brand of truck that you drive nor the caliber of ammunition you use determines the kind of person you are. At least not completely…
My Truck History
My truck history has played a big role in my frustration in finding the perfect truck for daily driving, family, work and the range so I suppose it makes sense to provide a brief overview. If you want to laugh at my ridiculous mistakes read on.
The Jeep Years
The first vehicle that was mine was a Jeep Comanche pick-up truck. It was small, with a manual transmission and rear-wheel drive. It had a little 4 banger in it and it served me well. I actually had two of these little trucks back to back. They were both 2wd and they were horrible in the snow. These trucks taught me how important traction really is in a truck for an outdoorsman. Kinda.
After the Comanches came a fun-but-finicky little truck: a 1992 Jeep Cherokee Sport. This thing was great —when it was running. It had the glorious high-output straight 6 and it was a 4×4. It was great in the snow.
My Cherokee was a rare one though. It was a 2 door, which wasn't super common, but what really was odd was the manual transmission. Whenever the Cherokee went in for work I got comments that they had never seen a Cherokee with a stick. The problems I had with that stick made me think those mechanics had never seen any manual transmissions. The second time parts flew through the trans case I wasn't even surprised.
Dodge
In 1994 the Cherokee went to auction and a full-size Ram 1500 became the love of my life. With 4×4 and a truck cap, this truck seemed like it could take me anywhere and it did. But with room for just 3, it had its limitations as a truck for an outdoorsman.
Until I replaced it with a Wrangler. Small, nimble, and fun to drive, the Wrangler made me part of the 2-finger wave club. Heat on, top-down, winter coat zipped to my chin… This was the vehicle that I started to road trip with. I hit climbing areas in the south and the west, but a couple of slashes in the soft top and thousands of dollars lost in missing camping and climbing gear demonstrated the Wrangler's security issues.
Chester
It wasn't long before I purchased a Ram 1500 creeper, I mean — cargo van, and set it up for travel. The van was an outstanding option in the "best truck for outdoorsmen" category, despite not being a truck. It had plenty of room for me to sleep and for my gear. With hard sides and locks, my stuff was relatively safe. This van served me for a bunch of years as a daily driver and a travel mate. It lived out west in the summers and even made a trip to Fairbanks and back. I fly fished the roads of Canada and Alaska into the dimly light night and ate my fill of salmon. The problem was this van ate ball joints for breakfast, was really creepy for a daily, and it was a disaster in snow. When I moved to NE Ohio it had to go.
Cummins
My 1997 Dodge Ram 2500 had a Cummins 12-valve motor in it. It was virtually bombproof and created some torque. So much that keeping a tranny in the truck was hopeless. With only room for 3, it wasn't an option for a family of 4.
This diesel was amazing. I pushed a lot of snow with it and the Cummins lit the diesel bug in me. I kept it for a bunch of years and a bunch of transmissions. When our first little one arrived, the three-seater wasn't so practical anymore.
Flirting with Ford
While I owned Chester, the van, I bought my first plow truck, a Ford F250. It was a decent truck until transmission fluid leaked and caught fire while I was pushing snow on a cold night in Detroit.
When I needed to move on from its replacement, the 97 Ram 2500, I had diesel on the brain and that is when I met our 2002 Ford Excursion. The IH 7.3 power plant wasn't quite the Cummins, but it was close and this truck brought it all together. It had room for 8 people plus cargo. It was a 4×4 and had the ability to tow. Its power went beyond any reasonable need.
It was a great family truck and when the electrical problems started I was crushed. The Excursion wasn't being built any longer…
I haphazardly bounced between some Ram 1500 trucks, a diesel, and a gas engine, but nothing could really replace the excursion… At the same time, something had to.
What I Need in the Perfect Truck for an Outdoorsman
Years of driving different vehicles for different reasons made it relatively easy for me to understand what I needed.
4×4 —I live in a snowy climate for 4 months a year and spend time in lots of sandy, muddy areas for the rest of the year. Four-wheel drive is mandatory for convenience and safety.

Seating for 5, preferably 6 — With two kids, we are going to have friends tagging along from time to time.

Payload and towing — I have several trailers and from time to time haul skid steers and mini excavators. ¾ ton or better is required.

Room for gear — Either inside the cab or in a bed, I need room for more gear than most.

Reasonable looks — I'm not particularly picky, but I would like to have a nice looking vehicle.

A place for zzzzzzs — I've spent a lot of time living in vehicles, by choice. It is freeing to be able to discreetly pull over and go to sleep. No tent, no trailer, no campsite necessary. I hear Mel Gibson in my head…
Another Cummins?
In late December I drove a couple of hours to look at a used diesel pick-up. It was a 2012 model with 125K miles on it. The dealer was asking for $29K. The truck may have been mechanically solid, but it looked like it belonged to a 22-year-old. A straight 6" pipe screamed on startup. When I got out to do a walk around I noticed the blue neon that emitted from under the rocker panels. It wasn't a truck for me. It was ridiculous and the price premium for diesel was simply unreasonable to me.
The sales guy sat me down and asked me what I was looking for. In reality, the perfect vehicle doesn't exist. So I told him the only things I knew for sure. It had to be ¾ ton, suited to a family, a muted color, reasonably well-appointed, and most importantly — it had to be a screaming deal.
Surrender: Dodge Ram 2500
I drove home and pretty much gave up. There wasn't a vehicle that fit my 'perfect truck for an outdoorsman' list and I was ready to start shopping for a Toyota sedan and call it quits.
The next day the dealership called me. Seems that about an hour after I left, a black Dodge Ram 2500, ¾ ton crew cab was traded in on a new 1 ton. The price they wanted was well below the Blue Book value. I drove down the next day and after a very typical, exhausting, and unpleasant purchase experience I brought it home.
Life Isn't Perfect
And neither is my "new" truck. It is a ¾ ton and it has a 6.5′ bed, but it's missing some amenities. It has the off-road package which is good, but there aren't any steps, which is ridiculous. Watching my kids get in and out is a hoot.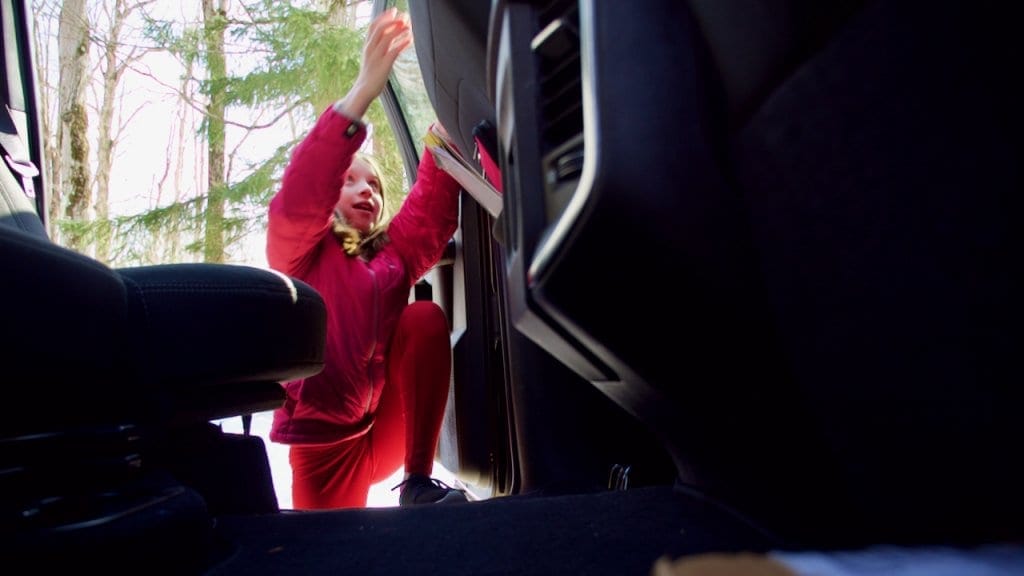 The bed has plenty of room for gear, but no protection from the weather or ability to secure gear.
These issues will need to be dealt with quickly.
The fact is, the perfect vehicle for me doesn't exist. I'm going to have to customize what I can get to be what I need, but this truck is a great start. The project is going to be fun and I'm looking forward to covering it here on The Mag Life. My hope is that some of the modifications I make to my truck might help you use your vehicle more efficiently when you make a trip to the range.
Range Truck: Expect Updates
Let's face it. If you read The Mag Life you are a shooter and if you are a shooter you probably go to the range from time to time. That means you need room for shooting gear. You might need to deal with rough roads and inclement weather on your way. I'll keep you up to date on the modifications I make to my range ride and daily driver. Maybe some of the mods might be helpful for you as well.