Gun News from the firearm, tactical, outdoor, training, and hunting world. But mostly firearms!
Friday, June 25, 2020
This week in Gun News, Sig Sauer announced it's newest in the TREAD family. This one will appeal to shooters who want a good-to-go firearm that's ready as soon as you are. Also, Wilson Combat announced it's new enhanced P320 9mm handgun that resulted from a collaboration with Sig Sauer. Actually, this is their second collaboration, be sure to check it out.
Adams Arms announced the launching of Voodoo Innovations, with the release of two new AR-15's with some wicked-cool names.
Something else that looks pretty cool is the newly upgraded mobile firearm rack that Savior Equipment just announced. The company says they made the improvements based on customer feedback. I can see how one of those would make range day a lot more organized.
And finally, White Label Armory has some new titanium parts available for AR platforms. Why does that matter? Well, if you're hauling gear for hours and/or days, every ounce matters. These new parts will help shave off some weight, which can be quite helpful.
Keep reading for more gun news.
⊕Sig Sauer
M400 TREAD COIL with Factory-Installed Red Dot Optic and TREAD Accessories
Gun News. This new rifle in the Sig Sauer TREAD family is being advertised as an out-of-the-box ready firearm with ROMEO5 TREAD optic that is factory installed and zeroed.
From Sig:
The M400 TREAD COIL is an aluminum frame rifle with a 16" stainless steel barrel featuring a factory-installed and zeroed ROMEO5 TREAD optic, a lightened free-float M-LOK™ 13" TREAD handguard, a TREAD Matchlite™ Duo trigger, TREAD vertical foregrip, telescoping stock, 3-prong flash hider, ambidextrous controls, and is chambered in 5.56 NATO.
"The hallmark of the TREAD brand is combining innovation with value and offering consumers premium SIG SAUER products at an extremely affordable price point. Since its introduction, the demand for the TREAD brand has been phenomenal, and based on the popularity in the market, we have grown the brand from the base M400 TREAD rifle to include the 11" TREAD Pistol, 716i TREAD, and now the M400 TREAD COIL," said Tom Taylor Chief Marketing Officer, and Executive Vice President, Commercial Sales. "Just like its predecessors, the M400 TREAD COIL combines innovation and value. This rifle is unique because it comes with a factory-installed red dot optic, making it ready to go right out of the box, along with other popular features that until now, were only available through an accessory purchase. The M400 TREAD COIL delivers the freedom to have an enhanced TREAD rifle right from the store with a very advantageous price that makes this an exceptional value to the consumer."
M400 TREAD COIL Specs
Overall Length: 30.8"
Overall Height: 7.5"
Overall Width: 2.5"
Barrel Length: 16"
Barrel Twist: 1:8"
Weight (incl. magazine): 7lbs
There are more TREAD accessories for those who want to install them. These include a 3-chamber compensator; an ambidextrous charging handle made of aircraft-grade aluminum; flip-up front and rear iron sights; an M-LOK front sight adapter with co-witness height made of lightweight aluminum; and multiple configurations of M-LOK grip kits.
M400 TREAD Branded Accessories Specs
M-LOK Handguard 10.5" $149.00
M-LOK Handguard 15" $149.00
Adjustable Flip-Up Sights $149.00
Ambidextrous Charging Handle $49.00
3-Chamber Compensator $49.00
M-LOK Front Sight Adapter $29.00
M-LOK Hand Stop Kit $29.00
⊕Wilson Combat / Sig Sauer Collaboration
WCP320 Carry
Gun News. This week, Wilson Combat announced the release of its second enhanced P320 9mm semi-automatic pistol collaboration. The WCP320 Carry features completely re-machined Sig Sauer P320 chassis and unfinished SIG-manufactured compact slide. The result is a full-capacity striker-fired pistol with a full-sized Wilson Combat SIG P321 Carry grip module, WC performance battle sights, and a 3-slot accessory rail.
From WC:
This robust, fast handling pistol wears our Wilson Combat engineered polymer Carry-2 grip module with 3-slot rail. This newly designed and manufactured grip has enhanced traction, smoother reloading, improved pointablity and superb recoil control in dynamic shooting. This grip turns an already solid platform into an ergonomic shooting machine.
The stainless steel slide and chromoly barrel wear the most advanced black DLC (Diamond-like-Carbon) physical vapor deposition finish available. This finish has chromium and tungsten underlayers for long-lasting corrosion and abrasion resistance.
The SIG SAUER flat-faced XFULL trigger is standard on the WCP320 and gives shooters a lower finger position on the trigger which increases leverage for a lighter, smoother trigger pull.
The pull can be further enhanced by Wilson Combat gunsmiths with our optional action tune using Grayguns custom trigger parts.
SIG/Wilson Combat P320 Carry Specifications
Available Calibers: 9mm
Magazine Capacity: 17 Rounds
Barrel Length: 3.9"
Overall Length: 7.5"
Sight Radius: 5.75"
Height: 5.5"
Width: 1.5"
Weight Empty: 26.8 oz
Weight Loaded: 34.2 oz
Specifications
Wilson Combat P320 Carry II Module
Wilson Combat X-TAC P320 Carry Slide with Machine Bevels
Black DLC Finish on Slide and Barrel
X-TAC Pattern Front and Rear Cocking Serrations
X-TAC Pattern on Slide Top
Carry Cut
Wilson Combat Logo on Slide
Wilson Combat Battlesight with Red Fiber Optic Front Sight
SIG factory magazine release
SIG factory Slide Stop
SIG P320 X-Full Size Steel trigger
2 17rd X-Series Magazines
9mm caliber only
More Info:
Beveled Magazine Well
Rail for Mounting Light or Laser
Special Serial Number Range with WC Prefix
⊕Adams Arms
Launches Voodoo Innovations With Release of Two Initial AR-15s
Gun News. The Florida based company that describes itself as, "committed to building the highest quality parts and accessories available for the AR15/M16 platform rifle," announced the launch of Voodoo Innovations and two new AR-15's. The Witch Doctor and the Dark Moon are both chambered in 5.56×45 NATO and are currently available.
"VooDoo Innovations grew out of a desire to improve upon existing platforms," said VooDoo Innovations Vice President of Sales and Marketing Michael Halleron. "Having a history of manufacturing parts, we decided it is time to go back to the source and begin making firearms based on our knowledge of what it takes to deliver guns people want. This way we can ensure they run the way we expect, off the shelf, and at a price that makes sense. The Witch Doctor and The Dark Moon do just that."
The Witch Doctor
VooDoo Innovations' Witch Doctor is designed for the discerning expectations of everyday shooters. The upper and lower are both forged from 7075-T6 aluminum and are Type III Class II hard-coated anodized for durability and longevity. The rifle comes with a standard G.I. trigger, 16" Parkerized M4 barrel with a 1:7 twist, and is chambered in 5.56×45 NATO. The ergonomic free-float M-LOK rail allows customization and the barrel is capped with an A2 flash hider. The complete rifle comes in at 6.25 pounds. The Witch Doctor is the perfect prescription for reliable performance and everyday use. MSRP: $749.99.
The Dark Moon
The Dark Moon, also in 5.56×45 NATO, is built for excellent functionality and lasting performance. The Dark Moon's 1913 Picatinny rail extends along the length of the forend, allowing for even more versatility with optics and accessories. In its stock configuration, The Dark Moon is a workhorse built for regular use. On the range, in the field, at the ready, or in the safe–the performance of The Dark Moon will quickly eclipse other rifles. MSRP: $749.99.
⊕Savior Equipment
Announces New Mobile Firearm Rack
Gun News. Here's something that'll help make range day a bit easier. Following input from customers, Savior Equipment redesigned its mobile firearm rack with upgraded joints and a more stable base. And then for good measure, they also topped it off with a handgun rack that holds 8 handguns (without weapon lights). The rifle/shotgun rack holds up to six long guns that must be at least 31-inches in overall length. The rack can be folded, too, for transportation.
Size and Dimensions
Overall Size – 32" H x 25.5" W x 29.5" D
Folded Size – 32" H x 25.5" W x 16" D
Barrel Support – 2.25" W x 3" D
Stock Support – 2.8" W x 6.5" D
2x Handgun Rack – 2" H x 7.5" W x 6" D
Handgun Slot – 2" H x 1.5" W x 3.5" D
Frame Thickness – 0.75"
Minimum Firearm Length – 31" Long
MAIN FEATURES
Fits Up to 6 Rifles/Shotguns
Fits Up to 8 Full-Sized Handguns
Foldable Stand for Easy Transportation
No Tools Needed for Assembly
⊕White Label Armory
Releases New Titanium Parts for AR15/AR10/AR9 Platforms
Gun News. These new parts are made of titanium, designed to help reduce the weight of your rifle.
"As builders strive to shed weight without sacrificing performance and aesthetics, White Label Armory looks for ways to assist them in reaching their goals without spending all of their funds. Our new line of titanium accessories feature the same designs and functionality of their steel counterparts but at a fraction of the weight." Stated Joel Edwards, Co-creator and CEO of White Label Armory.
The all-new titanium parts from White Label Armory are a lightweight upgrade that provides exceptional durability. Titanium possesses a very low density to high strength ratio with great resistance to corrosion. Each piece is machined, tumbled, media blasted, and oiled to a refined matte grey finish.
Quick Detach AR15 endplate with sling swivel mount
AR15 Castle Nut
AR15 Buffer Retainer Pin
Friday, June 19, 2020
⊕The 2020 Precision Rifle Expo is a Go!
Gun News. Registration for the 3rd annual, two-day Precision Rifle Expo opened this week. It's going to be at the Arena Training Facility in Blakely, Georgia on September 26 and 27. The event features an exhibitor tent with top brands in the precision, long-range rifle market, as well as a schedule of educational seminars. Attendees can try out equipment at the on-site long-distance ranges.
Precision Rifle Expo 2020 Classes::
Precision Handloading
Wind Reading
Precision Rifle Maintenance
Kestrel® Ballistics Operation
Fundamentals of Marksmanship
Intro to ELR
Applied Ballistics Device Setup & Personalized Drag Models
More description from PRE:
With attendance from 2019 exceeding expectations from the inaugural year, 2020 promises attendees an outstanding opportunity to access the exhibitor tent, attend multiple education classes taught by leading names in the precision rifle category, and various range experiences. Novices and professionals, competitors, and industry experts, all converge on one of the Country's premier shooting facilities to learn from each other, test their skills, and build long-lasting relationships.
This year, attendees will not have to pre-register for any of the classes. Classes will be posted on the website and at the event. Also, pre-registration is $35 with onsite registration at $50. Pre-registrants will not receive a ticket and are asked to proceed to the Check-In Tent where a wrist band will be provided for admission.
The Arena Training Facility is located approximately two hours from the Hartsfield Airport in Atlanta, Georgia, and is centrally located in the Southeastern US. The facility boasts a unique configuration of multiple medium- to long-distance ranges, multiple climate-controlled classrooms, a main building, and a clubhouse (available first come, first serve for exhibitors), all located on 2,300 acres. For those who want to fly into the facility, the Arena has a 5,400 ft. airstrip and hangar space is available.
⊕Taurus
G3c
Gun News. Keeping up with the market for compact handguns, Taurus just added this little 9mm to the G series. Designed for EDC, the front and rear sights on this compact are upgraded to all-steel construction. The rear sight is drift-adjustable and the rear dovetail is designed to accept aftermarket sights, should the user choose to upgrade.. As for the trigger, the G3c comes with the same 3rd generation trigger system as the G3, with a redesigned flat trigger face for a straighter pull. The trigger reset for quicker follow-up shots and less trigger jerk, and according to Taurus, the trigger break is exceptionally crisp for reduced shot disturbance and increased downrange accuracy.
More from Taurus:
Featuring a skillfully contoured palm swell, highly textured grip panels, memory pads for precise and repeatable finger/hand placement, as well as a sculpted, extended magazine base plate, the G3c offers a glove-like fit for most shooters' hands to promote accuracy, ease of operation, and firearm retention. To assist in tactical mag changes in the event dust or grit prevents the magazine from dropping freely, the G3c mag extension includes easy-grip bevel cuts.
To assist in operation for shooters of all hand sizes, the G3c has an upgraded slide design that includes both front and rear serrations. This ensures a more positive grip while manipulating the slide for charging, clearing, and makes press-checks easier in ill-lit or dim conditions. For normal light conditions, a visual chamber indicator replaces the mechanical indicator, reducing parts and streamlining the slide profile.
Durability also factors strongly in the new G3c pistol. The G3c slide is treated with a Tenifer finish to minimize scuffing and maximize corrosion resistance, ultimately reducing friction for smoother operation.
The G3c comes from the factory in 10- or 12-round capacities with three magazines included. 15- and 17-round factory magazines are available separately.
See the product launch video:
Taurus G3c Specifications
Caliber: 9mm Luger
Capacity:

10- or 12-round

Slide Finish:

Tenifer matte black

Operational Controls Finish:

Black teflon coating

Grip/Frame:

Polymer

Firing System:

Single action with restrike capability

Action Type:

Striker

Safety:

Manual, trigger safety, striker block

Sights Front:

Fixed (white dot)

Sights Rear:

Serrated drift adjustable

Slide Material:

Alloy steel

Overall Length:

6.3″

Overall Width:

1.2″

Overall Height:

5.1″

Barrel Length:

3.2″ (stainless steel)

Weight:

22 oz. (unloaded with magazine)

Magazines Included:

3x10rounds or 3x12rounds

Packaging Size:

9.8″ L x 6″ W x 1.8″ H

Packaging Weight:

33.20 oz.

Additional Feature:

Picatinny Rail (Mil-STD 1913)

MSRP

: $305.74
Also, several companies announced accessories to go with the G3c pistol. Since the Taurus G3c Pistol sight mounting system is compatible with some of the leading sights on the handgun aftermarket, a few companies have piped up to let buyers know which of their products are available for the upgrade.
Rival Arms Tritium Sights
Rival advises that even though these were originally listed as sights for Glock platform pistol slides, the current assortment of Rival Arms tritium night sights are compatible with the Taurus G3c factory slide (excluding the narrower models designed for the Glock model 42, 43, 43x, and 48).
Rival Arms has these handgun sight models available for the Taurus G3c:
RA1A231G – 3-dot, standard height, white front sight ring.
RA1B231G – 3-dot, standard height, orange front sight ring.
RA3A231G – 3-dot, suppressor/co-witness height, white front sight ring.
RA3B231G – 3-dot, suppressor/co-witness height, orange front sight ring.
RA4A231G – In-line, standard height, orange front sight ring
RA4B231G – In-line, standard height, white front sight ring
TruGlo Tritium Night Sights
According to TruGlo, the Taurus G3c pistol accepts all varieties of TRUGLO sight technology: Fiber-Optic, Fiber-Optic Pro, Tritium, Tritium Pro, TFO, TFX, and TFX Pro).
These TRUGLO Sights are compatible with the Taurus G3c:
TFX Pro TG13GL1PC
TFX

TG13GL1A

Tritium Pro Orange

TG231G1C

Tritium Pro White

TG231G1W (Standard height)

TG231G1MW (Tall)
Tritium

TG231G1

Fiber Optic Pro

TG132G1

Fiber Optic

TG131G1

TFO

TG131GT1
⊕Viridian E-Series Red Laser for Taurus G3c
Gun News. This new red laser for the G3c has a 25-yard range in daylight and a mile at night. It installs onto the pistol trigger guard and has an ambidextrous on/off button with a 5-minute auto-shutoff. Battery life is 6+ hours.
From Viridian:
The E-Series laser (SKU 912-0003) is designed exclusively to fit the new handgun and is also compatible with the Taurus PT111, G2, G2C, G2S and G3 models.
The new Taurus G3c builds on the proven foundation that has made the compact G-series among the most popular personal defense/EDC handguns. The G3c advances the function, reliability, and durability of concealed-carry handguns to the next level. And it enters the market at a price point that continues the Taurus G-series handguns' impressive cost-to-performance ratio.
"Taurus continues to deliver shooter-designed firearms that upgrade performance and features from prior offerings," said Viridian President and CEO Brian Hedeen. "The E-Series laser for the new G3c is a great fit and gives a high-performance option to this innovative gun on day one."
⊕N8 Tactical IWB Holster for Taurus G3c Pistol
From N8:
Built on a durable leather form, the OT2 comes with a soft suede backing and a moisture-proof neoprene core situated between the two. The suede backing is comfortable on bare skin or when worn over thin shirts while the neoprene core prevents moisture buildup in warm carry conditions. The updated clip design and location even allows shirts to be tucked for a more formal appearance.
The OT2 is designed to accommodate mid- and full-size pistols, such as the new Taurus G3c pistol, with broad model compatibility and accommodations for lights and lasers. As with all N8 Tactical holsters, the OT2 comes with a Two-Week, Try it Free Guarantee and a lifetime warranty.
Also available for the new Taurus pistol is the FLEX IWB magazine carrier. Since the pistol comes with three magazines, purchase a FLEX IWB mag carrier today and carry with confidence.
⊕Smith & Wesson
Performance Center M&P9 Shield EZ
Gun News. According to S&W, these new Performance Center models have the same easy-to-use features found across the entire M&P Shield EZ series, and are further enhanced with premium Performance Center features. They are available with black, silver, and gold accents, and include a ported barrel, flat face trigger, tuned action, and more.
From Smith & Wesson:
Tony Miele, Sr. Director, New Products and Performance Center, said, "Performance Center has the ability to design and manufacture specialty upgrades normally found in aftermarket work, straight from the factory. With the popularity of the M&P9 Shield EZ, we set out to develop Performance Center versions with porting, a tuned action, aftermarket sights, and more. These new pistols deliver easy-to-use features with the custom upgrades that our customers expect the Performance Center to deliver."
Built for personal and home protection, the new Performance Center M&P9 Shield EZ pistols are the latest addition to the M&P Shield EZ family and feature an 8+1 round capacity and a 3.8" barrel. The Performance Center M&P9 Shield EZ pistol ships with two 8 round magazines that feature a load assist tab for quick, easy loading, as well as a picatinny-style equipment rail to accommodate accessories. The pistol also features an optimal M&P pistol 18-degree grip angle for a natural point of aim, HI-VIZ® Litewave H3™ sights, and a light, crisp trigger.
⊕Holosun
509T
Gun News. Holosun is calling this their new flagship pistol optic as a "set it and forget it" sight due to the Shake Awake feature that snaps the optic into action when the shooter is readty.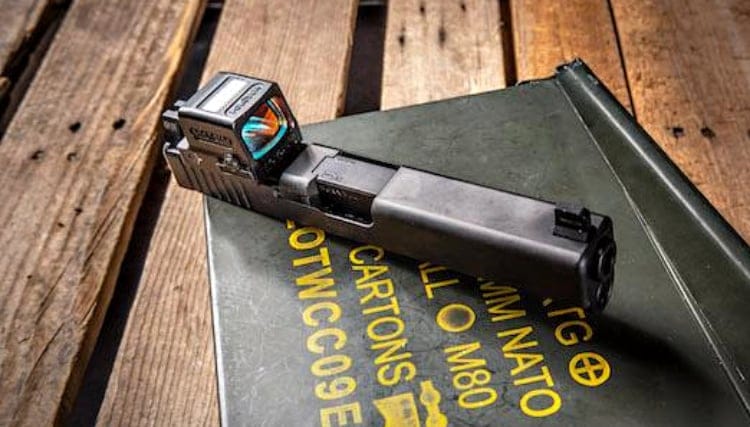 Here's how the company describes it:
Holosun incorporates industry-leading battery efficiency technology into every sight offered. The 509T is no exception with CR1632 battery life lasting up to 50,000 hours using the 2MOA dot only. Solar failsafe extends battery life ensuring shooters will always have a powered, active, and effective sight. A convenient, side-mounted battery tray makes for easy battery replacement.
The 509T is enclosed in a titanium housing that protects the super LED by keeping the elements and debris at bay. The 509T features IP67 ingress protection for a dust-proof, water-resistant package. At just 1.72 ounces, the 509T is a compact, lightweight design that makes for a natural extension of the pistol.
The 509T lets the shooter choose a reticle option that suits their needs. Holosun's Multi-reticle System provides a 2 MOA Dot-only or a 32MOA/2moa Circle-Dot option. The 509T features 12 brightness settings for performance in all lighting conditions including 2 Night Vision compatible settings. The 509T is parallax-free with unlimited eye relief and provides a clear sight picture thanks to multi-coated optical glass lenses.
Holosun 509T Specs:
Multi-reticle System (MRS): 32MOA/2MOA Circle Dot, 2MOA Dot Onlly
Up to 50,000 Hours Battery Life
12 Brightness Settings
Enclosed Design with Titanium Housing
NEW Side-Mounted Battery Tray
NEW Larger Buttons
Parallax Free, Unlimited Eye Relief
Friday, June 12, 2020
⊕Sig Sauer
Closing German Branch
Gun News. Later this year, the German Sig Sauer branch will be closing, The company blames German restrictions on sports guns, alluding to the idea that "a few other local producers" are preferred in government purchases for German police forces and military.
In a statement released last week, the company said,
"L & O Holding group has announced that it is closing its SIG SAUER, GmbH (Germany) division in Eckernförde, Germany. L&O Holding owns and operates numerous business units in the defense and hunting market including SIG SAUER, GmbH (Germany), SIG SAUER, Inc. (U.S.A.), and German Sports Group, GmbH (GSG), among others.
SIG SAUER, Inc. operations in the U.S. will continue business as usual. The U.S. based division, headquartered in Newington, New Hampshire, has over 2,300 employees throughout 9 facilities in New Hampshire, Arkansas and Oregon where the company designs and manufactures firearms, ammunition, optics, suppressors and air guns. Further, in New Hampshire, the company operates one of the most advanced training facilities in the world, SIG SAUER Academy.
SIG SAUER, Inc. markets and distributes its U.S. made products in 88 countries. The SIG SAUER, Inc. International Sales Team, based in Europe, will expand its responsibilities to include the German market. German Sports Group (GSG), the current commercial distributor in Germany for SIG SAUER, Inc. optics, ammunition and air guns will expand its role to include commercial firearm sales in Germany."
⊕What's Going On in Seattle?
In Seattle, a disturbing situation has unfolded this week. To wit:
"…demonstrations continue in part of Seattle's Capitol Hill neighborhood. That area is (or is part of) the Eastern Precinct of the Seattle Police Department (SPD) — the headquarters of which was boarded up and, according to some sources, abandoned. Staffed or not, the SPD's East Precinct was quickly covered in graffiti. The area around it was soon barricaded off and labeled, among other things, a "cop free zone". Many signs and graffiti there read Capitol Hill Autonomous Zone (CHAZ).
⊕Springfield Armory
Now You Can Get a Hellcat in FDE
Gun News. Last year the Hellcat caused a stir in the industry when it launched as the world's highest capacity micro pistol – with a capacity of 11 +1, or 13 if you use the extended mag. Since then, there's been plenty of discussions focused on the micro, and even in my own circles, I've listened as shooters commented their surprise at how much they liked it. Most of these are guys who prefer full-sized pistols, so to hear them say they actually kinda liked it is saying something.
Well, now, SA has upped the Hellcat offerings by adding a new variant – Desert FDE.
From SA:
The Desert FDE finish of the newest Hellcat variant is a rugged Cerakote coating that provides extreme corrosion resistance, and also offers an attractive contrast to the black Melonite® finish on the hammer-forged barrel. In addition to the barrel, other parts and controls on the Desert FDE Hellcat — such as the trigger, magazine release, cover plate on the OSP version, sights and more — are in black for an attractive contrasting look.
⊕Legacy Sports International
Howa TSPX Chassis Series
From LSI:
The NEW HOWA TSPX Chassis series is a rock solid full aluminum FOLDING Chassis from SCSA (Southern Cross Small Arms) that offers excellent stability and performance when paired with the renowned HOWA barreled action. The HOWA TSPX is available in 4 great calibers – .308, 6.5 Creedmoor, 6.5 PRC, 300 PRC. and come with a long list of attractive features that equate to one the best chassis rifle values and offerings on the market today… that performs!
Available in .308, 6.5 Creed, 6.5 PRC, 300 PRC
24" Threaded # 6 Contour Howa Barrel
Offered in anodized Black or Cerakoted USA Flag option
Offered as a Scoped Pkg Option with a Nikko Stirling Diamond LR 4-16×44 30mm
2 Stage Match Trigger
3 Position Safety
Sub MOA Assurance
Compatible with steel AICS mags
Chassis Machined from 6061 T-6 Aluminum
Complete Free Float Barrel
Folding Stock
Ergonomic Design
MDT Grip
M-LOK slots on Forend
4 QD Sling Cup positions
Ambidextrous Magazine Release
Lifetime Warranty on Rifles and Scopes!
MSRP's Start at $1,189 depending on rifle only and scoped models along with the various color options.
⊕CMC
6mm ARC Suppressor Optimized Enhanced Bolt Carrier Group
Gun News. Last week Hornady announced its new 6mm ARC cartridge, and more companies are announcing products that are compatible with it. Here's the new BCG from CMC. According to the company, the flared rear of the enhanced bolt carrier is designed to reduce carrier tilt/cant during recoil and increase reliability by strategically relocating key bearing surfaces.
From CMC:
The CMC enhanced carrier has fewer points of contact resulting in less friction area and the increase in mass ensures proper gas pressures and increases dwell time, thus improving extraction while shooting suppressed or short-barreled rifles (SBRs)
Carrier Features
Case-hardened 8620 steel (complete care is taken during the heat treat process, so as to not harm the metal).
3 forward ports, enlarged to allow over pressure to escape.
Optimized for suppressor use.
Black Nitride Finish.
4130 Steel, attached with Grade 8 hardware, torqued and properly staked into a milled "valley" around a fully encased ejection port area, for added strength and rigidity.
Hardened 4340 cam pin.
Fully chamfered cam pin channel.
Mil Spec firing pin made of AISI 8740 steel, center-less ground and Hard Chrome coated.
Bolt Assembly: The Bolt is "true" Mil Spec dimension and external surfaces are CNC ground after heat treat for a precision fit. The bolt is machined to the 6mm ARC (Advanced Rifle Cartridge) Hornady factory round spec. These bolts are held to the highest possible tolerance possible. Outside critical dimensions held to .0005". The "trumpet" area behind the gas rings, where carbon normally collects, is precision CNC Ground after heat treatment, to ensure as smooth of an area as possible, easing clean up, and longevity.
9310 Case Hardened Steel.
All Bolt components Shot Peened & Black Nitride coated.
4340 Steel, Manganese Phosphate coated.
Magnetic Particle Inspected (MPI) and High Pressure Tested (HPT).
Black Nitride low friction coating.
Mil Spec Billet Extractor Spring & CRANE O-Ring Upgrade.
6mm ARC Advanced Rifle Cartridge from Hornady Bolt. 6ARC Specific.
⊕Apex
New Optic Mounting Plate for Sig P320
Gun News. These new optic mounting plates are designed specifically to fit the P320 models such as the M17, M18, and Legion for securely mount the Aimpoint Acro P-1 optic to the slide.
From Apex:
Available now, the new Apex Optic Mount fits P320 slides with a PRO slide cut (rev2), which includes the P320 XFive Legion, P320-M17, P320-M18, P320 XFull, P320 XCarry, P320 XCompact, and P320 XVTAC. The mounting plate is machined from a billet of heat-treated steel and black Melonite finished for enhanced durability. The low profile design of the mounting plate ensures co-witnessing between the suppressor height sights and the Aimpoint® Acro P-1.
Apex offers three versions to choose from. The first (part# 112-009) is a mounting plate by itself, without an iron sight option. The second and third options feature an integrated rear sight, which sits forward of the optic and co-witnesses with the included front sight.
Two front sight height options are available, based on the barrel length of the pistol. Part# 112-009-RS-357 includes a front sight for pistols with a 4.7" or shorter barrel, such as for the M17 and M18. Part# 112-009-RS-373 is for use with 5.0" barreled pistols, like the P320 Legion.
Features & Specs:
Specifically for use with P320 models with the Romeo1 Pro slide cut (rev2)
Securely mount the Aimpoint Acro P-1
Easy to install (see video below)
Apex Part #: 112-109
MSRP: $54.95
Apex Part #: 112-009-RS-357 (for 4.7" or shorter barrels, such as the M17/M18 Series)
Apex Part #: 112-009-RS-373 (for the 5.0" barrel lengths, such as the Legion)
MSRP: $119.95
⊕Halfbreed Blades
New LBF-01 Large Bush Folder
So I met the folks from Halfbreed Blades back in January at SHOT Show 2020, back before all the Covid-19 craziness started. I was impressed with them, and with their products. This week they announced the release of their folding bush knife. Take a look.
From Halfbreed:
The LBF-01 (Large Bush Folder) from Halfbreed Blades, is the folding counterpart to our high-performance fixed blade knife design the LBK-01.
True to form, the LBF-01 is a multipurpose field utility, flipper, folding knife, intended for use by military personnel, emergency first responders, outdoor enthusiasts, EDC gear connoisseurs, and collectors of high-quality production made tools.
Our LBF model 01 isn't just a pocket folder! Overbuilt in every detail and jam-packed with features, we've incorporated many popular functions and several innovations, essential for a workhorse cutting tool of this calibre.
Designed with virtually indestructible toughness in mind and constructed from premium materials, the LBF-01 delivers uncompromising performance and quality.
As a general disclaimer, we feel it is important to advise all our clients both existing and prospective, the LBF-01 is not a gentleman's pocket knife. Based on OAL weight, material selection, and construction specifications, this is EDC strictly intended for the HARDCORE.
SPECS
Action: Folding Blade (Flipper or Thumb Stud)
Carry: Pocket Clip (Reversible Tip-Up or Tip-Down)
Glass Breaker: K110 D2 PVD Coated (59-60 HRC)
Lock Type: Liner
Blade Steel: S35VN (59-60 HRC)
Blade Grind: Hollow
Blade Edge: Plain Polished
Blade Finish: PVD Coated
Blade Style: Modified Drop Point
Blade Length: 4.13″ (105mm)
Blade Thickness: 0.21″ (5.5mm)
Handle Material (Frame / Liner): 6AL-4V Titanium / 420J2 Stainless Steel
Handle Length: 5.51″ (140mm)
Handle Thickness: 0.78″ (20mm)
Overall Length Open: 9.84″ (250mm)
Overall Length Closed: 5.70″ (145mm)
Overall Weight: 16.64oz. (472g)
Friday, June 5, 2020
Protests and riots continued all across the US this week, as no doubt our readers have been following. Most likely everyone is getting a steady diet about the protests, riots, looting, burning, assaults and deaths, so we won't elaborate here. There is one thing we'd like to share though. Most likely many of our readers have had to navigate through a demonstration, or have considered how to go about it. Do yourself a favor and take a look at Reeder's latest post about how to survive such events.
As for other gun news this week, I noticed a common thread – Hornady's new cartridge. Not only did Hornady announce the 6mm ARC this week, at least five other companies announced releases of their own products that are compatible with it. Therefore, this week's 5×5 is dedicated solely to the new cartridge and what's out there for it, so far.
⊕Hornady
Just Announced the New 6mm ARC
Gun News. Hornady's newest cartridge is turning heads in the industry, with several companies now offering platforms to support it. The 6mm ARC (Advanced Rifle Cartridge) was designed to meet the needs of a DOD group that wanted to replace their current platform with something that was lighter in weight but still matched up or outperformed 308 ballistics. And they wanted it for the AR-15 style platform. The resulting cartridge uses the same bolt and magazine as the 6.5 Grendel and capitalizes on the enhanced ballistics of 6mm bullets.
The DOD group tested, selected, and fielded the cartridge for its multipurpose combat rifle program. Consumer offerings will feature bullets selected to deliver ideal performance for hunting, match shooting, and personal protection applications.
See the details:
Hornady Ballistician Jayden Quinlan said. "The 6mm ARC began with a simple question: What can we do with today's technology to maximize the performance of the AR-15 platform? We subsequently modeled and tested a variety of designs in different calibers until we were able to produce the most flexible cartridge possible within the limits of the AR-15 system."
Watch the product launch video:
The 6mm ARC will be available in the following product lines
⊕6mm ARC 105 gr. BTHP BLACK
Muzzle Velocity = 2750FPSwith 24″ test bbl
G1 BC = .530
SD = 254
Min Twist Rate = 1-8″
⊕6mm ARC 108 gr. ELD Match
Muzzle Velocity = 2750FPSwith 24″ test bbl
G1 BC = .536
SD = 261
Min Twist Rate = 1-8"
⊕6mm ARC 103 gr. ELD-X Precision Hunter (Available Fall of 2020)
Muzzle Velocity = 2800 FPS with 24″ test bbl
G1 BC = .512
SD = 249
Min Twist Rate = 1-8
Which Firearms are Chambered for the 6mm ARC?
As you will see in the coverage below, several firearms companies have announced the release of new firearms, or parts, that are compatible with the 6mm ARC. According to reports, these have been in the development process for a couple of years.
⊕Barrett
REC7 Rifle Series Chambered in 6mm ARC
Gun News. In a partnership with Hornady, Barrett has chambered the REC7 rifle series for the new 6mm ARC. Not only that, the company's first production run has been delivered to the United States Department of Defense, in fulfillment of a contract that was awarded to Barrett late last year. The company anticipates these rifles will be available to the US commercial market after all US Military deliveries have been completed.
According to the company:
The combination of the proven REC7 DI gas system and the potent 6mm ARC cartridge creates a product that is consistently accurate and easy to shoot. Carrying 24 rounds in the magazine, the 108 gr. ELD Match bullets leave the 18" Proof Research match grade stainless steel or carbon fiber barrel at over 2630 fps. This easily gives the rifle supersonic capabilities past 1000 yards.
⊕Brownells
Unveils Exclusive Products For New 6mm ARC Cartridge
Gun News. Brownells just unveiled its line of exclusive barrels and complete uppers chambered in Hornady's 6mm ARC. Some of the barrels are already in stock and shipping. The barrels that are not yet available, as well as the complete uppers, can be pre-ordered and are expected to be in stock and shipping later this summer.
⊕CMMG
RESOLUTE and ENDEAVOR Now Available Chambered in 6mm ARC
According to CMMG, the RESOLUTE and ENDEAVOR 100, 200 and 300 Series come with a rifle-length gas system on both the 16" RESOLUTE barrel and 20" ENDEAVOR barrel. This allows for the rifles to have less felt recoil and lower extraction force, reducing wear and tear.
CMMG says their ARC rifles, which ship with a 10-round detachable box magazine, will be available on their website as well as from stocking dealers and qualified retailers.
⊕Lantac
LA-SF15TM 6MM ARC Chambered Rifle & Dedicated E-BCG
From Lantac:
For the past 2 years Lantac has been working closely with Hornady Manufacturing, undertaking testing and development of products that utilise the new 6MM ARC ammunition in a variety of bullet weights. Lantac was one of the first companies to become involved with this new caliber as part of a funded military research project and has conducted extensive evaluation and development work in that time.
The rifle is designed to offer the softest shooting experience and features a specially designed dedicated E-BCG® bolt carrier group that works with the Rifle+1 gas system and VLTOR's A5 Buffer to deliver extremely low recoil energy, meaning that fast, repeated hits on long range targets are much easier to achieve.
Other barrel options are available for customers not wanting to use a carbon wrapped solution.
Lantac's 6ARC E-BCG® has been specially developed to manage the gas impulse delivered from a variety of 6ARC bullet weights / powder loads that will eventually be available from Hornady (the 103Gr, 105Gr & 108Gr being the initial release), it will also function with 6.5 Grendel and is available in both Nitrided and NiB (Electroless Nickel Boron) finishes.
The Lantac LA-SF15 18'' configuration comes standard with these specifications
7075-T6 Alloy Forged Receiver Set, Hardcoat Anodized (Type3, Class2) to MIL-A-8625 standards
SPADA-ML 15'' Handguard
Proof research 18'' Rifle+1 Carbon Fiber Barrel with 1:7.5 Twist and Target Crown
Lantac dedicated 6ARC E-BCG
Lantac DGN762B Dragon Muzzle Brake (suppressor mount options available)
Magpul MOE Grip and PRS Stoc.
Magpul MBUS-Pro BUIS
Geissele G2S 4.5lb 2 Stage Trigger
VLTOR A5 Buffer System
17-rd Elander magazine (the ammunition will not function with current PMAG's)
⊕San Tan Tactical
STT-15-6ARC RIFLES
San Tan Tactical STT-15-6ARC Rifle Features
Gun News. San Tan Tactical Announced this new rifle as the result of a collaboration with Hornady Manufacturing and Proof Research.
From the company:
The Hornady 6 ARC cartridge combined with their variety of projectiles currently available allows a significantly increase in capability above and beyond what is currently available in the AR15 platform. The capability to weight savings is seen in out STT-15-6ARC-Lite, the slick sided billet matched receiver set with out signature lightening pillar cuts. Removing as much weight as possible without sacrificing strength and performance.
STT true matched pillar billet sets, hand finished, matching serial numbers. The upper is cut from a single solid 7075T6 Certified Aerospace Aluminum. Propriety special burnished bore that gives a compacted internal surface, resulting in a much smoother surface finish. The bore, receiver extension face, barrel nut threads and barrel extension surfaces are all machined in one operation ensuring that they are perfectly concentric and perpendicular to the barrel assembly.
San Tan Tactical STT-15-6ARC Rifle Features
STT Suppressor Optimized Enhanced Bolt carrier group
STT 6 ARC HPT MPI Bolt, Crane O-ring Upgrade
Proof Research 18" Carbon Fiber 6mm ARC Barrel

CMC Triggers 3.5lb Single Stage Match Trigger

MagPul MOE plus Grip

MagPul CTR Stock

MagPul MBUS Pro

STT 15 16" MLOK Rail

Precision CNC machined from billet 7075-T6 certified aluminum

Propriety special burnished bore that gives a compacted internal surface, resulting in a much smoother surface finish

Type 3, class 2, deep black, hardcoat anodized black

Features extended feed ramps

Ambidextrous Mag and Bolt release controls (Ambi version only not Lite)

Cerakote options are available for an additional cost