When you're planning a trip to the range, you want all your gear organized and accessible, right? That means the range bag you choose is fairly important. There are plenty of different styles and options, but today we're taking a closer look at the GPS Tactical Range Backpack.
In the video below Chad, with Green Light Shooting [YouTube channel], walks us through the features that this bag has to offer. He addresses both benefits and negative points.
GPS Tactical Range Backpack Technical Specs
1000 Denier polyester construction
Water-resistant Dupont Teflon coating
YKK oversized, self-tracking zippers
Duralast buckles and hardware
Box and Bar track reinforced stitching in all critical areas
Lockable zipper on all main compartments
Silent paracord zipper pulls
Four outside zippered pockets for ammo and other accessories
Internal honeycomb frame for pack rigidity
Triple-stitched MOLLE webbing
Patent-pending Visual I.D. storage system
Multiple interior and exterior pockets
What can you put in the GPS Tactical Range Backpack?
As you can see from the above image, this pack is a beast. Aside from sheer storage capacity, there are a few things that make this range bag stand out. Notice the main bottom compartment. It's got three removable pistol storage cases, and each of them has four spare mag pockets. Cool, eh? And, to make sure your pistols are secure, the compartment is fitted with lockable zippers.
Let's take a look at what Chad put in his bag.
Front Bottom Pocket
Chad has his shooting gloves, a flashlight, and a knife in this pocket. He points out a couple of nice details here, one of them is the icon on the pouch that's included in this pocket.
The front panel of this pocket drops flat to offer a working surface at the range, and the inside of this panel is lined with a soft velcro-like surface.
Front Top Pocket
Bottom Side Pocket
Bottom Main Compartment
This compartment is where the magic happens. It contains three individual pistol storage cases.
Top Front Compartment
The compartments at the top of the pack have plenty of room for more gear.
Top Back Compartment
This compartment, like its neighbor, is flat on the bottom. It would be a good place to store boxes of ammunition. Chad says there is a removable partition between these two compartments if a single large space is preferred.
Waterproof Rain Cover
It seems GPS has thought of everything. They've even included a way to protect the pack from the rain.
Is there anything to complain about with this pack?
There are a couple of things Chad doesn't like.
Without any padding on the back panel, it's uncomfortable.
Aesthetically speaking, the backpack is really big and thick.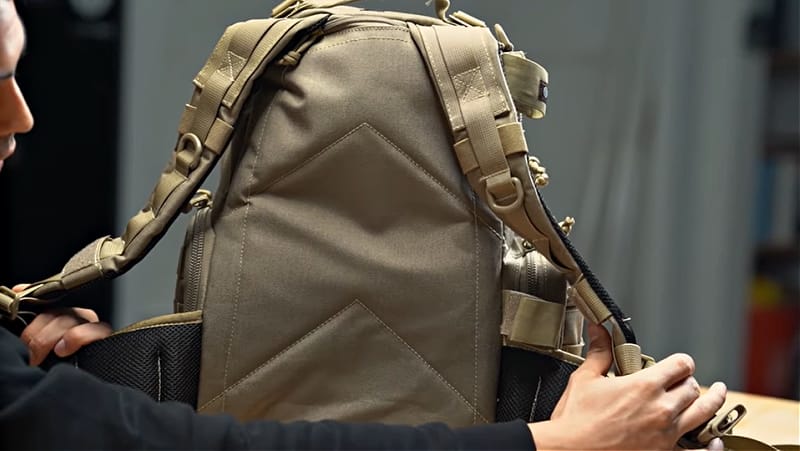 As Chad points out, there are some trade-offs with this range bag. This is a large pack, designed to carry a LOT of gear. So, if you want to go out hiking and find a spot to shoot, you can take your three handguns with you—and everything else too. Your eye and ear protection, ammo targets, tools and other gear can all be packed into this one backpack. He likes how it can be thrown over the shoulders to free up the hands to carry a rifle.
All in all, Chad says that he really likes the concept of this range backpack and the benefits definitely outweigh the negative points. As for the price range, it's a bit on the pricey side because it's sturdy, with a durable construction. Chad says you could buy this bag today and still use it for ten to twenty years.
So, if you're looking for a backpack that can carry your handguns as well as pretty much any accessories you'll need at the range, Chad thinks the GPS Tactical Range Backpack is a fantastic choice.
Watch his full review in this Green Light Shooting video:
What do you think? Is a range bag like this too much or just right? Let us know in the comments section below.