Blackwater is a company mainly known for using firearms in bad places around the globe, but now they seem to be making the firearms too. They have gone through several name changes, but the Blackwater label has always been the one that stuck. Blackwater purchased or partnered with Iron Horse firearms to get into the pew business. They've made a cool lower with a thumb fired trigger and some decked out ARs, and now we have their first shotgun. The Blackwater Sentry 12 magazine fed shotgun has premiered and took an interesting route design-wise.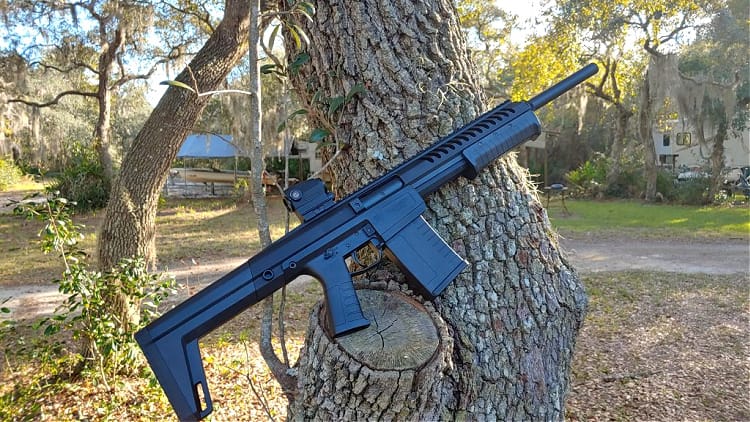 The Sentry 12 Break Down
The Sentry 12 is a very interesting design and instead of just explaining it, let's break it down.
Pump Action
A tried and true design, pump actions are the most popular method of shotgun operation. A pump-action design allows you to take advantage of versatile shotgun loads. A pump action shotgun can handle the lowest recoiling loads, nonlethal loads, standard buckshot, and whatever else you can fit in the chamber.
Magazine Fed
Magazine fed shotgun designs are growing in popularity. It's an amalgamation of the shotgun making a come back as well as the world's familiarity with magazine-fed rifles. Magazine fed shotguns allow you reload from empty to fully loaded rapidly. There a couple of downsides, as slug switchovers are rough, and you can't top off as you go.
AR-Like Design
Again, the AR dominates, so people are much more used to AR ergonomics. The Sentry 12 imitates these controls and ergonomics almost perfectly. Obviously, anything with a pump-action will swap up an AR-like design, but it's quite close. The lower is polymer, but unlike a polymer 80 percent lower, this one will hold up.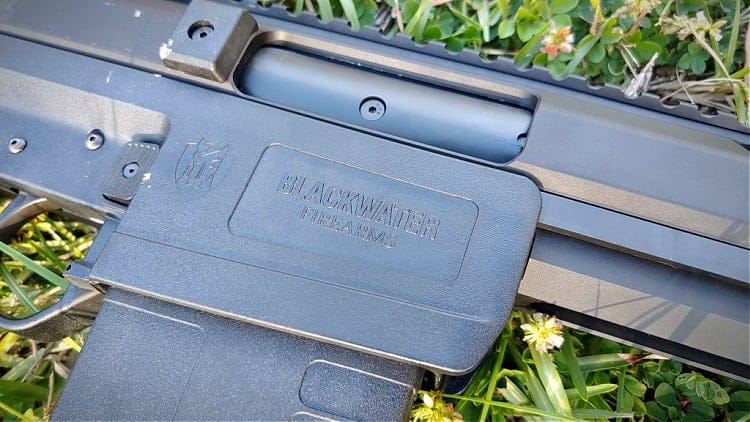 American Made
Most modern box fed shotguns are made in Turkey, like the VR series. In the United States, mag-fed shotguns are basically regular pump actions with a magazine attached. The Sentry 12 is made in the United States and uses a modern, built from the ground-up design.
Blackwater Sentry 12 Specs
Barrel Length – 18.5 inches
Overall Length – 36 inches
Weight – 6.5 pounds
Capacity – 5 round
MSRP $899
Taking it Apart
The Sentry 12 breaks down into both an upper and lower receiver like an AR. However, it only takes the removal of a single, noncaptive pin to take the gun apart. Then you can pop out the bolt and bolt carrier group. It's simple and easy to clean.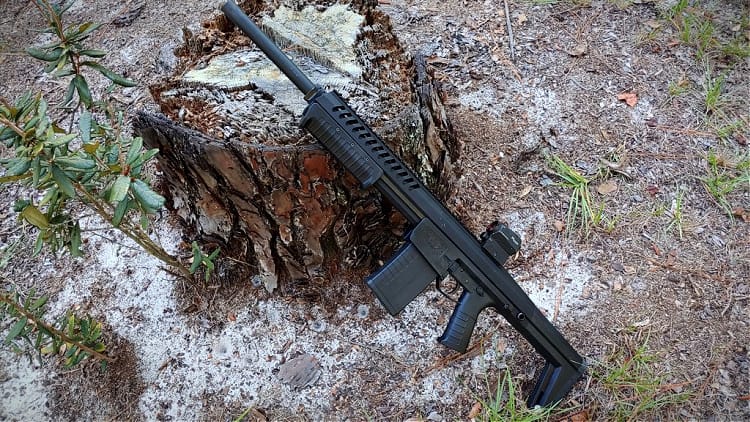 You can also remove the stock, but there are currently no replacement stocks, so no real reason to do so. The barrel also detaches with ease, so you can theoretically add new barrels, potentially shorter barrels for SBS configurations.
The Sentry 12 could be quite modular if Blackwater chooses to pursue the design. I hope they do, and we can see some unique shotgun builds.
Sentry 12 Ergonomics
The most impressive thing about the Sentry 12 is the length of pull. Shotgun lengths of pull are TOO DAMN LONG! The Sentry 12 has a very short 12-inch LOP, which is perfect for modern shooting styles. Those shotguns with those long LOPs are designed for a sporting-style bladed stance and not a modern squared-up stance.
The Sentry 12 makes it easy to establish a modern shooting stance and to handle the gun more like an AR than a Remington 870. the length from the receiver to the pump is also shorter than most shotguns. This makes it easier for shooters with shorter arms to utilize the pump.
The good news doesn't stop there. The controls are completely ambidextrous. Not just reversible, but completely ambidextrous. The magazine release, safety, and pump lock are ambidextrous, and obviously, the pump is too. The controls are all easy to reach and can be done without drastic motor movements.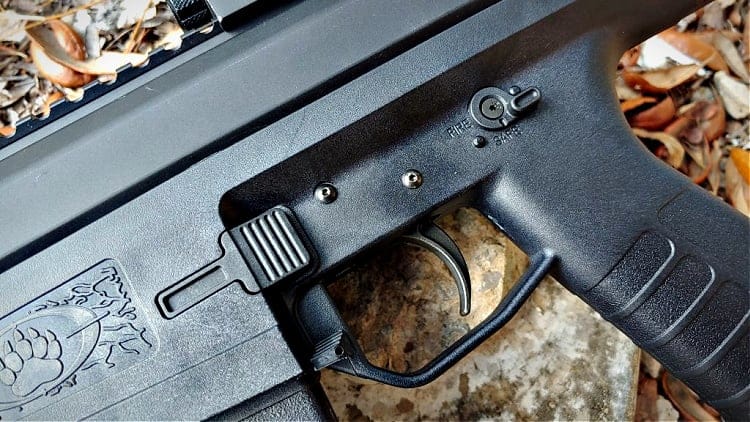 The Sentry 12 is also a lightweight shotgun. It weighs only 6.5 pounds, and that's one of the lighter options in the world of shotguns. The gun is easier to hold up, lighter to swing with, and faster to get on target.
I have one minor complaint about the gun ergonomically, and it's about the magazines. They don't drop free when you go to reload, so remember that.
The Sentry 12 Magazines
We are GunMag Warehouse so let's look at the mags themselves. The Sentry 12 magazines are polymer with a metal portion at the rear to contain the rim of the shotshell. The sad part is they are only five rounders. I don't see why 7 or 8, or 9 rounders can't exist. Past that, the mags get unwieldy, but a few more rounds would be nice.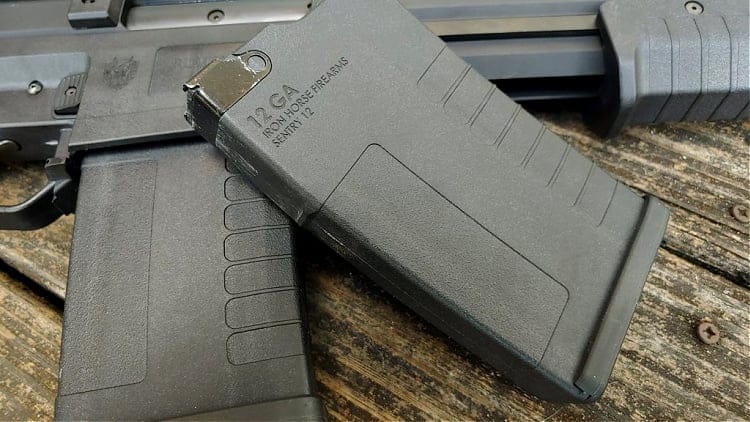 The magazines are the easiest twelve-gauge magazines I've ever had to load. The rounds pop right in, and once fully loaded, the shells have some room to still move downwards. This is beneficial for two reasons. First, they make it easy to load, and second, you can load the magazine without issue on a closed bolt.
Overall, they are well-made magazines and seem to be a promising entry into American made mag-fed shotguns. I do want to see slightly higher capacities. If my Benelli M4 can hold seven rounds, so can the Sentry 12.
Shooting the Thing
Ah, to the range I go with my Sentry 12 and an armful of different shotgun loads. A few hundred 12-gauge shells later, I can assure you I had a good time with the gun and I can also tell you the pros and cons of the gun.
The Sentry 12 is a very reliable weapon. The action is incredibly smooth and flies back with little effort. The pump lock is placed for easy access so you can press it down and work the pump easily. The pump itself is tight and smooth and enjoyable to work.
The gun weighs 6.5 pounds, and some may complain about recoil in a lightweight shotgun. However, that's a silly complaint. Learn to use proper recoil mitigation, and a few pounds doesn't make a difference. I found the Sentry 12 to be comfortable with full-powered buckshot and easy to handle.
Actually, the lower weight makes it easier to handle and faster on target. You can get the gun up and at it and transition between targets quickly and comfortably. The gun is balanced and comfortable. Some guns, especially guns like the Mossberg 590A1, can feel front heavy, and that's not a problem here.
Time Trials
Five and Five
The benefit of a magazine fed shotgun is the ability to rapidly reload the weapon and get it back into action, especially from empty. So I loaded both magazines up with five rounds each and started at the 10-yard line.
The drill was simple, shoot five, reload, and shoot five as fast as possible. I wanted to get my time under 10 seconds but found I wasn't that fast just yet. The closest I got was 11.12 seconds. My other two runs netted 12.16 seconds and 12.58 seconds.
Three Rounds In Three Seconds
The next drill was three rounds of buckshot onto a 10-inch gong in three seconds. It's easy to do with a semi-auto, but a little more challenging with a pump. My first go had me at a frustrating 3.01 seconds.
My next two runs netted a spirit-lifting 2.77 seconds and 2.89 seconds.
Reloads
Running simple reload drills also seemed to be a fun task. I used a Blue Force Gear Ten-Speed 308 mag pouch mounted on my belt. They accommodated the magazine perfectly. The drill was simple. Pull the trigger, and the gun goes click, reload from there.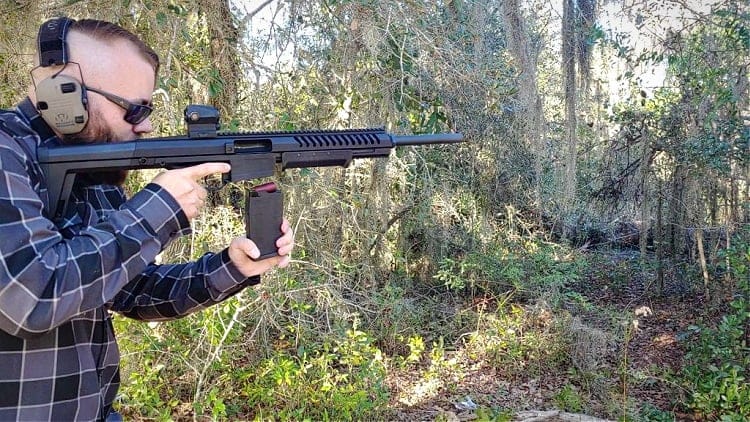 The fastest reload technique I found was that after the click, pull the pump to the rear as you use your trigger finger to press the magazine release. Then your off-hand removes the magazines from the magazine well and retrieves your fresh magazine.
This method kept all my reloads under three seconds. With other reload techniques, I was landing well over four seconds. My fastest reload with this drill was 2.89 seconds. I typically stayed right under three seconds, and that's not a bad time for shoving five fresh rounds into a gun.
Downsides
Nothing's perfect, and I have some complaints. First off, it's near a thousand dollar shotgun, and it doesn't come with sights. You get 17 inches on the monolithic upper to pick and choose your red dot of choice. Second, the pump needs more aggressive texturing. I found my hand sliding back and forth on it when working the shotgun with speed. Heck, I'd even take a vertical foregrip for increased control.
The Sentry 12
The Sentry 12 is an American made option that is built from the ground up to be a box magazine fed shotgun. The design is impressive, and ergonomically it's well thought out and accommodating. The gun presents an interesting option for those looking for something American made that's different from your average tube-fed shotgun.