I've slowly become a massive fan of Holosun optics. They've long produced durable, affordable red dot optics that can seemingly eat up abuse. Over the last few years, this company has gone from producing some basic, affordable red dots to being an innovator in the optic market. Optics like the SCS, the EDP, and AEMS have proven that they can make a solid, innovative red dot.
The latest optics from Holosun goes beyond innovation—they step into holy crap!
Holosun is making what? I walked into their booth to check out and cover the new models of the SCS designed for guns from Walther, M&P, etc. What I found honestly made me forget all about the SCS. Holosun is getting into the night vision market with hybrid sights. These sights mix standard night vision modes with a red dot for an ultra-compact design that gives standard NV or thermal use.
The Holosun DRS Night Vision
The first optic that caught my attention was the Holosun DRS Night Vision optic. It's a full-sized red dot that comes in two varieties. One features an integrated NV device placed below the main window, and the second unit features a removable unit that allows you to ditch the night vision when it's not needed. Both devices allow you to turn the night vision on or off but remain using the red dot. Nightvision technology eats up battery, so don't expect a ton of power.
The integrated unit has a 2.5-hour battery life, and the standard model offers you five hours of battery life. Obviously, the green overlay isn't exactly needed in the middle of the day. SHOT Show is a well-lit event, so it's tough to judge the clarity of the night vision. It does have a rather small window, and the device uses a digital night vision overlay, so don't expect Gen 3 clarity. I could make out facial features at close range, but I'd really need to get outside in the dark to see how well it works.
On a red dot, you aren't looking out hundreds of yards to see the threat, so it's not likely a big deal. The Holosun DRS Night vision gives you an 8X digital zoom to get nice and close to the target, at the cost of clarity. The resolution is 1024×768, and it has a 60-frame-per-second refresh rate. You can even record and take pictures using onboard storage. An attached IR illuminator also helps light things up at night.
Like most Holosun optics, you get a solid red dot with multiple reticles, a clear lens, and a set of lens protectors. Plus, you can even charge the thing via a USB port to keep it ready for action.
The Holosun DRS Thermals
Much like the DRS Night vision, we are getting an integrated and nonintegrated version of the thermal optic. On top of that, the DRS Thermals will have a Pro version with an increased resolution of 33%. The standard models have a sensor resolution of 256×192 for the standard version and 384×288 for the Pro model.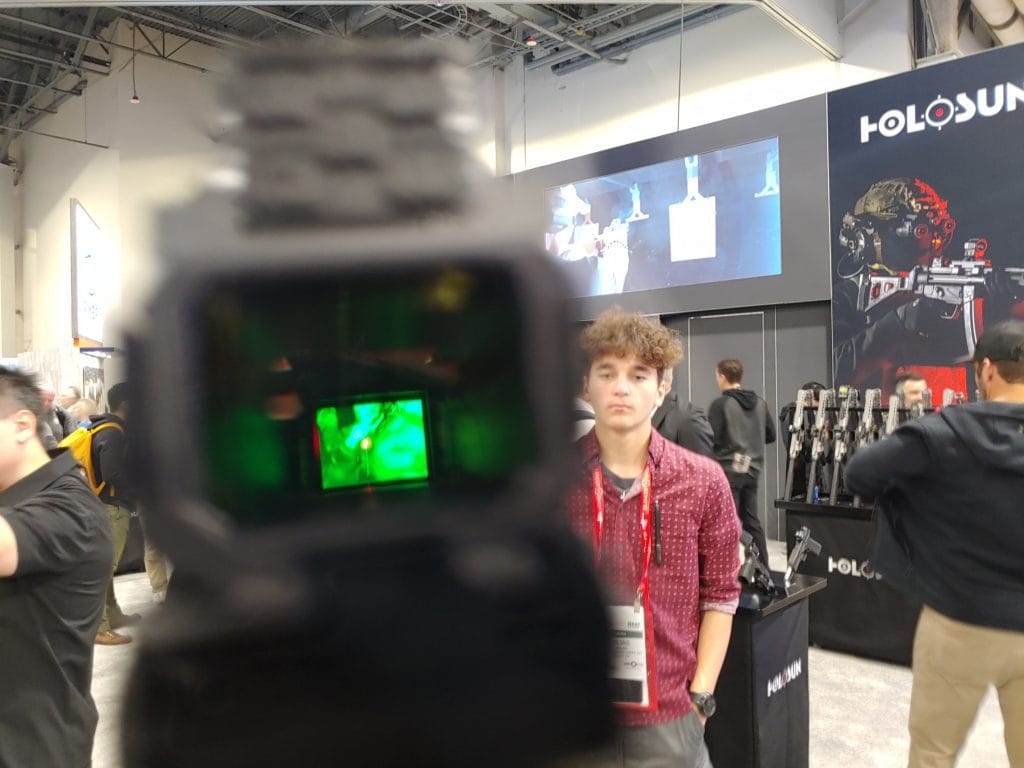 These Thermals have a 50 FPS refresh rate and a 1024×768 resolution display. Shooters can pick from white hot, black hot, highlight, outline, and fusion modes. It's a slick setup with tons of options that really impressed me.
Again the small window really ensures you won't use this optic at long ranges. The show is super crowded with people, so it was easy to look through the optic and see how well it lit up the crowd. It makes heat signatures glow brightly, and they stand out against the background of the world. If something was trying to hide from you, it would be awfully easy to find it with the thermal optic.
The digital zoom brings you an 8x level of magnification. The optic has a battery life of 10 or 20 hours, depending on the model, with the DRS-TH giving you 20 hours and the integrated unit 10 hours. Like the night vision Holosun, you get multiple reticles, digital image, and recording capability, and they are powered by rechargeable 18350s.
While the night vision is cool, the thermal model has really gripped me. I thought the Steiner model was cool years ago, but a 10K price tag kept me away. I was told to take this price with a grain of salt, but the Holosun base model will cost around $1,600.
The Other Red Dots
Admittedly the integrated night vision and thermal models really grabbed my attention. However, that's not all that Holosun is bringing to the market. They are also introducing the SCRS, aka the Solar Charging Rifle Sight. This is a battery-free rifle sight that uses a solar charging design and an integral battery bank.
This thing is teeny tiny, with a round design. It's a closed-emitter optic that could be used as backup on a rifle or even a mainline optic on shotguns and rifles used for close-range shooting.
The optic has a 20,000-hour battery reserve and both manual and automatic brightness adjustments. It uses the Holosun 509T footprint, which opens up the mounting market already. It features the multi-reticle system and will come in green and red.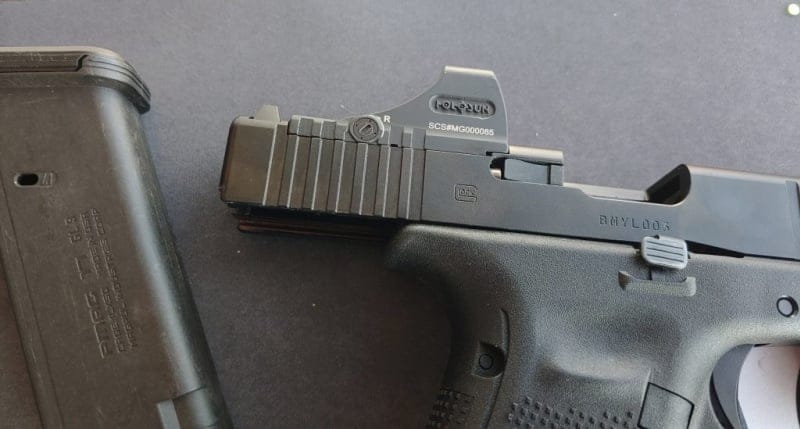 The SCS models have also been introduced for the HK VP9, the Walther PDP, the P320, and S&W M&P. This optic was introduced last year for the Glock MOS series, but they expanded on that line. These are battery-free sights that use a solar charging system and 20K hour power reserve. These optics sit so low that they co-witness with standard-height iron sights.
Finally, there is also a new 507 model known as the Comp. The 507Comp explains itself. The bigger window makes it easier to find the dot and to get it on target. It's a neat improvement to what's largely considered their flagship optic.
Staying Fresh
Holosun seems to be moving forward continually. They are bringing out new, innovative optics at great price points. They don't seem to be afraid to do something different, which is refreshing in this market. Too many companies produce a single optic and never move on. Holosun seems to be charging forward at full speed.