Modularity helps keep a weapon current. If the AR-15 and M16 series didn't have their modularity, would anyone still care? Being able to effectively modify or build a weapon to your exact needs is a valuable commodity. That's why so many of our designs are reaching a good point for a midlife crisis. Which are the most modular weapons on the market today? Well, today, we are exploring that very concept.
1. AR-15
The easiest mention in our list of modular weapons is the AR-15. Ever since the sunset of the Assault Weapons Ban in 2004, the AR-15 has dominated the market. There seem to be hundreds of companies pumping AR-15s at all price points and in all configurations. Alongside their popularity, an entire industry of accessories and parts has sprung to life. This allows shooters to build the rifle they want from parts and pieces. Users can swap out each and every part of their rifle if they so choose.
The modularity of the AR-15 also makes changing calibers easy. You can swap an upper and change calibers with ease. You can take a Multi-Cal lower and use anything from 5.56 to 9mm, and even .410 shotgun shells. Swapping calibers takes no real work, and at most, you might have to switch out buffers when you swap uppers.
Beyond that level of modularity, you can get pretty crazy with your AR-15 modifications. This year at SHOT, a company displayed a bullpup conversion kit to turn your favorite AR-15 into a bullpup platform. It's an interesting concept and surprisingly well done. The AR-15 certainly takes the top slot as the most modular weapon on the market.
2. The Glock Series
Much like the AR-15, the Glock series has become a mainstay of the firearm world. Its immense popularity and very simple design produced a platform that was ripe for modularity. You can do a number of upgrades to your gun. You can swap triggers and barrels, add magwells, muzzle devices, and more. Glock firearms are very easy to upgrade, and the massive market allows you to do a number of swaps and upgrades.
Glocks are so simple that you can take the entire thing apart with a punch and not much more. Shooters can make simple conversions, like rimfire slides and conversions to swap calibers. On top of that, the gun allows you to easily add stocks and braces, making it very easily convertible to a rifle or braced pistol platform.
Not only can you add a stock, but you can also slide the gun into a chassis kit like a Micro Roni to turn it into something more akin to a subgun than a handgun. These come in both braced and stocked options. Companies like Apex even produce complete bullpup conversion kits that allow you to turn your Glock into a rifle with a 16-inch barrel with ease.
3. Mossberg 500
The Mossberg 500, and by extension, the 590, are classic American shotguns that have served generations of shooters. This includes home defenders, hunters, law enforcement personnel, and the United States military. The Mossberg 500 is another very simple weapon that's easy to modify and upgrade. With millions made, the Mossberg 500 has a huge aftermarket that allows you to turn it into anything you want.
The Mossberg 500 series can be easily adapted to various roles by swapping the quick-change barrel. This includes swapping it out for a field gun with a long barrel or a home defense gun with a short barrel. Don't forget about slug barrels. Heck, you can even swap the shotgun barrel for a muzzle-loading barrel to make it a multi-season gun.
On top of that, swapping furniture is easy. You can swap out the stocks and handguards and add an optic with ease. A company called Bullpups Unlimited even produces a kit to turn your Mossberg 500 or 590 into bullpup shotguns to keep things short and sweet. Everything about a Mossberg 500 can be swapped, from the front bead sight to the rear butt pad and everything in between.
4. Sig P320
The P320 makes the list of modular weapons because it was made from the ground up to be modular. Well, its predecessor, the P250, was built from the ground up for modularity. The P320 succeeded it, and, boy oh boy did it succeed. Its modularity helped it score that big army contract and helped it remain one of the most popular guns on the planet. At the core of every P320 sits a fire control unit (FCU) which is the serialized portion of the gun.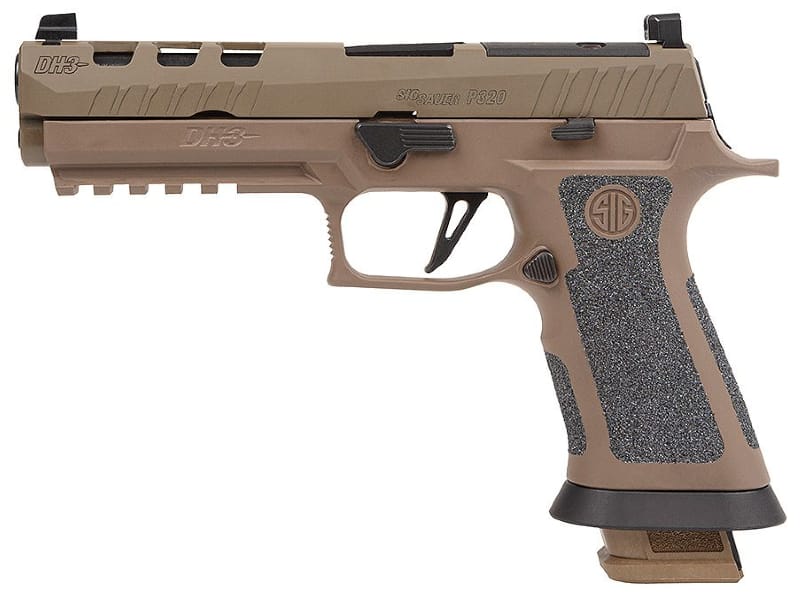 For all lawful purposes, the P320 FCU is the gun. It's removable, and this allows the owner to easily swap frames, slides, and calibers. Shooters can pull out the FCU and move it to a modified frame with ease. Its popularity has spawned a cottage industry of P320 frames and slides from companies like Icarus and Wilson Combat. Additionally, you can purchase a number of frames directly from Sig to update and modify your weapon, including models featuring built-in laser aiming devices.
The Sig FCU can be dropped into a number of interesting frame designs. The Flux Raider is one example of one of the more interesting setups and concepts. Another is the Fire Control Unit XO1, a PDW-style device that eats up the FCU and makes a drastically different gun. Modularity is in the gun's blood.
5. Remington 700
Last but not least on our list of modular weapons is the Remington 700 series. These bolt-action rifles have been around for a very long time and have been very popular. The design allows the gun to be modular, and with popularity, it becomes an easy target for upgrades. Shooters need to pick their action, whether it's a short or long action, and go from there. Remington still makes complete rifles, and with the right tools, your stock rifle can be dramatically transformed.
Swapping barrels and calibers is super simple, and shooters can very easily transform their rifles to their needs. It can be a lightweight hunting rifle or a rifle designed for long-range bench shooting. All you really need is the action, and from there, you can build the rifle or modify your rifle to make it whatever you want. Much like the AR15 lower receiver, the Remington 700 action is popular enough to warrant clones.
Companies like Aero famously used the R700 action as the basis of their Solus rifle series. All you need is that action, and you can build a chassis-ready rifle designed to maximize accuracy and look mad cool at the range.
Modular Everything
Modularity rules, and its been a reason why so many guns have remained so successful over the years. Modularity allows you to make your weapon current and modern and allows it to match whatever task you put it up against. These are the most modular weapons I'm aware of, but with that said, did I miss any?
If so, let us know below!