In May 2021, Taurus introduced its newest micro-compact 9mm pistol: the GX4, an 11-round capacity micro-compact pistol.
We're collecting GX4 reviews here. Just click on the links below to get to each one. We will continue to add more as we find them!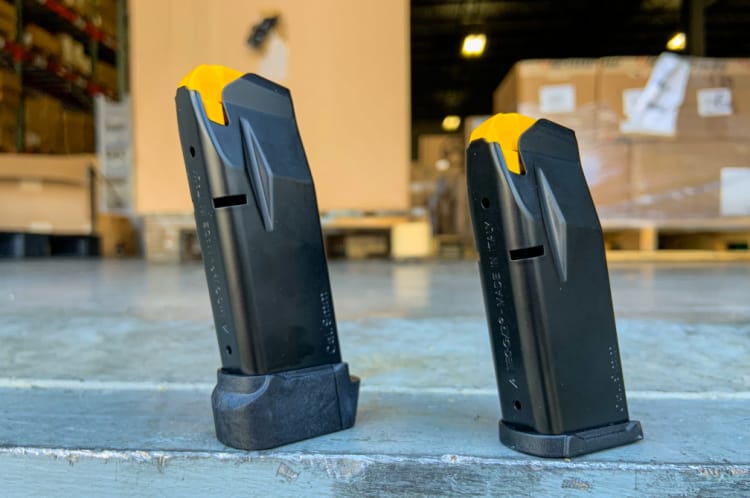 NEW Taurus GX4: Solid Concealed Carry that Won't Break the Bank
David Workman (May, 2021)
While it may seem like the world of high-capacity concealed carry has enough contenders already, there is definitely room for at least one more, especially at a lower price point. With two 11-round magazines included, the new diminutive-framed Taurus GX4 9mm is clearly aimed at the SIG P365, Springfield Hellcat (original and RDP), and Smith & Wesson Shield PLUS as its biggest competitors, but it is also aimed at shooters who don't want to spend $500+ on a concealed carry gun.
Ever since Sig introduced the P365 in 2018, every reputable manufacturer has upped their game to compete in the larger capacity concealed carry arena, so makes sense that Taurus would join the fray sooner or later.
There is a lot to like about the GX4 and a few things that gave me pause. Here is a breakdown of what I liked and didn't like.
Spoiler alert: most of it is good.
The Good
The Taurus GX4 has a lot to recommend. It's not perfect (no gun is), but the Plus column is a lot longer than the Minus column. Understand before we get too deep into the goods and bads that this is not an exotic firearm full of expensive bells and whistles. It's a basic concealed carry gun.
Let's start with the size. It matters, right? (Sorry, not sorry.) At around 1 inch thick, it falls right in line with its competitors, tucking easily away under even the lightest cover garments.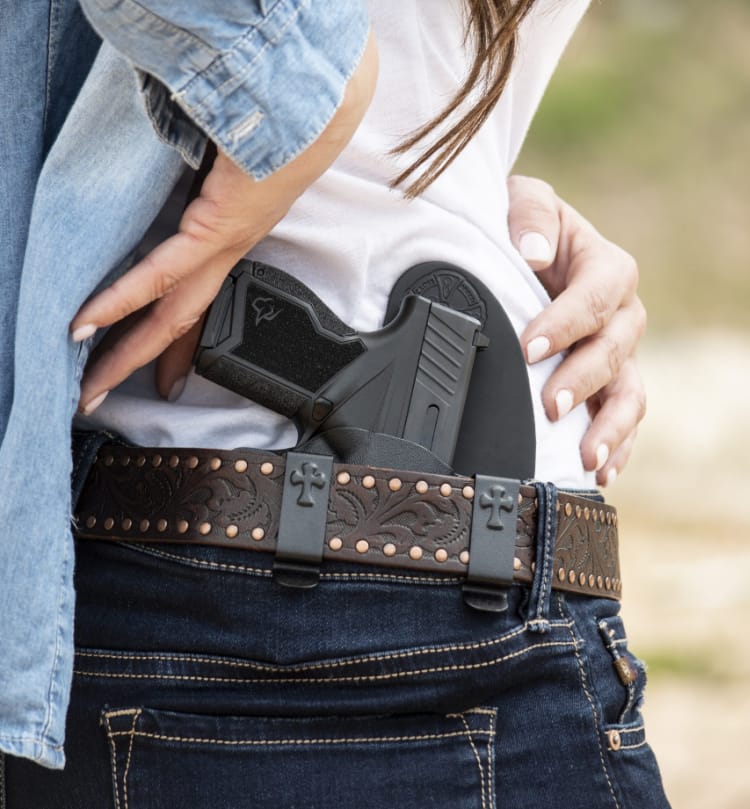 The magazine easily holds 11 rounds within its narrow grip, with a spring that is surprisingly light for being brand new. Like so many of us, I typically use my speed loader with a new magazine because the spring is so stiff. However, this one was light enough to load all 11 rounds without any mechanical assistance, a refreshing change.
Once loaded, the gun was easy to get into battery with a medium weight recoil spring making slide rack easy, aided by deep serrations on both front and back. Press check was easy.
Taurus did an awesome job on the grip texture — not too rough and not too smooth. Kudos to the grip design engineers. Goldilocks would be proud. Shooting with both dry and sweaty palms proved solid and firm, with little worry about the gun moving in my grip during recoil and realignment.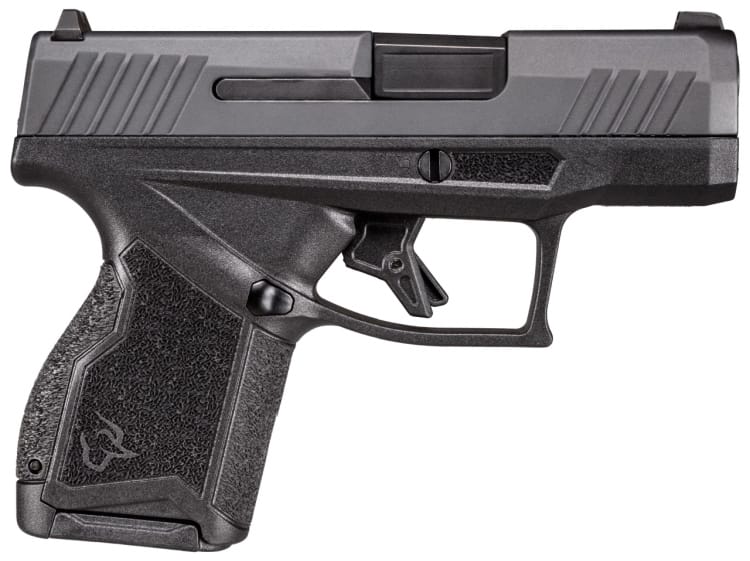 The grip texture was really good, but I was a bit confused by the interchangeable backstraps. Not the concept — I get that — but why they are virtually identical.
The GX4 comes with two interchangeable backstraps that are simple to swap out, but they are so similar that I couldn't tell much difference between them. The slightly larger one that came installed on the gun fit my hand solidly, but of course, I was obligated for scientific reasons to swap them to feel the difference, which was nominal. The swells were close enough that I don't know that Taurus needed to include the second one.
I would like to have seen a more significant difference between the two. It's also interesting that they chose to spend money on interchangeable backstraps instead of fixing some of the small items I'll mention in the "The Bad" section below.
(Don't jump down there yet. That's cheating. There is more good stuff first.)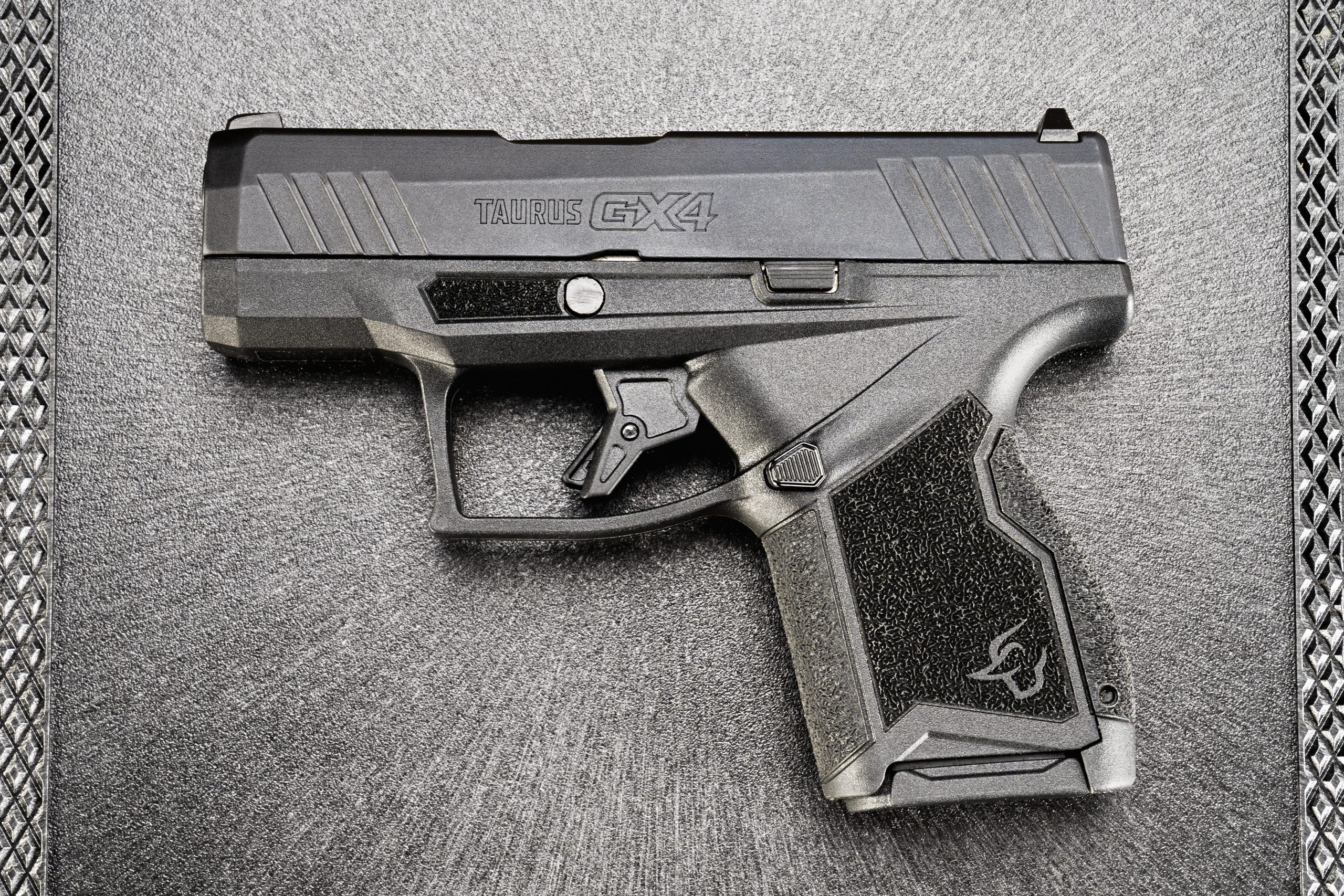 The grip length, often the bane of large-handed people's existence on compact pistols, is better on the GX4 than on most of the competition. Taurus did an admirable job of shortening the grip to reduce printing without going too small for larger hands.
For sure, cramming 11 rounds inside prevented them from going too small. While only part of my pinky rested comfortably on the bottom, it only sort of hung off, barely. When I started shooting, my fingers stayed firm on the grip, not ever slipping off. After a few shots, I forgot all about it. This was all during a session where I threw 100-, 115-, and 124-grain ammo downrange in a healthy mix of practice and defensive rounds from Federal, Winchester, and Black Hills, all of which ran flawlessly with zero malfunctions.
One often neglected feature in compact pistols is the trigger guard size. But Taurus paid attention to it. The GX4 incorporates a large trigger guard, wide enough to comfortably insert a gloved finger without the danger of an accidental discharge.
Speaking of the trigger, the GX4 features a flat-faced design with trigger safety. I was half expecting a squishy action with lots of slack and a mushy reset, especially given the price point (see below), but what Taurus gave us instead is a 6-pound pull with a crisp break, minimal slack, and a firm, audible, tactile reset — the kind of trigger feel normally associated with more expensive guns.
I have to call out one feature that floored me, in a good way.
You know how hard it is sometimes to close a slide on a compact with your thumb because the slide stop is just too dang small and hard to push? Not on the Taurus GX4! (It's the little things, right?) The slide stop on this compact is easy to operate with the thumb, removing the need for a two-hand rack on every reload. This may not sound like a big deal but think about reloading under pressure in a real gunfight. Now, how big of a deal is it? Kudos to Taurus for this little oft-overlooked detail!
The Bad
Now, before you start thinking this is a Taurus GX4 love fest, there are a few things about the gun that definitely could be better. Some are big, some small. Remember, this is a budget-conscious pistol, so don't expect too many high-end features, but a few small improvements would have been nice.
The Sights
The factory sights are okay but not great. They are basically Glock knockoffs with a non-glowing white dot on the front and blacked-out rear with anti-glare texturing, which is a nice touch if you like blacked-out sights. I'm not a big fan, especially on concealed carry guns designed to be used in heat-of-the-moment self-defense situations where you need to immediately see the sights, but maybe that's just me.
Thankfully, replacing the stock sights is fairly simple, if you so choose. It would have been nice to see a dayglow sight on front at least, but that might raise the price beyond Taurus' target market, so maybe we will see that in a 2.0 version down the road.
Takedown
The GX4 has an unconventional takedown system that requires tools. Unlike the typical takedown lever found on most guns, which pushes up or rotates with a finger or thumb to release the slide, the GX4 requires a flathead screwdriver to twist the lever while the trigger is pulled and the slide is pushed forward. And the screw is on the other side of the gun, which is a bit odd.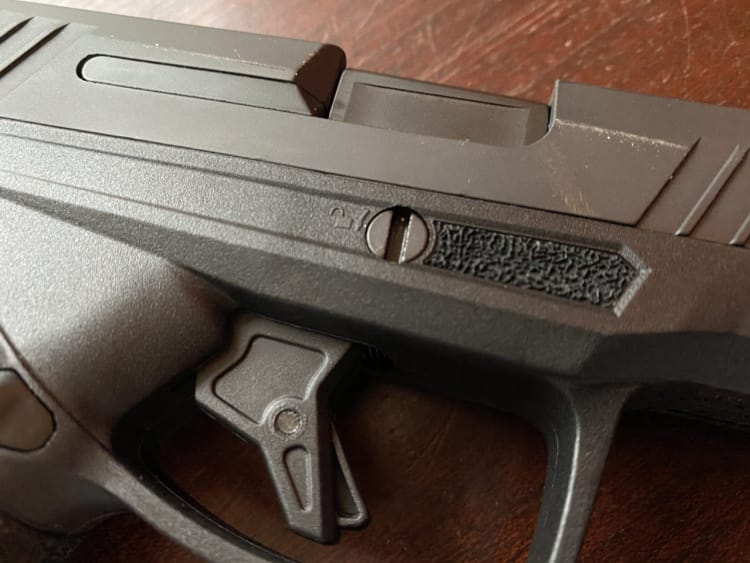 This is not terribly difficult or prohibitive, just unnecessarily awkward. The good news is once these gyrations are complete, the rest of the takedown process is like any other striker fire.
Where is the accessory rail, even a short one?
Right now it has none, zero, zilch, not even a stub of one for tiny accessories. It would be nice to have at least a little rail to attach a small laser or light. Space is not an issue. There is enough real estate in front of the trigger guard to allow for one. This may not be a huge miss for some, but it might turn off at least a few potential buyers.
One last thing — and this is a biggy.
It's missing an optic plate, something more and more expected as standard across the pistol world nowadays. While the rest of the compact concealed carry market is either including an optic plate (some even throw in the optic) on new models or going back and adding them to new versions of an existing gun, Taurus inexplicably left off this ever-increasingly popular and important feature.
Even though it should have been on the original, perhaps we will see it as at least an option on any upgraded versions of the GX4 in the future.
The Ugly
Okay, shame on me. Yes, I threw this in just to perpetuate the movie theme at the risk of copyright infringement. There really is nothing ugly about this gun. But there really is nothing all that pretty about it either. In fact, its looks are fairly unremarkable. The GX4's boxy exterior is neither ugly nor beautiful. It's…functional, which is fine because it's a gun, not decoration.
While it won't win any beauty contests, it also didn't fall out of the ugly tree and hit every branch on the way down like many other lower-priced firearms. Its design serves the purpose: to hold all the parts and pieces together and provide good ergonomics and concealment for the shooter.
Takeaways
Overall, the Taurus GX4 is a rock-solid, reliable option in a basic carry gun that won't break the bank. It fits the hands well, shoots flat with minimal felt recoil for a small gun, has enough rounds in the mag to compete in the higher capacity concealed carry market, and performed flawlessly in my limited testing.
Manufacturers will soon introduce holsters and other accessories, so support should be good. If you're looking for a budget-friendly, no-nonsense, frill-free concealed carry gun that checks all the basic boxes and a few extras, the Taurus GX4 at $392.42 MSRP is definitely well worth consideration.
Taurus GX4 Specs
Caliber: 9mm Luger
Capacity: 11 RDS
Magazines: 2×11
Firing System: Striker
Action Type: Single Action Only
Front Sights: Fixed White Dot Steel
Rear Sights: Serrated Drift Adjustable
Safety: Striker Block, Trigger Safety, Visual Loaded Chamber Indicator
Frame Size: Micro-Compact
Grip Material: Polymer
Slide Material: Alloy Steel
Barrel Finish: Satin Black DLC Coated
Slide Finish: Gas Nitride Treatment
Barrel Length: 06 in.
Overall Length: 05 in.
Overall Width: 08 in.
Overall Height: 4 in.
Weight: 5 oz. (unloaded)
Packaging Weight: 80 oz
Packaging Size: 8 in x 9.75 in x 3 in
MSRP (as of this writing): $392.42
Manufacturer Video
The Taurus GX4 Qualifies
Rich Grassi (Originally published on The Tactical Wire. June 2021.)
In an effort to figure out how well the Taurus entry into the 'micro-compact/moderate capacity 9mm pistol' field stacks up against others in the space, I shot the gun on a few courses of fire that I'd used for similar guns for comparison.
I'd already checked it on the CQ standards, where it went up against the Ruger MAX-9 (with optic) and the Springfield Armory Hellcat RDP. Later, the S&W M&P Shield Plus will face that test.
As you recall, the GX4 did well on those "close range benchmarks," outscoring every gun I've tried so far – including a larger, conventional "service-compact" pistol. The CQB consists of "high value" close-range hits, a stage from a state course of fire and the Waidelich/Bakersfield standards (or a facsimile thereof). Based on time/point penalties – and while the GX4 didn't shoot it clean – I still scored 91/100 – a record thus far. That can't be 'training effect,' as the GX4 was the second gun ever fired on this mashup course of fire. The times weren't perfect; it's a small gun even considering the outstanding ergonomics. And I was only one hit down on paper (not time). If I were to work with it more, I could revisit the course and see if I could sort that out.
The fact remains that this little pistol was able to keep up with larger guns and guns with optics.
For today's mess, I grabbed an NRA TQ-21 "blob" silhouette with its nearly invisible scoring lines denoting a generous area for full-value hits. I'll likely opine on 'spot-shooting' sometime – even though friend Claude Werner has already well explained the idea – but suffice to say I added a scoring ring on the target's face with a permanent marker around a roll of tape. I following that up by stapling a B-8 repair center on the target's "chest."
I wanted to shoot something like a more traditional 'police-qual' type of course and see if the little gun was okay out to distance.
As to all that's made of the 'snappy' nature of these small 9mm pistols; that's real, some considerable blast and an abrupt recoil impulse. It's about like shooting the 40 Auto in a GLOCK 23 (pre-Gen5) in suddenness but without the torque that creates the 'shooters' elbow' condition. In short, it wasn't at all fatiguing.
You have to hang on – of that, there is no question.
This is a very personable little pistol. And now, with the various accouterments available on shoptaurus.com, it can be made 'more shootable' perhaps at the expense of extreme close concealment.
Taurus GX4 Initial Release
The following is the notification we initially received about the new micro-nine from Taurus HQ in Bainbridge, GA.
This is a copy of their PR, not a part of a review or endorsement.
Taurus, manufacturer of premium handguns for defense, hunting, and sport shooting, is excited to announce the all-new Taurus GX4, designed to deliver maximum concealment without sacrificing ergonomics, performance, or capacity. In short, the Taurus GX4 offers everything you would expect from a full-frame defensive handgun (and more!) but at a fraction of the size and weight. The new Taurus GX4 redefines the micro pistol segment to deliver the concealability of a .380 but with the power, capacity, and function of a full-size 9mm handgun.
The Taurus GX4 is built on a stainless frame with a polymer grip that earns high marks in shooter comfort and strength. This thin, one-inch-wide frame provides negligible printing when worn inside the waistband and features a grip dimension sized to fit any hand. To ensure structural rigidity and reliable cycling in such a scaled-down foundation, the polymer receiver bolsters an integral stainless-steel framework that eliminates flex or deformation when firing.
Intelligent channeling beneath the slide rail allows for recessed placement of the slide stop lever and takedown pin. This permits easy manipulation of these controls while maintaining a flush, no-snag profile for a smooth draw from deep concealment. Likewise, the magazine release button is flush to the grip to eliminate snag potential without hindering quick manipulation during mag changes.
The stippling pattern along the grip offers the perfect balance of aggressive texture across the front of the grip, the side panels, and the full length of the backstrap for a concealed carry application. Stippling is also found forward of the trigger at the indexing and recoil management pad locations. These pads, working in conjunction with the high-texture grip, help the shooter maintain proper hand positioning and assist in managing 9mm recoil while promoting fast target reacquisition in a small handgun platform.
The Taurus GX4 comes with two backstrap options. Installed at the factory is the standard backstrap profile with its slight palm swell to accommodate the preferred grip for most shooters. Those who favor a higher wrist position for natural point-of-aim via a more pronounced palm swell can install the included high-swell backstrap.
Shooters will enjoy the accuracy and predictability of the Taurus GX4 trigger courtesy of its crisp, precise sear break and the pleasingly short and tactile reset that is fundamental to quick, on-target follow-up shots. Adding to the control quotient are serrations along the trigger safety blade. These serrations help prevent finger slip and promote a straighter, more consistent trigger pull.
Located at the front and back of the slide, the serrations not only provide a positive grip for charging and cartridge extraction, but they also allow for push or pull manipulation from either end of the slide to accommodate the shooter's preferred operation style.
Topping the slide is a fixed-position steel front sight and square-notch steel rear sight. The rear sight features serrations across the back to minimize glare, and the cross-cut dovetail slot allows for drift-adjustment of the sight's windage. The front sight includes a white alignment dot for improved visibility in reduced light conditions. Understanding that many personal defense practitioners desire a tritium or fiber-optic sight system for extreme low-light performance, the Taurus GX4's dovetail slot is sized to be compatible with common aftermarket tritium and fiber-optic sights. The front sight also uses the conventional screw attachment system, so upgrading the Taurus GX4™ to aftermarket night sights is a simple matter for a gunsmith or anyone with a pistol sight installation tool.
As with all Taurus polymer frame pistols, the Taurus GX4 slide includes a visual loaded chamber indicator. This allows the shooter to quickly see if a cartridge is loaded in the chamber and eliminates the need for the traditional "press check." To separate the slide assembly from the frame for cleaning, the Taurus GX4 utilizes an easy take-down pin system.
The Taurus GX4's 3.06-inch stainless-steel barrel, for example, features a satin black DLC (Diamond-Like Carbon) treatment for reduced friction and greater wear and corrosion resistance. For the slide finish, Taurus engineers opted for a gas nitride coating to maximize slide surface hardness. This treatment is ideal for a gun intended for daily carry and for deep concealment due to its wear resistance properties.
Elsewhere, operational control parts receive a Teflon coating. The inherent lubricity of Teflon allows components such as the reversible mag release to operate with maximum smoothness while also resisting wear and corrosion. The steel slide stop has polymer overmolding for maximum durability. Inside the Taurus GX4, metal internal parts are nickel-plated to further resist rust and corrosion.
While the Taurus GX4 proves that neither ergonomics nor reliable performance need be sacrificed to create a full-feature micro pistol, it also proves that firepower or cartridge capacity need not be compromised, either. Chambered for 9mm Luger, the Taurus GX4 delivers several double-stack magazine options.
The Taurus GX4 comes from the factory with two flush 11-round magazines. There is the standard magazine with a floor plate that is flush with the bottom of the grip and an optional 11-round magazine with a finger extension for those who prefer a larger grip surface. If more capacity is desired, Taurus offers an optional 13-round extended magazine. The Taurus GX4 comes in a 10-round magazine version for those consumers in capacity-restricted states.
In keeping with the Taurus philosophy of producing handguns with the industry's best performance-to-cost ratio, the new Taurus GX4 delivers. With an MSRP of $392.42, Taurus GX4 buyers can enjoy all the feature benefits and ergonomics typically associated with larger polymer frame striker-fired pistols at a price point that fits any budget.