Strike Industries is releasing the LITESLIDE and Slide Completion Kit for your Glock G19 GEN3, And soon, the G17 option.
SI LITESLIDE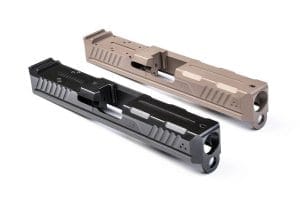 Created with optimal accuracy and performance, according to Strike Industries, it's the perfect upgrade to your Glock.
Made in the USA the SI LITESLIDE is machined billet 17-4 stainless steel. Using clockwork precision, we're told it ensures increased consistency in barrel lockup, leaving you with levels of match-grade accuracy.
We're also told that the SI LITESLIDE weighs less than the factory production model, significantly less, which is intended to reduce recoil momentum. It also allows faster and more efficient follow-up placement, according to Strike Industries.
And the company didn't stop there. They also designed the LITESLIDE for durability and function, while keeping the styling they're known for.
The design includes what they call a large, enhanced aggressive front and rear serration. The serrations are intended to aid in manipulating the slide, so you can check or clear a chamber jam.
Combined with the SI Universal Optic Mount cut, Strike Industries says you can easily and securely mount most of your favorite optics without having to worry about getting the slide machined.
And if that's not enough for you, a removable cover plate comes with the SI LITESLIDE, so you can customize it. You'll also find all the necessary screws and posts needed for most optics.
Note: Channel liner is needed to complete slide
For example, If you're looking to place a red dot sight on your Glock 19 GEN3, there are several optics compatible with the SI LITESLIDE. Trijicon RMR, Burris FastFire, Doctor Red Dot Sight, EOTech MRDS, Holosun 407/507/508/509, Leupold DeltaPoint, SIG SAUER ROMEO 01, Sightmark Mini Shot M-Spec FMS, and Vortex Viper/Venom are all compatible.
However, Leupold DeltaPoint Pro and SIG SAUER ROMEO1PRO/03 are not compatible with the SI LITESLIDE.
The following is included with your LITESLIDE order:
x1 LITESLIDE
x2 Large post
x4 Small post
x2 M3-5mm screws for cover plate
x2 M3-6mm screws for Doctor Red Dot Sight
x2 M3-8mm screws for FastFire/MRDS/Viper
x2 M3-10mm screws for Leopold DeltaPoint
x2 M3-10.2mm screws for RMR/407/507/508/509
LITESLIDE Specs
Length: 171.15mm
Width: 25.47mm
Height: 31.02mm
Weight: 9.8 oz
MSRP:

$209.95
Slide Completion Kit
Strike Industries is also getting ready to release their Slide Completion Kit for the Glock G19 GEN3 and G17. Just like the SI LITESLIDE, the components are made in the USA.
Note: Barrel and sights NOT included
According to Strike Industries, everything is manufactured to the exact same specifications and tolerances using the same or better materials as the original Glock parts.
The current kit is compatible with the G19 GEN3 and G23.
The following is included with your Slide Completion Kit order:
x1 Recoil Spring Assembly
x1 Firing Pin
x1 Firing Pin Spring
x1 Firing Pin Spacer Sleeve
x1 Firing Pin Spring Cups
x1 Firing Pin Channel Liner
x1 Extractor Depressor Plunger
x1 Extractor Depressor Plunger Spring
x1 Spring Loaded Bearing w/ Load Chamber Indicator (LCI)
x1 Firing Pin Safety
x1 Firing Pin Spring
x1 Extractor w/ LCI
x1 Slide Cover Plate
Slide Competion Kit Specs
Firing Pin: MIM 17-4 PH and hardened to H900 condition w/ Black Nitride finish
Extractor w/ Loaded Chamber Indicator: MIM 17-4 PH and hardened to H900 condition
Firing Pin Safety: 4140 steel w/ 42-46 Rc hardness
Extractor Depressor Plunger: 4140 steel w/ 42-46Rc hardness
Visit Strike Industries' SI LITESLIDE or Slide Completion Kit pages to learn more!