2018 was the year of the SIG P365. It premiered, had a few faults, was promptly fixed, and went on to be one of the best selling carry guns of 2018. Its popularity continued well into 2019. After the advent of the P365, the concept of the micro-compact carry gun was drastically changed. For some time the P365, with its remarkably small size and ten-round capacity initially had no real challengers. That changed in September 209, and the challenge came from Springfield Armory in the Hellcat pistol. Comparisons were an obvious immediate demand and both continue to occupy a special place in the concealed carry world. This naturally made us want to stack the two against each other. So who comes up in a P365 vs Hellcat contest?
Read on.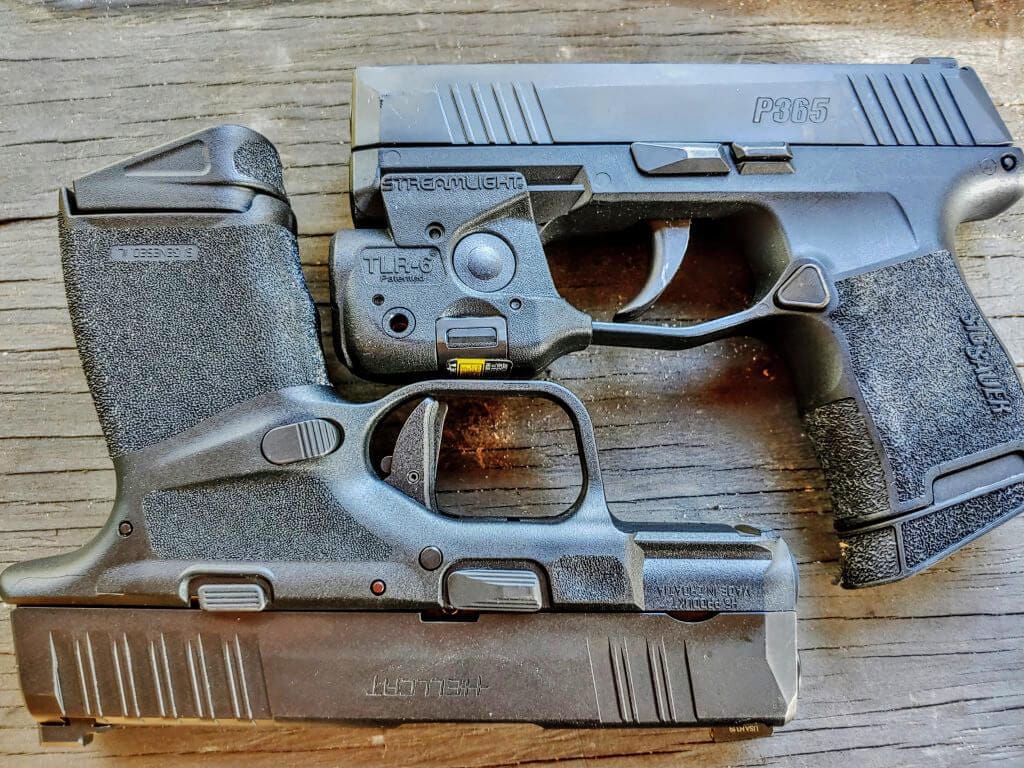 P365 VS HELLCAT – MICRO COMPACT COMBAT
Travis Pike
P365 vs Hellcat Specs
The P365 and Hellcat both offer doublestack capacity in a package the size of a single stack. You are getting ten rounds at a minimum in a gun that looks like it should hold six. This impressive feat is a combination of managing gun and magazine size. The guns display many other comparisons and contrasts as well.
Both guns are quite small. The SIG P365 is just a hair lighter at 17.8 ounces when compared to Springfield's 17.9 with the flush-fitting magazine. The P365 is also a shorter gun but has a longer barrel. The SIG is 58 inches long with a 3.1-inch long barrel. The Hellcat is 6 inches overall with a 3-inch barrel.
The SIG P365 is a little taller at 4.3 inches compared to Hellcat's 4-inch height. The SIG is 1 inch thick, and the Hellcat's grip is 1 inch wide at the grip.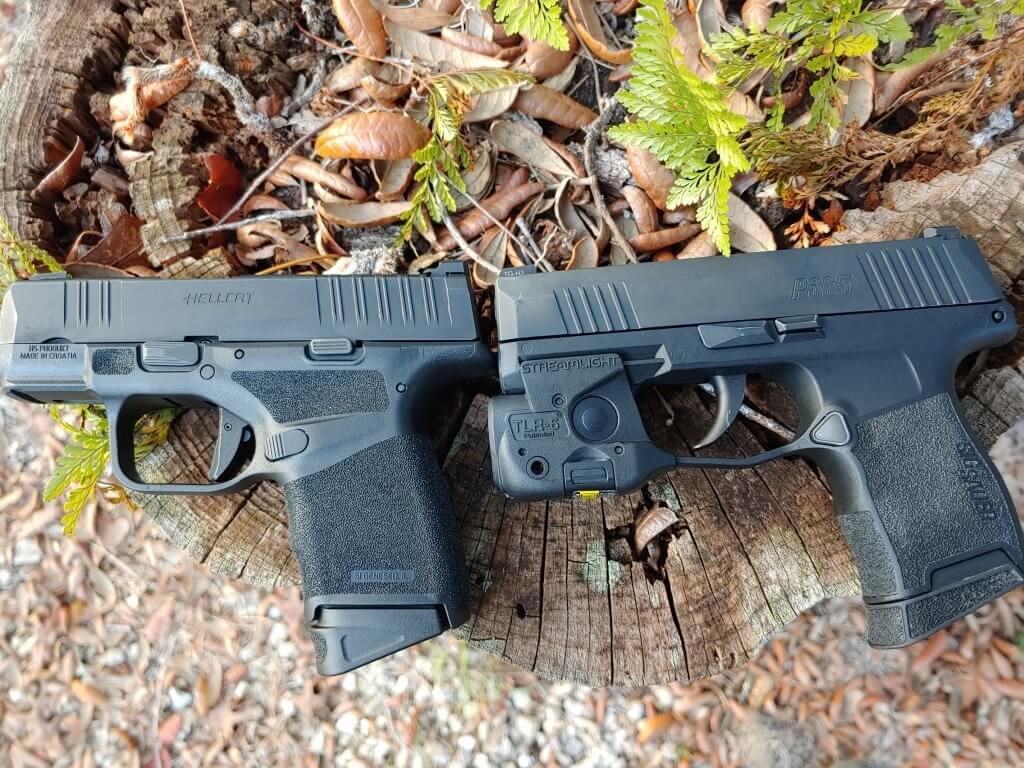 The Hellcat is slightly more efficient when it comes to ammunition capacity. The flush-fit magazine for the Hellcat holds 11 rounds while the SIG P365 flush magazine holds ten rounds. One more round doesn't seem like much, but hey, it's 10% more ammo.
SIG also has 12 and 15-round magazines, but neither is a flush fit. The Hellcat also comes with slightly extended 13-round magazines, whereas the SIG comes with two 10-round magazines. I personally appreciate that Springfield includes the 13 round magazine with the Hellcat.
P365 vs Hellcat: Sights
Both guns come with Night/Day sights that are absolutely outstanding. SIG uses its own XRAY3 sights, and the Hellcat is equipped with tritium U Dot sights. I've been using the SIG sights for almost two years now, but I'm still faster with the U Dot Sights.
The U Dot sights are honestly my favorite part of the Hellcat. I'm leaning towards equipping a few other guns with these awesome sights. I find it quick and easy to get the dot dropped in the middle of the white U on the rear sight and get on target. If we were just doing a P365 vs Hellcat sights article, the Hellcat would win.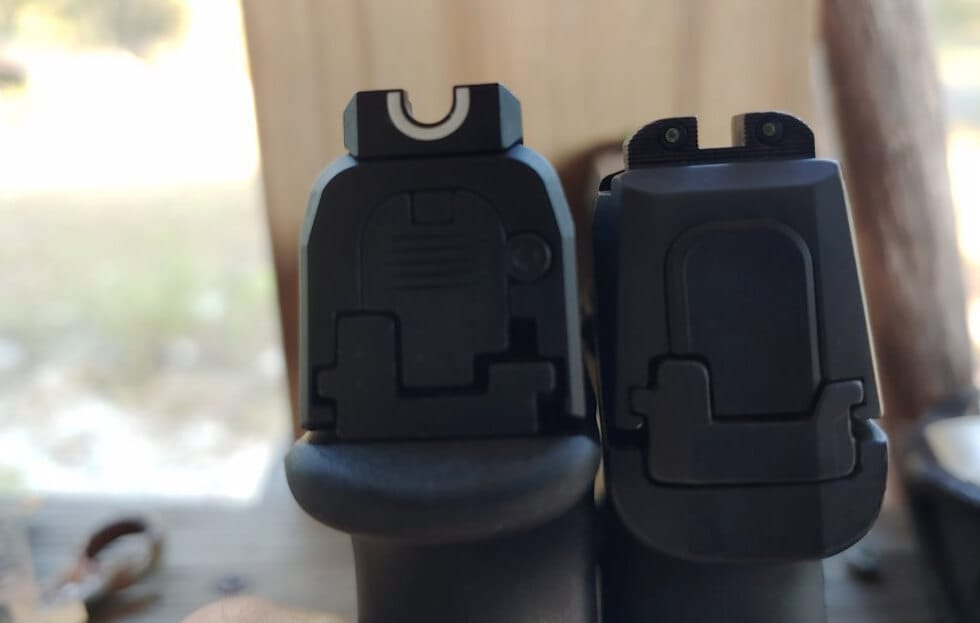 The XRAY3 sights are traditional three-dot night sights with a high viz front sight as well. I can get on target and shoot rapidly with these sights too. Both guns feature excellent sights, but I prefer the U Dot sights.
How they Handle – Ergonomics Differences
Grip Texture and Shape
The grip texture of both guns is similar. Both are light enough not to chafe when carried but deep enough to give a good solid grip. The Hellcat's texture goes a bit higher than the P365's, which is nice. The extended baseplates of both guns are also textured to engage the pinky in the grip.
I can't reasonably say one is better than the other.
When it comes to grip shape and how it feels in hand the P365 feels more comfortable to me. I appreciate it's round design. The Hellcat is plenty comfortable but has a boxier design overall. The boxier design does lead to a slightly wider magwell, which allows for more intuitive reloads.
Serrations
Both guns have forward and rear serrations. They have a few differences. The P365's serrations are deeper and have very squared ledges. The Hellcat's serrations go over the top of the slide, and I like that as well. Again, no major differences that constitute a win or fail in this portion of the comparison.
Controls
The guns are similar in the fact that they lack any manual safety. The Hellcat has a finger safety on the trigger, which will please those who prefer that feature. The SIG's trigger is round, and the Hellcat has a flat-faced trigger.
Both guns have reversible magazine releases. The Hellcat is more button-like and is a little bigger. It's easier to reach, and it's slightly extended. It also feels more responsive and easier to drop magazines from.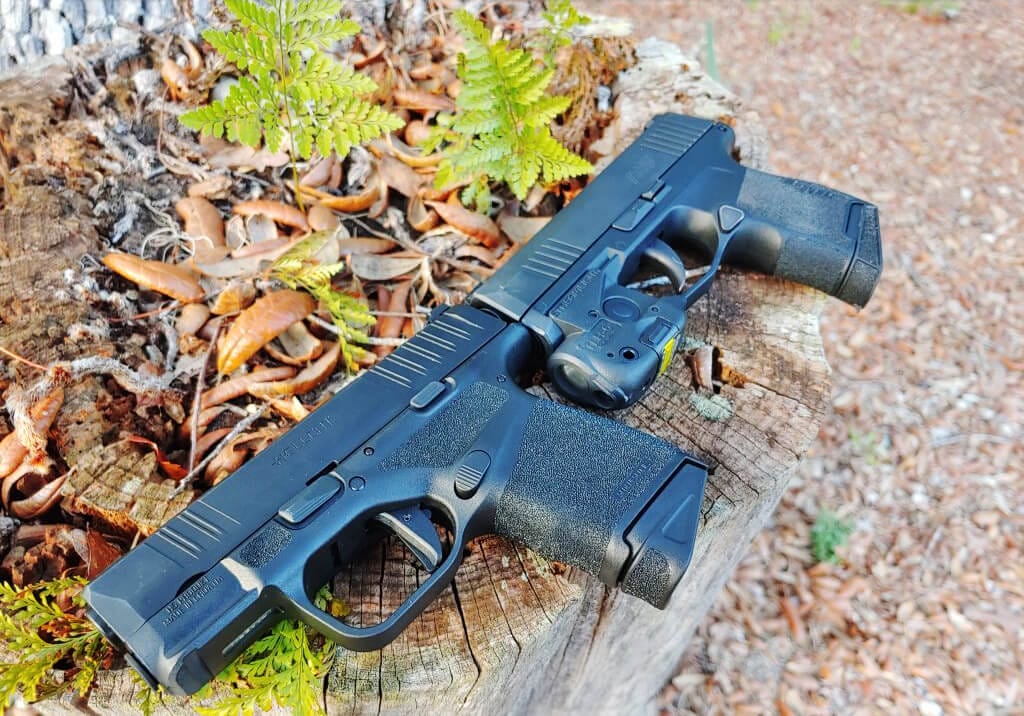 I noticed the difference when I was running any drill that required a reload. I was surprised when running the El Presidente drill at how quick and easy reloads with the Hellcat are.
The SIG P365's triangular's magazine release is easy to reach and accessible. It just feels spongier and requires more force to press and eject the magazine.
Both guns have a slide lock that's basically useless with my hands. My thumbs sit on it and prevent it from engaging the slide after the last round is fired. The controls are similar enough, but the Hellcat's magazine release is better overall.
Slight Differences
One thing I did notice is that the SIG P365 is easier to rack than the Hellcat. The Hellcat has a much stiffer recoil spring. Another interesting factor is the fact that inserting a fully loaded magazine into the Hellcat is easier than inserting a fully loaded magazine into the SIG when the slide is forward. The SIG takes a little smack, and the Hellcat does not.
The SIG's grip has two scalloped cut-outs that also allow you to grip the magazine easily. These cut out are well suited for when the magazine doesn't drop free, and it needs some five finger convincing.
Shooting Impressions
This is where we make our money, how does each gun handle? As far as small guns, both are comfortable to shoot. The recoil isn't slappy, and neither has any slide bite. The guns are comfortable and fun to fire.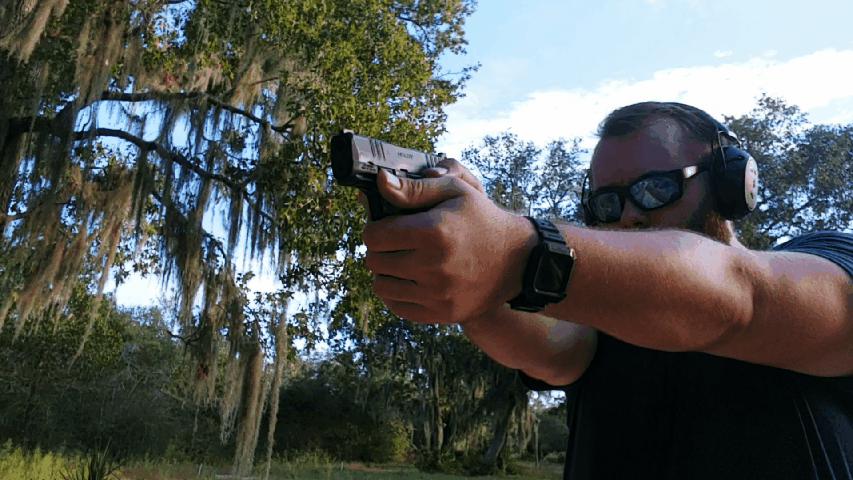 Recoil wise, the SIG P365 seems to have less recoil and muzzle flip. The Hellcat seems to be a bit snappier and slower to get back on target. In fairness, this could very well be due to familiarity, as I have years worth of P365 experience. I've shot the P365 a lot more than the Hellcat, but to be fair, I've been shooting the Hellcat exclusively for almost two weeks and put a ton of lead out.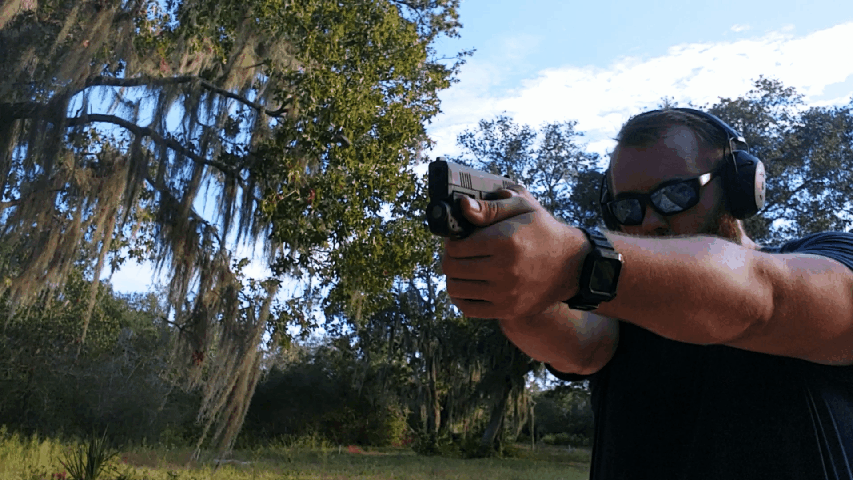 The SIG P365's trigger is also smoother and more refined. Its pull is noticeably lighter than the Hellcat's trigger. The Hellcat has a nice short pull but it slightly stiffer.
Both are excellent triggers, but the P365 is better, in my opinion. When I started shooting the P365 today, I was used to the Hellcat's trigger. I was a little startled when I cracked off the first round. I was not expecting such a quick and smooth break.
What About Accuracy?
I kind of hate accuracy testing because it's so dependent on the shooter. However, in my testing and experience, the P365 is more accurate at longer ranges. In my P365 Vs Hellcat testing, I backed off to 25 yards and fired three round strings. I fired several, and these are my best groups from both.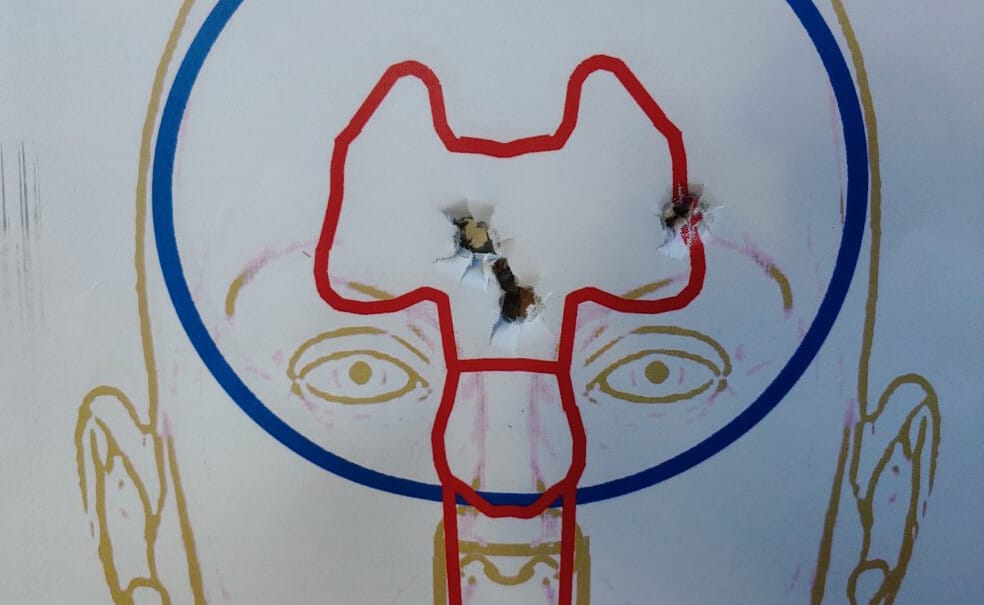 Every time I fired a group, the P365 was tighter and closer to my point of aim. I seem to fall into the habit of throwing shots to the left a bit with the Hellcat. This seems to happen when I first start shooting for the day. It straightens out eventually, but it is always more pronounced at longer ranges.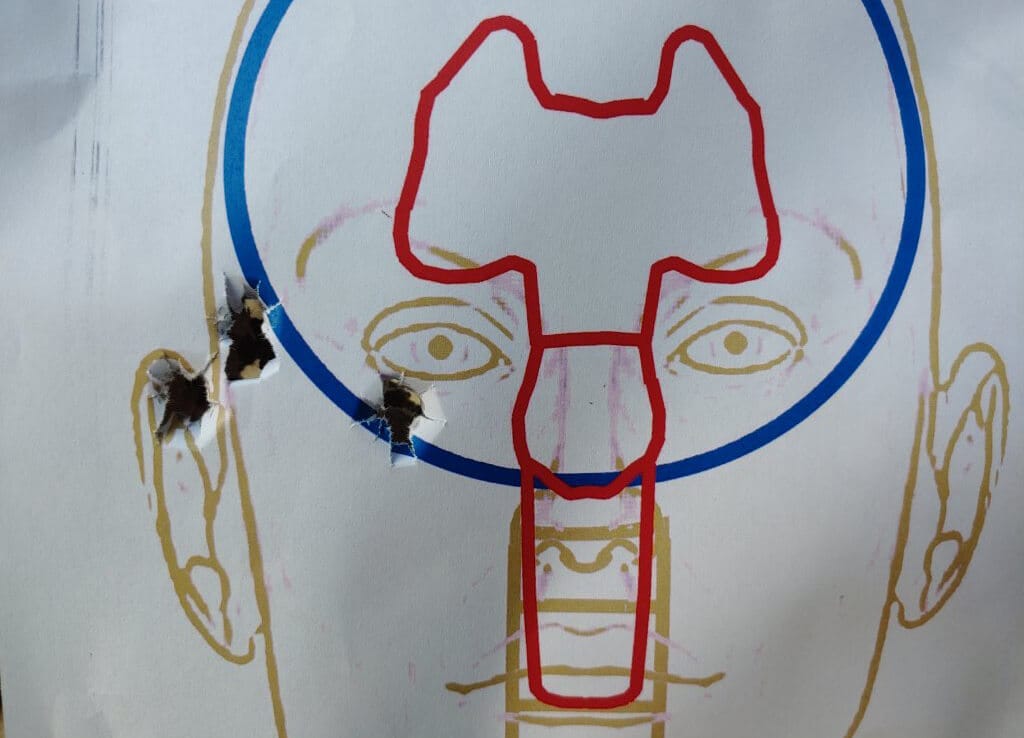 The SIG P365's sights are certainly better suited for long-range firing. The U Dot sights are better suited for close-range shooting and speed. In practice, I found the Hellcat's sights to be better-suited for shooting from the draw. It was easier to line them up and drop the dot into the white U and pull the trigger.
Rarely could I beat my Hellcat's draw-and-fire time with the SIG at ranges 10 yards and closer. That said, even when I was close and shooting, the SIG's groups were often smaller. In fact, I landed two shots in one hole from a draw-and-fire drill at 10 yards. I couldn't repeat that performance with the Hellcat. However, I could still land effective shots with the Hellcat much quicker. Up to .10 seconds faster. Here are 3 shots from the draw with the Hellcat.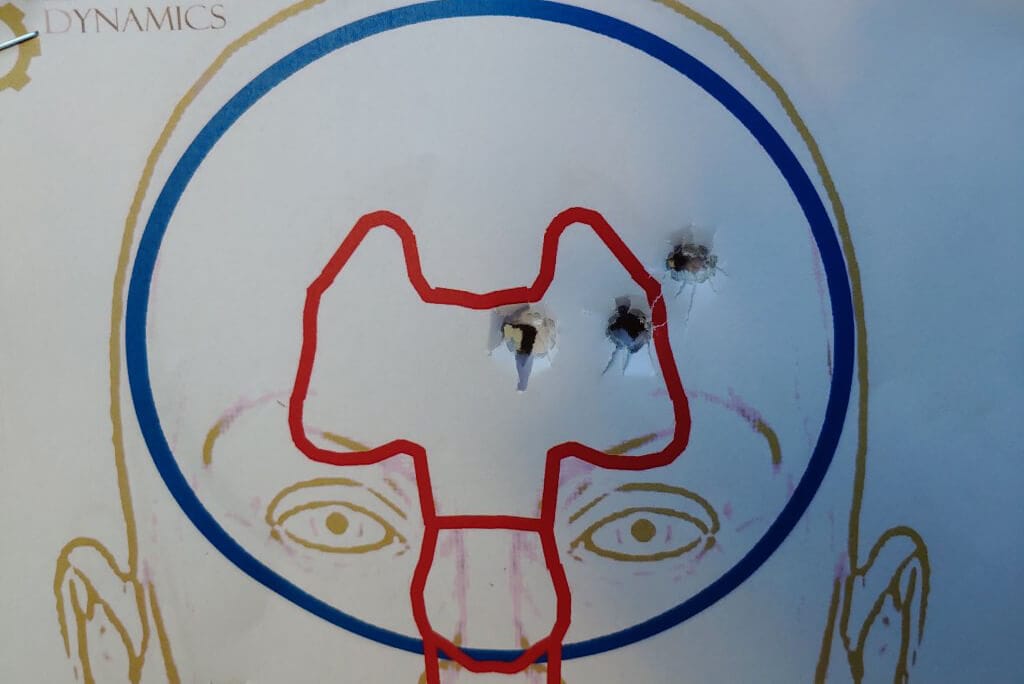 Reliability wise, both guns are top-notch performers. I would trust both of them with my life.
Differences Worth Noting
Before we finish up, I want to bring up three differences that are worth noting. The first two are rather important and interesting, the third is kind of important, and the last is just neat.
The P365 has a chassis system, just like the P320. This allows you to swap grip modules with ease. This is why I could drop the chassis into a metal frame from Icarus Precision and rock and roll. I can't do that with the Hellcat.
The Hellcat comes in two flavors, standard, and OSP. The OSP is optics-ready. SIG does not offer the P365 standard in an optics-ready design and reserves the optics-ready version for the P365 XL.
The Hellcat also comes with a standard Picatinny rail. This allows you to attach lights and lasers without having to buy proprietary designs. The SIG has a proprietary rail, but as you can see, there are some lights and lasers available for it.
Lastly, the Hellcat has a built-in standoff device under the barrel. If you drive this weapon into someone's gut, the slide will not come out of battery, and you can keep shooting. It's a neat feature we rarely see in guns. I may never use it, but I like the idea of having it.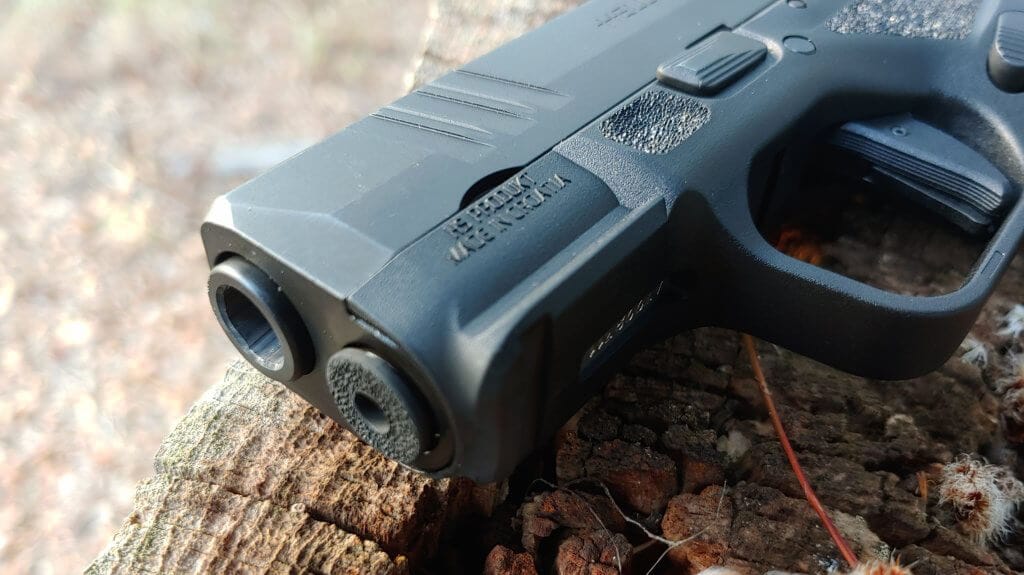 Which One?
The differences are minute, and if you said I could only have one, I'd stick with the P365. There are a few reasons. I do like the trigger more, and the grip is more comfortable, but I also have almost two years of P365 shooting and ownership. I have tons of magazines, accessories, and holsters to go with it.
If I didn't have this time and money invested in the gun, the choice would be quite a bit harder. The Hellcat OSP model, in particular, is really attractive to me. I could see myself being attracted to an ultra-small, relatively high capacity carry gun that's equipped with a red dot.
Luckily, this is America, and I can happily own both.
Which would you choose from our P365 Vs Hellcat competition? Have you tried both yet?
On the Clock: Sig P365 XL versus Springfield Hellcat
Kat Ainsworth (June 2021)
Whether you're interested in competition shooting or just want to see a potential carry gun put through its paces in a different setting, a shoot-off running through match stages is a good way to do it. In this video review, Karl at InRange TV runs the Sig P365 XL and the Springfield Hellcat through six stages of a somewhat enlarged backup gun (BUG) match. To try to keep things balanced, Karl alternates guns in each stage, rotating them so he begins each stage with the gun he used to end the prior stage.
How do the guns fare? Is there a clear winner? Let's find out.
The Side-by-Side Rundown
It is true the two pistols have a lot in common, something Karl touches on before getting into the shooting.
He says, "These guns are very similar in terms of overall size… With the Hellcat, with the smaller magazine, the flush magazine, you have 11 plus 1 [and] with the extended magazine you have 13 plus 1. And with the Sig [P365] XL you have 12 plus 1 and 15 plus 1. So you get a couple extra rounds with the P365 XL. With both of them if you put in the larger magazine you get a more comfortable grip…it kind of makes the gun seem more like a full-sized pistol in your hand [and] gives you a little extra there so your pinkie…isn't dropping off. But really, when you put the flush magazine in, these guns are very similar in size."
*Editorial note, Springfield just came out with 15-round mags for the Hellcat!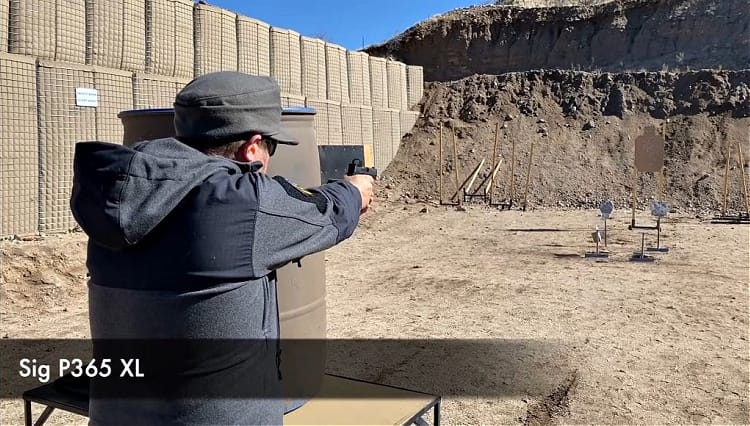 Karl then moves on to compare their size directly: "If we put the Hellcat on top of the P365XL you can see the XL is bigger — a smidgen in the front — but overall minimally so, even with the dot. …these are, in my opinion, size comparable guns."
You can find out how the two guns performed in the six BUG stages in the video below.
Shooting Matches and Self-Defense
There is some debate in the gun world regarding whether competition shooting like these match stages is a good or bad idea from a self-defense perspective. Like anything in life, there are pros and cons to consider. But when you get right down to it, shooting stages like these timed BUG stages teach you to handle adrenaline and encourage accuracy and speed while moving. Of course, hit factor matters; you're never going to win a match if you don't get hits on target and in the correct zone.
Consider doing some competition shooting to supplement your self-defense training. Being a well-rounded shooter is a good thing and running your carry gun in various scenarios is an excellent idea as well.
The Winner
Tests like this are always going to be subjective and depend on the skills and hand size of the shooter involved. There are a few things to look for when you're searching for a carry gun like these:
•Capacity
•Concealability
•Durability
•Reliability
•Ergonomics
It's important to note that Karl does mention he has spent extensive time shooting both the Hellcat and P365 XL far beyond the stages you see in the video, meaning he's put more time and energy into this than just a few stages. In the end, he feels that both guns performed well and each would serve gun owners nicely as an everyday carry (EDC) choice. To find out which one works best for you, hit your local range and try them out.
Sig P365 vs Hellcat — Which is Better?
Kat Ainsworth (June 2021)
Two of the more popular compact pistols to be released in recent years are the Sig P365 and Springfield Hellcat, which were launched in 2017 and 2019, respectively. There's a lot of curiosity among gun owners regarding which model is better than the other and although those answers tend to be subjective, we all do our best to answer them. In the video below, James Reeves of TFBTV takes a closer look, contrasting and comparing the Sig P365 vs Hellcat to see which he prefers.
As Reeves notes in the video there have been some bumps along the way for Sig Sauer and Springfield Armory both. Even so, the companies have done well and each leads a loyal—and extensive—fan base. In the video Reeves discusses the similarities between the two pistols, his own experience with them, and why he feels one of them wins the pistol face-off (you'll have to watch the video to find out which pistol he likes best).
Sig P365
The Sig P365 was launched in 2017 and immediately won concealed carriers over for its compact size and good capacity. Since its launch, Sig has also launched the P365 XL, a slightly larger gun that's a better fit for some shooters. The P365 remains the original and retains its popularity. After all, what's not to love about a concealable pistol with greater capacity than similar-sized guns?
Reeves enjoys his P365's reliability — it sounds like he had one failure during the first 2,000 rounds which he attributes to lack of cleaning — and feels it's a versatile pistol with excellent durability.
Springfield Hellcat
The Springfield Hellcat came out in 2019 and was met with a lot of interest and love. It's slightly larger than the P365 but has other similar features like the aggressive grip texturing, 9mm chambering, and better capacity than many compact pistols. It's designed for fantastic ergonomics and durability and Reeves feels it is the best gun Springfield has ever made.
As Reeves admits in the video, deciding between two guns depends on the shooter and their needs. It gets even more challenging when you're dealing with two pistols with nearly identical dimensions. How do you decide? Consider reliability, durability, fit, and function.
So, which gun is best? You'll have to watch the TFBTV video to find out (or go to your local range and get your hands on the guns yourself).
Sig P365 vs Hellcat Specs
Sig Sauer P365
Caliber: 9x19mm
Capacity: 10 +1, 12 +1
Color: Black
Barrel Length: 3.1 inches
Barrel Material: Carbon Steel
Overall Length: 5.8 inches
Height: 4.1 inches
Width: 1.0 inches
Weight: 17.8 ounces (empty)
Sights: FT Bullseye
MSRP: $599
Springfield Hellcat
Caliber: 9x19mm
Capacity: 13 +1
Color: Black
Barrel Length: 3.0 inches
Barrel Material: Hammer Forged Steel
Overall Length: 6.0 inches
Height: 4.0 inches with flush fit magazine
Width: 1.0 inches
Weight: 18.3 ounces (empty)
Sights: Tritium/Luminescent Front Sight, Tactical Rack U-Notch Rear Sight
MSRP: starts at $569