Last month we learned about the new Sig Sauer 22 pistol — the Sig P322 — that was modeled on the P320. As always, we appreciate reviews on new firearms, and Mr. Gunsngear himself breaks the P322 down for us in a recent video.
He describes it as "relatively full-size," following the contours of the P320 with a lot of the same features. It ships with two mags equipped with loading assist tabs which Mr. GnG says really come in handy when you get to the 19th and 20th rounds. As you may have guessed, the gun's capacity is 20+1 rounds of .22 Long Rifle.
Sig P322 Features
The ergonomics are very nice with a generously flared mag well, which our fearless reviewer says he wishes was a feature on more centerfire guns. The grip angle is 1911-like with good texturing which gets more aggressive on the front and back straps. Not that you really need it on a .22, but Mr. GnG says, "It definitely stays locked very, very firmly in your hands."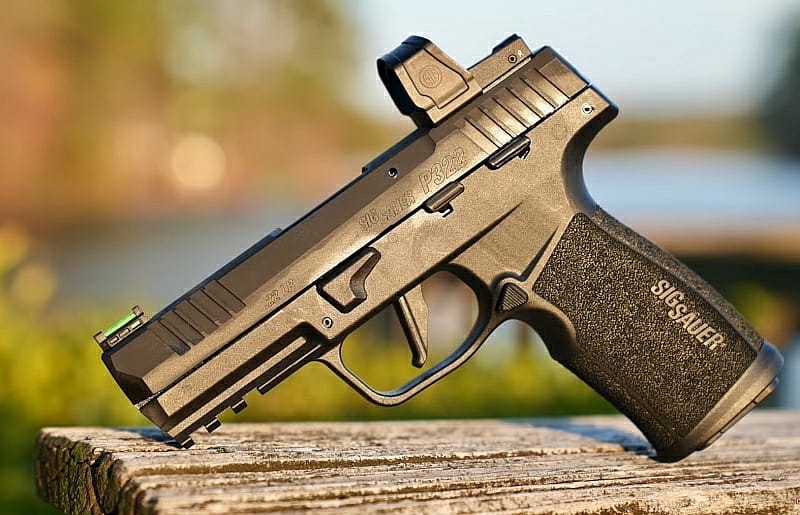 The controls are what you'd expect with a reversible mag release and ambidextrous slide release and thumb safety. The gun comes with a flat trigger shoe, but there's an optional curved model in the box. All you have to do is switch them out if you want. The trigger guard is large, especially for a .22 and you shouldn't have any issues reaching the trigger, even with gloves. There is a generous undercut at the rear of the trigger guard, allowing a nice, high grip.
The gun has a standard front Picatinny rail for accessories and nice shrouded fiber optic sights front and back. That last part is nice because those fiber optic sights can get knocked around or break. They're easy to pick up, which is helped by the front dot being a bit larger than those on the rear, making it easier to tell what you're looking at in the dark. The rear sights are removable for the addition of an optic. The gun has a Sig or Shield RMS/RMSc footprint.
Another nice feature is the threaded barrel adapter, with ½ x 28 threads. You can put a can on this thing from day one, with the added advantage of helping keep the rounds subsonic.
The P322 has an internal hammer, and the trigger is nice with some sponginess before a crisp break. When demonstrating the trigger break, our host had some trouble finding the wall, pulling through it before he knew it was there. He laughingly said, "That's a good thing." The reset is described as long but "super positive."
What about Performance?
The gun is very accurate, and Mr. GnG says that "Everyone I've handed this pistol to so far has been able to shoot it extremely well." He attributes that to several things:
It's a good pistol overall.
The barrel and sights are accurate.
Very little recoil so no flinching.
It's just an easy gun to shoot well with irons or an optic.
The gun fired very well with a couple of different standard 40-grain loads with a 1200 to 1250 fps rating. It didn't like the high-velocity 30-grain cartridge he tried, but most .22s are a bit picky on ammo.
The Sig Sauer P322 is currently going in the low-to-mid 400-dollar range. So, if you're in the market for a nice .22 semi-auto pistol, what are you waiting for? Let us know how you like it and, as always, happy shooting y'all.