Sometimes you want the hardest-hitting gun possible, but you want it in a smaller platform. The team at Noreen Firearms is known for solving this type of issue, so it's no surprise they're behind a single-shot pistol chambered in 50 BMG. The ULR 50 BMG Pistol is compact yet sturdy and capable of surprising accuracy. Want a 50 BMG, but not a massive rifle? This might be the gun for you.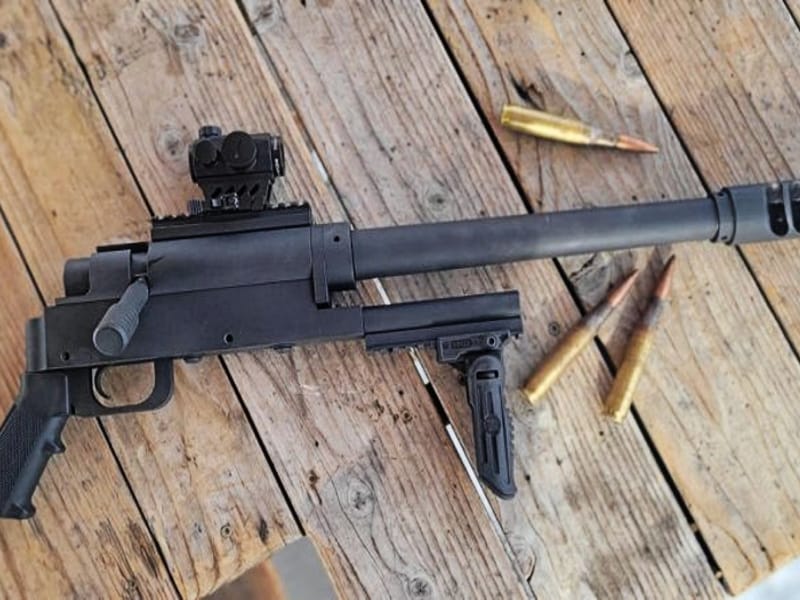 According to Noreen Firearms, this pistol was designed for simplicity. It's a single-shot, bolt-action gun, meaning it needs to be reloaded for every shot fired, but that doesn't mean it's slow. According to the gun maker, reloading is quick and easy thanks to their "single shot shell holder" bolt. Of course, it's chambered in 50 BMG, so this is a solidly-built gun despite its being a pistol. Noreen Firearms carefully designed the gun to reduce shooter stress, making it possible to run this firearm all day at the range (or hunting, if 50 BMG hunting is your thing).
This pistol has an A2 pistol grip so shooters have a textured, firm surface to grip during live fire. Because it's a pistol, there's no stock, so you're going to need to master running big bores a bit differently than you might have in the past. The barrel length is 16.5 inches, meaning although it's compact, it's long enough to somewhat mitigate the felt recoil and muzzle rise. It has a 1-in-15 twist rate. The gun itself also weighs 16.5 pounds, giving it enough heft to withstand recoil and offset the effects of the 50 BMG chambering.
Other features include a Timney Sportsman adjustable trigger, which delivers a crisp, clean break and short reset. Pull weight is adjustable between two and four pounds and sear engagement and overtravel can also be adjusted to suit your personal preferences. The gun also has the company's own muzzle brake. The brake in question is a Noreen Firearms Noreen Design 1.25-12 Thread created to redirect gasses in such a way it's more comfortable to run the gun at length than it might otherwise be.
This pistol is offered with a black or camo finish so you can be ready for the range or good to go on a hunt (think feral hogs for the latter). With Noreen's reputation for quality firearms, this pistol promises to be a fun yet useful tool for gun owners. After all, 50 BMG isn't just for punching holes in paper targets.
Check out this video from Noreen Firearms of the pistol at the range:
What would you use this pistol for, and how far do you think it could accurately shoot? Do you want one? Tell us what you think in the comments section.
MSRP for the Noreen Firearms ULR 50 BMG Pistol is set at $1500.00.