As 2022 draws to an end, we decided it was time to take some time and declare our favorite guns of 2022. It's been a good year, and we put together a diverse group of guns that include rifles, handguns, shotguns, NFA goodies, and more. Let's dive into our favorite guns of 2022.
Best New Shotgun — Mossberg 940 Pro Tactical
The Mossberg 940 Pro Tactical is quickly becoming my favorite defensive shotgun. It's outshining some famed Italian models, and it's nice to see the Americans taking the top-dog spot for shotguns again. This semi-auto 12 gauge shotgun comes with the new 940 operating system, which is designed to maximize reliability.
It'sIt's a smooth shooting beast that comes with all the accessories and add-ons you could ever want. This includes massive controls, a huge loading port, crazy big controls, and a receiver cut for optics. The optic sits in the receiver, and even co-witnesses with the front high visibility sight. It's everything I want in a shotgun.
Best Rifle — CZ 600 Series
The CZ 600 series had a rough start, with a recall and delayed rollout. However, now that it's in our lap, the CZ 600 series is everything we wanted it to be. The 600 series are all encapsulating for your bolt action needs. From the tactical lightweight trail model to the beautiful Lux with iron sights and classic chamberings.
The CZ 600 series features brilliant action and a controlled feed mechanism. Calibers include the traditional .308 and .30-06 on top of oddities like 7.62x39mm and .223 Remington. We get a little bit of everything from the basic bolt action to the higher speed and higher priced platforms.
Best Handgun — Sig XMacro P365
The P365 has always been a revolutionary weapon and it continues to evolve. It went from killing guns like the Glock 43 to killing the Glock 19 with the XMacro series. This is no micro compact, but a compact weapon that holds 17 rounds of 9mm. It's still smaller and thinner than most compact 9mms.
On top of being very efficient in its size, the XMacro series comes decked out with features, including integral compensation. The slide itself features two ports, and the barrel ends right before those ports. Its integration is seamless. Additionally, the gun is optics-ready. It's as modern as it gets.
Best Rifle Caliber Pistol — CMMG Dissent
Best rifle caliber pistol, or wannabe subgun, or modern PDW, whatever you want to call it, easily goes to the CMMG Dissent. The Dissent is a bufferless AR pistol with a crazy short 6.5-inch barrel. It comes in 5.56, as well as the more appropriate .300 Blackout and 5.7x28mm rounds. These ultra-short little platforms are tiny little beasts that have a big bark.
The guns ditch the traditional AR charging handle for a reversible forward charging handle. We also get an ambidextrous safety and magazine release. The bolt lock is oversized and easy to hit and release. It's an awesome package perfect for those who need compact power.
Best New Rimfire — Sig P322
The Sig P322 came out of the left field. It's not a .22LR version of the P365 or P320, but its own gun. Sig's little P322 came out swinging with 20-round magazines that sit flush in the gun. On top of that, it's optics ready and comes with a rail system. The high-visibility sights are very easy to see and adjust.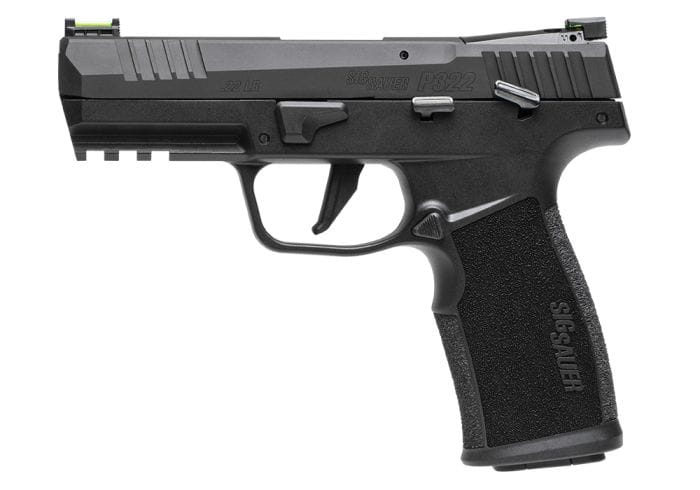 Sig tosses in a threaded barrel and the option between a flat or curved trigger. The P322 is a soft shooting little gun that is ultra-reliable. Mine has become a family favorite for our family'sfamily's recreational shooting. It's a great gun that's also affordable.
Best New AR — FN 15 DMR3
ARs are such illustrious firearms that they get their own category for the best gun of 2022. It's a tough decision, and I weighed a few factors before deciding on the FN 15 DMR3. If you want a factory-designed and produced DMR rifle, then the FN 15 DMR3 is the way to go. Not only is it incredibly accurate, but it's modern, well-made, and light recoiling.
On the flip side, the FN 15 DMR3 offers something outside the norm of carbine, carbine, and carbine. It's a full-length rifle ready to blip through steel armor with some M193. The DMR3 rifle uses parts from companies like Hodge, Surefire, and Geissele to produce something special.
Best NFA Weapon — B&T USA SPR300 Pro
If the NFA doesn't scare you, then the B&T SPR300 Pro is for you. This suppressed rifle does require two stamps, so be ready for the extra $400 and NFA B.S. The SPR300 Pro is a bolt action .300 Blackout rifle with a 9.8-inch barrel and a state-of-the-art suppressor. It's ultra quiet and ultra handy.
When the loudest noise is the round hitting the target, you know you are onto something special. The SPR300 Pro series is extremely accurate and a blast to shoot. It's not a long-range rifle, but within 300 yards, it's a crazy accurate platform. Plus, it's so dang fun to shoot.
Best New Suppressor — Osprey 2.0
The new Osprey 2.0 delivers the same super quiet suppression to your favorite pistol calibers with a few new tricks. Like the original Osprey, the design allows you to use standard height sights and effectively aim your weapon with the can in the way. The new Osprey features a button that makes the can even easier to index.
It's a simple design, but it's oh-so-effective. It makes you wonder why it took so long to create such a suppressor. It's for pistol calibers only, but that's where it shines anyway.
Best Accessory — Meta Tactical APEX Glock Kit
Wanna make your Glock into a rifle? Specifically, a bullpup rifle? Well, the Metal Tactical APEX kit allows you to do just that. It's simple, and while I originally thought it would be a fun kit, it's a serious piece of gear. This Glock rifle kit works well enough that I'd trust it for home defense.
You can drop your Glock in the kit in about a minute, and you're off to the races. The Meta Tactical APEX Glock kit isn't for everyone, but it does provide you with something a bit different than the standard PCC.
The End of 2022
It's been a good year. A great year, even. The market has been kind to us, and we've seen a diverse group of offerings in the firearm world. These are my favorite guns of 2022, but what are yours? Let us know below!