Magazine Options for the SCAR 17S
The FN America SCAR 17S is, in the opinion of many, one of the best battle rifles out on the market. It fires a 7.62×51 cartridge but the recoil is oddly soft for a rifle chambered in .308 Winchester. The short-stroke gas piston system allows the gun to keep remain effective in all manner of conditions. Even though it only has a 16.25 in. barrel with 1:12 twist, it is accurate out to 800 meters. So about SCAR 17 magazine options…which SCAR 17 mags should you choose?
FN SCAR Magazine Options
FN offers magazines in two different capacities. 20 rd mags or 10 rd mags. The SCAR 17S magazine (those discussed in this article, as of this writing) is actually a modified FN FAL magazine. The SCAR 17S and FAL magazine bodies are the same. FN just cut a mag catch notch into the side of the mag body, removed the front notch and changed the feed lip shape a bit. Then they added a plastic bumper to the base plate.
Edit: Now, long after this article first ran, there are several more options of SCAR 17 magazine to choose from!
These mags are great but they are a bit pricey and they weigh a lot. Empty, the factory 20 rd mag weighs 8.6oz.
For a lighter option, there are aftermarket polymer magazines. One of the first to come to market was Molon Labe Industries. They made a universal polymer magazine that they can cut to different lengths and have different capacities. Regardless of size, the magazines are all the same price.  They come in 5, 10, 15, 20, 25 and 30 rd capacities. I have had some issues with reliability with the 25 round mags. Fail to feed. Also when loading the rounds into the magazine, the magazine tends to swell a bit and does not drop free if you need to fix a malfunction. They are lighter than the factory magazine though. A 20 rd mag weighs 6.1oz and the 25 round magazine weighs 8.1oz. One thing nice about the Molon Labe Industries magazines is their giant base plate. It is perfectly flat and a little wide so it acts like a monopod.
Another contender in the polymer magazine category is Moses Mag. They started off by making polymer magazines for FAL pattern rifles. And since the FAL magazine is not that different from a FAL magazine, it was not that difficult to alter the mold and make a polymer magazine for the SCAR17S. The magazine is the lightest of all the SCAR17S compatible magazines. Empty it weighs a mere 4.6oz. That is almost half the weight of the factory FN magazine. The Moses Mag SCAR-H magazine holds 21 rounds of .308 Winchester. However, if you load it to a full 21 rounds, you will have a difficult time inserting it on a closed bolt. So it is best to leave it at 20 or open and lock the bolt for the full 21.
The final magazine is basically an extended metal magazine similar in design to the FN magazine. ASC makes this long metal magazine and it holds 25 rounds. Weight wise it is not that bad at just 8.1oz. Still lighter than the factory magazine. Both the ASC magazine and the Moses Mag magazine have sloped base plates. While you can monopod the rifle on the magazine, all the weight is concentrated on that one narrow section of the magazine. Both magazines are equally priced at below $30 each.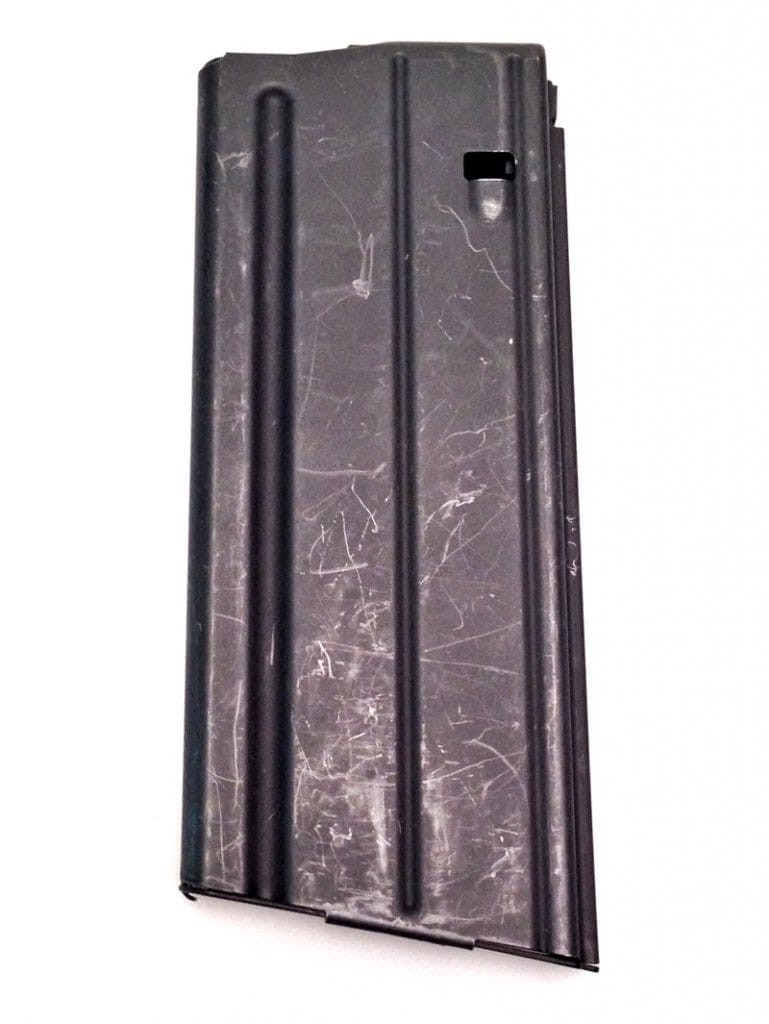 Your Choice of SCAR 17 Magazine
FN SCAR 17S .308/7.62x51mm 20-round factory steel magazine
ProMag SCAR 17S .308/7.62 20-round black polymer magazine
FN SCAR 17S .308/7.62x51mm 10-round factory steel magazine
Maglula FN SCAR 17S Lula Magazine Loader
Gonna be doing a lot of shooting? Check out this FN SCAR mag loader.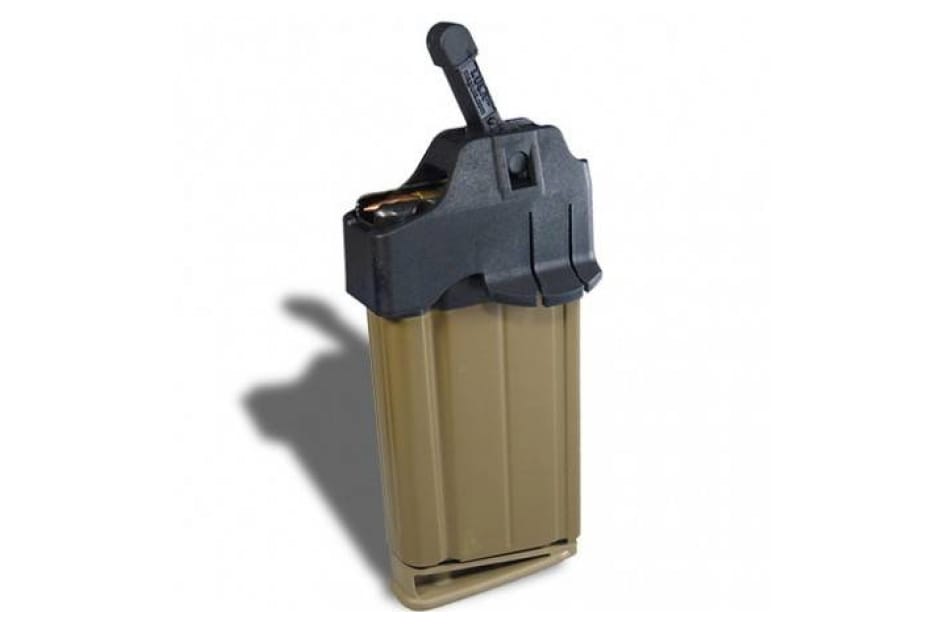 FN SCAR 17S
SPECS
CALIBER: 7.62x51mm
OPERATION: Short-stroke gas piston
MAG CAPACITY: 10 or 20 Rd.
WEIGHT: 8.0 lb.
BARREL LENGTH: 16.25″
TWIST RATE: 1:12 RH
GENERAL SPECIFICATIONS
Semi-auto only
Rotating, locking bolt
RECEIVER
Hard-anodized monolithic aluminum
MIL-STD 1913 accessory rails at the 3, 6, 9 and 12 o'clock positions
Adjustable folding front and folding/removable rear iron sights
BARREL
Hammer-forged, chrome-lined, fully free-floating
Compensator
STOCK
Telescoping side-folding polymer stock
Adjustable cheekpiece
A2-style pistol grip
OPERATING CONTROLS
Ambidextrous safety lever and magazine release
Charging handle may be mounted on right or left side
Enlarged trigger guard for easier access when wearing gloves
Composite polymer trigger module
MAGAZINE(S)
Steel or aluminum body
Low friction follower
SCAR 17S Review
Looking to learn more? Read NRA's Steven Buis review of the SCAR 17s on American Rifleman:
"For me, practical ergonomic characteristics are critical to the success of a firearm's design and very often 7.62 mm rifles come up a bit short in that category. With this system, however, the safety selector, magazine release, and charging handle are conveniently located, the buttstock is stoutly built and comfortable, and the weight is evenly distributed across the length of the rifle. One shortcoming relating to practical ergonomics is the SCAR's short rail system, which leaves a large amount of exposed barrel. For many, this is not an issue. For me, I prefer to be able to extend my hand farther out, supporting 70 percent of the rifle's weight with my off hand and 30 percent with my shooting hand."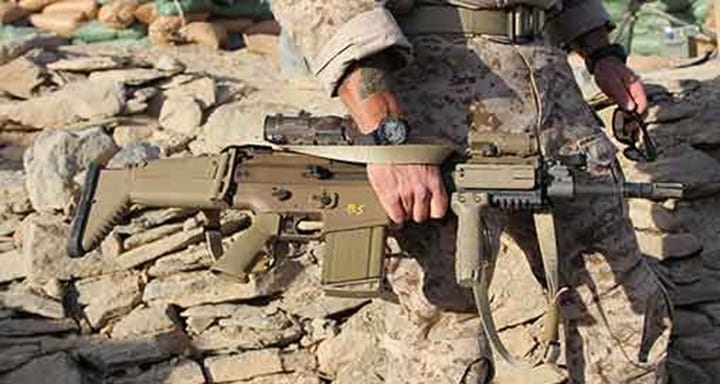 Nicholas Chen is a firearm aficionado. Growing up in California, He learned about firearms and hunted with his father growing up in Southern California. Once he moved out to Pennsylvania and then spent a few years in New York State, he learned to truly appreciate firearms and the second amendment. It was in New York State where he became a USPSA competitive shooter and learned about 3Gun. He is an avid fan of running and gunning. Nicholas is a fan of pretty much anything that shoots although the slicked-up race guns are what interests him the most. Having spent time with FFLs and other friends with NFA items he has begun his collection of NFA items and has learned that everything should be suppressed and full auto where possible and legal.