Micro Roni kits are quite popular. I see them in just about every gun group I'm apart of. They are neat, and I enjoy mine, but they ain't the only game in town. You have the Recover Tactical 20/20, and one many ignore called the Kidon. The Kidon is different through. If you own a multitude of pistols from a multitude of companies then the Kidon might be a better choice for you than the Roni. The IMI Kidon is a multi-fit chassis system that uses a highly adjustable chassis on top of a rear plate system that swaps and allows you to use over two dozen different guns.
The IMI Kidon kit is a bit more versatile and useful for those of us who own a multitude of handguns. The Kidon comes with a tool that allows you to adjust the length of the rear plate, where the charging handle sits, and how far the compensator extends. These are all adjustments necessary to accommodate a wide variety of pistols with the varying barrel and slide lengths.
The IMI Kidon kit comes ready with a threaded rear portion that allows you to attach a AR 15 buffer tube. You could SBR the kit if you so choose, or better yet, add a brace. This is the Kidon Non NFA variant, and is likely the better choice. A brace is the easier option, and while I have a pistol tube attached to mine, finding the exact brace I want has been tough to do. It's a bare tube for now.
Inside the Kidon
The Kidon is a big, honking thing. It's made mostly from polymer and comes with a near full-length optics rail. It's outfitted with flip-up sights, but a red dot would be quite welcome on this platform. It's an almost full-length scope rail, but in the center is a massive gap that allows for clear and easy ejection. An issue with some of these kits is the barrier between the ejecting slide and the polymer chassis.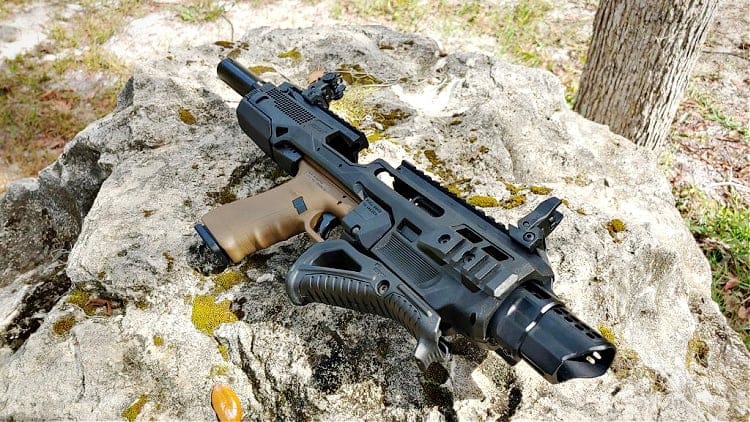 With a massive ejection port, there is much less of a chance of a round getting stuck between the Kidon and the Glock. In my shooting, I never ran into an issue of a round failing to eject from the Glock and Kidon.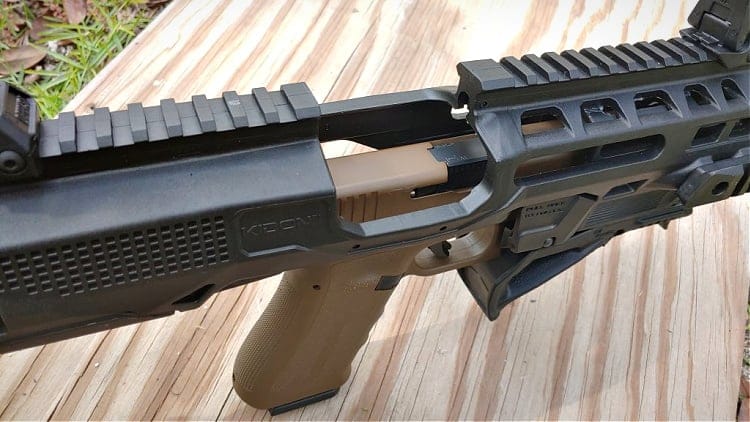 The charging handle can be swapped from left to the right side, and that's the only control present on the Kidon. Everything else is whatever your handgun offers. The Kidon grants you a bottom rail, as well as a right and left side rail. The bottom rail is covered with an IMI defense angled grip for increased control.
Kidon Ergonomics
The Kidon makes a big pistol like the Glock 17 a much bigger pistol. It's heavier and bigger all around, and you obviously lose your ability to conceal the gun. The Kidon is less of a handgun and more of a braced subgun design, but I think that's pretty apparent. With the Kidon, ergonomics are changed a good deal.
Sure the controls are mostly the same, but they are more difficult to reach. A handgun's ergonomics were not made to be handled like a subgun or a rifle. On the Glock, in particular, reaching the magazine release and slide lock requires a significant movement towards the shooter to reach. (As a side note this won't work with the Polymer 80 Glocks.)
The villain in this story is the backplate of the Kidon. It sits in a position that prevents you from choking up as high as possible on the gun. This seems to be the culprit in changing how the gun controls.
Shooting the Big Boy
The upside is that you can attach a brace and extend your effective range significantly. A handgun at 50 yards is quite the challenge, but in a brace-like system such as the Kidon, it's significantly easier. Heck, even in this unbraced system, the ability to use rifle-like irons and a cheek weld make the gun easier to shoot at extended ranges.
Back out to 50 yards, I can ring a ten-inch rifle gong with relative ease. Much better than I could do with any handgun. If you take the SBR route, I could see accuracy increasing more. With a stock, it's like any other subgun or PCC.
The weight of the Kidon also cuts down on recoil quite a bit. The extended forend makes it easier to resist recoil since your two-handed grip is changed a good bit. This makes it easier for you to fire rapidly and accurately. The recoil impulse is different than any other gun. It's more rearwards that upwards, but it's a 9mm pistol, so it's not a sharp or harsh recoil.
Admittedly it's quite a bit of fun too. I always get a kick out of these kits and find that they make a range trip more entertaining.
Modularity and Truck Gun Potential
They can be useful from a truck gun perspective. If you are packing your handgun but suddenly need to increase your range and handling, then slap the gun in your Kidon and get at it. If you keep a long gun or PCC type weapon in your car, you run the risk of it being stolen. A criminal wielding a stolen gun has a lot of potential to harm others. If someone swipes your Kidon, they are unlikely to even know what it is, and they can't do much harm with it.
The included rifle sights are great, but the ability to add a red dot is much more appealing. Unlike most handguns, you are able to add red dots of any size to your pistol. You can go to Eotech, Aimpoint M4, and you can get silly with it should you choose.
The larger frame also allows you to use bigger and more powerful lights. You can go full-sized rifle light should you so choose. Heck, squeeze an OWL up there, and give yourself more range with your light than your gun.
Kidon Vs. Roni?
If you own a Glock and that's all you ever want to stick into a chassis, then the Roni makes more sense. It's a good bit cheaper. The Kidon offers you more versatility across a wider amount of guns, but you pay the price for it.
By itself, the Kidon is a well-made little piece of kit. It's not for everyone, but it's a fun kit that allows for an entirely new level of modularity to your handgun. The Kidon takes a handgun and makes it a subgun without the need for an entirely new gun. It increases your effective range, accuracy, and ability to handle the weapon.