Innovation has always been appealing and innovating solutions to existing problems often results in visually different tools. This love of innovation has been alive and well in the firearms industry since the very beginning. Although truly innovative changes in design are rare, creating new ergonomics and aesthetics to existing designs occurs more frequently. When such innovations occur, the result is often a very distinctive design that often appeals to those wanting something 'different.' A side effect of this is ready-made firearm props for science fiction films and series, in the form of sci-fi guns.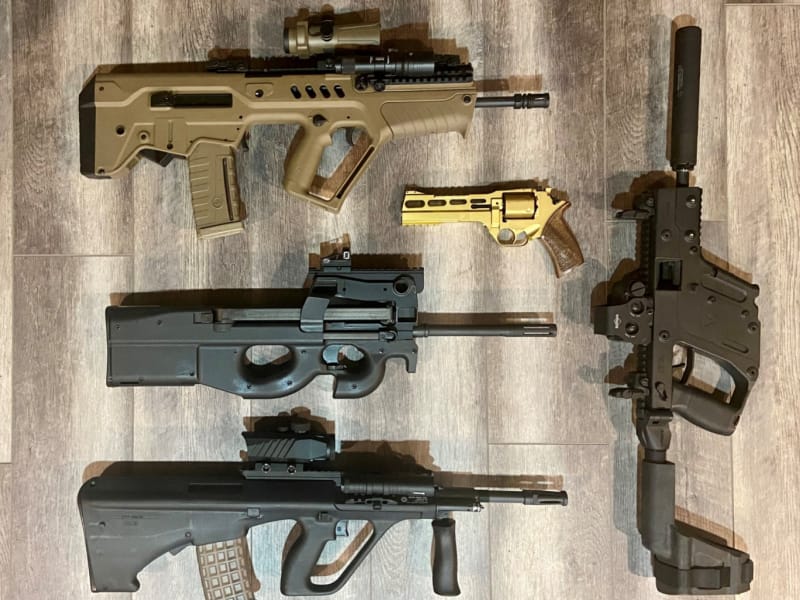 There are many more legitimate reasons to buy a particular firearm, but as a collector, I will freely admit that both historical significance and movie fame can influence my purchasing. Is James Bond the only reason I carried a Walther PPK for years, well no, but did the 007 movies have a part in the decision? Well, yes. When I am watching the newest "John Wick" film I am simultaneously saying internally "Cool! I have that gun." followed by "Wait, I need that one."
This article will examine a few of the more distinctive-looking firearms currently available on the civilian market in the United States, briefly discuss their features and real-world history, and then review how Hollywood has made use of these firearms as science fiction props in various franchises.
Steyr AUG
The Steyr AUG (German for Armee-Universal-Gewehr or in English Army Universal Rifle) is a bullpup rifle chambered in 5.56X45mm that entered common service in 1978. Since then it has been the standard rifle of the Austrian army and federal police forces. The AUG was available in the U.S. prior to the 1989 assault weapon ban and once again after the ban ended in 2004. I still remember first seeing this rilfe in a review by Col. Jeff Cooper in the January 1981 Solider of Fortune magazine (Yes, even as a child I was already a little obsessed with guns). Although it would be decades before I bought my first Steyr AUG, this German rifle dubbed the 'Star Wars' gun at the time was one of the first distinctive rifles to ever catch my attention.
The AUG also captured the attention of Hollywood and has a long history standing in as a sci-fi weapon in Hollywood. Although it had already made a few appearances, its first use in science fiction was in the movie "Lifeforce" (although set nominally in modern day). It then would be seen in movies such as the original "Robocop" and its sequel, "The Running Man," "The Fifth Element" (modified), "Æon Flux," "Alien: Covenant," and "Pacific Rim: Uprising." Its science fiction chops has been even more solidified in programs as diverse as "Doctor Who," "Red Dwarf," "Space: Above and Beyond," "Firefly," and "Gunsmith Cats." The AUG has been around longer than many of the other weapons on this list and continues to be a favorite of productions looking for a distinctive firearm for science fiction shows.
FN P90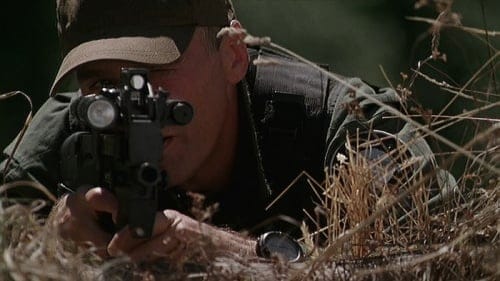 The FN P90 first hit wide usage starting in 1990. It features a compact bullpup design with a unique top-mounted magazine and is chambered in 5.7X28mm. The P90 has seen success and is currently used by over 40 nations including France, India, Poland, and is used in the U.S. by numerous law enforcement agencies including the Secret Service. The civilian semi-automatic version with a longer barrel has been available in the U.S. since 2005. I do not have a definitive memory of when I first saw this firearm, but it likely was in the James Bond film, "The World is Not Enough."
Though the definition of science fiction can be blurry at times, the first science fiction movie to prominently feature the P90 as a firearm was 2004's "I, Robot." This appearance was followed by "Babylon A.D.," "Gamer", and most noticeably in "The Hunger Games" films. It was also prominently featured on the show "Stargate SG1" as well as "Dark Angel," "Stargate: Atlantis", "V", "Doctor Who," "Hellsing," and "The Orville." The P90 continues to appear in science fiction films and series and thanks to "The Hunger Games" and two "Stargate" series, it has received considerable exposure to science fiction fans.
IWI Tavor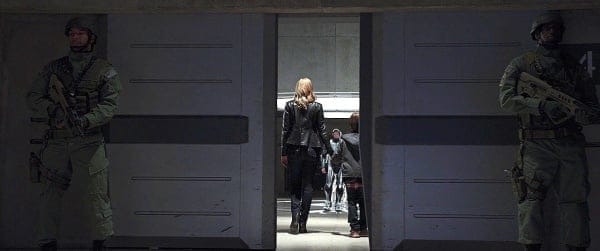 The IWI Tavor entered service in 2001 featuring a distinctive bullpup design and chambered in 5.56X45mm. Though primarily used by the Israeli Defense Forces it has also been adopted for limited use by many other countries. I first ran across this rifle in person at SHOT Show and bought one of the first ones available to civilians in the U.S. before I ever saw it featured in media. Thus, this rifle falls into the "Hey, I have that!" category over the "Hey, I want that." category of movie watching for me.
The first science-fiction (well, near-future apocalypse) film to feature an IWI Tavor was "Resident Evil: Apocalypse" in 2004. Since then it has been seen in the "Robocop" remake, "Resident Evil: Retribution," and "The Hunger Games." It has also seen use in series including "Love, Death, & Robots" and "Cowboy Bebop." Although not as popular with Hollywood as some of the other firearms on this list, given time we are sure to see more of this rifle on the screen both big and small.
Kriss Vector
First released in 2006 the Kriss Vector features a unique delayed blowback system directing some of the recoil downward with a pivoting bolt assembly. The Kriss Vector is chambered in pistol caliber rounds ranging from .22lr to 10mm. Although a staple of SHOT Show and the U.S. civilian markets, few countries' armies or police services have adopted the Vector outside of limited use in Bangladesh, Panama, and Thailand. The Vector is another recent addition to Hollywood's futuristic firearms selections and is another firearm I encountered and purchased in the real world before seeing it on screen.
The first sci-fi appearance was likely in the 2014 remake of "Total Recall." This appearance would be followed by appearing in "Resident Evil: Retribution," the "Robocop" remake, "Maze Runner", and "The Divergent Series: Insurgent." The Vector has yet to make a splash in sci-fi series but give it time. Additionally, it has arguably appeared in more video games than any of the other guns on this list.
Chiappa Rhino
The Chiappa Rhino revolver first saw release in 2010 designed from a solid block of aluminum and originally chambered in .357 Magnum with a six-round cylinder. The Rhino features a low barrel bore at the bottom of the cylinder compared to the traditional top-of-cylinder barrel featured in all other revolvers. This lower bore allows for a reduction in felt recoil and accounts for the firearm's distinctive look. My exposure to the Chiappa started on the big screen as my wife nudged me while watching "Suicide Squad," "What is that? I want one." We stopped off at a gun store after the movie and ordered her one that same day.
The Rhino can first be seen in the Total Recall remake in 2012. Additional sci-fi movies have included "Terminator: Dark Fate," "Resident Evil: The Final Chapter," "Divergent," "Suicide Squad," and "Ghost in the Shell." The Rhino has been seen on the small screen less often but has made a few appearances in animated series such as in "Cowboy Bebop" and "Cat Planet Cuties." With its distinctive look and unique design, the Rhino will surely be seen in more movies in the future.
Conclusion
Action films, and science fiction in specific, have a long history with Hollywood and are unlikely to go away anytime soon. These films will continue to incorporate firearms into their stories (often incorrectly) and production departments will always be on the lookout for firearms that can serve as sci-fi props with little to no modifications. Thus, the number of films and series using such guns is likely to continue to grow, giving us all the opportunity to play 'Name the gun' and for some of us, maybe add another item to our 'want lists.'