It's next to impossible not to be fascinated by the Old West, particularly its Wild West moments. Granted, Hollywood has glamorized it to the point where it's easy to forget what kind of disease and danger ran rampant, but it still has its cool points. Maybe one of the more enjoyable sides of the Old West is the guns. This was a time when revolvers were the new hotness, lever actions were destined to become the Guns That Won the West, and lawmen of debatable repute stood against evil bandits. So, what guns did the most famous, or infamous, gunslingers wield?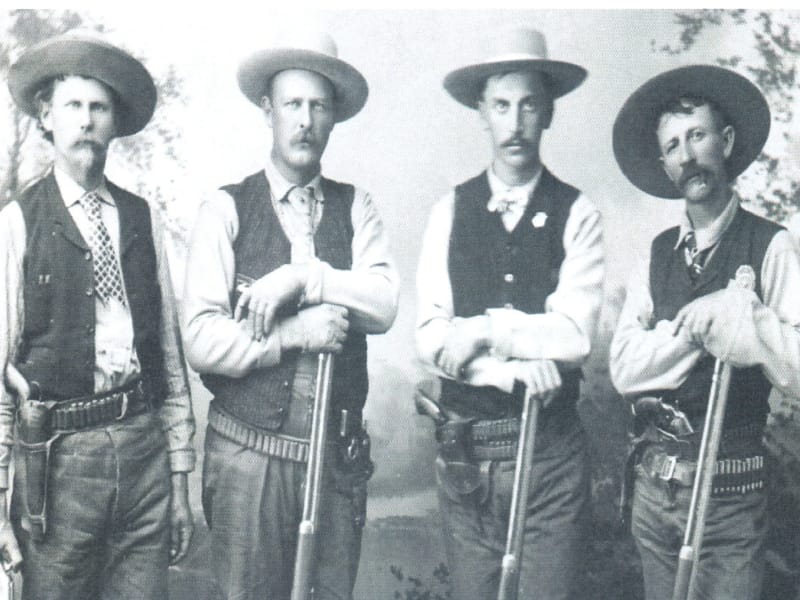 We did the digging for you, and this is what we found.
1. Wyatt Earp
Clearly, we cannot have a guns of gunslingers list without mentioning Wyatt Earp, but as it so happens, pinning down the gun he used at the OK Corral is a bit tricky. We can all agree it was not a Colt Buntline, but does that leave us with a Colt Single Action Army 45-caliber or a Smith & Wesson Model 3? Quite frankly, it depends on which historian you ask.
Historical record states that well after the 1881 gunfight Wyatt Earp is famed for being involved in, he took a trip to Alaska with his common-law wife, Josephine, who apparently dropped one of his guns over the side of a boat. Some claim that's what happened to Earp's Smith & Wesson Model 3, while others say it was a Peacemaker. Some even say the Model 3 was confiscated by U.S. Marshalls when Earp visited Alaska because they didn't want the famed lawman armed. That one's a bit preposterous no matter who you are.
Wyatt Earp's Preferred Gun
According to Earp's descendants, his preferred gun was indeed the Colt Single Action Army (SAA) in 45-caliber. But did it have a 12-inch barrel, making it a Buntline? No, it did not; there's no evidence a 12-inch barreled Colt Buntline existed at all before the largely fiction book about Earp's life was penned by Stuart Lake.
The Colt SAA in 45-cal was designed in 1872, so the timeline works well for Earp to have used at least one. Unfortunately, it was a gun that came with one of four barrel lengths. As a result, little is known about what was used in the gunfight at the OK Corral. However, it's entirely plausible this was at least a gun Earp used.
Legend has it that despite the numerous gunfights Wyatt Earp was in throughout his life, he was never once shot.
2. Billy the Kid
From famed lawman to among the outlaw gunslingers, next up is Billy the Kid. Interestingly enough, there is more out there regarding the gun Pat Garrett was carrying when he apprehended and shot the Kid than there is about the outlaw's own firearms. There's only one verified photograph of Billy the Kid, though; in it, he's outfitted with a Colt Single Action Army and a Winchester Model 1873.
The Winchester Model 1873 wasn't just any lever-action; it was the gun known as The Gun That Won the West. It was manufactured between 1873 and 1923 with an original chambering of .44-40 and was later made in .38-40 and .32-20. It was offered with a 24-inch or 20-inch barrel. However, a musket-length version was also made in extremely small quantities. If you're thinking levers can't possibly be that great, stop and remember two things: The guns available in the late 19th century weren't remotely the same as today's selections, and levers can be quite effective. Someone who knows what they're doing can run a lever with fantastic speed.
3. Jesse James
There's a bit more documentation of the guns used by the notorious outlaw Jesse James. One gun, in particular, a Colt Single-Action 45-caliber, got quite a bit of attention in 2013 when it went up for auction. James had used the gun in question to pay a medical bill to a doctor; records show James intended to get it back, but he never paid, so the doctor kept the gun and one other. Despite attempts by James' descendants to get the gun back, it circulated until it was put up for auction by Heritage Auction, which estimated its sale to be over $1 million.
The following details were listed by Heritage Auctions when they listed the revolver:
The Most Thoroughly Documented Jesse James Gun Ever to Appear at Auction: Colt Single Action .45 Caliber Revolver, Identified by Three Generations of the James Family as Jesse's Gun. "Outlaw guns" are immediately objects of suspicion because so many fakes or examples with undocumented histories appear on the market. Only rarely does a gun with this sort of full and most interesting provenance come up for sale.

This gun, serial number 70579, is the subject of a letter of authentication by recognized Colt authority R. L. Wilson (shown in full on our website). It first surfaced in the early 1920s as part of a display of guns and other objects belonging to his father, put together by Jesse James, Jr. The gun offered here is clearly recognizable in the upper left-hand corner of a famous and much published photograph of the display, pictured by Wilson in his important reference book The Peacemakers (p. 171).
4. Annie Oakley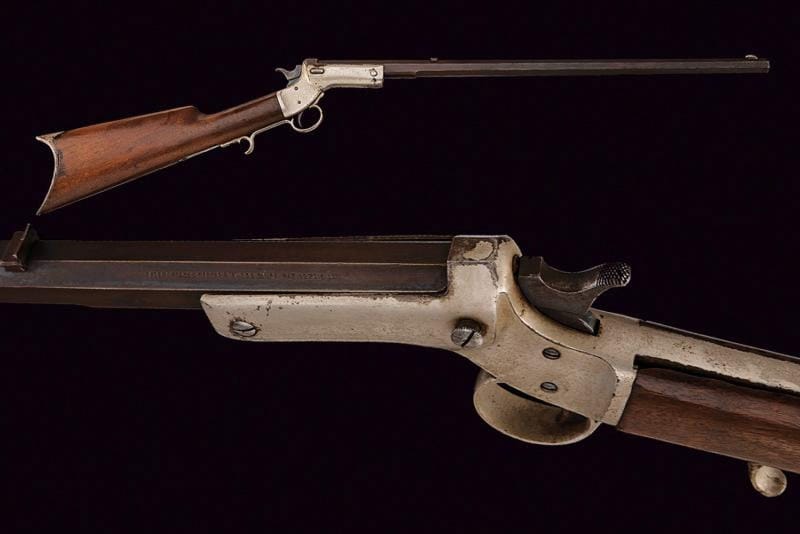 All right, so Annie Oakley isn't exactly one of our gunslingers, but she was a fantastic exhibition shooter. During an interview with Shooting and Fishing back in 1900, she talked about some of her guns:
As to my own collection of firearms, I have many shotguns, most of them hammerless. They weigh about six pounds [each]. I use 12-gauge guns chiefly, because of the readiness with which I can procure ammunition for such gauge. I have, however, used with success the smaller gauges. With rifles, I use the caliber best suited to my work. My exhibition work is chiefly with .32-caliber. With revolver, I use various calibers from .32 to .44. With pistol, I use the .22 caliber.
Among Oakley's guns were a Winchester Model 1873, a Lancaster shotgun, a Winchester Model 92, a Stevens Tip-Up Rifle, a Hambrusch shotgun, and Remington Model 1912. She was an impressive trick shot and spent almost two decades traveling with Buffalo Bill Cody's Wild West show.
5. Doc Holliday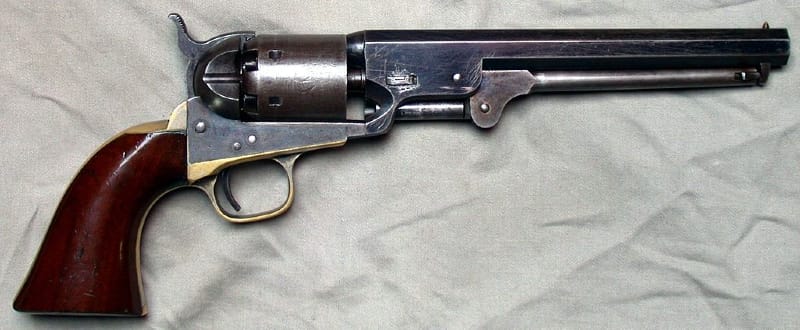 We already have one of the famous gunslinging dentist's friends in here, so it makes sense to include him as well. Doc Holliday was known as the deadliest doctor in the West way back when, and accounts report him having an array of firearms. Among his preferred weapons, Holliday was known to favor the 1877 Colt Lightning, an 1880 Remington, a street howitzer, a bowie knife, and the Colt Single Action Army. However, the only gun that was documented well enough to be confirmed as having belonged to Holliday was a cap-and-ball 1851 Colt Navy with a 7.5-inch barrel. According to records, he had been gifted the gun by his uncle at the end of the Civil War.
The gun reportedly used by Doc Holliday during the gunfight most people associate him with, despite his being amongst the famed gunslingers in his own right, was the aforementioned 1877 Colt Lightning. It was a nickel-plated, 38-caliber revolver with a six-shot capacity.
6. Wild Bill Hickock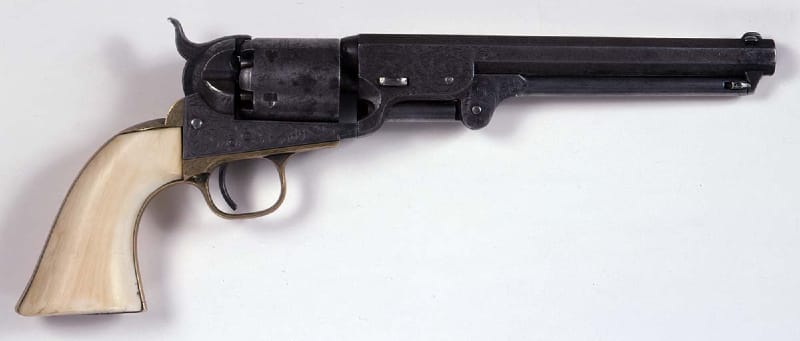 If you're not familiar with the backstory of Wild Bill Hickock, you definitely need to rectify that situation. Hickock started life as an outlaw and worked several jobs, including a stagecoach driver, a Union soldier, and a scout. However, it was his time on the right side of the law when he was the sheriff of Ellis County, Kansas, that stands out. In fact, he shot and killed two men within his first month on the job. When he ended up leaving Kansas for…reasons…he ended up becoming Marshal of Abilene, Kansas. During his time there, he had run-ins with the infamous outlaws John Wesley Hardin and Phil Coe.
Hickock's most famed firearms come as no surprise to anyone who knows his history. He had a pair of ivory-handled Colt Navy revolvers. After he was killed playing poker in Deadwood in 1876, the Cheyenne, Wyoming, newspaper Daily Leader ran a story that mentioned the revolvers as well as his skill with them:
A bullet from them never missed its mark. Remarkable stories are told of the dead shootist's skills with these guns. He could keep two fruit cans rolling, one in front and one behind him, with bullets fired from these firearms.
Side note: when Hickok was shot to death, he was reportedly holding a poker hand with a pair of aces and a pair of eights. Since then, that's been known as a "dead man's hand."
7. Belle Starr
Belle Star was perhaps the best-known female bandit and outlaw of the West. Known as "the Bandit Queen," Starr was a horse thief and general troublemaker of the lethal variety. Interestingly, she had a classical upbringing for the era, learning to play the piano, speaking Latin, Greek, and Hebrew, and graduating from Missouri's Carthage Female Academy. Of course, this brings the debate of "born or made" up.
One gun-related thing Starr was recognized for was enjoying riding her horse, Venus, sidesaddle in all her velvet finery with a gun belt that had two holstered revolvers and loops filled with ammo slung around her waist. She preferred the Schofield .44 Caliber Single Action Revolver but was also known to use a .41 Caliber Colt Single Action Revolver and a Winchester lever-action rifle chambered in .30-30.
She met her end, not unlike the way she lived, gunned down by shotgun blasts while riding home from an outing. Although her murder remains officially unsolved, there are clear theories regarding who killed her (reportedly, with her own shotgun).
8. Butch Cassidy
Butch Cassidy, whose name was really Robert LeRoy Parker, was a thief, gambler, and cattle rustler (among other things). Rock Island Auction House wrote about Cassidy in connection with his famed Colt Single Action in 45-caliber:
Butch Cassidy is truly a man of his times. He innovated his depraved art, just as the Industrial Revolution did with so many products and the young United States. He enjoyed a sense of adventure as did so many Western-bound settlers in those days. Perhaps most importantly, he lived and faded right along with his beloved Wild West. They peaked together, but all the new technologies and innovations which had been used to such success would prove the end of both. How perfectly fitting that they should fall together. No one could ask for a more suitable man to herald the end of this age.
The Amnesty Revolver
Cassidy purchased the Colt SAA pictured above in 1896 in a hardware store in Vernal, Utah. A few years later, he turned the revolver over to the authorities in Utah, hoping to gain amnesty for his many crimes. Unfortunately, it didn't really work, and the revolver became known as "the Amnesty Revolver."
There are at least half a dozen rumors, myths, and tales of how Butch Cassidy was murdered, killed himself, or snuck away to live an entirely new life. Who knows what the truth is, but one thing is for sure: The man had a colorful life.
9. John King Fisher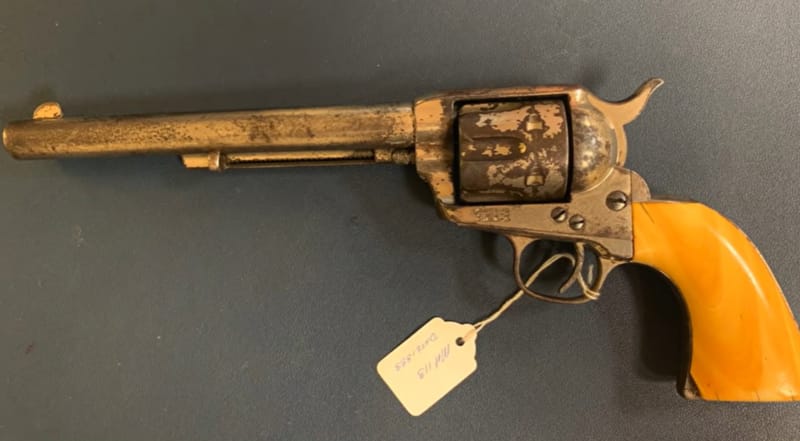 John King Fisher might not be a gunslinger name you're familiar with, but he's another person who shaped the Old West. Fisher lived in Texas and was arrested as a horse thief at a rather early age. Due to his being so young, officials let him go rather than making him serve the entire two-year sentence. Over the years, he dressed rather flamboyantly and gained a reputation as an incredibly skilled marksman, and he never gave up his outlaw ways. However, he was also a lawman and, in fact, sheriff of Uvalde County. He became a well-liked guy in the part of Texas where he lived and ended up getting married and raising four daughters.
Unsurprisingly, Fisher was a man with many guns, but one he was known to have carried was an 1883 Colt Single-Action revolver. How do we know this? It was removed from his coffin after he was killed in a gunfight.
10. Jim Miller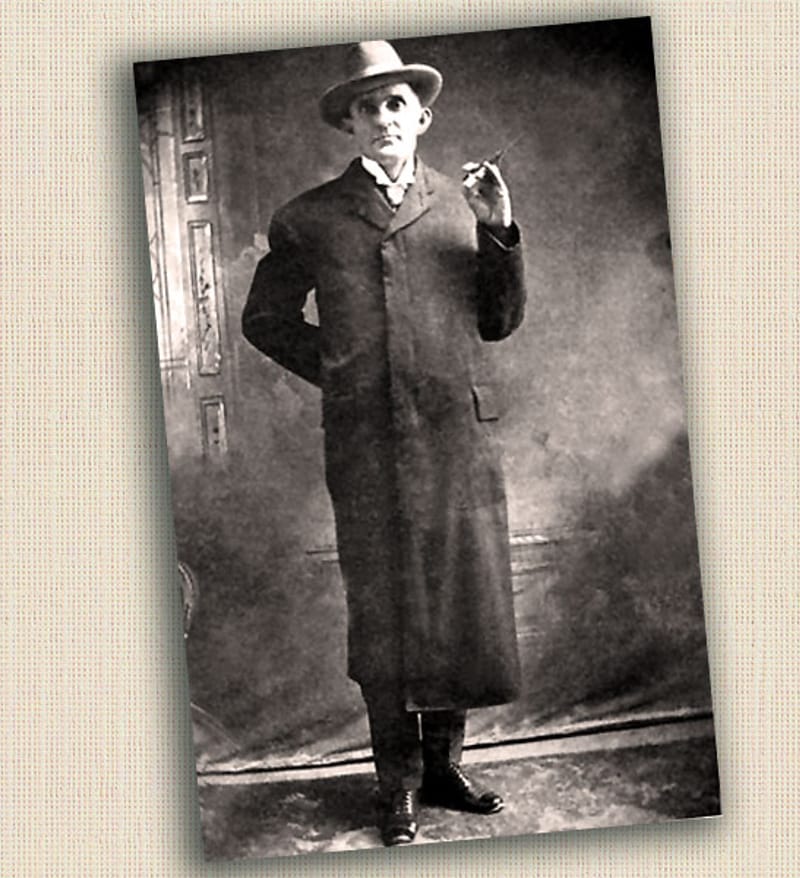 Jim "Killer" Miller was a bit like an Old West hitman. He was a professional killer; a fact made more fascinating by the fact that he also considered himself a moral, upright man who refused to smoke or drink. Other names he was known as included "Killin' Jim," "Killer Miller," and "Deacon Jim." Miller was arrested for murder and thieving more than once, so it was a little startling when he decided to become a Texas Ranger. (Noticing a theme with Old West lawmen?)
Miller's background is a cool deep-dive. He was an outlaw who became a Ranger who became a paid hitman. Many think of him as the deadliest gunman of the Old West. Some historians theorize he was a true psychopath. In fact, he was believed to have murdered his grandparents when he was eight years old. His gun of choice was said to be the shotgun, and some say he was the man who killed former sheriff Pat Garrett (the man who killed Billy the Kid).
Aside from the shotgun, Miller always wore a long, black coat, which hid not only his firearms but metal plates he wore to protect himself from being killed by gunfire. The plates saved his life on more than one occasion.
Although not as well known as many of his contemporary gunslingers, Miller's bloody history gives those interested a unique look at what a psychopathic gun for hire looked like in the Old West.