Gun News from the firearm, tactical, outdoor, training, and hunting world. But mostly firearms!
5×5 Friday, week ending July 31, 2020
5×5 Friday, week ending July 24, 2020
5×5 Friday, week ending July 17, 2020
5×5 Friday, week ending July 10, 2020
5×5 Friday, week ending July 3, 2020
Friday, July 31, 2020
For this final installment of the July 2020 GunMag Gun News 5×5 Friday, we've got some good news from Fiocchi. Between that and Ruger's recent statement declaring second-quarter increases and special dividends, it appears that the industry continues to fare well in response to the pandemic.
Indeed, even Ruger CEO Christopher J. Killoy pointed that out when he commented on the financial results for the second quarter of 2020, "Consumer demand, which began to surge in the latter stages on the first quarter, continued to intensify in the second quarter. This increased demand appears to be driven, in part, by concerns about personal protection and home defense stemming from the continuing COVID-19 pandemic; protests, demonstrations, and civil unrest in many cities throughout the United States; and the call, by some, for the reduction in funding and authority of various law enforcement organizations. As a result of this oversized demand, inventories were significantly reduced at all levels in the channel during the second quarter."
In other gun news, Savage has a colorful new Rascal that offers visual appeal to young new shooters. Rival Arms has a some cool new things for Sig P320 and P365 and Primary Arms is offering a new line of riflescope mounts. Streamlight has a new rechargeable light, and since masks seem to be here to stay for a while, I included an option from TrueTimber that may just fit the bill for many of our readers.
⊕Fiocchi Group
To Open $15 Million Manufacturing Plant in Little Rock, Arkansas
Gun News. Italy-based Fiocchi Group announced plans this week to open a new, independent manufacturing plant that will mainly product centerfire ammo for larger-caliber pistols and rifles. According to reports, the U.S. share half of the company's global market and growing. With the rising demand for ammunition, the company has decided that U.S. expansion is necessary. Currently, more than 300 million rounds are manufactured at the Fiocchi facility in Ozark, Missouri.
"We are excited to start this new chapter of Fiocchi's history here in Arkansas," said Anthony Acitelli, President and CEO for Fiocchi of America. "The plant is a state-of-the-art production facility that will be instrumental in offering our customers premium products and unparalleled service levels."
⊕Savage
The Rascal Minimalist Micro Rimfire Available in New Colors
Gun News. Savage Arms has added some color to their Rascal, which will probably appeal to younger shooters. According to Savage, this new Rascal Minimalist mirrors the lines and laminate stock of its bigger brother, the Minimalist, while retaining the features and compact sizing that makes the Rascal a favorite for teaching marksmanship and firearm safety skills to youngsters. The Rascal is now available in a teal/gray pattern or a purple/pink pattern.
"The laminate stock and bright color combinations of Rascal Minimalist make this a stylish rifle," said Beth Shimanski, Director of Marketing for Savage. "And it demonstrates, again, Savage's commitment to providing the very best tools to every shooter—even those who are just learning to shoot."
From Savage:
Savage's Rascal is built on the industry's safest micro rimfire action. Like the rest of the Rascal family, Rascal Minimalist is a single-shot rifle that cocks by lifting the bolt. It unloads just as easily – without the need to pull the trigger. The design builds superior shooting skills thanks to full-size rifle features, including Savage's user-adjustable AccuTrigger™ system and a threaded (1/2-28) barrel.
FEATURES:
Reliable, single-shot action
Manual Safety
Unload without pulling the trigger
User-Adjustable AccuTrigger
Feed ramp
Modern aesthetics and ergonomics
ChevCore™ Laminate technology in Pink/Purple or Teal/Gray
11.5" Length-of-Pull
16 1/8" Carbon Steel Matte Black Barrel with 11 degree target crown
Threaded ½-28 with cap
Includes ear plugs and firearms lock
⊕Rival Arms
Precision Barrels and Slides for SIG P320 FCU and P365
Gun News. Rival Arms, a company known for aftermarket components, just announced a new line of match-grade barrels, optic ready slides, guide rods, and slide completion kits for the Sig Sauer P320 and P365. The barrels, whether standard or threaded will be available in either black or gold. The slides will be available with either RMR cut or "other" cut compatible with several pistol optics.
From Rival Arms:
Rival Arms will offer standard and threaded barrels for the Sig Sauer P365, P365 XL, P320 Carry, P320 Full Size, and P320 X5 pistols. All Rival Arms barrels start with a stainless-steel billet to deliver maximum durability and are then precision CNC-machined to exacting tolerances to ensure the greatest possible accuracy before being treated with a PVD coating. This coating provides exceptional wear and corrosion resistance and is available in black or gold colors. Threaded barrels come with 1/2-28 threads for use with popular aftermarket suppressors and compensators. A color-matching thread protector is included for use without muzzle devices.
The Rival Arms slides for the P365 and P320 (Full Size and Carry available) are CNC-machined from 17-4PH stainless steel billet and QPQ thermo-chemical case hardened to deliver maximum strength, corrosion resistance, and durability. Robust serrations and window cuts enhance operational performance and appearance. For those intending to use optics, the Rival Arms slides come ready with either an RMR cut or "other" cut suitable for a range of popular handgun optics (Docter®/Noblex®, TRUGLO®, Vortex®, Burris®, etc.)
Slide completion kits for Sig Sauer® P320 and P365 are available from Rival Arms and include every part needed to assemble the internal workings of your new slide.
Stainless steel and Tungsten High-performance guide rod assemblies are also available for the P365 and P365 XL models.
⊕Primary Arms
GLx 30mm and 34mm Cantilever Riflescope Mounts
Gun News. The folks at Primary Arms have a new line of riflescope mounts, affordably priced at just a hair under $100. The company launched the GLx line with four models that accommodate 30mm and 34mm scopes with a 0 or 20MOA cant.
"This year we launched our mid-tier line of GLx optics. It's only natural that we would bring a solid line of one-piece mounts along with them," says Terry Mears, Primary Arms' Director of Sales and Product Management. "We are fortunate to provide a high-quality, US-made mount for under $100, which can be used with any of our optics from SLx to PLx."
From Primary Arms:
Made in the USA, every GLx mount features a durable 6061-T6 Aluminum alloy construction with MIL SPEC hard coat anodization for superior longevity, even in the most demanding conditions. The steel hardware comes with a black zinc phosphate coating that greatly improves corrosion and abrasion resistance. This superior hardware also contributes to the GLx mounts' high torque allowance—with 25in-lbs for the T15 Torx cap screws and 65in-lbs for the 1/2" crossbolt hex nuts.
As with all other Primary Arms GLx products, these mounts come backed with a full lifetime warranty and Primary Arms' commitment to customer satisfaction. For more information on these US-made optics mounts, please visit the accompanying product pages on the Primary Arms website.
Features:
30mm 4-Cap rings fit most scopes on the market
Pushes optics over 2″ forward for optimal eye relief
1.5″ center-line height accommodates up to 56mm objectives
100% designed and made in the U.S.A.
Lightweight and durable 6061-T6 aluminum construction
MIL-SPEC hard coat anodized finish
Zinc Phosphate coated hardware for corrosion resistance
High strength steel cross bolt lugs
Convenient T15 cap screws
#8 Torx fasteners with steel inserts prevent stripping
Models weigh between 6.7 to 7.0 Oz
⊕Streamlight
ProTac 90X USB
Adding to the ProTac series, Streamlight just announced the 90X USB. It can be used as a handheld or attached to gear for hands-free use. The powering system sounds pretty cool. As the company describes it, it has a complete rechargeable system that includes a Streamlight SL-B26 protected Li-Ion USB rechargeable battery pack with an integrated micro-USB port and a charging cord. A ProTac 90X with two CR123A batteries also is available. This multi-fuel capability enables users to charge the light on the go or insert cell batteries when a charging source is unavailable.
"The combination of its 900 head, powerful light output and multiple attachment methods battery make the ProTac 90X USB our brightest and most versatile everyday carry light available," said Streamlight Vice President, Sales and Marketing, Michael F. Dineen. "Its multi-fuel battery technology gives users the ability to power and recharge through convenient USB recharging or via disposable batteries, making it the ideal choice for tactical, first responder, outdoor and other users when conducting maneuvers or search operations, or performing other tasks under low light conditions."
From Streamlight:
The versatile new light can be used either as a handheld light or attached to MOLLE, belts, harnesses and other gear for hands-free use. When using the SL-B26 USB LI-Ion battery pack, the ProTac 90X USB delivers 1,000 lumens and runs for one hour and 45 minutes on high. It also provides 1,000 lumens and a run time of two hours and 30 minutes on the high setting when using CR123A batteries.
Featuring a multi-function, push button switch, the light is made from 6000 series machined aluminum with a Type II MIL-Spec anodized finish. Measuring just 4.39 inches long, the ProTac 90X USB weighs 4.9 ounces with the included Streamlight USB Li-Ion battery, while the ProTac 90X model weighs 4.4 ounces with two included CR123A batteries.
The light features an IPX7-rated design that makes it waterproof to one meter for 30 minutes. It also is impact-resistant tested to 2 meters.
TEN-TAP® Programming allows for selection of three different operating programs: 1) high/strobe/low 2) high only 3) low/medium/high
Multi-Fuel -Uses one Streamlight SL-B26™ protected Li-Ion USB rechargeable battery pack; also accepts two CR123A lithium batteries
High, medium, low and strobe modes:

High: 1,000 lumens; 171m beam; runs 2.5 hours (CR123A); runs 1.75 hours (SL-B26 battery pack)
Medium: 300 lumens; 91m beam; runs 4 hours (CR123A); runs 4.75 hours (SL-B26 battery pack)
Low: 65 lumens; 42m beam; runs 21 hours (CR123A); runs 24 hours (SL-B26 battery pack)
Strobe runs 2.5 hours (C123A); runs 3.5 hours (SL-B26 battery pack)

Multi-function push-button head switch easy to use with gloved hands
Removable pocket clip attaches to MOLLE, turnout gear, harnesses, etc.
Durable, anodized aluminum construction with impact-resistant glass lens
IPX7 waterproof to 1m for 30 minutes; 2m impact resistance tested
4.39" (11.1 cm); 4.9 oz. (139g) with (SL-B26 battery pack); 4.4 oz. (125g) with CR123A lithium batteries
Limited lifetime warranty
⊕TrueTimber
Camo Masks that Won't Break the Bank
In the evolving pandemic saga, the American public is grappling with facemask mandates in all sorts of public venues and meeting places. Although the debate continues to rage over facemask efficiency, the fact is — we're looking at mask-wearing for the foreseeable future. I've noticed that people are getting more and more creative with what they're wearing on their faces. Some masks, like T-shirts, reflect attitudes or support a favorite sports team. Well, TrueTimber has joined the game, making these camo masks available for people who'd rather not wear a paper mask, bandana, or some homespun looking thing. These masks aren't that expensive, at just under $4 you can sport your camo/hunting/shooting style while you're out and about.
"While we have done our best to adjust to these uncertain times and restrictions associated with COVID-19, our team has made it a point to stay ahead of the game and help out where we can," said TrueTimber CEO Rusty Sellars. "Our sister company LaKota Products has had a lot of success in manufacturing PPE materials, separate from hunting and now we have the ability to work closely in producing camo options. With that expertise and those resources so readily available, now if you want a camo mask, we have one in your favorite pattern."
Friday, July 24, 2020
Welcome to this week's GunMag Gun News 5×5 Friday. The firearm's industry is still reporting record sales as the uncertainty surrounding Covid-19 continues. Even so, Sig Sauer announced two new models this week, and Langdon Tactical announced something interesting for the Beretta 92. Also, Pulsar and Thyrm have some new products for you to check out.
⊕Ammo Manufacturers Struggle to Meet Demand
As the pandemic continues to impact virtually every aspect of our lives with no foreseeable end, firearms and ammunition sales continue at record rates. Indeed, we are now seeing reports that ammunition manufacturers are struggling to keep up with the market demand, and retailers are finding it difficult to keep ammo on their shelves.
Brownells Director of Content and Communications Ryan Repp advises, "Ammunition continues to fly off the shelves. Customers can still find 9 mm and 5.56 ammo from time to time, but it goes out just about as quickly as we receive it. It's not uncommon for us to sell out of common calibers within minutes to hours once it's live on Brownells.com. I would encourage customers to use the 'Alert Me When Available' button so they'll get an e-mail once it's checked in."
According to Jacob Long, the spokesperson for Widener's Reloading and Shooting Supply, reloading is becoming a stronger option in light of everything that's happening in the country right now." At a time of year when we typically see things slow down, inventory is extremely tight and we're getting messages from customers struggling to find their calibers in-stock anywhere. Further evidence of how tight supply is on 9 mm ammo is the 9 mm reloading market…We saw a more than 400 percent increase in 9 mm bullet sales in June over May. As loaded ammo prices go up, reloading delivers that much more return for shooters."
Over at the Sig Sauer facility in Jacksonville, Arkansas, they are working around the clock to keep up with the demand for ammo, according to chief marketing officer/executive Vice President, commercial sales Tom Taylor. With website traffic tripled compared to last summer, he said orders for 9mm and .223/5.56 have increased by 6 percent just from May to June of this year.
"The demand, especially for 9 mm and 5.56 NATO calibers is in unprecedented waters, as with all of our defensive rounds. I'm sure it's frustrating for our customers looking for SIG Sauer products and from all ammunition manufacturers…we just can't make enough at the moment to keep up. We are getting in weekly shipments, but its clear suppliers are struggling to keep up with demand right now," he summarized.
⊕Sig Sauer
New P938 SAS Features Anti-Snag Technology
Gun News. Sig now offers the P983 micro-compact 9mm with the anti-snag slide treatment for a smoother draw. It's got SIG Anti-Snag (SAS) technology slide treatment with a flush-mounted FT bullseye fiber-tritium night sight, an ambidextrous thumb safety, and ships with (1) 7-round magazine.
"When we introduced the SAS technology with the P365 it was immensely popular, and the demand for this new technology in the concealed carry market was immediate. The SIG P938 is a very popular micro-compact pistol, so the addition of the SAS technology was a natural fit for this platform," said Tom Taylor, Chief Marketing Officer and Executive Vice President, Commercial Sales. "Our proprietary SAS technology removes all the snag points from the pistol for a seamless draw. The integrated, flush-mounted FT Bullseye sight mounted directly into the slide is intuitive, and easy for the untrained eye to pick-up for fast target acquisition."
P938 SAS Specifications
Overall length: 5.9 inches
Overall height: 3.8 inches
Overall width: 1.1 inches
Barrel length: 3.0 inches
Weight: 16 oz.
ProForce M18 Airsoft Pistol
Gun News. This new airsoft from Sig Sauer is designed to look, balance, and handle like the U.S. military-issue M18. It even comes in the same coyote tan as selected by the U.S. military. Sig advises that it's to be used for professional training and 'discerning' recreational airsoft shooters.
From Sig:
The PROFORCE M18 has an optic-ready slide with removable rear sight plate for easy mounting of the soon to be released SIG AIR Reflex Sight. Like the PROFORCE M17, the M18 is field strippable and features a polymer frame and metal slide with full blowback action. The magazine holds 21 rounds of 6mm polymer or biodegradable airsoft BBs. The PROFORCE M18 also has an adjustable hop-up feature and picatinny accessory rail. It comes standard with a flush mount, green gas magazine. A CO2 cartridge magazine is also available and sold separately.
"The SIG P320-M18 handgun is very popular because of its adoption with the U.S. military as part of the Modular Handgun System. It has since become the official handgun of the U.S. Marine Corps, and was most recently adopted as the official handgun of the U.S. Air Force, which has only increased the demand for the handgun in the civilian market," said Tom Taylor, Chief Marketing Officer and Executive Vice President, Commercial Sales. "The SIG AIR PROFORCE M18 has the same look and feel as the P320-M18 making it the perfect option for training in a variety of environments and refining your technique when you can't make it to the range."
PROFORCE M18 Airsoft Pistol Specs
Total length; 7.7 inches
Barrel length: 3.5 inches
Power Source: Green Gas or CO2
Caliber: 6mm BB
Muzzle Velocity using .20g Polymer BBs: Green Gas – up to 320fps / CO2 – up to 410 fps
Muzzle Energy: Green Gas – 1 joule / CO2 – 1.5 joules
Magazine Capacity: 21
Weight (w/magazine): 24oz.
Finish: Coyote Tan
⊕Langdon Tactical
Announces Micro Red Dot capable Beretta 92
Gun News. The folks at Langdon Tactical say this took years of research and development. The 92 Elite LTT features 5 new components and a custom mounting plate specific for the Beretta 92, thus making it possible to properly low mount a micro red dot optic.
From Langdon Tactical:
When we say low, we mean very low: Our system has a dot height above the center of the bore of .85″ (when paired with a Trijicon RMR), which is as low or lower than most direct milled striker-fired systems.
A re-engineered firing pin and firing pin block permit the super-secure mounting of an adapter plate that is held in place with three mounting screws, a front dovetail, and a center indexing boss milled into the slide. This plate has a built-in back-up rear sight that mates up with a newly designed front sight for the Elite LTT and other Vertec type slides. This new system is a game-changer for the Beretta 92 owners.
This RDO package comes with the red dot height front sight that matches the adapter plate built in rear sight pre-installed.
⊕Pulsar
Releases Axion XM30S Elite Thermal Monocular
Gun News. Ok, so maybe this isn't quite gun news, but if you're one of the folks whose farm has been invaded and infested with feral hogs, or if you've got other predators threatening your livestock, you may be interested in this new monocular from Pulsar. Actually, it has plenty of other uses too. According to Pulsar, "There are lots of different uses for thermal handhelds. Hunters use them to spot and locate game and for blood tracking. Law enforcement and firefighters use these for search & rescue missions, as well as fugitive recovery. They are also often used for boating, wildlife observation and management and commercial uses. The main uses for a consumer would be surveillance and wildlife observation/hunting."The Axion XM30S comes with an APS 3 battery pack, battery pack charging kit, USB cable, hand strap, lens cleaning cloth, and carrying case.
From Pulsar:
Fitting easily into a hand or pocket, this monocular has a 1024×768 AMOLED display, 4.5x-18x magnification, 320×240 sensor resolution, 1,400-yard detection range, and high optical magnification with 4x digital zoom. With a lightweight and rugged magnesium alloy housing, the Axion XM30S is one of the most advanced thermal monoculars on the market.
Additional Axion XM30S features include video and photo recording, Stream Vision app capability and Picture-in-Picture zoom. Lighter, more compact and powerful than the competition, the Axion XM30S is a mere 8.8 ounces and has over 4 hours battery life on a rechargeable lithium ion battery, along with external power supply adaptability. The Axion XM30S also boasts an IPX7-waterproof rating and multiple color viewing modes.
Features
320×240 resolution – 12um pixel pitch core
1400 yard detection range
High optical magnification
4x digital zoom – continuous zoom and 2x / 4x stepped zoom
Lightweight and rugged magnesium alloy housing
B-pack mini power system
Picture in picture digital zoom
Video and photo recording
HD AMOLED microdisplay
Stream Vision app supported
External power supply adaptable
Multiple color viewing modes
Stradiametric rangefinder
IPX7 waterproof rated
⊕Thyrm
Introduces SwitchBack DF (Dual Fuel)
This week, Thrym let us know that they've updated the SwitchBack so that it's now compatible with SureFire DFT Dual Fuel flashlight. Take a look.
"Demand for this product has been high. Through our extensive R&D process, we've developed a SwitchBack that checks all the boxes" said Andrew Frazier, CEO. "As with our other gear, we are proud to design and manufacture the SwitchBack DF in the USA."
The Thyrm SwitchBack turns your compact flashlight into a flexible, tactical tool. Since introduced in 2014, it has become the flashlight accessory of choice, providing a ring to facilitate retention, deployment, and other manipulation during searching and shooting.
The original SwitchBack was designed to fit the majority of SureFire handheld lights like the G2, 6P, P2. Unfortunately, the SwitchBack did not fit the new DFT (Dual Fuel Tactical) light. SwitchBack fans were outspoken in their desire for a DFT model and Thyrm has answered with the new SwitchBack.
SwitchBack DF. Features
A finger ring that releases under heavy force/torque, but can be reset
MOLLE/PALS-compatible clip that allows for deep pocket carry
Wide thumb rest with traction features
Small crush ribs on the lip that create a custom fit
Friday, July 17, 2020
⊕NRA Endorses President Trump for Reelection
Gun News. On Wednesday, the National Rifle Association Political Victory Fund (NRA-PVF) sent a letter of endorsement to President Donald Trump for reelection as the POTUS. (I know what you're thinking — well, Duh!)
The letter pointed out several actions that the President has taken during his first term in support of the shooting, hunting, outdoor, and 2A communities. For instance, he's appointed judges who respect the Second Amendment, declared the firearms industry "essential infrastructure."
⊕Springfield Armory
Introduces Ronin Operator 4.25-inch 1911 Pistol
Gun News. This week, Springfield Armory added a more compact version of the Ronin. This follows the release of the full-sized Ronin Operator just this January, now offered in 9mm and .45 ACP.
From SA:
The pistol features a traditional barrel bushing system that matches up with its 4.25″ match grade barrel. The barrel itself is fully supported and ramped, lending additional strength to the design and ensuring consistent and reliable functioning.
While the Ronin Operator exudes a classic air of tradition in regards to quality and value, its appointments feature everything you would want on a thoroughly modern 1911. The beavertail grip safety with "memory bump" ensures solid engagement, while the fiber optic front/tactical rack rear sight and extended safety lever deliver instant sight picture and intuitive control.
Rounding out the package of the Ronin Operator is a pair of Crossed Cannon™ premium laminate wood grips, stainless steel checkered flat mainspring housing, Springfield Armory 2nd Generation Speed Trigger, forward slide serrations and a basepad-equipped magazine (9+1 capacity in the 9mm model and 8+1 in the .45).
⊕Sig Sauer
Release Exclusive Texas Ranger Edition P320 Pistol
Gun News. Sig Sauer and the former Texas Ranger Foundation just announced the release of this exclusive Texas Ranger Edition P320. These collector's items are meant to honor the historic organization, which dates back to 1823 and has become a culturally significant part of Texan identity. Each pistol will have a Texas Ranger TXR serial number, custom engraving of the badge and Texas Ranger motto, and comes with a challenge coin shaped like a Texas Ranger badge.
Tom Taylor, Chief Marketing Officer and Executive Vice President, Commercial Sales said, "For nearly 200 years, the Texas Rangers have served and protected the Lone Star State, my beloved home state, and today the SIG SAUER P320 is in service with the officers of all 13 divisions of the Texas Department of Public Safety, including the Texas Rangers," said Tom Taylor, Chief Marketing Officer and Executive Vice President, Commercial Sales. "This unique pistol is a true collector's item and honors the service of the Texas Rangers with a Texas Ranger TXR serial number, customized Texas Ranger engravings, and a challenge coin in the shape of the iconic Texas Ranger badge."For nearly 200 years, the Texas Rangers have served and protected the Lone Star State, my beloved home state, and today the SIG SAUER P320 is in service with the officers of all 13 divisions of the Texas Department of Public Safety, including the Texas Rangers." Tom Taylor, Chief Marketing Officer and Executive Vice President, Commercial Sales.
The Texas Ranger Edition P320 is a full-size, striker-fired, 9mm pistol with a modular polymer grip, SIGLITE Night Sights and comes with (2) 17-round steel magazines. Special features of this commemorative pistol include a TXR serial number, a custom engraved Nitron slide with the Texas Rangers Badge and the famous Texas Ranger mantra, "One Riot, One Ranger," and includes a commemorative Texas Ranger challenge coin molded after the likeness of the Texas Ranger badge.
Texas Ranger Edition P320 Specs:
Overall Length: 8in.
Overall Height: 5.5in.
Overall Width: 1.3in.
Barrel Length: 4.7in.
Sight Radius: 6.6in.
Weight (incl. magazine): 29.6oz.
Sig advises that the Texas Ranger Edition P320 Full-Size Pistol is now shipping and available through a TALO distributor.
⊕Savage Arms
Model 110 Elite Precisions and 110 Precisions now available in left-handed configurations
Gun News. Savage just made precision long-range shooting more accessible for left-handed marksman with these new Precision rifle configurations.
"Savage has built an extensive catalog of left-handed firearms, quite possibly the largest in the industry." said Beth Shimanski, Director of Marketing for Savage Arms. "Our customers come to expect it from us and these new Precision rifles once again demonstrate our commitment to serving all of our customers, equally."
110 ELITE PRECISION LEFT HAND
Available chambered in .223 Rem, .308 Win, 6.5 Creedmoor, 6mm Creedmoor, 300 WM, 300 PRC, and 338 Lapua.
Features
Savage factory blueprinted action
MDT ACC aluminum chassis with fully adjustable stock
ARCA Rail along the entire length of the chassis
Stainless steel, flash nitride target receiver
Titanium Nitride bolt body
1.5-4 lb user-adjustable AccuTrigger
Self-timing taper aligned muzzlebrake (short action calibers only)
MDT Vertical Grip and AICS magazine
110 PRECISION LEFT HAND
Available chambered in .308 Win., 6.5 Creedmoor, 300 Win.Mag., 338 Laupa, and 300 PRC.
Features
Savage factory blueprinted action
Matte black carbon steel heavy barrel, threaded 5/8-24
MDT LSS XL Chassis with FDE Cerakote
Exclusive skeletonized stock with fully adjustable comb height and length-of-pull
1.5-4 lb user-adjustable AccuTrigger
20 MOA 1–piece EGW rail
AICS magazine
BA Muzzlebrake
⊕OSS Suppressors
Newest Variation of 5.56 Calliber Suppressor: the HX-QD 556Ti
Gun News. Utah based OSS Suppressors designs, develops & manufactures advanced weapon suppressor systems for military, law enforcement, and sports shooters around the world. The company's patented Flow-Through Technology is actually pretty slick. It prevents toxic blowback and the associated negative effects on the rifle and the ears. Really, this is kinda cool. Watch this video that explains the design.
So now, the company has announced a new variation on its popular 5.56 caliber suppressors – the HX-QD 556Ti. It is full-auto rated, and compatible with 5.56 rifles with no minimum barrel restrictions. According to OSS, it utilizes the company's new Flash Cap that eliminates virtually all flash and also features a stainless-steel core that delivers durability in excess of 40,000 rounds vs. all titanium suppressors that last a fraction of that.
From OSS:
Built with OSS's patented and proven Flow-Through and Torque-Lock technologies, and a combination of Grade 5/Grade 9 Titanium and 17-4 stainless steel, it is designed with a new flash cap that eliminates virtually all flash. It joins the updated HX-QD 556 and 556k models (with the new flash cap) to offer superior suppression and an unmatched shooting experience for 556 rifle owners.
"Only OSS's unique Flow-Through design directs expanding gas away from the bore line, routing it forward, through coils and deflectors, and then out the muzzle," said Jake VanAllen, Director of Commercial and LE Sales. "Sound levels are effectively suppressed at the shooter's ear, toxic gas blowback, rifle recoil, and flash are mitigated, and weapon performance is improved. It's a difference you can feel" he added.
HX-QD 556Ti Specs:
Sound Pressure Levels: 136 – 141 dB on 14.5" AR15 DI using commercial grade 62 gr ammo
Weight 13.1 ounces
Length: 6.67 inches
Diameter: 1.60 inches
In the video below, Dan Brokos, Special Forces SGM(R) and CEO of Lead Faucet Tactical puts OSS's new HX-QD 556 Ti through some drills. He talks about why, after sending a "metric shit ton" of suppressed rounds down range, he now only runs OSS.
Learn more at OSS Suppressors: https://osssuppressors.com/
⊕Vortex Optics
Announces AMG UH-1 Gen II Holographic Sight, Featuring Four Night-Vision Compatible Settings
Gun News. Vortex just announced this new Gen II holographic sight. According to the company, it's ready to roll in daylight or low-light, featuring a dedicated button for access to four different night-vision settings.
From Vortex:
With four night-vision compatible settings and a dedicated night-vision button, the Gen II is ready to light the way, day and night, keeping the incredibly fast EBR-CQB reticle clear. For quick transitions between night-vision and daylight performance, the Gen II features immediate recall to a shooter's last daylight setting.
To make target acquisition even faster, we've increased the viewing window's already generous size. And target acquisition isn't the only thing that's gotten faster: A truly toolless battery cover makes battery replacement fast and easy to keep your Gen II up and running.
At the same time, shooters will find all the features that made the Gen I such a powerful tactical solution. The incredibly clean and intuitive reticle is simple and fast, and FHQ technology virtually eliminates stray light emissions for stealth movement with no forward signature. Also included is the integrated quick-disconnect mount for easy on, easy off convenience.
Features
Fully Multi-coated
Shockproof
IPX-8 Waterproof
Night Vision compatible
Integrated quick-release mount
Parallax free
FHQ technology
Unlimited eye relief
Rear-facing controls
15 illumination settings
Armortek
Fogproof
Friday, July 10, 2020
Happy Friday, GunMag readers!
This week, gun news continues to reflect the impact that COVID-19 yields over the industry. The talk has been a scattering of SHOT Show 2021 speculations and observations on how the pandemic has driven all-time record firearms sales in the U.S. As for the upcoming SHOT Show, it's still on, though it'll look different in January with extra social distancing and sanitation measures. And as for the firearm sales, well…..yeah that's pretty awesome, right? Want to know which guns people are buying the most? Be sure to read Pike's rundown: The Best Selling Guns of a Record Breaking June.
Also, the American Suppressor Association has a raffle that's going on right now. Be sure to read Ashley's Cans Not Bans write-up and enter for a chance to win one of their seriously badass prizes. You'll be helping out the ASA, which, if you weren't aware, has already helped legalize suppressor field use in 18 states and suppressor ownership in three states.
Here's this week's GunMag Gun News 5×5 Friday.
⊕U.S. Army
New M4A1 Barrel for Extended Cyclical Fires
Gun News. Two small-arms engineers have designed an improved M4A1 barrel, which, reportedly, offers greater durability and safety while at the same time reducing the overall weight. The new barrel features spiral fluting in three specific areas that increase the exterior surface area, as well as fin spacing and an optimal thickness for heat dissipation. These new features are supposed to diffuse heat faster than conventional M4A2 heavy barrels, thus reducing the risk of barrel failure or premature ammunition detonation.
According to Tech Link, the Army was granted a 15-year design patent on Tuesday, which is now available for license to businesses that would manufacture, use, or sell the barrels. The design patent is the second patent the Army has received for the new barrel.
⊕Zev Technologies
Octane Z320 and Sig P320 accessories
Gun News. Sig P320 fans, take a look at this! Zev Technologies just announced a new line of pistols and accessories that they designed in collaboration with Sig Sauer. The new offerings include the Z320 XCarry pistol, Z320 XCompact pistol, PRO Barrel, Combat Sights, and optics-ready Octane slide.
According to Dan Groce, Director of Brand Engagement, "We're extremely excited to venture into the world of SIG Sauer. The ZEV Team has worked diligently to design P320 gun mods that will not only enhance aesthetics, but also enhance end-user performance in all conditions."
Octane Z320 Featured Components
ZEV Z320 XCarry Octane Slide, RMR Optic Cut, Titanium Gray
ZEV Z320 XCarry PRO Barrel, Black DLC.
ZEV Fiber Optic Combat Sight Set
ZEV RMR Cover Plate
SIG Sauer P320 XCarry Grip with ZEV Diamond Pattern Laser Stipple
SIG Sauer P320 X Series Flat Face Trigger
Two 15 round SIG Sauer P320 Magazines
⊕Escort
BTS Bullpup Shotgun in 12GA & .410
Gun News. Hatsan just added a new tactical shotgun to the Escort lineup that's got some good and proper bullpup design features. To minimize bulk, the inline gas piston is mounted around the barrel and the lower receiver doubles as the forend grip. The barrel cover has Hatsan's patented ThermoDefend tech to simultaneously contain the operating system while absorbing and dissipating heat.
This Escort BTS bullpup is available in either 12 ga or .410 in either black or FDE Cerakote.
From Hatsan:
Recoil control is distributed between a soft rubber buttpad and a long recoil spring located behind the gas piston. The reversible charging handle offers versatility to suit varying shooter preferences. The soft rubber pistol grip is removable and can be exchanged for one of many currently available aftermarket options to suit the individual user. The one-piece carry handle sight can be replaced with included flip-up sights for a lower profile or when using mounted optics. Picatinny rails are also located on either side of the forend to accommodate a variety of accessories.
As with all Escort shotguns, the barrels are proof tested at the factory to ensure quality and durability. The hard chrome and/or Cerakote coatings are built to withstand the harshest conditions and look good while doing it. HatsanUSA offers a 5-year limited warranty with all Escort firearms.
BTS Bullpup Features
Reversible cocking handle for ambidextrous operation
Shell deflector diverts spent shells downward
Integrated buttstock with elevation adjustable cheek rest and soft rubber buttpad
Soft rubber ergonomic pistol grip
Durable alloy upper receiver and a light-yet-durable synthetic lower receiver
Picatinny rail integrated into upper receiver and hand guard
Synthetic ThermoDefend hand guard with ergonomic forend grip
Manual safety selector switch
Adjustable front and rear sights
Detachable carry handle front and rear sights
Optional flip-up front and rear sights included
Mounted sling loops
BTS410 Specifications
410cal gas-operated, semi-automatic shotgun
20″ hard chrome plated fixed cylinder barrel with choke suitable for both shot and slugs
30.7″ overall length
6.7 lbs.
2x 5-rd detachable box magazines included (3-shot mags also available)
BTS12 Specifications
12ga gas-operated, semi-automatic shotgun
18″ hard chrome plated barrel with removable chokes suitable for for shot an slugs
28.7″ overall length
8.1 lbs.
2x 5-rd detachable box magazines included (optional 2-round mags available)
F, IC, and CYL (brake) chokes included
⊕Viridian Weapon Technologies
Grip Lasers for North American Arms .22 Magnum Revolvers
Gun News. Viridian continues to launch firearm-specific accessories, practically weekly! Last week, we told you about the E-Series Green Lasers for the Ruger LCP II and Security-9. Well, now they've announced a red grip laser for NAA .22 revolvers. The company advises that the laser is easy to install and adjust, and activates automatically when the user grips the revolver. The laser range is up to 25 yards daylight and one mile at night.
North American Arms Sales Manager Jessica Jarvis said, "Adding firearm-specific Grip Lasers to our revolvers is great. Now North American Arms owners and future owners get increased performance across all .22 Mag Revolvers.
From Viridian:
Viridian Grip Lasers for North American Arms revolvers boast a simple, yet intuitive design and activate automatically when the user grips the handgun. Each option has an MSRP of $199.00, is designed to fit all magnum frame revolvers and features a highly-visible red laser for rapid target acquisition. The grip lasers are easy to install and adjust. Viridian grip lasers increase comfort and improve the ability to accurately shoot the firearm thanks to a rubber over-molded design. Each Grip Laser also features an industry-best seven-year limited warranty.
The PUG-D is a small-framed revolver chambered in .22 Magnum and designed for self defense. This 5-shot capacity wheel-gun offers the ultimate in concealability and performance. It has been a popular choice for on and off-body carry for years. The addition of a reliable, highly-visible laser as part of the grip increases effectiveness in multiple situations. North American Arms also has several other .22 Mag revolvers compatible with the new Viridian Grip lasers for the ultimate in compatible upgrades.
Features
Fit: NAA Magnum Frame Revolvers
Laser Color: Red
Range: Up to 25 yards in daylight/1 mile at night
Laser: <5mW/635-650nm
Battery Life: Up to 4 hours
Adjustable: Windage/Elevation
Activation: Grip activated with master on/off
7 year limited warranty
⊕HIPERFIRE
Launches new line of X2S Two-Stage AR Triggers
Gun News. As two-stage triggers continue to grow in popularity, HIPERFIRE just announced it's own new line. There are three models in the X2S line.
Here are the differences between them, as described by the company:
The MOD-1 design has a longer first stage than MOD-2 or MOD-3 for a more defined first stage prep, but shares the same curved bow and Maganese Phosphate coating as the MOD-2 design.
The MOD-2 design has a shorter first stage than MOD-1 for a faster first stage prep. It shares the same sear geometry and performance as its MOD-3 counterpart, but has a curved trigger bow and a standard Maganese Phosphate coating.
The MOD-3 design has a shorter first stage than MOD-1 for a faster first stage prep. It shares the same sear geometry and performance as its MOD-2 counterpart, but has a flat trigger bow with our patented HIPERSHOE® and an upgraded Black Nitride coating.
From HIPERFIRE:
We have now taken our well-known HIPERTOUCH® design and created a crisp, clean, and durable two-stage trigger. Our Cam-Over Toggle Engine™ and Radical Sear Mechanics™ technologies allow for reduced pull weights over mil-spec without sacrificing critical hammer energy. This system also contributes to our Soft Start Lock-Up™ that reduces rifle "flinch" after the break. Precision machining, heat treatment, and coating come together in mil-tough components that are designed for the harshest of environments. All of this in user adjustable 3-4 ½ pound pull ranges and a price that won't break the bank. Prices range from $200 – $225 MSRP.
The new X2S line of triggers stays consistent with HIPERFIRE's commitment to provide long lasting, high quality, precision products that do not sacrifice one feature for the another. Our new X2S line of triggers can be purchased now on our website, hiperfire.com, or anywhere HIPERFIRE products are being sold.
⊕Streamlight
Launches Rechargeable Duty-Ready Stinger 2020
Check out this new duty light from Streamlight.
"From clearing a room to searching for evidence or writing a ticket, the Stinger 2020 revolutionizes the idea of a rechargeable, super-bright duty light for police, military, and other first responders," said Streamlight Vice President, Sales and Marketing, Michael F. Dineen. "This newest model features a cutting edge ergonomic flat design, so that you can hold the light in your hand, under your arm or even in the crook of your neck without losing your grip or hold. And with its dual power switches, plus an easy-to-use mode selector switch, you can just set the light and not have to cycle between modes."
From Streamlight:
The Stinger 2020 features an anti-roll body design, non-slip side panels and an ergonomic shape for a perfect grip. Dual power switches and an intuitive mode selector slide switch allow for flexibility in lighting intensity and run time.
On high, the Stinger 2020 delivers 2,000 lumens, a 315 meter beam distance and a 2 hour run time; on medium, 850 lumens, a 200 meter beam distance, and a 4 hour run time. On low, the light offers an extended run time of 24 hours, with 100 lumens and a 70 meter beam distance. A strobe for disorienting or signaling runs for 3.25 hours.
Made from aluminum alloy, the Stinger 2020 features a Borofloat® glass lens that is corrosion-resistant and gasket-sealed. The light measures 7.67 inches and weighs 12.3 ounces. The Stinger 2020 is TAA compliant with country of origin USA.
Available in black, the light is IPX7 rated, and is waterproof to one meter for 30 minutes. It also is impact-resistance tested to two meters. The Stinger 2020 has an MSRP of $225.00-$265.00 and includes Streamlight's Limited Lifetime Warranty.
Friday, July 3, 2020
This week's GunMag Gun News 5×5 Friday falls at the beginning of our weekend to celebrate independence. If you're like me, Independence Day is one of your favorite holidays. Some years, I read the Declaration of Independence in its entirety and reflect on what the men and women of that time experienced, what they fought and struggled to obtain, and what they gave to their posterity. That's probably a bit nerdy but I like to study what we are celebrating, and why. And then as we gather with friends and family to enjoy the fireworks…..well, I'm simply thankful to be an American.
As Ronald Reagan said, "Freedom is never more than one generation away from extinction. We didn't pass it to our children in the bloodstream. It must be fought for, protected, and handed on for them to do the same."
Our nation is facing so much uncertainty right now. But from my perspective, one of America's greatest strengths is that we are free to engage in conversation. So many conversations are happening right now — yes, some of them are infuriating, maddening, ludicrous. Still, we are free to engage —to think for ourselves, converse, and learn from each other. Often, solutions don't arise until after full conversations have been hashed out and settled. Even then, sometimes solutions aren't ever fully apparent. Still, we continue on as Americans: thankful, industrious, and proud — ever changing, but still handing down the love of our country and what it stands for.
However you and yours are celebrating this weekend, whether you're having a full-out family bash or staying home and celebrating privately, I wish you a Happy Independence Day.
Here's this weeks gun news.
⊕Blade Show West 2020 – Canceled
As we continue to deal with social distancing, various mask and social distancing mandates, and many cancellations, this week we learned of another industry cancellation. Though it isn't quite firearm industry news, it is tactical gear news. This year's Blade Show West, originally slated for early October in Oregon, has been canceled.
Here's the official statement:
It is with much regret that we announce that we have been forced to make the difficult decision to cancel BLADE Show West. After months of conversations with Oregon Convention Center and our other partners in the Portland area, it has been determined that the city of Portland and the Oregon Convention Center will not be able to host any events over 250 people for the foreseeable future. At this time, the state of Oregon has announced that Phase 3 of their opening plan (which involves hosting events over 250 people) will not be permitted until a treatment or vaccine is available for the Covid Virus.
We look forward to bringing the knife community together again for BLADE Show WEST in 2021 and will have new dates to announce this Fall.
⊕Savage Arms
Star Spangled Rascal
Gun News. Just in time to celebrate Independence Day, Savage Arms announced a new option in the Rascal line up. The Star Spangled version is dressed up with a patriotic American flag camo synthetic stock. Savage says the Rascal is the industry's safest micro rimfire, so it's a good one to use for teaching firearm safety to young people. This 22 LR bolt action is set to begin shipping in August.
From Savage:
"It is our responsibility to help teach firearm safety to the next generation of American hunters and marksmen," said Beth Shimanski, Director of Marketing for Savage Arms. "but that doesn't mean the tools we use to teach can't be fun. We're proud of our American heritage and we're showing that pride with these diminutive guns that are built to the same demanding standards as every other Savage."
The new Savage Rascal Red, White, & Blue makes a bold statement. Paired with the American flag camo synthetic stock, the rifle can help mentors build new shooters' shooting skills thanks to standard features that are notably absent on many small rimfires. The Rascal teaches accuracy and safety with the same tools teachers use themselves. From its adjustable peep sights to Savage's user-adjustable AccuTrigger™, this is every inch a Savage.
FEATURES:
Synthetic stock with American flag pattern
Manual safety
Unload without pulling the trigger
Adjustable peep sights
User-adjustable AccuTrigger
Feed ramp
Cocks by lifting bolt
Carbon steel sporter barrel
11.5" length-of-pull
MSRP: $223
⊕Blackhawk
Expands T-Series to Include New L3D Red Dot Sight Holster
"As more law enforcement agencies authorize the use of red dot sights on patrol sidearms, the need for a duty rated holster that can accommodate these optics has never been greater," said Evan McNamara, Director of Product Development for Blackhawk. "With its streamlined thumb-activation retention, the T-Series RDS Holsters keep your firearm and rear optic at the ready while maintaining total security."
From Blackhawk:
Developed to support law enforcement officers who are authorized to use red dot sights on patrol sidearms, the T-Series RDS Holsters provide maximum protection for both the firearm and optic. The dual-injected molded holster provides proven durability for the sidearm while an additional removable rotating dust cover further protects the optic from impacts and debris. This combination of features provides users with a sleek, ergonomic design without adding extra bulk to the holster.
The T-Series RDS Holster will initially be available in a right handed, light-bearing Level 3 Duty (L3D) model for the Glock 17. Additional models will soon be available including both Level 2 Duty (L2D) and L3D in left and right-hand configurations for the Glock 17 and SIG SAUER P320 pistols. The holsters can be used with the Streamlight TLR-1 and TLR-2 pistol lights.
⊕Viridian
E-Series Green Lasers for Ruger LCP II and Security-9
Gun News. The Viridian E-Series green lasers are designed for EDC and the company says they mount to the trigger guard easily, featuring an ambidextrous on/off button and 5-minute automatic shut off. These new lasers for the Ruger LCP II and Security-9 are the first E-Series green laser offerings and are available now. Additional fits for Taurus, Springfield, Glock, Sig Sauer, and others will be available soon.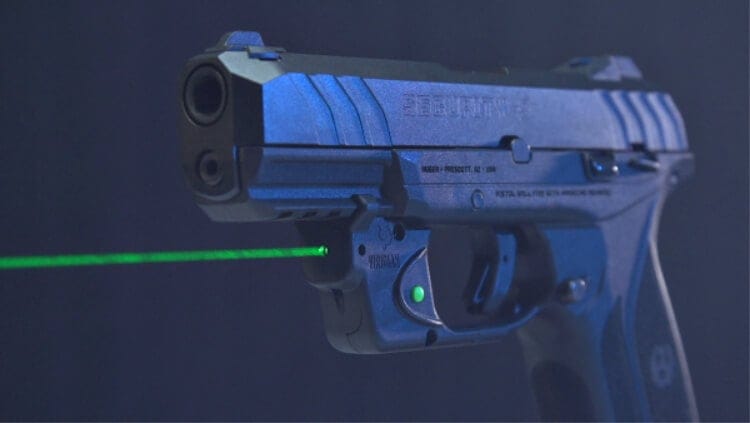 Viridian President and CEO Brian Hedeen said, "This is a breakthrough for us as a company and the result of a lot of hard work. Green lasers have always been superior in strength and visibility, but came at an increased cost. Through innovation and extensive knowledge of lasers, design and resources, the E-Series Green Laser Sight became a reality. We worked alongside Ruger's product development team to make sure customers would be able to purchase a custom-fit green laser sight for select Ruger pistols right away. Great value now meets convenience and unmatched performance."
⊕XS Sights
New Line Extensions for Second-Generation DXT2 Night Sights
Gun News. XS Sights has been expanding and enhancing it's product line quite a bit in the past year. Now, the company is offering these line extensions for the second-generation DXT2 Night Sights as well as a non-tritium rear option in the new DXW2 Night Sights for Glock, SIG SAUER, Smith & Wesson, and other select pistol models. The company says that the front sights of all new products have tritium in the center, surrounded by XS's photoluminescent Glow Dot technology.
Wondering which color to pick? Here's a rundown on color options, straight from the company.
The Big Dot variants are offered in Optic Yellow or Optic Orange while the Standard Dots come in green. All front sights feature tritium surrounded by XS's photoluminescent Glow Dot technology.
Optic Yellow:
Optic Yellow is the best option for low light and has the brightest glow intensity. Primarily based on the white light spectrum, Optic Yellow is very reflective and will excite the dot's photoluminescent properties faster than any other color. The increased surface area of the convex dot increases light absorption, intensifying the charge of the dot's glow properties, making this a great low-light choice.
Optic Orange:
Optic Orange is based primarily on yellow with a hint of red to ensure visibility in low light when uncharged. The increased surface area of the convex dot increases light absorption, intensifying the charge of the glow properties of the dot. Orange is the preferred bright-light choice of many XS customers.
Green:
Green is our bridge color for the Standard Dot sights. It glows well in low light and offers vibrant, bright-light sight indexing. This color performs well on the smaller-sized Standard Dot and still manages to focus the shooter's attention, in any light.
While there are scientific reasons these specific colors excel in certain light, many times, the choice comes down to personal preference and which color an individual's eye sees best.
Big Dot:
Sized at .188″ and positioned for defensive shooters, our Big Dot front sights are an excellent option for EDC guns or shooters who have vision difficulty and struggle to see their sights. The Big Dot's provide a distinctive front that offers a great glow and the biggest front sight on the market.
Standard Dot:
Sized at .144″ and positioned for target shooters, our Standard Dot front sights are an excellent option for target guns or shooters looking for a smaller front sight option.
⊕Winkler Knives
Highlander Series: Hunter and Hatchet
Blade News. These new premier edition blades are reminiscent of Master Bladesmith Daniel Winkler's specialty forged knives and axes crafted in the tradition of Frontier America. Winkler himself hand-forged the prototypes for the series, and then the Winkler Knives design team and production crew executed 50 Highland Hatchets and 100 Highland Hunters reproductions of his original works. Take a look.
From Winkler:
These two pieces are Winkler Knives renditions of Daniel Winkler's hand forged originals. Master Bladesmith Daniel Winkler became a full time knifemaker in 1988. The utilitarian nature of his forged works was the basis of his early relationship with America's Tier 1 Warriors and the origination of Winkler Knives. The company was founded to produce stock removal edged tools that bore all the attributes of Daniel Winkler's forged work. Nuances such as tapered tangs and heat treating after finish grinding the blades resulted in function that equaled, or perhaps even surpassed, the tools Winkler created using the heat of fire and the force of the hammer.
Highland Hunter
Blade steel: 80CrV2
Black oxide no-glare finish with feathered cutting edge
Blade length: 4 3/4″
Overall length: 9 1/4″
Blade thickness: .189″
Full tapered tang
Thumb position jimping
Stained, Quarter Sawn Curly White Oak handle with Beeswax finish
Lined Kydex® with leather cover with removable patterned overlay
Steel spring, belt clip
Designed for multiple carry options
(See our Info page for carry options)
Highland Hatchet
Blade steel: 80CrV2
Black oxide no-glare finish with feathered cutting edge
Head: 4 7/8"
Overall length: 10 7/8"
Blade thickness: .366″
Full Tapered Tang
Hammer Pole Head
Stained Quarter Sawn Curly White Oak handle with Beeswax finish
Lined Kydex® quick access Carrier