Part One of this article looked at John Henry FitzGerald, and how he came to create one of the rarest, most unique, and most sought-after firearms in the world: the Fitz Special. Now, in Part Two, we'll talk about some of the more notable examples of this extraordinary revolver and the people who owned them. At the end of this article, I'll tell you how you can get one for your very own.
Some Notable "Fitz" Guns
First, not all FitzGerald guns qualify as Fitz Specials. I spoke with a Fitz collector who told me of his 1924 factory two-inch barreled Colt New Service in .45 Colt. Though there is nothing official to say so, Colt experts have said the gun has FitzGerald's "fingerprint," being a New Service with his preferred two-inch barrel. The letter of authenticity from Colt confirms the gun shipped with the two-inch barrel, though Colt would not officially produce a two-inch barrel until 1927 with the Detective Special. This could very well be one of the guns FitzGerald made with his original batch of two-inch barrels (See Part 1 of this series). The gun also features a unique round front sight, differing from the higher, sharper New Service sight.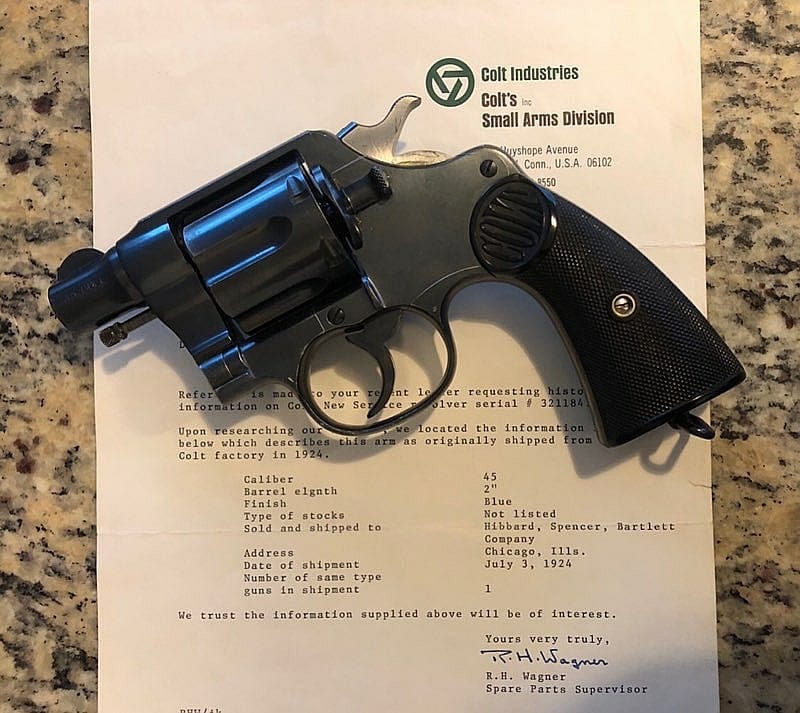 Another early Fitz seems to have been made for US Marine Corps Major General John Archer Lejeune upon his retirement in November of 1929. It's the only known Fitz made from a Colt Model of 1909, which had been a Marine Corps-issue gun. The butt of the gun is stamped "U.S.M.C. No 87," with an acid-etched inscription on the grip frame reading "11-29 Maj Gen JAL." The collector's research revealed that Lejeune was the only Major General with those initials in service at the time.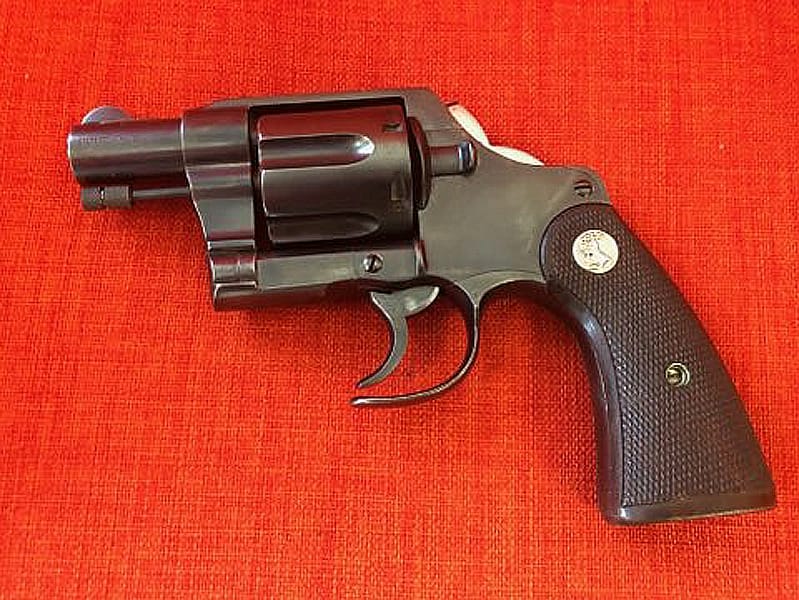 Whether the gun was originally issued to Lejeune is unknown. There is no record at Colt since the gun was made for the Marine Corps. It is known that the gun was originally shipped to the Marines in Philadelphia in May or June of 1909. Lejeune was stationed in Washington, DC at the time, and the collector has a photo of him with Marine General Smedley Butler in front of the 1000 Broad Street USMC building at about that same time. Either way, it appears that the gun was "Fitzed" for Lejeune, probably by FitzGerald himself. Interestingly, the walnut grips are correct for a 1929 pistol but not for an original 1909.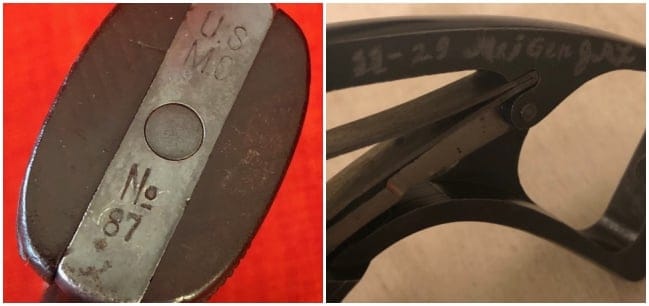 This same collector, from whom I derived much of the information for this article, also possesses the very first commercial New Service Fitz Special from 1930. It was part of a shipment of two such guns. His gun has the lower serial number. Remarkably, the gun does not appear to have been fired since it was proofed at the Colt factory in 1930.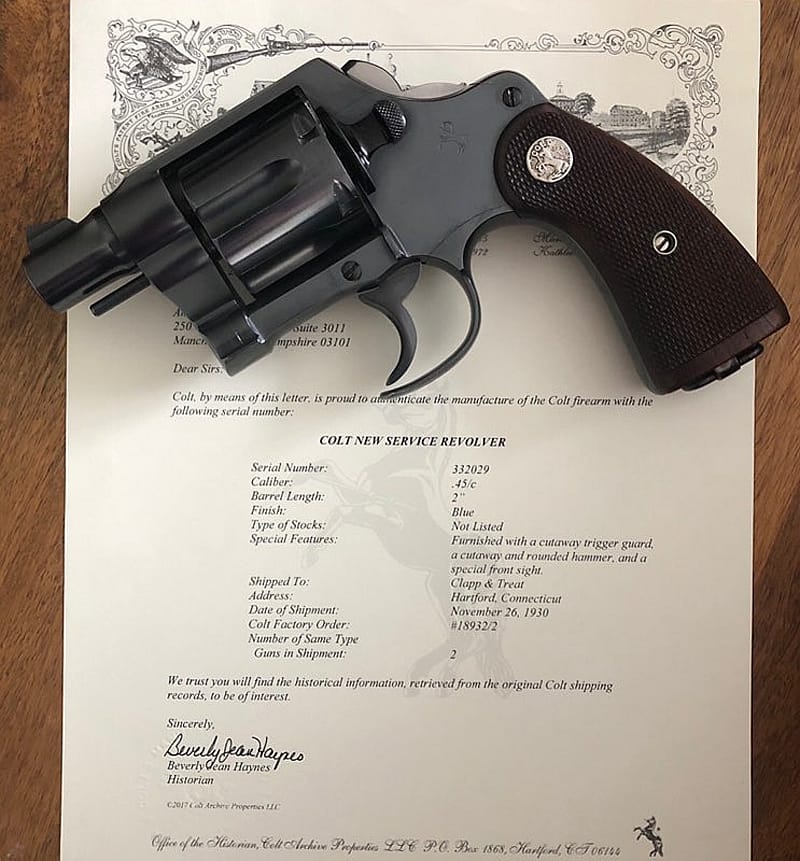 A very intriguing and well-documented Fitz Special was purchased in 1933 by US Attorney Maurice Milligan, who is credited with bringing down the corrupt Pendergast political machine in Kansas City, Missouri. He prosecuted 900 to 1000 people in the process, including the ringleader, Tom Pendergast. He even wrote a book about it called Missouri Waltz.
According to the family, the Fitz was Milligan's nightstand gun. As you might imagine, he was likely on at least one hit list. When he passed away, his wife wrapped it up in a bag and put it away. His grandson found it years later, still loaded with .38 Special cartridges. The gun was made from a Detective Special and my collector friend acquired it from an auction sponsored by Milligan's grandson. He also has the cartridges that were found in the gun.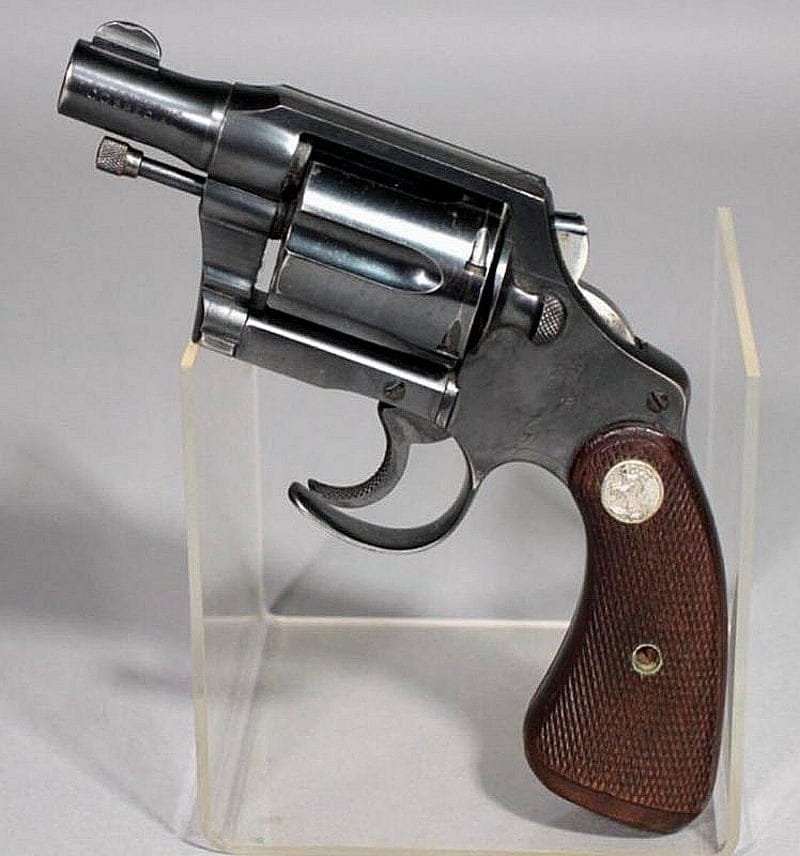 Another interesting Detective Special Fitz is believed to have belonged to George Herold of the New York Police Department. Herold ran a gun business from a room at NYPD headquarters. After he retired, he moved it to a shop across the street. The gun was shipped to the George F. Herold Company in March of 1934. It shows noticeable holster wear, indicating that Herold carried the gun in some fashion in the line of duty, perhaps as a concealed backup.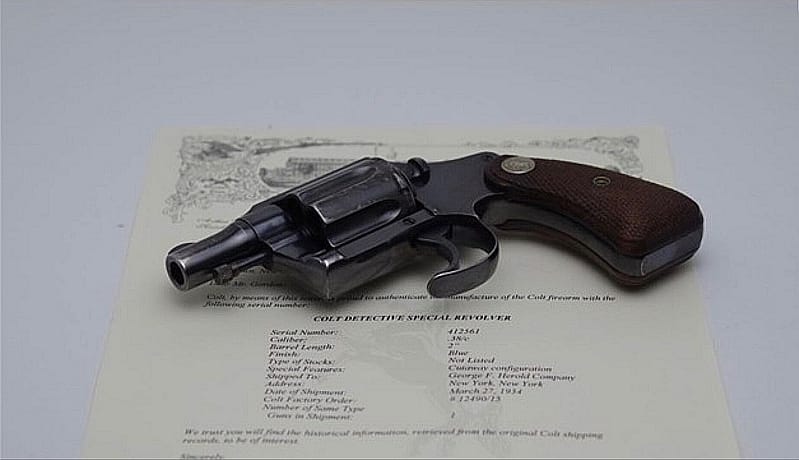 Among the most unique "Fitzed" guns are the two Colt Banker's Special "Half-Fitzes," one from 1933 and one from 1937. They are the only known .22 caliber Half-Fitz guns, though there are several fully "Fitzed" Banker's Specials. The configuration is called a "Half Fitz" because the hammer was not bobbed, though the trigger guard was cut away like all Fitz Specials.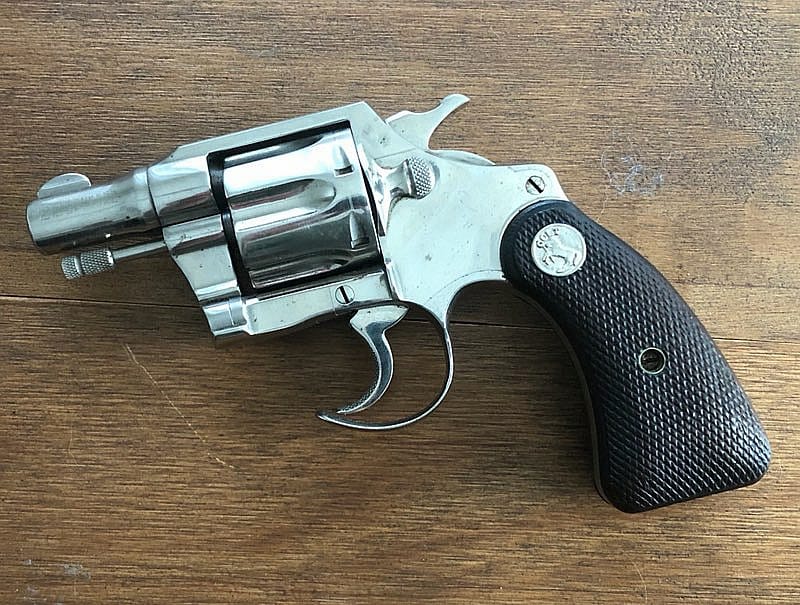 Letters of authenticity from Colt confirm this as their original factory configuration. The original owners are unknown, but the guns are clearly the product of special requests to the Colt Custom Shop. The current owners do not know the reason or purpose for the configuration. The 1933 Banker's Special was shipped to Hammelstown, Pennsylvania and the 1937 gun to Seattle, Washington, so any connection between the two is unlikely.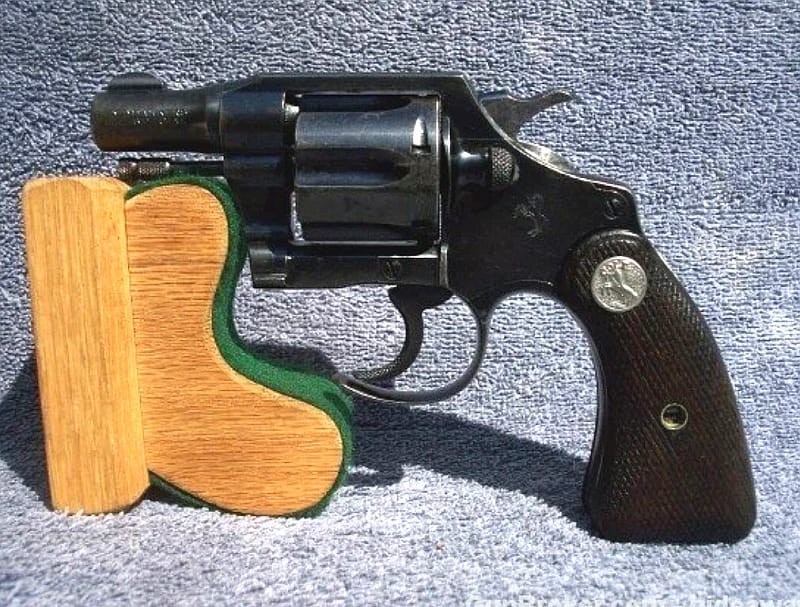 Perhaps the most unique and celebrated Fitz is the gun made by John FitzGerald for OSS, and later CIA, operative Rex Applegate. I don't know exactly when FitzGerald presented Applegate with his Fitz, but we definitely know the gun was made especially for him by the master himself because of the inscription on the frame: "TO REX FROM FITZ." It's believed that FitzGerald knew Applegate through the latter's uncle, Gus Peret, who was a famed exhibition shooter and hunter. It was Peret who taught Applegate to shoot and it's likely that FitzGerald knew them both from the shooting circuit.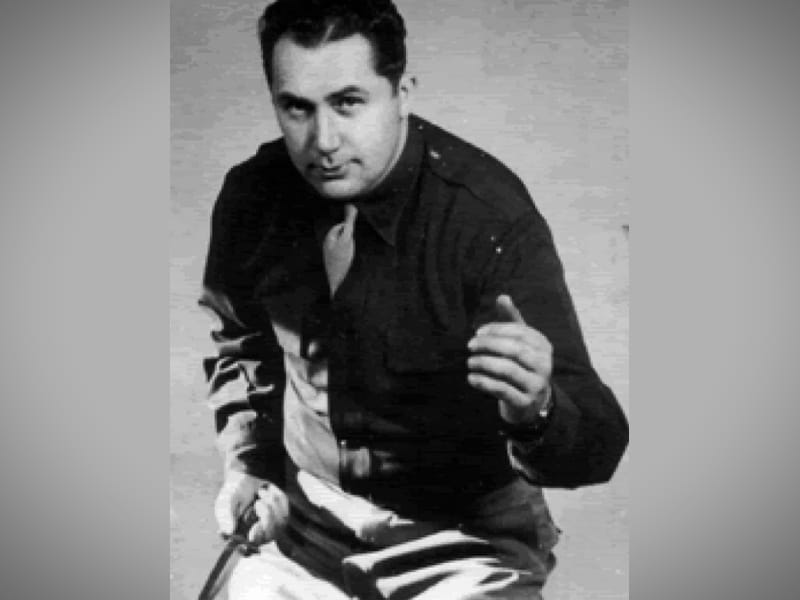 Applegate himself was a legendary martial artist and a deadly shot with pistol or rifle. Think half James Bond and half John Wick with some Chuck Norris thrown in for good measure. Maybe I'm exaggerating, but not too much. Look him up sometime if you're unfamiliar with his story. But this particular Fitz, even apart from the inscription and association with Applegate, is a unique firearm. It's the only Fitz known to be chambered in .45 ACP. The gun was made from Applegate's own Colt New Service Model of 1917. The Applegate Fitz is now owned by one of his friends from later in his life.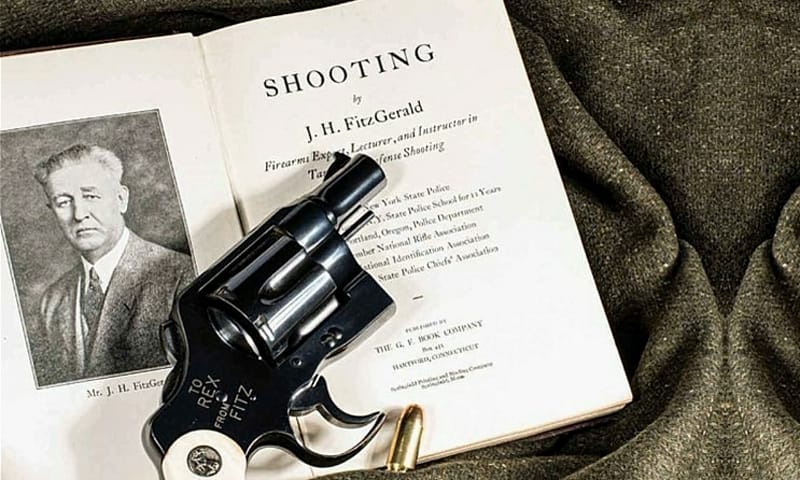 Finally, the famed personal combat guru W.E. Fairbairn is said to have owned another unique Fitz Special. Fairbairn was a British officer who cut his teeth on the streets of Singapore and created the famous Fairbairn fighting knife. He later instructed Allied commandos and operatives from the OSS and British SOE in close quarters combat during World War II. Applegate was one of them. Being British, Fairbairn's Fitz was reportedly chambered in .455 Webley. As far as we know, the gun was surrendered to the British Government after Fairbairn's death. It is believed to have been destroyed.
Who Else Owned a Fitz?
Well, we can't really answer that question entirely, but we can look at a few of whom you may have heard. First up is Charles Lindbergh, the famed aviator who flew the first solo flight across the Atlantic, New York to Paris, in 1927. After the murder of his toddler son in 1932, Lindbergh purchased a Fitzed Detective Special in early October of 1934, as the trial for the accused killer was getting underway. Lindbergh sat at the prosecutor's table with a holstered pistol under his arm during the trial. It was likely the Fitz. By the way, if you want to read about a messed-up incident, including suspicion later cast on Lindbergh himself, look up that case.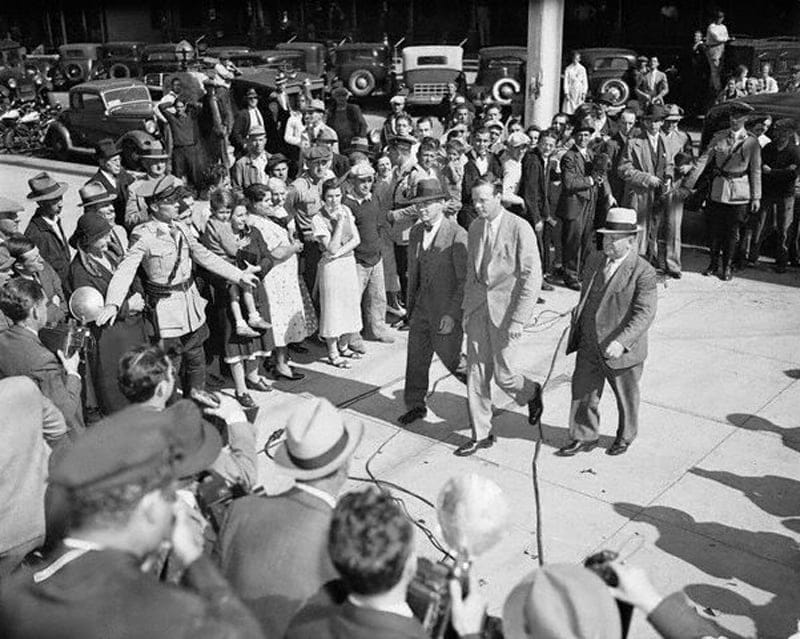 Gun writer Charles Askins also owned several "Fitzed" guns chambered in .38 Special, .38/.40, and .44/.40 during his time with the Forest Service, Border Patrol, and US Army in World War II.

The actor Tom Selleck is a well-known gun collector, and he owns several Fitz Specials. A Fitz appears in an episode of Selleck's television police drama Bluebloods and it's commonly believed that the gun is from Selleck's collection, but it isn't. Selleck lives in California, but the show is filmed in New York City. Thanks to New York's draconian firearms laws, it is illegal for Selleck to transport any of his guns into the city. So, a local gunsmith (there is apparently at least one still there) agreed to convert his Colt Official Police into a Fitz Special for use on the program. Since the gun is already registered in New York, it's legal. That is the gun used on set.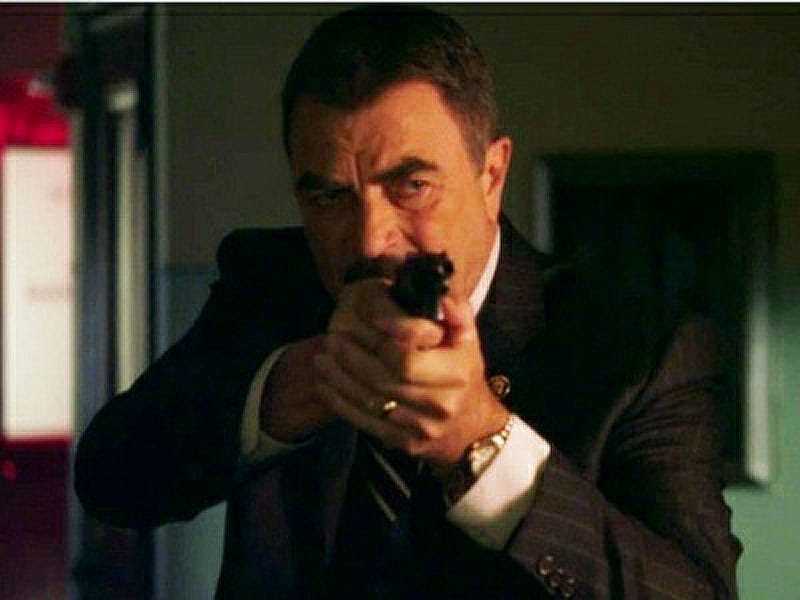 The legendary Texas Ranger Manuel Trazazas "Lone Wolf" Gonzaullas (say that three times fast) was a Fitz enthusiast, though it is unclear whether his guns were altered at Colt or after he bought them. Gonzaullas' guns were heavily customized, and he is more famous for his Fitz-style Colt 1911s than for his revolvers.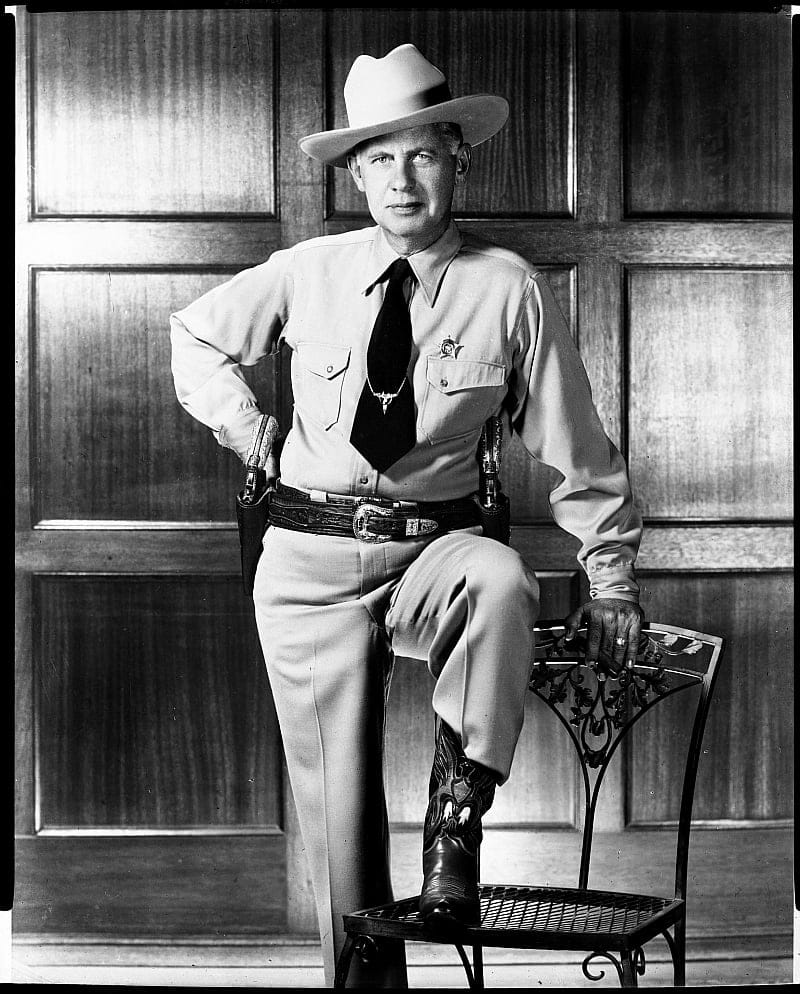 Gonzaullas was flamboyant and a sharp dresser. It's no wonder the slick-looking Fitz style appealed to him. His customized gold-plated Colt Detective Special is a "Half-Fitz," with the cutaway trigger guard and full-sized hammer. It has miniature Texas Ranger badges on the ornamental grips. Interestingly, that Half-Fitz seems to have a Smith & Wesson barrel installed on a Colt Detective Special frame.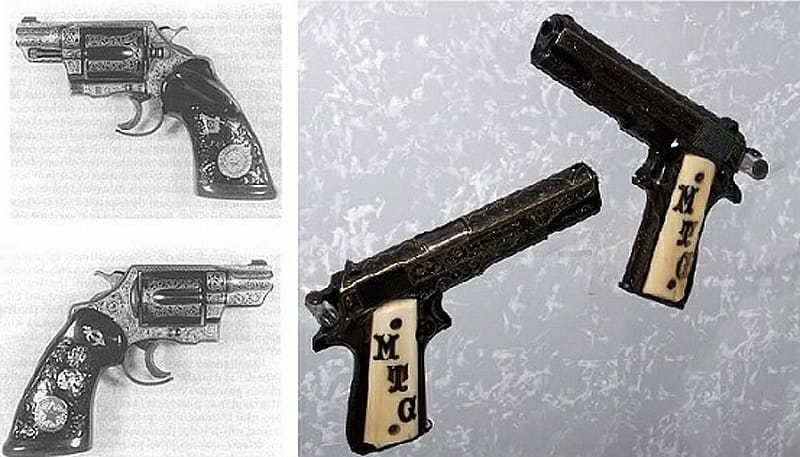 It seems Gonzaullas did some of the alterations himself and at least one of his guns, a 1924 Colt Army Special later owned by Clyde Barrow, was nickel-plated and "Fitzed" by an Austin, Texas gunsmith.
Barrow is one outlaw known to have had a "Fitzed" gun: the 1924 Colt Army Special stolen from Gonzaullas in 1930. Some say the gun was recovered when Barrow and Bonnie Parker were killed in 1934, but that isn't true. The gun was found by Navarro County, Texas Sheriff Rufus Pevehouse on May 6, 1930, in the glove box of a car stolen and later abandoned by Barrow. There's no way to know whether Barrow himself stole the gun from Gonzaullas or if he got it from someone else. Years later, when the gun was displayed at the Texas Ranger Museum, Fort Fisher, in Waco, Texas, Gonzaullas swore in a notarized statement that the gun had belonged to him and was stolen from his car when he worked the East Texas oil boom in 1930.
Historian Bobby Fluker included this information in a notarized statement that also said, regarding Gonzaullas, "If I remember correctly, he gave me the name of the Austin gunsmith who made the modifications to the gun for him." In a small discrepancy, Sheriff Pevehouse recovered the gun on May 6, 1930. The East Texas oil field was only discovered in October of that year. After so many years, Gonzaullas probably just remembered incorrectly. After all, his gun collection contained almost 600 firearms and he worked more than one boomtown, but it is interesting.
I have also seen questions as to the gun's finish, which I was told by someone who saw it up close looks "post-World War II, more like a Python finish." The gun also has custom grips, but I believe they were installed by Gonzaullas, considering many of his other guns got similar treatment. That same person also has some doubt as to whether the gun was "Fitzed' when it was found by Sheriff Pevehouse, whose affidavit only describes it as a ".38 Caliber Colt Revolver, serial number 505844." That serial number does confirm the gun's model and date of manufacture and the fact that it was modified later. He says the gun's value lies mainly in its association with Barrow, not so much in its "Fitzed" configuration. It would be nice to know the name of that Austin gunsmith. Believe what you will.
Finally, as I write this in mid-April of 2022, there is a genuine Fitz Special, one of John Henry FitzGerald's personal guns, for sale. It can be yours if you want it. All you need to do is lay down 50 grand and you can take it home. You're welcome.
Gotta Have One
There are lots of other "Fitzed" guns out there. As noted above, gunsmiths have been cutting down revolvers in imitation of FitzGerald's work since at least 1930. After all, a Colt Fitz Special could cost as much as 75 bucks, big money in those days, while a gunsmith could convert an existing revolver for as little as 20. Some are done on brands other than Colt. After researching this article, I've decided to buy an imitation Fitz or maybe a period-correct Detective Special to convert. The real ones are beyond my writer's income. Either way, I want one for my collection.
All in all, the Fitz Special is an extremely cool firearm that hearkens back to when craftsmanship still counted. It still does, I guess, but true craftsmen are few and far between. CNC machines turn out great products and I have more than my share of them, but a finely crafted firearm is a work of art that is far rarer than it used to be.
Maybe I'm just getting old, but tables full of black polymer firearms at gun shows don't really interest me anymore. I find myself looking for something with more character, even if I can't afford it. As much as I love my black guns, they lack personality. These days, I'm pricing old lever-action rifles, revolvers, and the like. And now, I'm looking for a Fitz of some sort. Talk about personality…man, it just doesn't get much better than that.
Author's note: I would like to express my sincere gratitude to Winston Wolfe and Jake Bush for their singular contributions to this article. Any inaccuracies are mine alone.