Griffin Armament just released an interesting new AR-15 M LOK rail. It's called the SR-Rigid rail, and what makes this rail different is that the suppressor is integrated into the rail, as you can see here: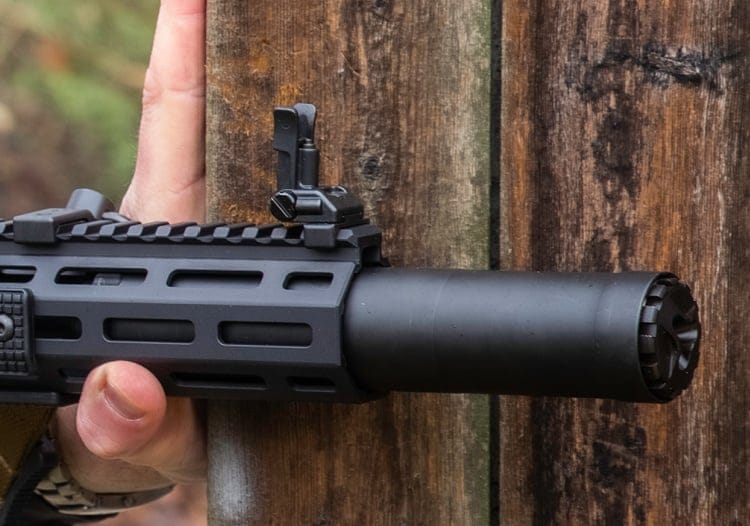 The SR-Rigid rail is octagonal, affording seven sides of M-LOK interfaces at 45-degree intervals. More M-LOK mounting options means increased versatility over those typically found on quad rails. And by integrating the suppressor into the rail, the firearm becomes a compact overall system package with the look and fit of a longer, more traditional rail.
According to Evan Green, Griffin's Business Manager, the idea for this kind of rail came from hog hunters in Texas who wanted a hunting platform with a relatively normal overall length, even with a silencer attached. They also wanted to be able to grasp the firearm further out toward the end so they could better control their accuracy for those times when they arent' shooting off a tripod or barricade.
So Griffin came up with the SR-Rigid Rail. Green says these are a carry-over from Low Pro rails with ID reinforcements on the rail to reduce the flex of the rai. As he puts it, it's a more robust, structurally, for a more consistent point of impact.
Here's how Griffin Armament describes the new SR-Rigid rail:
Griffin Armament M-LOK compatible SR-RIGID rails (Suppressor Ready – Rigid) allow up to 1.5" outside diameter silencers to be mounted
inside the octagonal M-LOK rail. This provides suppressor aficionados a sleek, and compact overall length to AR15 type firearms.
Design objectives of this rail were to provide a suppressor compatible rail, with increased rigidity and durability over similar weight and profile current market options. A custom extrusion provides significant internal reinforcements to reduce flex when loading the carbine on the rail.
"We understand the importance of low light targeting with IR lasers and other low light targeting systems. Reducing flex with our ID reinforcement spars reduces POI shift related to rail mounted lasers and night vision clip ons. These rails offer more accuracy (less flex) than their competition which means more lethality under hours of darkness." -Evan Green
These reinforcements provide rigid mounting for IR laser aimers ensuring minimal POI shift when torque is applied to fore-grip type accessories, or when loads are applied to the rail such as practical shooting off barricades or when loading bipods for rapid follow up shots. Internal practical testing showed substantial reductions in POI shift with laser aimers versus competing "slim rails" that lacked this notable product feature.
The new SR-RIGID rails feature a close tolerance, heavy-duty, 7075 aluminum, T-6, type 3 hard coat anodized finish. The barrel nut can be
easily installed to 35-85 ft/lbs using the included Griffin Armorers Wrench. The new slip fit clamp design is extremely user-friendly and does not require any shims or special timing methods. The clamp geometry in the rear section of the rail is low profile and ergonomically pleasing even for long durations of extended carry at static security positions. Flathead T15 Torx screws should be tightened to 25/in pounds.
The included 45-degree Picatinny QD sling swivel can be installed on the top Picatinny rail to the desired position of the end-user. M-LOK flats on each 45-degree surface allow for mounting of your favorite M-LOK accessories. A contiguous Picatinny top rail ensures repeatable and accurate mounting for night vision and thermal systems.
Key points – price and inclusions:
MSRP from $169.95
Available Lengths 15", 13.5", 12.5", 11.5", 10.5", 9.5", 7.5"
7 sides of M-LOK interfaces
Contiguous 1913 Picatinny top rail
Low profile, user-friendly, clamp installation design
Multi-Function Griffin Armorers wrench included
6061-T6, Type 3 hard coat anodized SR-Rigid Rail
7075, T-6, Type 3 hard coat anodized, aluminum barrel nut
45° Picatinny QD swivel mount included
Here's the product video, and make sure to watch the installation video below.
Read more at Griffin Armament.