Pistol braces are the most innovative product to come out of the industry in the last ten years. I believe we only see certain guns these days because of the presence of pistol braces. Guns like the Daniel Defense PDW, the SIG Copperhead, the Ruger PC Charger, and DBX57 exist because pistol braces make them much easier to handle. We have SB Tactical to thank for that.
Why does SB Tactical rule? Well, that's a long answer. Here are five reasons why SB Tactical rules the pistol brace world.
5. They Invented the Pistol Brace
SB Tactical created the original SB 15 and partnered with SIG to produce it. The SB 15 changed the game and immediately sent the industry into overdrive. When it first premiered, it was near impossible to obtain one. They were consistently sold out. I remember being extremely excited to overpay for one on the secondary market.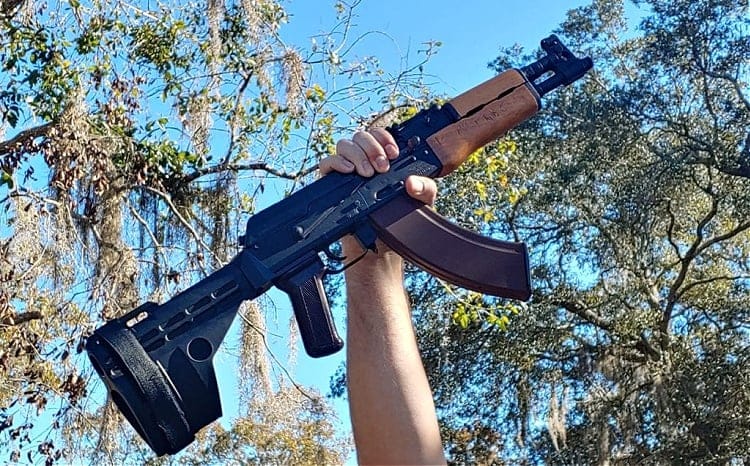 Shortly after, they produced an AK model, and from there, they exploded. Everything that could be braced became braced. All based on the original design of the SB 15. Since then, the brace world has evolved and become more refined. They've shaped and morphed into designs that are both better looking and more functional.
4. SB Tactical Make Tons of Different Braces
What kind of gun do you have? SB Tactical likely makes a brace for it. What started with AR and AKs has spread to CZ Scorpions, MP5s, 12 gauge firearms, 1913 braces, and beyond. SB Tactical has produced braces for everybody and every gun, and likely multiple types of braces for a single gun.
We have folding braces, collapsing braces, PDW braces, PSB braces, and more. For AKs, ARs, UZIs, Scorpions, Shockwaves, and more. Every pistol AR 15 build kit on the market includes a pistol brace these days.
They work with companies as large as Palmetto State Armory and as small as Manticore Arms to produce new brace designs for the wide variety of large format pistols out there. The same goes for 12 gauge firearms. They embrace the current aftermarket and produce goods that work with numerous adapters and even produce adapters to allow a greater variety of braces to be used on a wide variety of platforms.
3. The Best Braces
SB Tactical makes the best braces. And, because they make the best braces, they've become partnered with industry movers and shakers. This includes working with Noveske, Maxim Defense, SIG Sauer, BCM, Daniel Defense, and dozens more.
The original braces are still in use today. They are extremely well made, designed to be comfortable, and completely functional. Hell, they even look good, and that's tough to accomplish. The wide variety of braces they make allow the brace to blend with the pistol.
A side folding triangle type brace looks like it belongs on an AK. The SBA4 does the same with AR platform pistols, and so do a wide variety of the braces they produce. Their braces improve comfort by providing braces that lengthen and shorten to accommodate various shooters. Some incorporate excellent folding mechanisms to minimize size.
Durability, comfort, function, and beyond make their braces the best currently on the market. It's tough to beat the original, and when the original constantly innovates, they remain untouchable. I'd love to tell you how their customer service is, but I can't, because I've never had to use it before. From my original SB 15 to my latest FS1913, my SB Tactical braces have always been rock solid.
2. They Give Disabled Shooters Options
The original SB 15 was designed with disabled veterans in mind. They allow shooters with disabilities to not only better handle their large platform pistols but also allow them to wield them safely. SB Tactical braces come in various configurations for tons of different firearms that allow a shooter with poor strength and motor functions to safely enjoy their firearm.
I have what my doctor calls "the arthritis of an 80-year-old" in my left shoulder. It's been an adventure strengthening my shoulders to compensate for arthritis, and along the way, SB Tactical braces were a godsend. Handling some of my favorite guns was easy as the weight was put on my right arm and not my left. I could fire my CZ Scorpion accurately and safely, thanks to SB Tactical braces. You can't beat a tool that not only improves your ability to shoot but your safety in doing so.
1. SB Tactical Fights for the 2nd Amendment
There are a few companies that put their money where their mouth is. Magpul is one, and SB Tactical is another. They fight to upend unconstitutional restrictions and to be a watchdog on the ever-changing opinions of the ATF. The folks at SB Tactical spent their own money to hire lawyers to fight the ATF when they reversed a decision on the use of pistol braces.
In the latest round of ATF fuddery, SB Tactical held the line. They organized and disseminated accurate information. They readied themselves and were monumental in having the ATF pull their decision from the Federal Register. SB Tactical continues to monitor and communicate with politicians, lawyers, 2nd amendment advocates as well as the ATF to provide fair and legal guidelines for the use of their products.
SB Tactical has not just chased legislation regarding pistol braces but gun rights in general. They advocate against magazine bans, AWBs, and for 2nd Amendment rights for all.
When you piss off the right people, I can't help but appreciate you. When gun control efforts from Moms Demanding Action and the Trace name you personally, you should know you have a friend in me. Judge your friends by your enemies and you'll tend to have lots of stuff in common.
Brace it
When it cames to large format pistols and rifle caliber pistols, SB Tactical changed the game. Before they came along AK and AR, pistols were clumsy, hefty, and, at best, a novelty but that changed completely with the addition of a brace. Heavy, bulky firearms became more manageable and easier to fire accurately and safely.
Braces might have initially been designed to help disabled shooters, but they've gone on to make pistols more accessible for all shooters. Pistol braces are now a massive market that has been accepted with graciousness by the entire industry. SB Tactical wisely works with companies to develop new products and produce exceptional braces.
What's your experience with SB Tactical? Let us know below.