Conventional wisdom says you need to have at least twice as many magazines as your gun came with from the factory, preferably more. However, manufacturer magazines can be a bit pricy at times, preventing gun owners from stocking up on what they need. Some aftermarket companies supply magazines for popular pistols, often at considerable savings over the brand name models, but are they worth it? Do they do the job? The old adage says you get what you pay for. Does that apply to less expensive aftermarket magazines?
My EDC is a Smith & Wesson Shield, a gun I've carried for close to 10 years now. I've shot hundreds, maybe thousands of rounds through it. It's an ultra-reliable firearm, which is good because my life depends on it. Thankfully, I've never had to use it to defend myself or anyone else, but I'm confident it will perform if that fateful day ever arises. Given that, I need it to work all the time, starting with a reliable ammo feeder.
When I received a pair of ETS magazines for the Shield, I have to admit I was more than a little excited. Their 5.56 magazines have been reliably feeding my AR for years, and they have been the topic of more than one of my reviews, each time passing with flying colors. So I hoped the Shield magazines would stack up.
Let's start with the basics, according to ETS's website:
Magazine Features
Fits the Smith & Wesson 9mm Shield

(does not fit the S&W Shield EZ)

Extended 9-round capacity

Compatible with most floor plates that fit Glock magazines

Easy disassembly with our specially designed base plate

Ergonomically designed floorplate makes it easy to grab from mag pouches

Lifetime Warranty
Advanced Polymer Benefits
Extreme Impact Resistance—won't crack or break when dropped

Very resistant to harsh chemicals

Superior heat, cold, and UV resistance—won't become brittle over time, even when exposed to harsh environments or extreme cold

Translucent body—allowing you to see your ammo count and type

Creep resistant—the feed lips and body won't spread when being stored long term, even when fully loaded
The most obvious feature that sets all ETS magazines, not just this one, apart from pretty much every other brand out there is the unique clear and smoky sleeve. Can I go ahead and throw out the "it's clearly different" pun and get it over with? There, I said it. Now we can move on.
Why does ETS make transparent magazines?
Do you want the marketing answer or the practical answer? Let's start with the marketing answer: it makes the product stand out. You can recognize an ETS magazine instantly. There is no mistaking it for some other maker. From a brand recognition perspective, it's brilliant.
Now for the practical answer: it makes capacity checks easier. How many rounds did you put in? How many rounds do you have left? Most magazines have slits or dot windows that let you see a hint of brass at various intervals. The famous Glock dots come to mind. Or Magpuls AR mags with the plastic slit window on the side. But what if you could see all the rounds all the time? Apparently, that's ETS's philosophy.
I can tell you it's nice to pop the magazine out in the middle and know exactly how much fun you have left before it runs dry. Loading a transparent magazine is nice, too, seeing how many more rounds you have to stuff.
Speaking of stuffing rounds, the spring on this magazine was just the right pressure poundage. I don't have a measuring device for magazine springs, but I can say that adding all nine rounds was super easy, yet the spring felt firm enough that I was confident it would perform as a shooter feeder.
And perform it did. I shot 100 rounds through in my initial test session with nary an issue. In fact, it malfunctioned exactly zero times. I've come to expect this level of reliability from ETS magazines, as their AR magazines have performed flawlessly for me.
ETS magazines are all American-made and come with a lifetime warranty.
The good news about the warranty is there is an excellent chance you'll never have to take advantage of it, thanks to the outstanding design and construction of the products. I have dropped my ETS magazines on concrete, asphalt, and gravel; stepped on them with boots; and tried to abuse them in various ways, all for naught. Each time, they shrugged it off like it was nothing.
Now, lest you think this is an ETS love fest, the Shield version does have a really annoying flaw: the horizontal baseplate. Standard Shield factory magazines and most aftermarket versions have a slanted baseplate that hangs parallel to the bottom of the grip. Even extended baseplates tend to angle the same way. Not so with the ETS. Instead, it hangs at an annoying 20 degrees below parallel, making the gun more difficult to conceal and relegating this magazine to a backup role in my weak side magazine pouch. I would never carry the ETS as my primary magazine. It sticks out too far.
For only $16.99 at GunMag Warehouse, you can afford to get plenty of these Shield ETS magazines and keep them well-stocked with ammo.
Speaking of ammo, as I mentioned above, I ran 100 rounds through in my initial test. Let's talk for a minute about the ammo I used.
CCI Training Ammunition 9mm 115-Grain Ammo
When most of us think of CCI, what immediately comes to mind? Probably not 9mm ammo. More likely, you think of their excellent .22LR ammo that so many plinker pistols and rifles gobble up with easy, spitting tiny round after tiny round downrange. But did you know CCI also makes other calibers?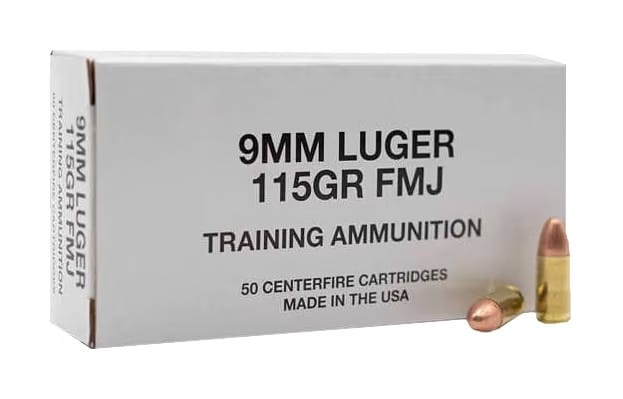 I popped a 50-round box of their 9mm 115-grain practice ammo downrange and was very happy with the results. Not only did it feed correctly every time, but it was also extremely accurate at ranges out to 25 yards, although I mostly shot at 7 to 10 yards because that is the typical range I would need to use my Shield for self-defense.
Don't be fooled by the generic-looking packaging that may give you pause. This is top-notch practice ammo. And at the current price of $18.99, you won't go broke practicing,
Federal Champion 9mm 115-Grain FMJ Ammo
The second 50 rounds I threw downrange was the Federal Champion 9mm 115-grain FMJ Ammo. Federal has long been known as a reasonably priced yet high-quality ammunition maker that puts out a wide range of calibers and grains. These high-quality shooters are used by law enforcement agencies and civilian agencies alike, as well as competition shooters. I've used them myself for the occasional IDPA or USPSA match with good results. In fact, I don't recall ever having issues with dead primers or misfeeds.
As hard as it is to fork over the dough for ammo nowadays, at only $15.99 on our website, this ammo is worth the small investment that will help you practice the skills you need to keep yourself and your loved ones safe.