After years of shooting, observation, and dryfire, Edgar Sherman set out to solve the problems he observed and experienced first-hand. With the expertise of Patrick Law from BP Knives, they began the development of the first ESD Glock Gen 5 magwell. This is the first pistol magwell design that understands human ergonomics and motion. A magwell in a class of its own that not only looks like a Ferrari but it performs like one too, according to ESD.
Every curve, every angle, every feature on the ESD magwell is intentional and aligns with their mission to enhance a shooter's capabilities using human-centered design. Featuring symmetrical side cutouts for stripping magazines, the ESD magwell allows for easy removal of flush-fitting magazines as well as those that have an extension. Additionally, a third cut-out is located on the front of the ESD magwell.
This third cut-out is especially useful in low light/ no light conditions and serves as a reference point for the shooter which allows them to focus on the task at hand rather than worrying about fumbling a magazine during a reload. The angles on the inside of the magwell allow for a greater margin of error when inserting mags and will "course correct" if they are ever inserted at an off-angle.
The ESD Magwell is manufactured with the help of Parker Mountain Machine in New Hampshire. ESD wanted to support American manufacturing as well as their local community at every opportunity, so this partnership was a no-brainer. For ESD, it is important to not only source a quality product but also work with a company they trust to maintain strict quality standards at every step of the manufacturing process.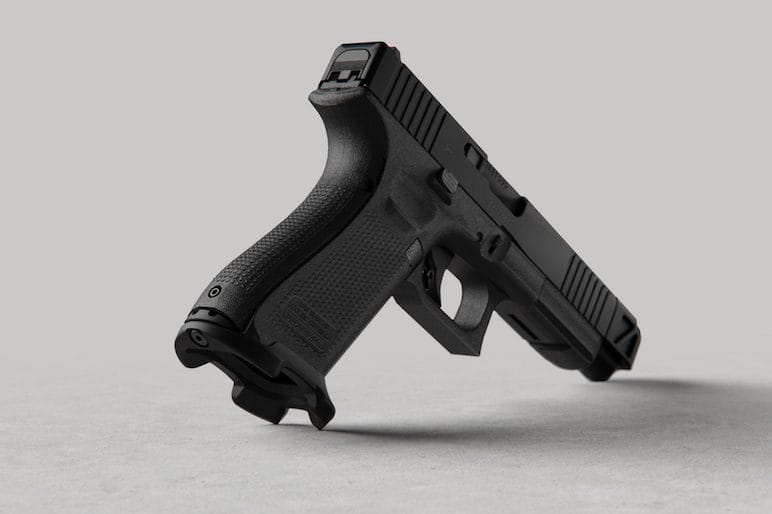 The magwell is made of high-quality 6061-T6 aluminum and anodized black. The ESD Magwell is currently available for Glock Gen 5 double-stack 9mm and .40cal pistols, with support for other handguns coming in the future. The current MSRP for the ESD Magwell is $110.