Rationalization is a powerful thing. The temptation to convince one's self that "it's good enough" or that you'll "do it later" is right up there with other irresistible forces of nature like gravity and checking your smartphone while waiting in line.
It's so tempting to rationalize training shortcuts, especially when the routine in question is pretty darn close to the "right" way to do something. Here's what I mean. When at the range, whether plinking, competing, of practicing shooting skills, it's easy to gear up with everything easily accessible. What I mean by that is that the holster is likely outside of the waistband. The magazine carrier, if you're using one, is also on the belt. Often, none of this is covered up with a concealment garment, or if it is, it's not the one you would use in your everyday life travels. Hey, you're on the range. Or maybe you're competing in a local match of some sort. You're getting repetitions with actions like draws and magazine changes, so that's all good, right?
If you habitually practice magazine changes from an "open carry" magazine pouch on your belt, you're certainly burning in some useful muscle memory – for part of the process. You're ejecting the spent magazine, loading a new one, and firing. That's all good stuff!
What you're not doing in that scenarios is drawing from concealment. It doesn't sound like a big deal. After all, you only need to reach under a shirt or jacket. That's not hard. Or is it?
As a level set, let's review the basic magazine replacement process assuming you're carrying a spare magazine or two on the belt.
Release the existing pistol magazine. Visually verify that it drops just in case you have to yank it out in the event of a sticky magazine or jam.
As you do, move the cover garment out of the way. Hold this thought for a hot second…
Extract the spare magazine with your support hand while aligning your index finger along the front of the magazine with your fingertip stopping short of the top opening. See the included picture for details.
If not already there, move your pistol in front of your face and tilt it, so the magazine well is angled towards your support side. The idea is to have your "workspace" right in front of your eyeballs, so you get it right on the first try.
Using your index finger as a guide, insert the new magazine, allowing your index finger to slide along the front of your firing hand grip as you guide the new magazine into place.
Smack the magazine base with your palm to ensure that it's firmly seated.
Depending on your preferred method, either release the slide lock with your firing hand or quickly rack the slide with your support hand. Which to choose is a topic all its own as there are pros and cons to each method.
Resume whatever it was you were doing before all this activity.
Here's the gotcha for execution of this routine from concealed carry. By definition, your spare magazines are covered by some type of cover garment, so you have to factor moving that out of the way. Depending on your concealment strategy, there are a couple of ways to do this.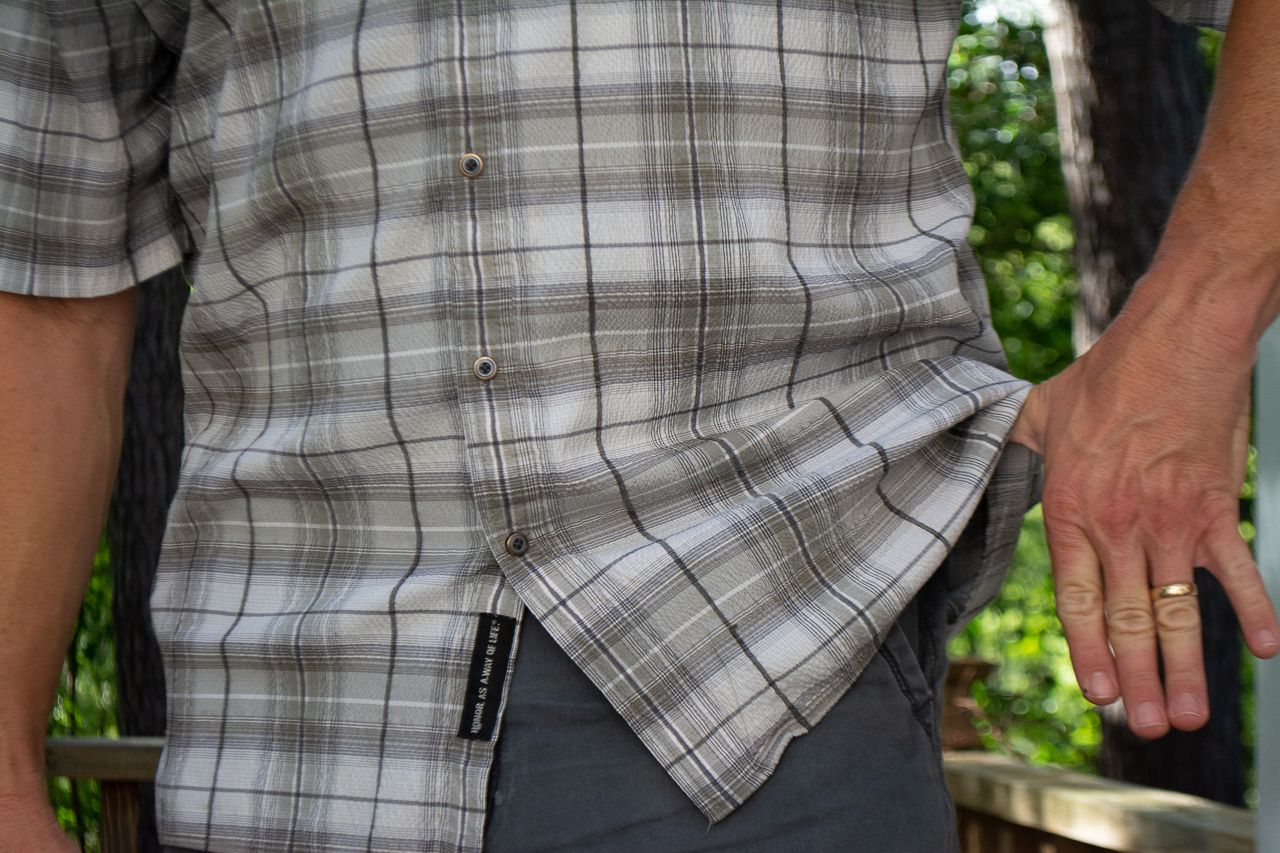 If you're wearing a jacket or coat, you can point your support-hand thumb towards your body and draw your jacket back as you reach for the magazine. With enough vigor and adequate jacket weight, it will swing out of the way long enough for you to retrieve the magazine before the coat swings back into normal position.
If you're concealing your gun and magazines with a t-shirt or anything else untucked without an open front, things get trickier. This is the scenario where lazy practice habits become exposed. Since you'll be holding your pistol with the firing hand throughout, you will have to move your cover garment with your support hand at the same time you're grabbing a fresh magazine. With a jacket, you can sweep it out of the way long enough to shift your hand and extract the magazine.
That doesn't work with a t-shirt, however. You'll need to pull the t-shirt up and out of the way and hold it there while extracting the magazine – all with the same hand. It's not hard to do when you have time. However, when in a hurry, you can get hand, magazine, and clothing tangled up easily, thereby costing you time and risking a dropped magazine. You can try a couple of methods. By extending your thumb towards your body, you can use it as a "hook" to lift the shirt up and out of the way, keeping your other fingers free to start grasping the magazine. If that's too complex, you can also just lift your shirt normally and press it against your body with your wrist long enough to retrieve the magazine.
Here's the key point. Both of these methods, or any other you may prefer, don't come naturally and are prone to hangups. If you practice retrieving magazines from an exposed position, assuming that all will go to plan when you need to do it from concealment while under stress, you're going to get seriously messed up. To see this first hand, put your pistol away somewhere safe, put your firing hand in your pants pocket so it's out of commission as it would be if holding your gun. Now have a buddy or significant other yell "Go!" While timing you to see how quickly you can get your magazine out from concealment only using your support hand. You might be surprised at the results. It's surprisingly easy for your shirt to get caught up on the magazine base plate or between magazines if you carry two.
If your results are less than satisfactory, there's an easy fix. Don't practice lazy. You don't need to be at the range to safely practice this skill. Just put your gun away and practice withdrawing magazine from concealment using only one hand. Here's the key. Practice slowly and deliberately. Once you get the motions perfect and burn them into your subconscious with a couple of thousand repetitions over time, the speed will come on its own. They key is to repeat the exact same movement over and over until you can't do it with the slightest bit of variance.
Magazine changes aren't the only thing that can bite you when doing it "for real." The more you practice everything – draws, re-holstering, and changing magazines from your exact daily carry configuration, the better prepared you'll be. Use the same gun, holster, and magazine carry equipment that you put on when going out into the world. Wear the same clothes. "Cheating" at the range or by using a photographers vest in your local IDPA competition may help you shave time off your score and stroke your ego, but it won't help you when you have to execute the same routines from real concealment.