If you've been into shooting for any amount of time, you know that Aimpoint optics are considered by many to be the industry standard for red dots. They are also priced like it. Don't get me wrong, I know you get what you pay for, but you also have to be able to pay for it in the first place. Today we'll look at the Aimpoint Duty RDS.
Well, if you've always wanted an Aimpoint but didn't have the cash or couldn't justify the cost, here's your chance. In the video linked below, Derek from EuroOptic gives us a quick rundown of the new Aimpoint Duty RDS red dot optic, which he describes as "a more budget-conscious option to Aimpoint's lineup." Derek does allow that hearing the word "budget" from a company known for making high-end products might cause some skepticism. But he says the RDS is "well-executed and it does share some of its DNA with its siblings."
Aimpoint Duty RDS Red Dot Features
First. let's hit the features of the RDS from Aimpoint's website:
2 MOA red dot
Battery type: CR2032 (included)
Battery Life: 30,000 hours (over 3 years) on setting 7
Mount: One-piece torsion nut
Advanced optical lenses for enhanced light transmission and ultimate dot clarity
Flush mounted waterproof windage and elevation adjustments
10 brightness settings: 1 off position, 4 night vision compatible settings, and 6 daylight settings.
Magnification: 1x – operationally parallax free
Submersible to 80 feet (25 meters)
Temperature span: -49 degrees to +160 degrees Fahrenheit
Weight: 3.8 ounces (sight only)
Length x Width x Height: 2.7 x 1.5 x 1.7 inches
Comparison
Derek compares those features with the proven, and expensive, Aimpoint Micro T2, Comp M5, and Comp M5S optics.
All share the 2 MOA dot.
The T2 has 4 night vision settings and 8 daylight settings, compared to 4 and 6 for the RDS.
The T2 and M5 optics have 50,000 hours of battery life compared to 30,000. Still, that's a lot of battery life, and Derek says he thinks many people change them every year or so anyway. He also notes that some companies deceptively tie battery life to lower brightness settings. The RDS is rated on its highest setting.

The word "budget" might make you skeptical, but the Duty RDS looks to be the real deal.

The T2's brightness is controlled by a rotary knob, while the RDS has up and down buttons. Aimpoint says those controls can be manipulated while wearing gloves, which Derek confirmed himself.
The T2 and RDS are submersible to 80 feet. "Pretty ridiculous there, from a civilian standpoint," Derek says. But if you wanna get your SEAL Team cosplay on…
Derek spent a lot of time with the T2 and the RDS and he believes the glass quality is equal. That's a big deal for a lower-priced optic. He also notes that turning up the T2, or any optic, too high creates a red halo around the edges that can be seen if you move your head around. The RDS does that on setting 7 but he says that outside "it isn't even noticeable."

The glass quality on the Duty RDS is equal to the Micro T2 and Comp M5.

There is a slight difference in mounting height because of the RDS's different base. It has the same footprint as the other three Aimpoints, but it sits about a quarter-inch higher than the T2 and the Comp M5 because of that base. The RDS is very close, within a tenth of an inch, to the M5S. So, keep that in mind when mounting the RDS.
Final Thoughts
"I like it a lot," Derek says. "It gives you that same quality that you expect from Aimpoint, but it's just not as bonkers as something like the Comp M5 or the T2 ($499 vs. $825-$928 for the Micro T2 and $1011 for the Comp M5). He notes that long battery life is expensive to engineer and produce but 30,000 hours really ought to be enough. "I'll take the hit on the ridiculous battery life and still have something that's pretty insane."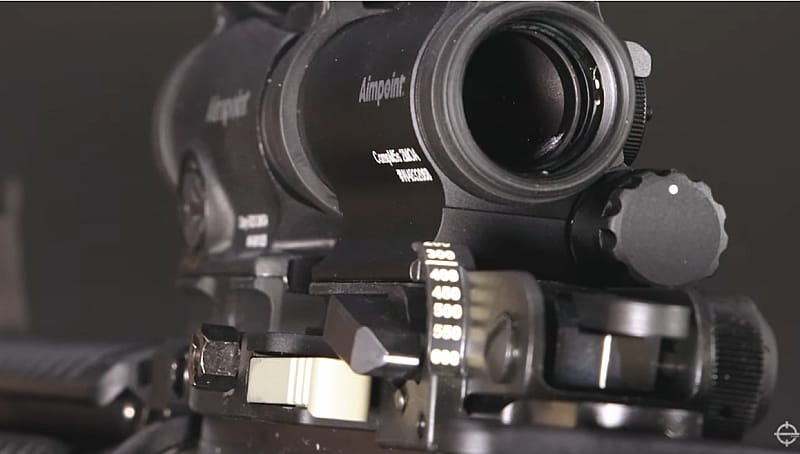 Are you up for "budget" Aimpoint? Let us know in the comments.