Storing firearms is serious business, because if it's done improperly you could easily be left with a corroded, rusted, or otherwise damaged gun. That's where Bone-Dri Gun Cases come in, designing and producing a wide variety of storage options created to protect your firearms, ammunition, and other related gear. The company just unveiled it's new Gun and Ammo Bag.
The Bone-Dri Gun Cases Gun and Ammo bag is made using the company's patented Absorbits technology (Patent #9,771,202 B1). Absorbits is not only patented but tested and proven to deliver superior protection for firearms and related gear. According to the manufacturer, their bags are produced using the best possible materials sourced on a global level. All their bags are also guaranteed for life, so if you don't love it, you can return it.
Details of their guarantee can be found on their website:
"All BONE-DRI Powered by Absorbits products offer an unconditional warranty. Please email us at warranty@absorbits.com and include pictures and we will repair or replace the product."
From Bone-Dri Gun Cases regarding their Gun and Ammo Bag:
"Whether you are headed to the gun range, hunting, fishing, camping, or hiking – or storing your handgun, ammo, or suppressor in a safe – the BONE-DRI Gun & Ammo Bag keeps your prized possessions safe, dry, and ready for use. Crafted from durable nylon and guaranteed for life, this bag is engineered with Absorbits moisture-removal technology to store and protect your firearms from rust after exposure to moisture."
The company further states: "Consistent with our mission to help people protect their prized possessions, we proudly donate a portion of our profits to help disabled veterans and their families acquire the skills and resources necessary to adapt to civilian life."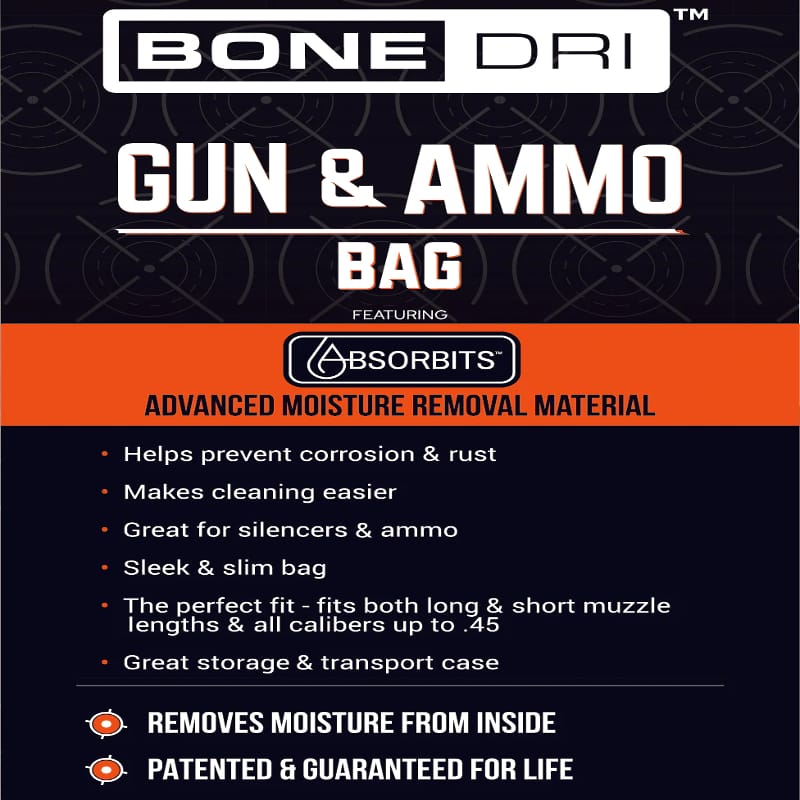 The company has a full line of products available in addition to their latest gun bag release. Popular products include the "Big Shuug" Shotgun Sleeve and Handgun 2.0 Case. Bone-Dri Gun Cases takes the care and protection of your firearms seriously, and so should you.
Features and Specifications
Measurements: 14 inches x 9 inches x 1 inch
Empty weight: 13 ounces
Uniquely designed to prevent corrosion and rust
Absorbits™ moisture-wicking material is made to keep handguns dry and rust-free after they've been exposed to moisture
Simplifies the cleaning process
Even works to pull moisture from inside your gun to protect vital working parts
Other great uses include suppressor and ammunition storage
Items stored inside immediately accessible for use
For use as both a storage and transport case
Can even be used in your safe
Useful for hunting, fishing, and camping expeditions
Comes with the Bone-Dri lifetime warranty
MSRP for the Bone-Dri Gun Cases Gun and Ammo bag is $29.99.