The AK certainly needs no introduction, as dozens of various versions now have flooded our market. In the 1990s, shooters flocked to weapons firing 7.62x39mm ammunition because of its cheap price. Not only for the price, but also the fact that the 7.62 round hits with authority at ranges that are practical for self-defense situations, and even beyond. Firing a .30 caliber bullet weighing around 123 grains at an approximate velocity of 2,350 feet per second, it will take down game and humanoids with bad intentions.
Several years back, Century Arms coupled Hungarian AK parts kits with milled American receivers, coming up with the AK-63D.
Let's take a look at what the buyer gets.
The kit and the receiver are nicely combined, with every metal part given a beautifully parkerized finish (we don't usually use the words beautiful and parkerized in the same sentence, but here it is appropriate). It all matches, and it's all smooth, consistent, and attractive.
The furniture is a pleasant blonde that is nicely finished. In fact, it's so nicely finished that it almost looks too nice to have on an AK.
Weighing in at 7.9 pounds, it's not a lightweight, but certainly not the heaviest semi-auto around. The length, with stock extended, is 35.75 inches long, with a 16.3-inch barrel.
This rifle has an underfolding stock, which people seem to either love or hate. To be honest, firing with the metal underfolder stock is less comfortable than with a solid, wood stock. Beyond that, though, the underfolder has some merits. Obviously, it is extremely compact when folded, and will fit in a large duffle bag or backpack. Originally developed for paratroopers and armored vehicle crewmen, the underfolder was conceived with compactness in mind. To that end, it succeeded admirably. Aside from all that, it rates a solid 10 on the Cool Factor Scale!
The AK-63D can be fired with the stock folded, but it's not very effective at any range other than room distance. Even with a magazine in place, the stock can be folded and unfolded, adding to its versatility.
To make the stock more comfortable in firing, some shooters will wrap paracord around one arm of the metal stock, giving their cheek some padding for a better cheek weld. I don't find the metal stock to be prohibitive, but it's not overly comfortable, either.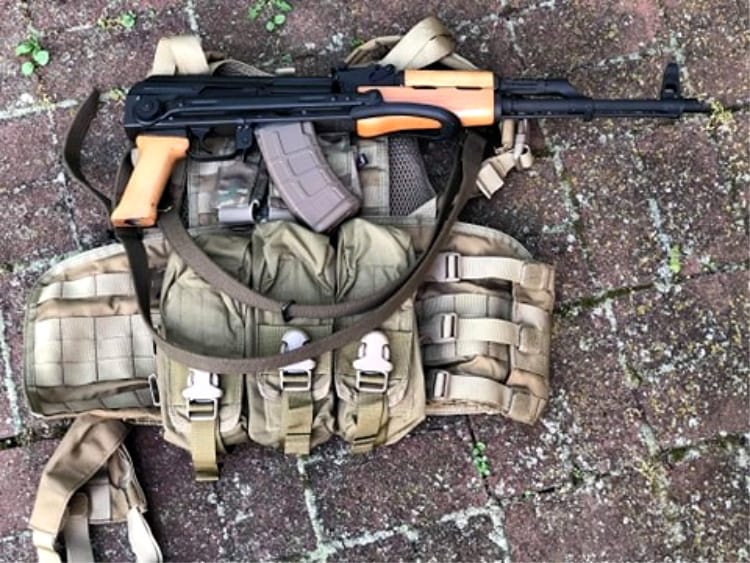 The trigger is excellent, being a Tapco G-2 unit with braided wire springs. For an AK, it is outstanding, with a nice break. Zero complaints in this department.
My rifle came with one magazine, a Magpul 30-rounder. I have tried other magazines with mixed results. If buying metal magazines, I have to take my rifle with me to the store to make certain that they fit because some are extremely tight in the magazine well, while others fit like a glove. However, I have had 100% perfect results with Magpul magazines, so I generally just stick with those. Plus, they are very reasonably priced and durable. Many people complain that, when firing prone, the 30-round magazines prevent them from getting low to the ground, and this is true. For that reason, and simply because they are more compact, I've acquired a few 20-round magazines, which are a great compromise between capacity and bulkiness.
True to AK form, reliability has been 100% with the rifle with every brand of ammo I've tried. Tula, Wolf, and Red Army Standard all work just fine, as it should be.
The parts inside the AK-63D are all in beautiful shape. The action is extremely smooth, and a pleasure to fire. Recoil is about twice that of an AR-15, which makes sense, considering the 7.62 round is approximately twice as heavy as the AR-15's 5.56 round. Recoil is not excessive at all, but a bit more than firing a wood-stocked AK. Engaging targets with an AK is slightly slower than with an AR, given the increased recoil, but on the flip side, you're delivering a heavier round to each target. Six of one, half dozen of the other, in my opinion.
Accuracy
I won't belabor this issue. It's an AK, not a sniper rifle. The oft-used term "Minute of Bad Guy" is appropriate here, with 50-yard groups with my old eyes fetching about 2-3 inches. 100-yard groups for me come in around five inches. I confess that I don't sit at the 100-yard line, trying to squeeze out every scintilla of accuracy from the rifle.
What I do is shooting drills at closer range, typically within about 40 yards, engaging multiple targets quickly. For this, the AK-63D handles very well. It's quick to the shoulder and short enough that it swings from target to target in a most handy manner.
Practicing magazine changes with the AK is important, as they are not the easiest of all semi-autos, given the magazine release and charging handle controls.
To summarize, the AK-63D is a nicely finished specimen that is very reliable and handy. It folds into a compact package for storage or transport and works well at close quarters. And it looks good doing it! I recommend this rifle for those who are interested in such a package.