Not too long ago Savage released the Savage Arms Stance, the first Savage pistol in a very long time — as in, more than a century long time. As with most any new handgun (or any new weapon for that matter), it was immediately either reviled or lauded, that response being dependent upon your opinion of Savage. More people seem to lean toward the "it's the perfect pistol for 2013!" side of things than don't, and nearly as many points out the inevitable (and correct) comparison to Honor Defense.
Would it have been an excellent rival to the first generation S&W Shield and Glock 43? Would it have been more interesting to see a remake of the Savage 1907? Of course. Maybe in 30 Super Carry! Absolutely. But that's not what happened, so here is the…
BLUF: Savage Arms Stance
The ergonomics were surprisingly nice for such a small frame. It wasn't as "snappy" as I expected, though we'd need to put it on the firing line with a Hellcat, P365, and other micros to see how they really compare. The ambi release will be appreciated by many and the factory stippling feels good, though it might be a little aggressive for some people to use in an EDC configuration. I could see it rubbing the wearer (carrier?) more than some would be willing to tolerate.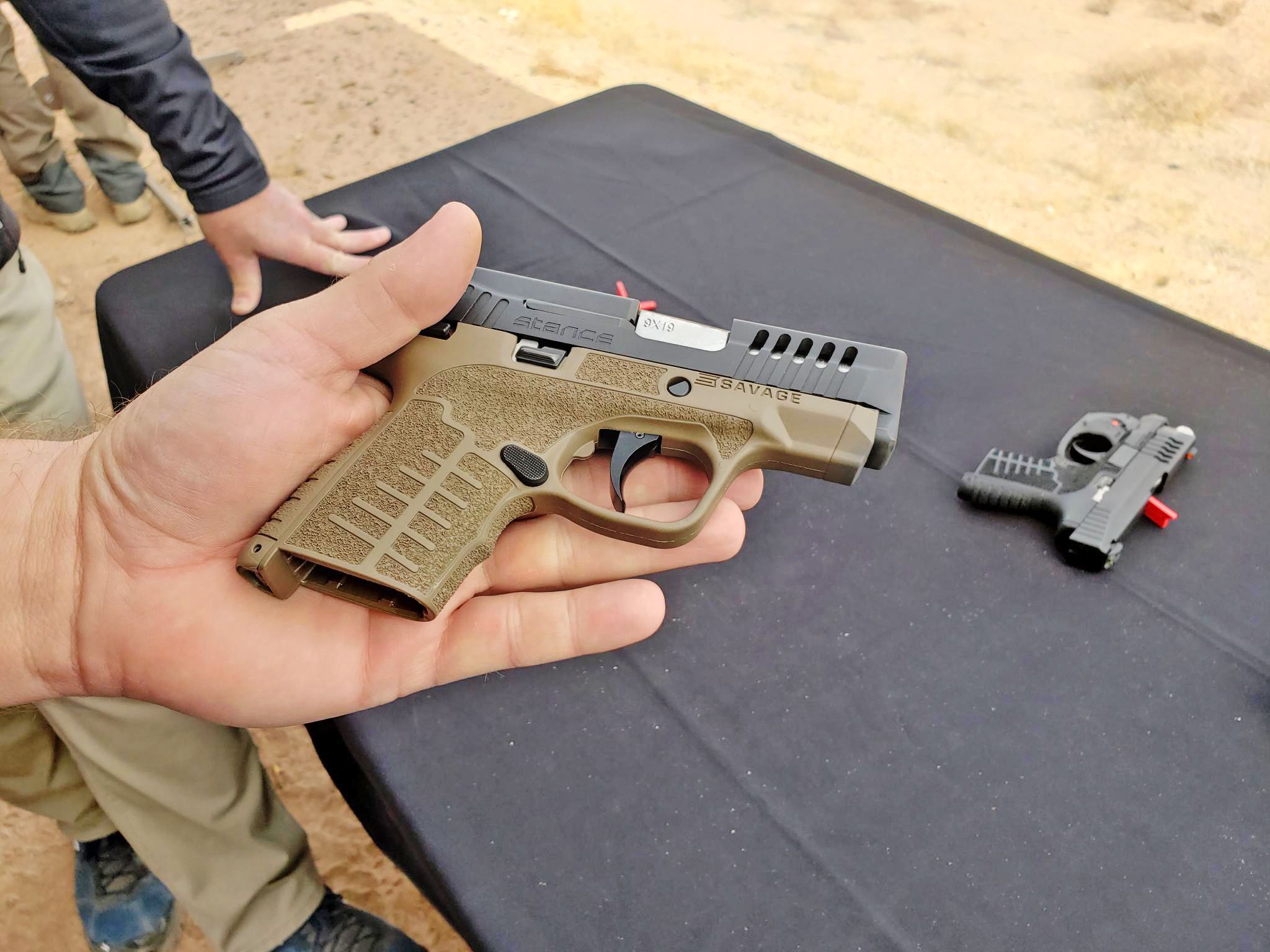 The Stance will not see the popularity that the Renegauge and Impulse did in their respective categories. In the end, however, with an MSRP of less than $500 a name like Savage behind it, there will be people who buy one. And it will likely perform well for them.
Whether such a purchase is the wisest one to make in a market full of higher-capacity micro-compacts that have RDS-ready slides and rails for lights or lasers…well, that will be up to the individual.
Savage Arms Stance
The Savage Stance uses a serialized detachable chassis similar to the SIG P320, i.e. it can be removed from the grip frame and reinstalled into another. It features a stainless steel slide, Melonite finish, and slide serrations (the ones on the front being ported).
Features
Includes (2) 18° interchangeable backstraps to adjust the grip size
Ambidextrous magazine release & slide catch
Stippling grip texture for 360° secure fit with finger indexing
Stainless steel slide with melonite finish for corrosion resistance
The slide features a beveled front for easy holstering
Ported, wide slide serrations for increased purchase
Short, crisp trigger with short reset and wide, well-rounded face
3.2" stainless steel barrel
Removable chassis for interchangeable grips
Easy takedown with takedown lever, no trigger pull or tool needed for disassembly
Snag-free functional sights
Ambidextrous manual safety & night sight models are available
Includes (2) magazines and hard case for protection
Magazine capacity options range from 7, 8, or 10-round magazines available
Package option includes Viridian E-Series Red Laser