The TriggrCon 2023 gun exhibition in Wichita, KS, showcased a lot of great firearms, optics, silencers, and other gear, but it was hard to ignore all the buzz around the various models of 1911 and 2011 handguns. Many companies have ventured into the waters of renaming their pistol, like Oracle's 2311. But they are obviously 1911-style clones modeled after John Moses Browning's legendary 1911 single-action pistol. And, though a big portion of the gun market has been focusing on producing budget-friendly guns, that doesn't appear to be the case when it comes to 1911 and 2011-style handguns.
Walking the isles of TriggrCon, big-name manufacturers like Staccato, Nighthawk, Kimber, and more were hard to miss. But other companies like Watchtower and Oracle stood out, too. This surge in classic and newer style 1911 pistols only cements the already strong belief most 1911 lovers have. That is, Browning's 1911 creation is the greatest pistol of all time. Even the single-stack, low-capacity, metal-framed gun that more closely follows the original 1911 has not seemed to fade in popularity.
Kimber's new pair of Rapides and Nighthawk's beyond-expensive VIP Agent 2 continue the traditional style of pistol. This means buyers are willing to pay more for a classic gun than a new micro-sized polymer one. And when you see the detail and quality that goes into some of these classic handguns, it's not hard to see why. Here are some 1911 and 2011 style handguns that stood out during TriggrCon 2023.
Kimber 1911s
Kimber is known for their elegant style and finish on their long line of 1911-style handguns. They continued with the traditional .45 caliber 1911 with their full-size Rapide Heat and Ice models. These two handguns are mirror images of each other but in different finishes. The Ice model is built on a stainless-steel frame and has a Picatinny rail, threaded barrel, and 4–5-pound trigger. The blue G10 grips really complement the stainless finish on the gun.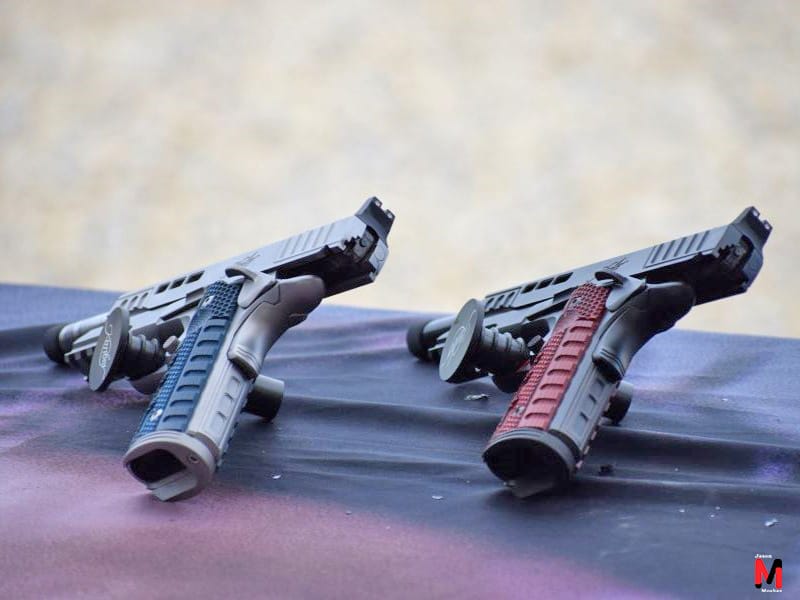 The Rapide Heat has the same steel frame but with a Kim-Pro II black finish. Just like the Ice model, it comes with custom slide lighting cuts on the front of the slide. Both guns have a V-cut match-grade trigger and stepped cocking serrations. I fired both guns at the range, and they were not disappointing. These two beauties retail for just under $2,000 each. This would make it expensive to purchase both, but wouldn't it be nice to own the pair?
Kimber's new KDS9c
The other Kimber that attracted attention is the new KDS9c. This is Kimber's take on a mutated 2011 pistol. They have drifted away from the traditional 1911 some with this one, but it is eye-catching. At first glance, the KDS9c still looks like a 1911 pistol, but Kimber made a few changes. There is no external extractor or grip safety. The barrel is fully fluted, crowned, and ramped. Built for personal protection and concealed carry, they made the frame from machined billet 7075 aluminum to keep it light.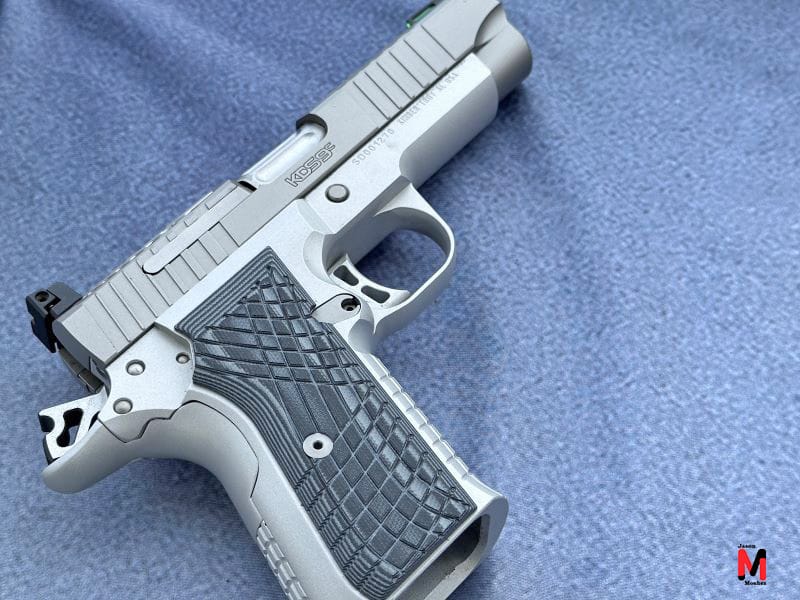 The KDS9c has a traditional trigger, thumb safety, and exposed hammer. The thin G10 grips help keep the gun from feeling very wide, even though it uses a double-stack mag. The 9mm pistol holds 15 rounds in a flush-fitting magazine. On the range, it felt just a little different than a 1911 pistol, but it still shot smoothly. I think the frame and grips give it a little bit of a different feel. Don't get me wrong, it felt great, just a little different than other 1911s.
Staccato 2011 XL
Staccato is famous for their "2011" pistol and they have remained the front runner for double stack 1911 style pistols. Working the slide on a 2011 XL feels like wet glass, with virtually no play between the slide and frame. Built with an integrated compensated barrel, the redirected gas keeps the XL on target with little muzzle rise. The one I shot at the range had a Holosun optic mounted on top, and it was easy to hit any range target I aimed at. One of the things I like most about Staccato's 2011 design is the somewhat boxy slide and rounded grip. That combination really makes it stand out, and it's comfortable. Arguably one of the most attractive 2011 handguns on the market, the XL retails for about $3,600.
Nighthawk 1911 and 2011
With Nighthawk, it doesn't matter if you are talking about a 1911 pistol or a 2011, you will be impressed. Each gun is custom-built by the same gunsmith from beginning to end. The gunsmith even puts their initials under the grip before they assemble it. These days I find myself attracted to 2011-style pistols, but Nighthawk's traditional 1911s really stand out. I fired several at the range, but the one I wanted to shoot the most was a no-go. The Turnbull VIP Agent 2 is probably the nicest-looking 1911 I have ever laid hands on.
The Nighthawk guys let me hold it, but I couldn't get them to let me play with it on the range. The Turnbull VIP (Very Important Pistol) features a 14k solid gold front bead sight, mammoth ivory grips, two jeweled mags, and a custom case. The frame is case-hardened to give it a unique color that matches the mammoth grips. Because of the case hardening and grips, every pistol is slightly different, making each one different. I asked the wife if I could pick on up at the store and at $9,000, she unfortunately said no. Nighthawk also makes some impressive 2011 handguns and is the exclusive importer of the legendary Korth revolver. I shot several other Nighthawks at the range, but I will always dream of that Turnbull VIP.
Watchtower Apache
Watchtower is a new company that started up last year and could give high-end gun makers a run for their money. The company has already acquired F1 Firearms and is rebranding them to the Watchtower name. They had some interesting AR-15 rifles (which I will talk more about in another article), but it's their 2011 that caught my eye. They are calling it the Watchtower Apache and the one I shot is their prototype. Production is set to begin by the end of this year with a limited run on this model of 1,000 guns.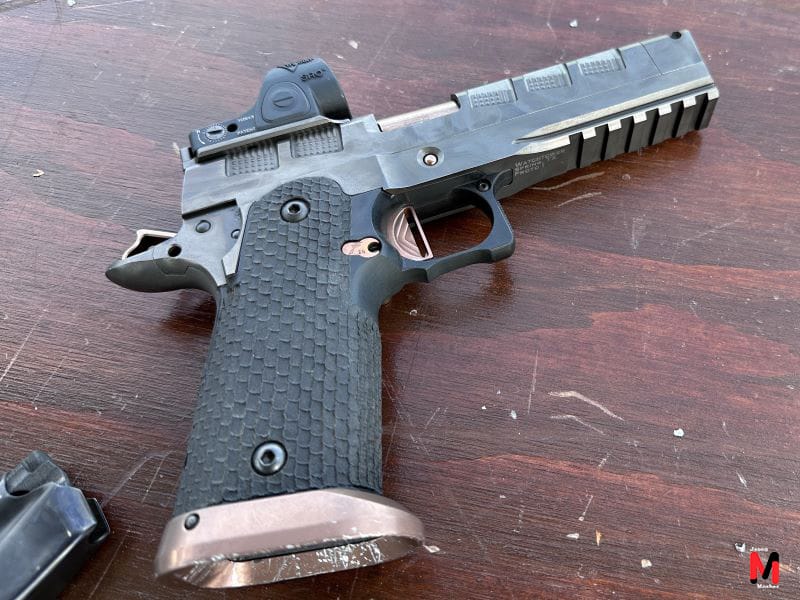 The barrel is made from 416R stainless steel that rides in a Dawn Precision recoil spring. Three options of recoil springs will be available upon ordering. The trigger has a soft 2.2-pound pull with very little slack before the break. They use a PVD (Physical Vapor Disposition) coating on their frame and slide. Watchtower offers a lifetime defect warranty on guns. While this model is a limited-run series, they will be offering a base model in the future as well. The retail price for the Apache is set at $3,600 without the optic.
Need a 1911 or 2011 pistol?
There are a ton of other 1911 makers that also produce some fine pistols with outstanding quality. But if you spend some time with the best of the best, you start to see why people are willing to pay a premium price for a classic gun.
I didn't have time to cover all the high-end 1911 makers in this article. Companies like Wilson Combat, Oracle, Dan Wesson, Ed Brown, and more also produce premium handguns and a premium price. A lot of people wouldn't understand why you would even want to spend so much money on one gun. But for those who appreciate craftsmanship and quality, it's a different story. What's your favorite 1911 or 2011 pistol? Feel free to comment and share your thoughts with us.