The pre-SHOT frenzy of new releases has seen the announcement of a brand new pistol caliber — the "30 Super Carry". The announcement of the new cartridge stirred up all sorts of discussion on forums, Reddit threads, and all the other usual places.
BLUF: the 30 Super Carry cartridge was designed to be more compact than 9mm NATO and more effective than .380 ACP. Manufacturers say the new round performs as well as the 9mm while providing substantially greater magazine capacity — usually an increase of +2 rounds in a typical/standard magazine.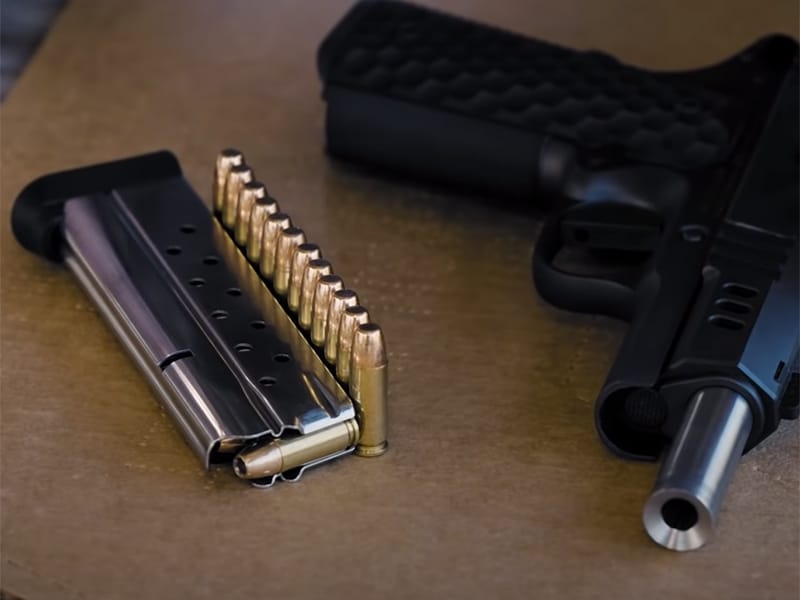 This isn't a review. This is a report on what we know. No one in the "media world" could actually be reviewing it yet, though some savvy people with the right background certainly can (and have been) offering well-founded opinions based on their experience and education. I'm not one of them. I'll make an informed decision once I see what independent ballistic tests, SAAMI, and maybe some real-life defensive uses tell us.
The 30 Super Carry Cartridge
So what is 30 Super Carry? First off, it should not be confused with the old Kimber Super Carry. This is a cartridge, not a specific weapon.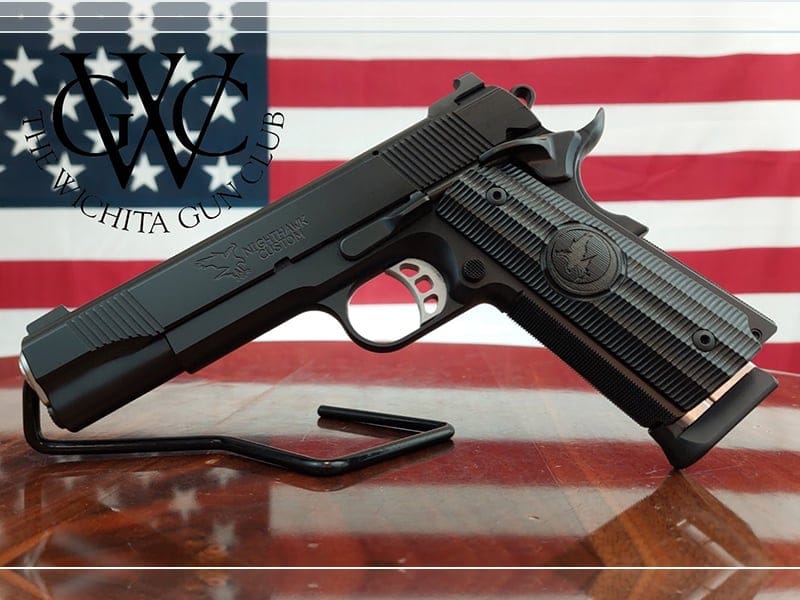 In fact, there was initially more information on the cartridge(s) available than there was on the guns that will be using it, though we did know relatively quickly of a Nighthawk 1911 model (above) and Smith & Wesson Shield EZ model (below).
The new cartridge, which purportedly displays the ballistic potential of a 9mm round in a smaller size, will require its own magazines. Initial offerings are from Vista-owned companies (Speer, Remington, Federal), though obviously, this would change if 30SC becomes popular.
As might be expected, the new cartridge has been met with a combination of derision and glee by many thousands of ballistic experts on the internet. More of the former than the latter, but SMI opinions (that's Subject Matter Internetologist) are notoriously unreliable.
…He said, as the ghosts of past 45 GAP and 327 Magnum champions gathered to watch…
Jim Gilliland explains the rationale (or at least Federal's rationale) behind the new caliber in the video below. A video alone won't allay concerns about the new caliber's effectiveness, particularly given that it's a marketing video, but it does give us a place to start.
It will be hard for many people to get past the notion that a cartridge utilizing less energy and a smaller hollow point cavity to put smaller holes in bad guys (than a 9mm) is, in fact, better than 9mm. There will also be the obvious, even partially justified, complaints about the release of a new caliber during an ongoing ammunition shortage (real or perceived) continues.
That's not to say the new cartridge isn't worthwhile. I'm just acknowledging ahead of time what the two biggest pushback issues will be.
30SC Shield EZ
30SC Ammunition
A number of ammunition companies will be producing 30 Super Carry ammunition, including Federal, Remington, CCI, and Speer.
Here's the initial Federal Premium announcement…which unfortunately announces very little at all.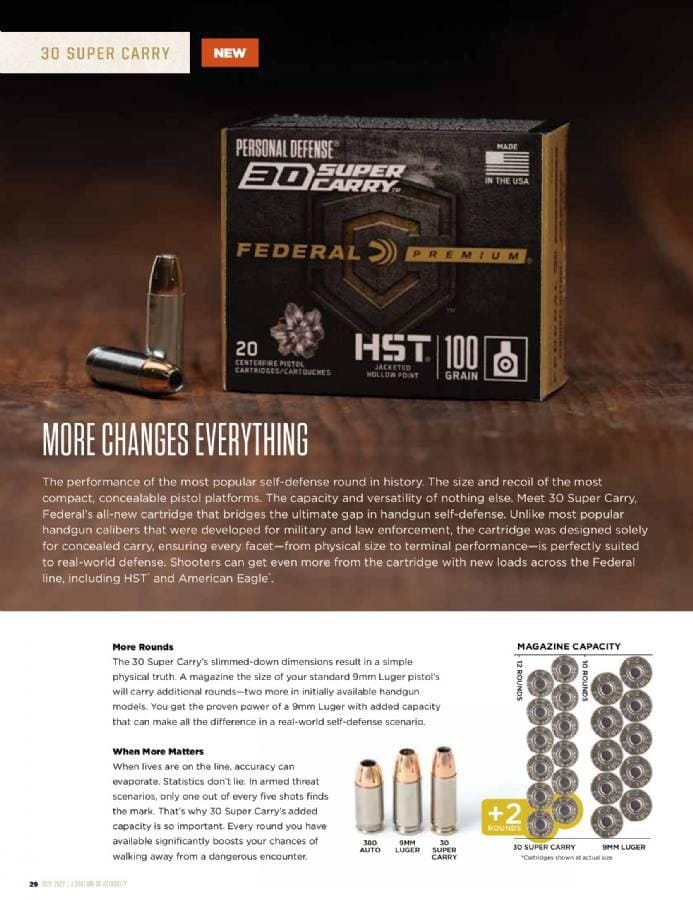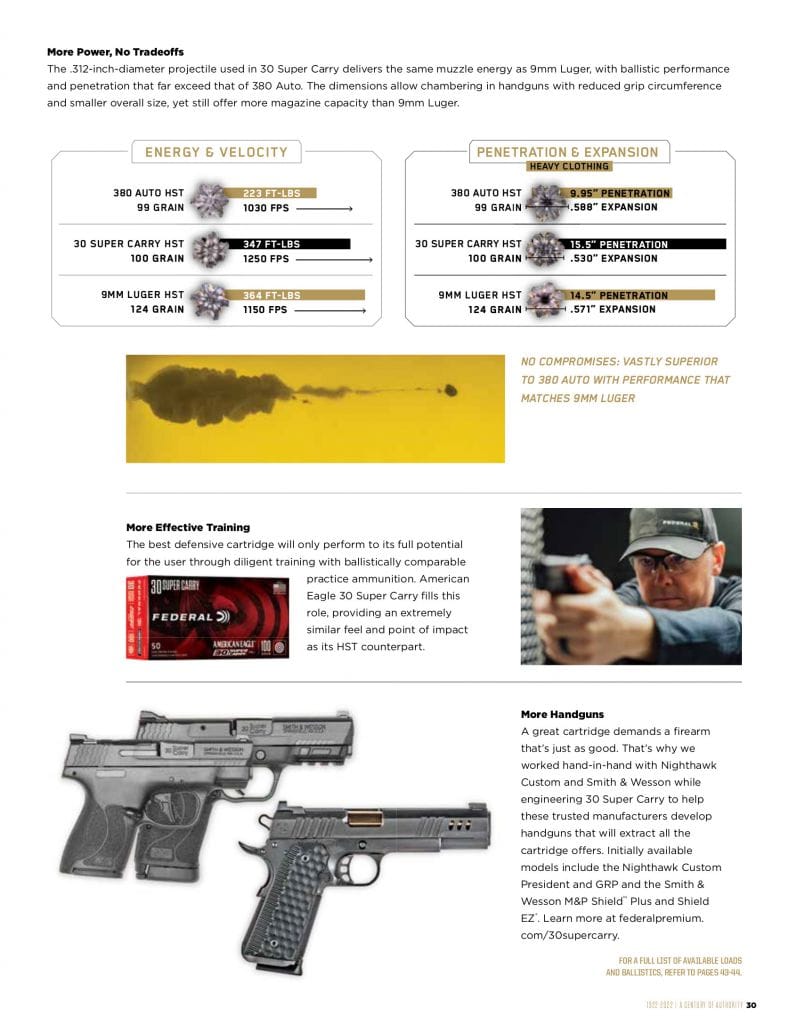 30 Super Carry Shield EZ Specs
Safety: Thumb and Grip Safety
Chamber Length: 0 in.
Frame Finish: Black
Front Sight: White Dot
Rear Sight: 2 Dot
Grips: Aggressive Texture
Finish: Black
Firing System: Internal Hammer
Frame Material: Polymer
Trigger: Tactile & Audible Reset
Magazine Type: Double Stack Magazine
Barrel Configuration: Single
Rifled Barrel: Yes
Minimum Pull Length: 0 in.
Additional Features
Easy to rack slide.
Crisp, light trigger with tactile and audible reset.
Includes 2 easy-to-load magazines.
Grip safety.
Magazine offers 10+1 round capacity.
Windage adjustable, White Dot Rear Sight.
Disassembles without pulling trigger.
Grip texture optimized to size and recoil.
Tactile Loaded Chamber Indicator (TLCI).
Picatinny-Style Rail.
Perfect size for nightstand, carry or a day at the range.
Reversible magazine release.
Optimal 18-degree grip angle for natural point of aim.
Armornite® – Durable, Corrosion Resistant Finish.
Backed by Smith & Wesson's Lifetime Service Policy
Nighthawk 30 Super Carry 1911
We currently know very little about this gun's specifics, though the basics aren't difficult to deduce.
It's a high end (expensive), well-crafted, 1911 chambered in 30 Super Carry.